Saman Bhatti - Head of Growth
4 Insight Must Haves to Create the Perfect Customer Persona
The customers of today demand more! No longer are vaguely defined categories acceptable, it's all about adapting to their ever-changing interests, behaviours and preferences. With technological advancements and the ability to gather social data at our fingertips, it is now possible to move past the traditional approach to market research and adopt a dynamic human-like approach creating clear data-backed customer personas.
According to our model, an essential factor of audience acquisition is identifying and understanding audiences that could be potential clients. Consumer insights, based on social data, play a fundamental role in generating complete prospect profiles enabling the creation of truly relevant and personalized content, not only saving time but also money!
What data-based insights should be included in a customer persona profile?
We believe the following insights are essential to creating a solid customer persona that would have the power to act as the foundation of any successful campaign and ultimately increase engagement and sales.
1. Personality Insights
Personality insights are strategic insights that have the ability to clearly define who your customer actually is and what resonates with the best. Personality traits, needs and values are all based on the language used by the user providing unique data points for each customer profile. Through the use of such data, highly personalized messaging and campaigns can be created resulting in accurate relevancy.
Personality traits indicate how an individual engages with the world in accordance with the BIG 5 (agreeableness, conscientiousness, extraversion, neuroticism and openness to experiences).
Needs demonstrate what a user expects to accomplish through the product/service consumption.
Values explore the factors that influence the decision-making process.
2. Online Habits
Understanding online consumer habits (when they are active, how they connect online, what type of content they share and their social media presence across different platforms) allows for optimization across a number of factors from identifying hot locations to content format. Exploring such habits enables you to reach your buyers through the channels they deem to be most important during highly active periods and with the most relevant content.
3. Brands they trust
Whether it's your own brand or a competitor's, identifying brands trusted by potential consumers are a vital ingredient in revealing their interests and tastes especially if a user has expressed first-hand interest.
4. Who influences them
Individuals with the most influence over your potential consumers will prove to be your greatest allies whilst defining campaigns or marketing strategies. Extracting such data provides realistic and reliable insights for you to action not only an industry favourite strategy, influencer marketing but highly segment focused influencer campaigns.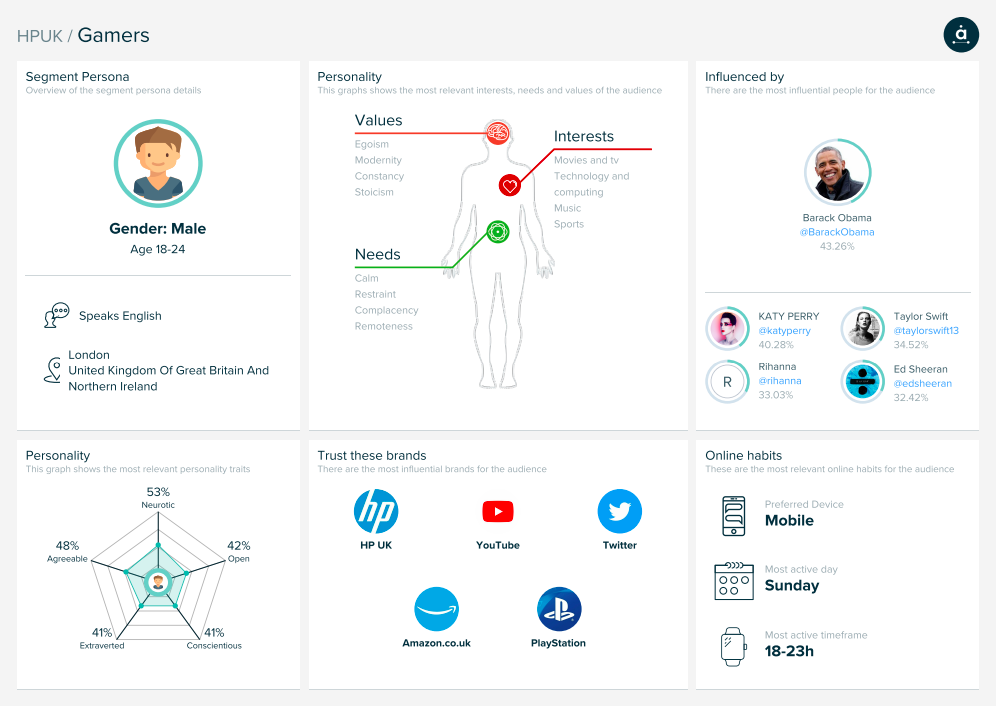 Are you looking to create complete social data-informed customer profiles? Use Audiense Insights to identify your audiences of interest, analyze them and gather insights to enrich your buyer profiles. Walk away from traditional methods and sign up for a FREE Audiense Insights Explorer account today!
This blog is a translation from the Spanish original, written by Paz Segura, for the Audiense Spanish blog.