Jackie Davies
7 marketing strategies to boost your brand during the holidays
Thanksgiving is one of the busiest shopping days of the year in the U.S. Over the holiday weekend, consumers will take part in Black Friday, Small Business Saturday, and Cyber Monday.
In 2022, the five-day holiday shopping season from Thanksgiving Day to Cyber Monday saw almost 196.7 million American shoppers (both in-store and online). Cyber Monday sales jumped 5% above last year's spend, bringing in 11.3 billion alone.
Online purchases were driven by toys, electronics, and computers, with sales of toys increasing by 684% in October compared to an ordinary day.
To make sure your brand is grabbing a share of that wallet, we've compiled the 7 things you should be doing to market your brand before and during the holidays:
1. Get your first communications out early
Around the holidays, people are excited but they're also stressed. They have meals to plan and gifts to buy, so they start early to get ahead of it.
According to Google Trends, the search volume around Thanksgiving begins to increase at the beginning of November, more than four weeks before the actual holiday.
Therefore, early November is the time to start marketing to those consumers that plan ahead, and are looking for those pre-Thanksgiving bargains.
The best and cheapest way to do this is to begin an email marketing campaign. In the weeks leading up to the holiday, you could alert shoppers of discounts on your products. You can also use email to keep your products top of mind during the holidays. As a CPG company, you could put out a series of emails that send your customers "easy and popular" Thanksgiving recipes, and of course, you can use this opportunity to include one of your products in the ingredients list.
Chipotle did it right when they sent out their email campaign that pointed out that they have something for everyone's diet, such as for people hosting families with dietary restrictions. Their email read: "Why eat turkey when you can have Chipotle? With endless combinations, there's something for everyone at the Friendsgiving table, from vegan friends to Whole 30 fans."
Postmates emailed their customer list with the slogan "Say Bye. Get Pie", whereby this amusing ad encouraged customers to leave the holiday party early to go home and order their favorite food (like pie). They also offered a credit for delivery fees during the holiday weekend.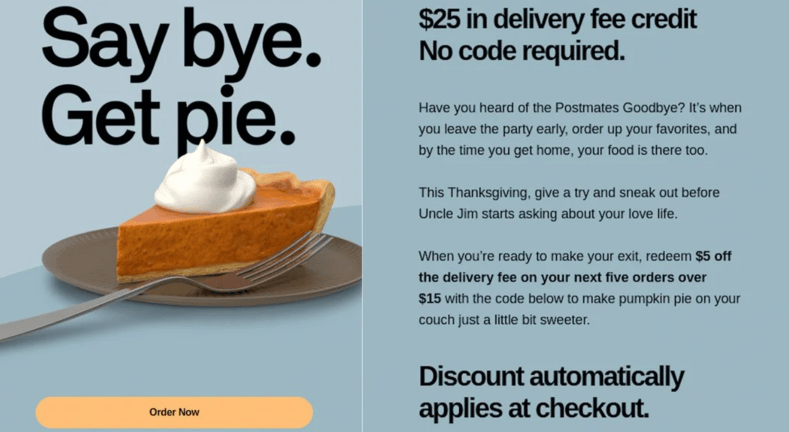 If you need some inspiration, Sendinblue offers a great article on how to "cook up the best Thanksgiving email campaign".
2. Promote fast shipping
Your shipping practices can mean all the difference in the weeks leading up to Thanksgiving. Offer the fastest shipping possible to keep customers confident that whatever they buy will show up on time.
Any time of year, it's true that customers love fast shipping, but it's especially true around the holidays. Imagine not receiving your new holiday outfit in time for the big event.
Go a step further, and offer customers free shipping — use these email addresses to build your custom mailing list for next year to target those you know who shop for your brand online for the holidays so you can reach out early.
3. Discounts, discounts, discounts
Offering discounts around the holidays is pretty obvious, but timing is everything. If you come in too hot with a huge discount right away, where do you go from there? Space it out, start with smaller deals but make sure they are on par with, or a bit better than, your competitors.
Offer customers who already have stuff in their online shopping carts with pre-holiday promotions. They can choose to wait and pay less, or risk the things selling out if they don't opt to buy sooner. This increases conversions from customers with strong intent.
When you do offer discounts, make sure to drive urgency by using a countdown clock (i.e. 20% off for 24 hrs). By counting down the minutes and seconds before an offer expires, these clocks create a sense of urgency, like the one The Bay is using this year: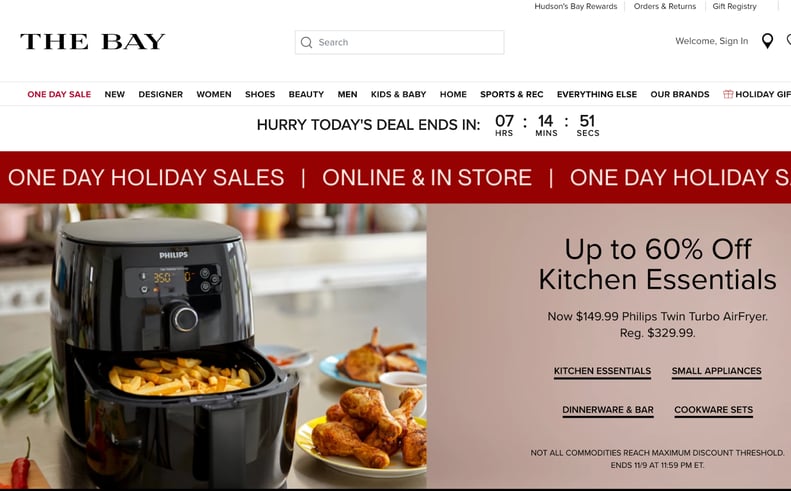 It's also important to diversify your discounts so that some are time-bound, and others for example are the "buy one get the second one 40% off" type. You can also create offers that are exclusive to some of your more loyal customers by sending them early access to sales or by giving exclusive promo codes to your email subscribers.
4 . Giveaways
Everyone loves freebies!
Use this seasonal sales cycle to offer up prizes in exchange for a follow, comment, etc. Increasing brand engagement through giveaways is a very cost-effective way to stay top-of-mind with your consumer. When done right, this can raise brand awareness and boost your exposure in the sea of ads that are running during the holidays. Constant Contact has some great giveaway ideas if you need inspiration.
5. Optimise search terms
While it might not be necessary to entirely change the language and keywords in your top-performing product listings, it's crucial to comprehend how customers search throughout particular holidays. Using copy that includes seasonal words presents an opportunity to rank during the holidays. Try using terms like "Christmas goodies" or "Thanksgiving food" in your listing just as another way to potentially increase exposure - every little bit helps when you're trying to stand out among the millions of other brands pushing their products during this time. Shopify offers a great list of SEO tools that brands and eCommerce sites can use.
6. Engage on social
Get your audience engaged with something fun like a quiz, like the one
Realtor.com did where they asked participants to find out which "Thanksgiving dish they were". This might sound cheesy, but it was a cost-effective way to drive online engagement during Thanksgiving, and it provided their audience with some light-hearted and shareable entertainment.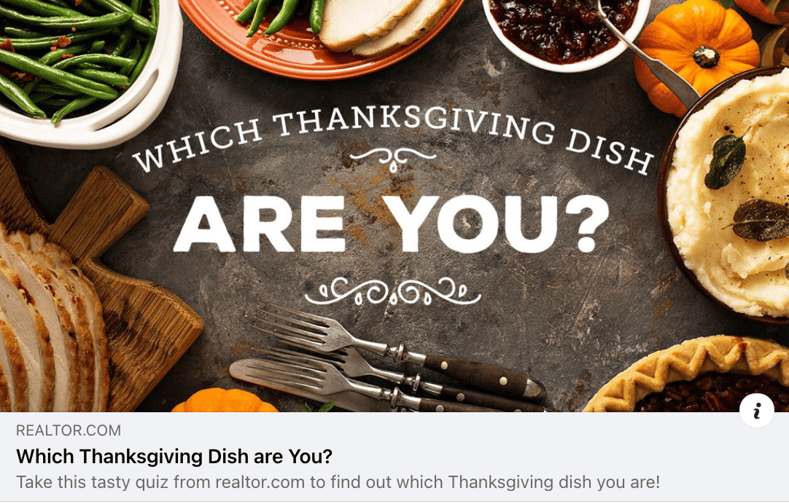 7. Stop wasting advertising budget on the wrong audience
The majority of ad spending occurs in the fourth quarter of the year, with brands pulling out the "big guns" for the holidays. During the Thanksgiving shopping season last year, U.S. retail ad spending peaked at $1.3 billion.
Digital Resource quoted that during the holiday shopping season, ad impressions jump by 50%, click-through rates soar by 100%, direct traffic increases by 150%, and the average order value increases by 30%.
Due to the intense competition during this time, advertising prices inevitably rise. This is even more reason to make sure that as you increase your ad spend it is being spent on the right audience.
For that reason, we used Affinio to look at the audiences already talking about Thanksgiving online. This is how that audience broke out: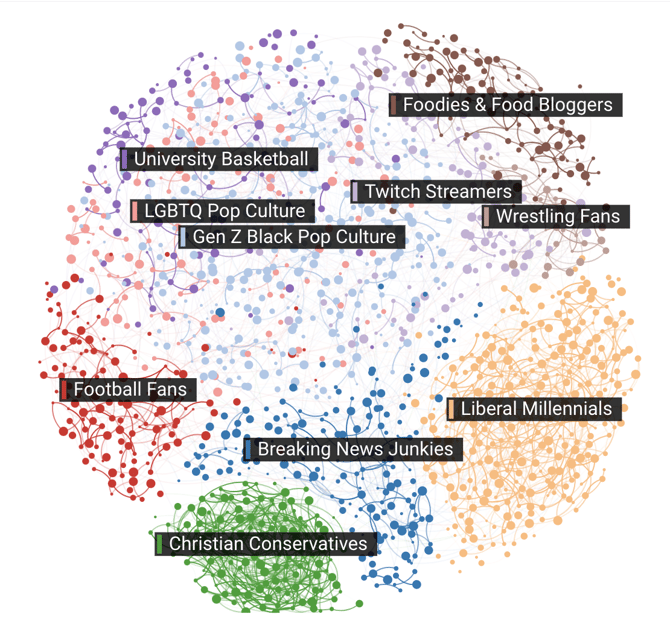 Let's dive into two segments of interest, the Foodies & Food Bloggers, and the Football Fans clusters.
The Foodies & Food Bloggers: These are the people who are likely cooking for their family this holiday season, buying the ingredients, decor, etc. This audience, who on average are females 40 years old, would resonate with giveaways and sweepstakes, you can see them using those terms in the hashtags they use, but you can also gather that from the links they are sharing (ie, Hallmark Channel's Very Merry Giveaway Sweepstakes).
They are also the shoppers that start early when it comes to Christmas. They are sharing articles such as, "These grocery store sauces are the secret shortcut to great meals" — meaning they are looking for those easy recipes that you can insert your brand into. If your brand was advertising to this group throughout the holidays, the focus on social should be contests, freebies, and giveaways, with an early email campaign with easy recipes for the holidays, which would hit the mark.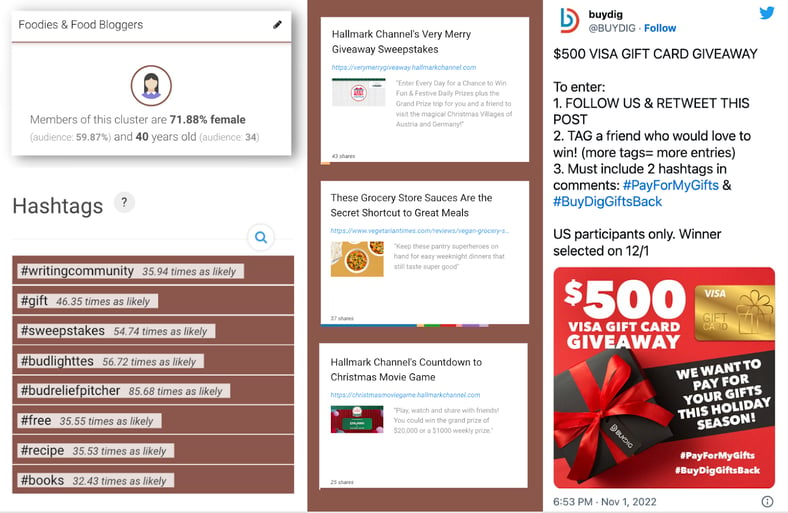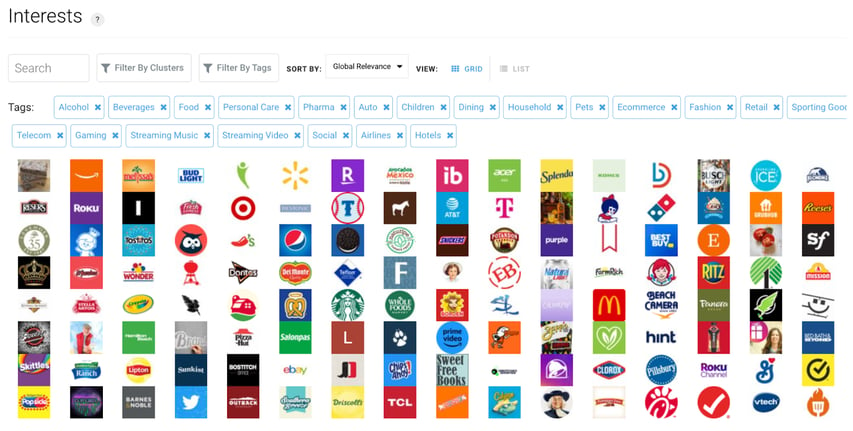 Brands that already resonate with this audience, and should take advantage of the fact, including Amazon, Walmart, Rakuten, Splenda, Target, and Domino Pizza, to name a few from the interest graph above.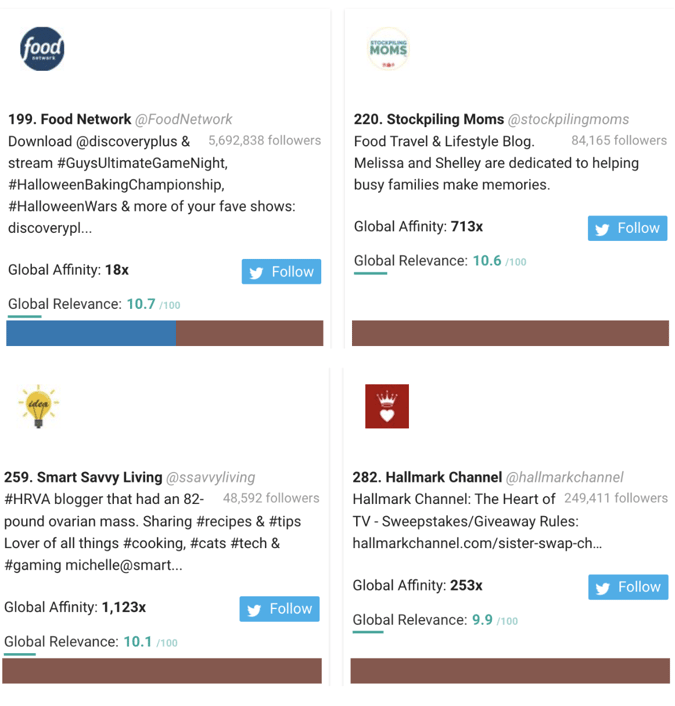 If you place your Thanksgiving ads on the Food Network or the Hallmark Channel or work with Bloggers like Stockpiling Moms, or Smart Savvy Living, you are guaranteed to get exposure to this set of consumers.
The Football Fans: These are the people watching Thanksgiving Football this year. This audience, the majority are males aged 37, are barely following any shopping brands, and there is virtually no discussion about the holidays—except if it's related to football.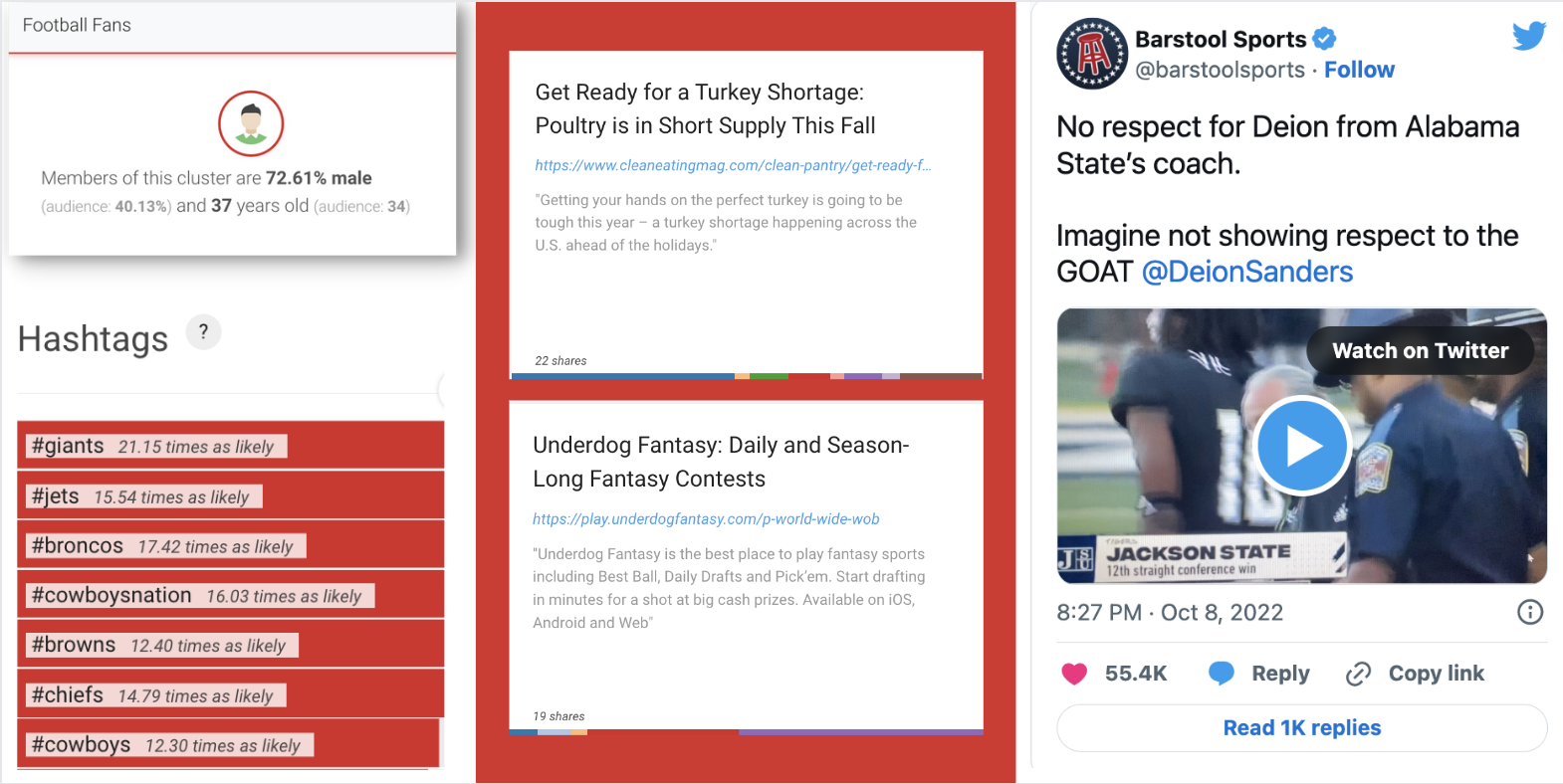 This audience is probably the type of consumer to wait until the absolute last minute to go buy gifts. This is why they make the perfect group for brands to target with gift guides - in their top-followed publications and sites: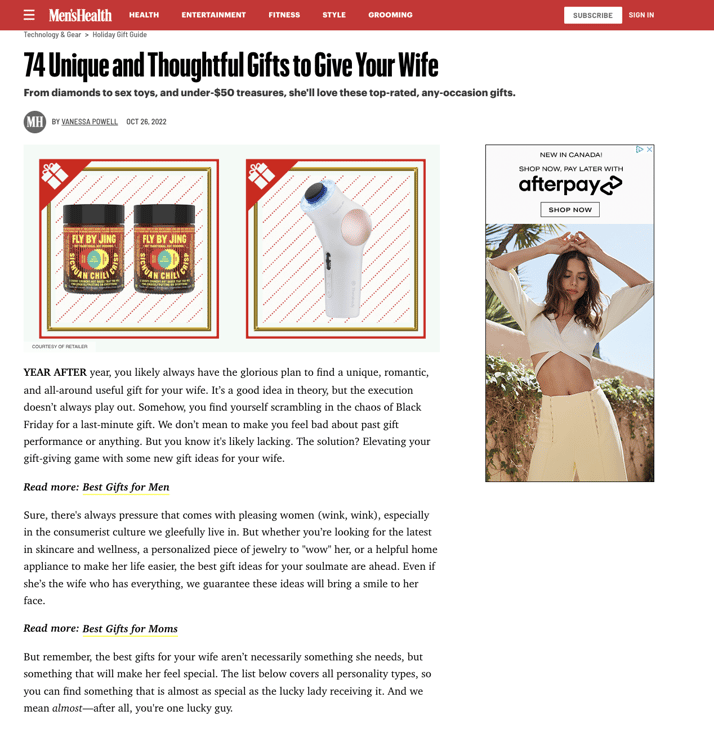 If we look at their top brands —Fast Food, Streaming Services, and Gaming— companies could use this opportunity to engage this audience during the football games on Thanksgiving.

With Affinio it is so easy to go in and explore what makes these audiences different, and how they should be targeted as such. But it's just as easy to figure out which type of ads would work for both audiences if you wanted to use the same budget or campaign to capture both.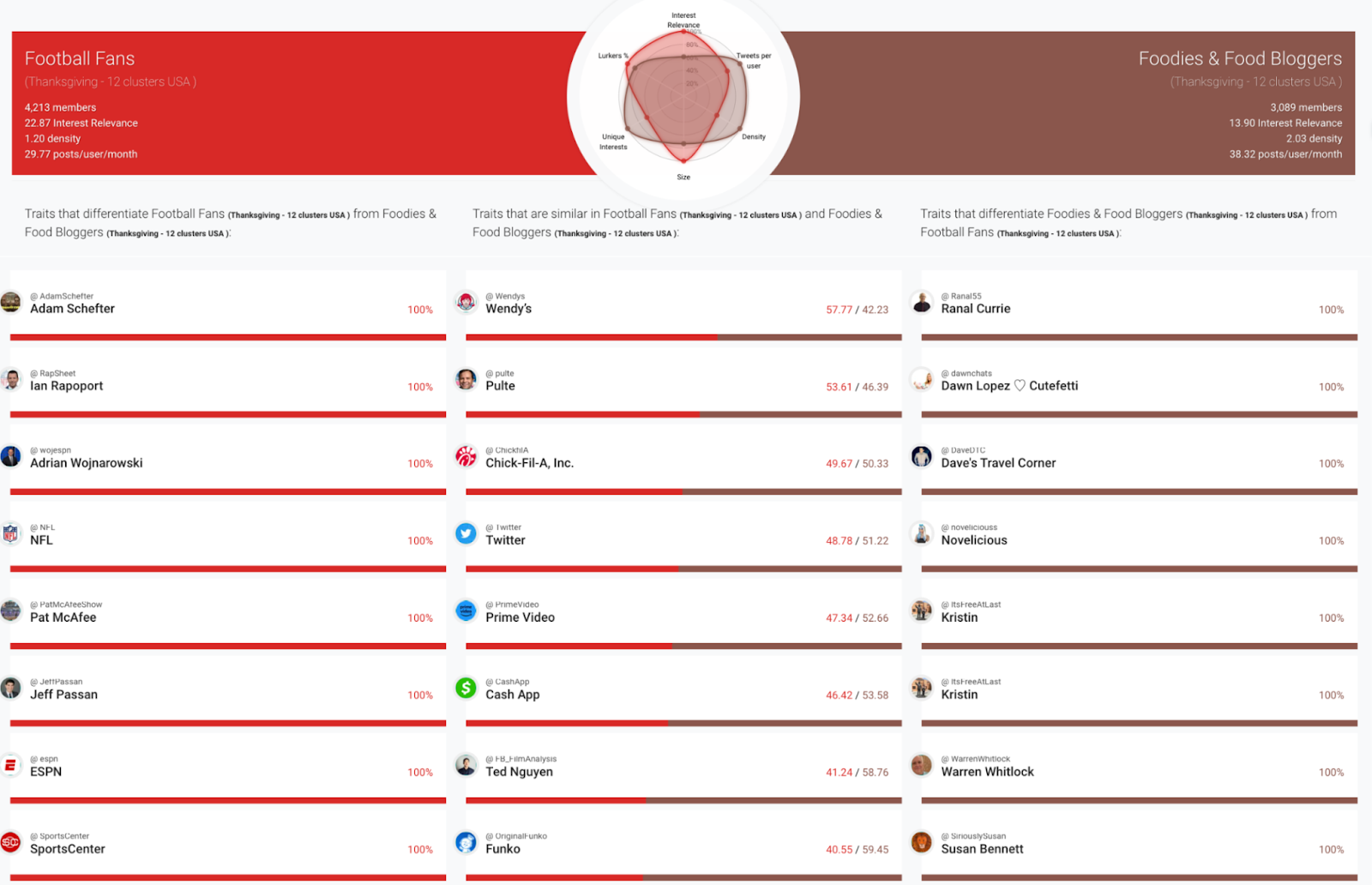 Brands like Wendy's, Chick-Fil-A, Prime Video, and The Cash App, can all use this holiday as an opportunity to engage these two audiences on Twitter by pulling both in with football updates and humor, and Thanksgiving giveaways.
Using a tool like Affinio helps you build a marketing strategy that sticks, with the audiences that matter — making sure you aren't wasting this holiday's ad budget with the wrong ads or going after the wrong audiences.
So when building out, optimizing, or planning your marketing strategies for this (or the next) Holiday season, use these seven tips to stand out from the rest, get to shoppers early, and get more bang for your ad dollars.