Brent Barnhart
Helping a famous Opera House succeed with audience insights
It's no secret that legacy brands often struggle to adapt in the evolving era of digital marketing.
But where would you even start if your company was over 350 years old?
That was the exact challenge faced by the Bayerische Staatsoper, Germany's largest opera house and one of Europe's most celebrated theaters.
Attracting over 600,000 guests per year is no small feat. That said, company leadership acknowledged that continuing the theater's mission of contributing to social and artistic discourse meant connecting with a younger and more diverse audience.
And making that connection would require a deep dive into the values, behavior and motivations of their attendees — past and prospective alike.
In this case study, we'll break down Bayerische Staatsoper's process for researching and attracting a totally new audience segment (and how Audiense was critical to the process).
Challenge
Bayerische Staatsoper's desire to attract a more diverse crowd came from fresh leadership under Director Serge Dorny.
In September 2021, the focus of the opera house shifted toward digitization and innovation. Kathrin Zeitler, Head of Digital Strategy at Bayerische Staatsoper, was responsible for translating the opera house's experience and cultural vision to the digital realm.
"The social significance of opera and the fascination of what happens on stage has to be translated meaningfully to allow for the artistic discourse to also be continued digitally," notes Zeitler. "With the help of technological progress, we are driving this development and are rendering our institution fit for the future."
Both culturally and artistically, the opera represents an institution that has no equal.
But there's no denying the perception of opera-goers representing an "older" and wealthier demographic, with an average opera audience age of 57 in New York City as of 2020.
Still, recent discourse such as the "youth" revolution in Paris highlights opportunities for opera houses to appeal to younger and more diverse audiences.
Bayerische Staatsoper's goal was two-fold: increase the opera house's social relevance and reach a broader segment of society.
"We aren't technically just talking about a campaign but rather a complete 'rebranding,'" says Zeitler. The key issue was not just about the Bayerische Staatsoper — it was about the opera as a genre being considered more and more 'out of sync' with diverse audiences."
Although the company already had processes in place to collect customer information, they needed a more holistic and comprehensive approach to analyze it. Specifically, they needed a way to take their existing audience data and translate it into insights for reaching younger opera-goers and non-visitors.
Solution
The company decided to take both a qualitative and quantitative approach to its campaign.
Specifically, Bayerische Staatsoper assembled a team of opera experts and data scientists and picked their analytics tools (including Audiense!) to put their plan into action. The steps they took included:
Looking at past attendee data and interviewing opera stakeholders to determine how to approach their new audience
Conduct

audience analysis

and

create segments

based on affinities and social listening
Interpret data to understand overlap and opportunities with their new existing (versus past attendees)
In short, Bayerische Staatsoper began with a broad, big-picture mission and created their own research framework to figure out how to reach their target audience. Below is a more detailed breakdown of how they did it.
1. Assess current customer data and gather expert insights to guide research
The company already had access to CRM, sales and analytics data on attendees to build their new audience.
But we'll bite: data always doesn't tell the entire story of your audience.
Bayerische Staatsoper rightfully wanted to couple their analysis with real-world insights from industry experts. They kicked off their campaign with a qualitative workshop involving key stakeholders within the opera.
The opera house conducted in-depth interviews with those in roles including Opera Dramaturg, Director of Marketing and Communication and the company's Social Media Manager. The purpose of these interviews was to interpret the company's existing data within the context of their industry from people who knew it firsthand.
Rather than focusing on sales or revenue, questions and discussions were geared toward the opera house's cultural content and offerings. In short, they wanted to figure out what "product" they could put out to speak to a younger audience. The answers and insights from these interviews would be the basis of their research and audience segmentation.
And as noted by the team at Bayerische Staatsoper, communication between stakeholders was essential to their campaign (in additional to data):
"A key ingredient for our success was the constant communication between all involved stakeholders. This includes the continuing commitment of applying all of our insights practically when it comes to targeting new audiences for all of the new opera events."
2. Research affinities, interests and topics relevant to the desired audience
Using the insights from the company's interviews, Bayerische Staatsoper put together a research methodology to create the data set they needed to:
Understand their existing audience's affinities, interests and behaviors.
Identify what their "new" and more diverse audience would want to see.
Tools including Google Analytics and CRM served as a solid starting point to identify interests and talking points. That data would eventually be fed into social listening tools (including Brandwatch) and audience segmental tools (Audiense!) as well.
This would allow Bayerische Staatsoper to tap into the key details they need to know about their respective audiences. Sure enough, they were able to zero in on topics relevant to a more diverse crowd. Listening to authentic, unfiltered social conversations was a crucial piece of the puzzle.
For example, the company learned about the importance of sustainability for younger generations. This included heartfelt frustrations about the lack of responsibility and slow speed in which environmentals concerns are addressed. Sure enough, these were the exact sorts of topics and conversations that could be communicated in the opera's offerings.
3. Analyze existing and new audience segments to uncover opportunities
Once the company had their data, they exported and segmented it via Audiense.
Utilizing an affinity-based clustering approach, Bayerische Staatsoper identified common themes and interests between their two audience segments ("existing" versus "new/diverse").
Analysis through Audiense helped the opera house better understand the controversial context where topics like sustainability are discussed in society. In turn, they could identify the role opera can play in addressing such hot topics.
Ultimately, Bayerische Staatsoper found very little topical overlap between the two audiences. Here's a snapshot of their data via Audiense: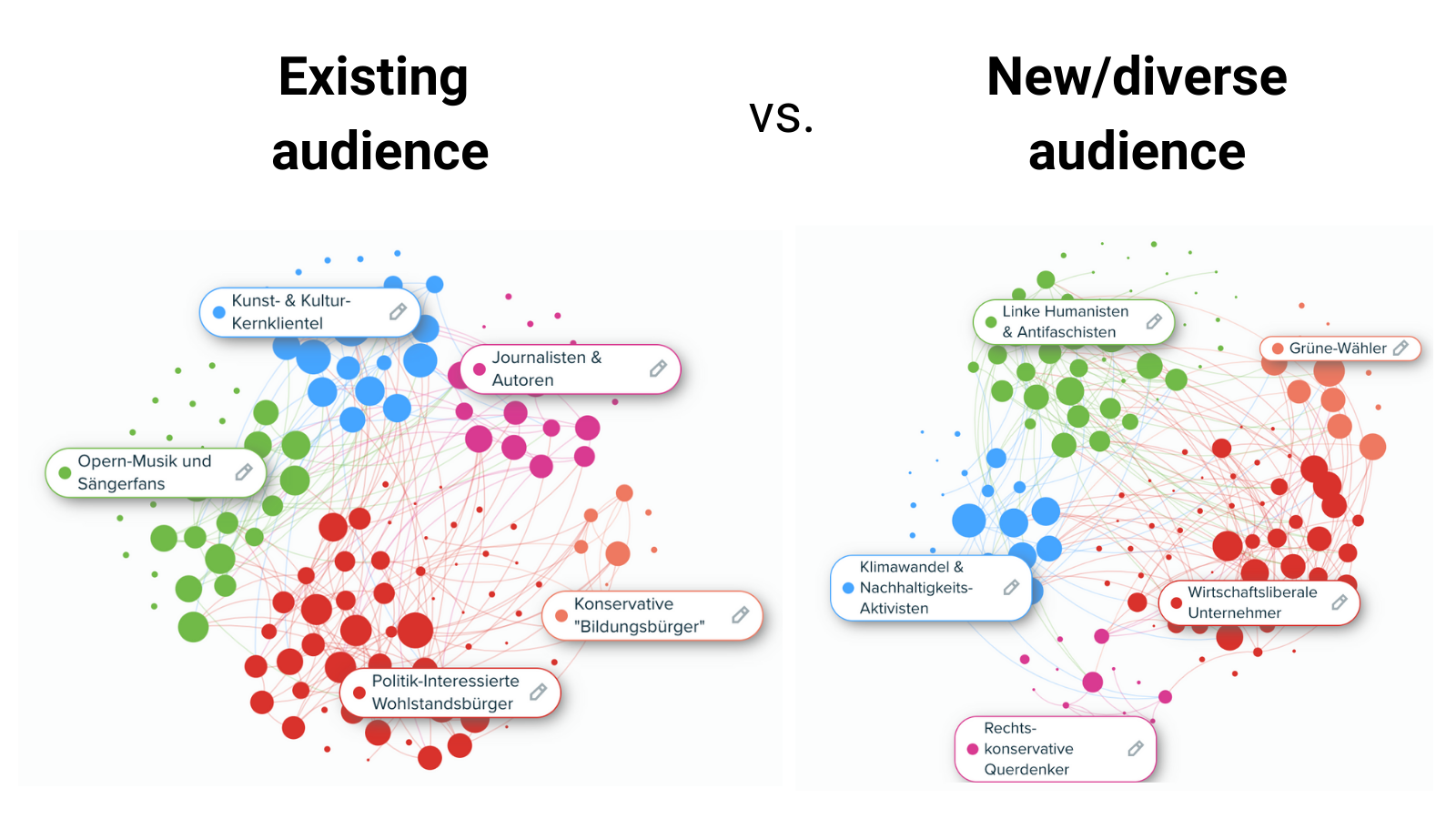 This highlighted the divide between the audiences, but also uncovered ways that opera could stay relevant to the cultural conversation among young people. Opportunities were definitely present to do so.
Findings and Results
The goal of the project was to identify key topics that would speak to younger, more diverse audiences. Again, this is a segment that opera at present struggles with and traditionally is unable to reach.
Bayerische Staatsoper was determined, though. As a result, they managed to address a number of relevant topics throughout their recent opera premiers, with productions covering themes including:
individuality
normality
sustainability
diversity
minority
Although revenue wasn't the driving motivator behind the project, the opera house still boosted sales throughout this campaign. This was achieved through digital ads that spoke to the company's audience research — this resulted in a significant increase in ticket sales and a consistently near-sold-out house.
Despite the challenges present, the campaign was a success.
The key to making it all work? High-quality data and research.
"Probably the main success factor was the high quality of both methodology
and data-driven research we utilized," Zeitler observed. "This included the use of large data samples, often containing millions of data points, across multiple data sources in order to cross-validate all of our results."
And of course, Audiense was thankfully able to do a ton of the heavy lifting when it came to analysis.
"Audiense helped us generate a deep-dive into all of the individual segments of the existing as well as the new audiences we tried to identify and then better understand," concluded Zeitler.
Conclusion
Regardless of industry, both pivoting and reaching an entirely new audience is a tall order.
This rings true for opera houses, startups and any business in-between.
Audience analysis isn't something you can approach lightly. The more data points and insights you have at your disposal, the more you can make decisions with confidence. That's where a tool like Audiense can be a game-changer.