Jacqueline Zote
How audience intelligence helped a leading medical technology brand to shape a winning, client-first strategy
Your customers should be at the centre of all your business strategies.
That means you need to better understand them in order to figure out the best way to connect with them and address their needs.
But how do you even begin to understand a seemingly diverse and highly dispersed audience?
That's the exact challenge that Ideagoras had to overcome on behalf of the portable ultrasound division of their client, a leading global medical technology brand.
An international healthcare social media agency, Ideagoras stands solidly on the belief that it is impossible to define a strategy or social media objective without grounding it on audience intelligence.
So when their client needed to develop a powerful marketing strategy targeting a highly diverse audience, they turned to audience intelligence to gain in-depth insights about healthcare professionals.
Challenges
Revolutionary technological developments have led to the gradual democratization of the diagnostic imaging market. Smaller devices offering the same level of performance of large machines give many clinical specialties the freedom to work with more autonomy and speed in their diagnoses. As a result, patients can now obtain excellent quality imaging from the same point of care without having to go through multiple touch points.
With better autonomy comes a much more diverse audience group, which makes it challenging for the brand to shape their strategy in a way that puts their clients first. And without a client-first strategy, the client would have to resort to generic, public relations-type social media strategies.
Solution
In order to connect with their audience more authentically, they needed to understand their unique needs, values, and personality. This meant they had to build an accurate buyer persona to streamline their efforts and build their strategy on. In addition, they needed to dive deeper into audience conversations to better understand the market.
1: Get to know the audience
Ideagoras used Audiense Insights to identify the buyer persona profile of 14 medical specialties across six different regions in North America and Europe. This provided them with highly precise information on members of each specialty, including:
Gender
Bio descriptions
Social networks in which they were active
Influencing factors in their health resources acquisition
Most influential colleagues
Specialist media they consumed the most
Psychographic profile based on personality, values, and needs
Authority on Twitter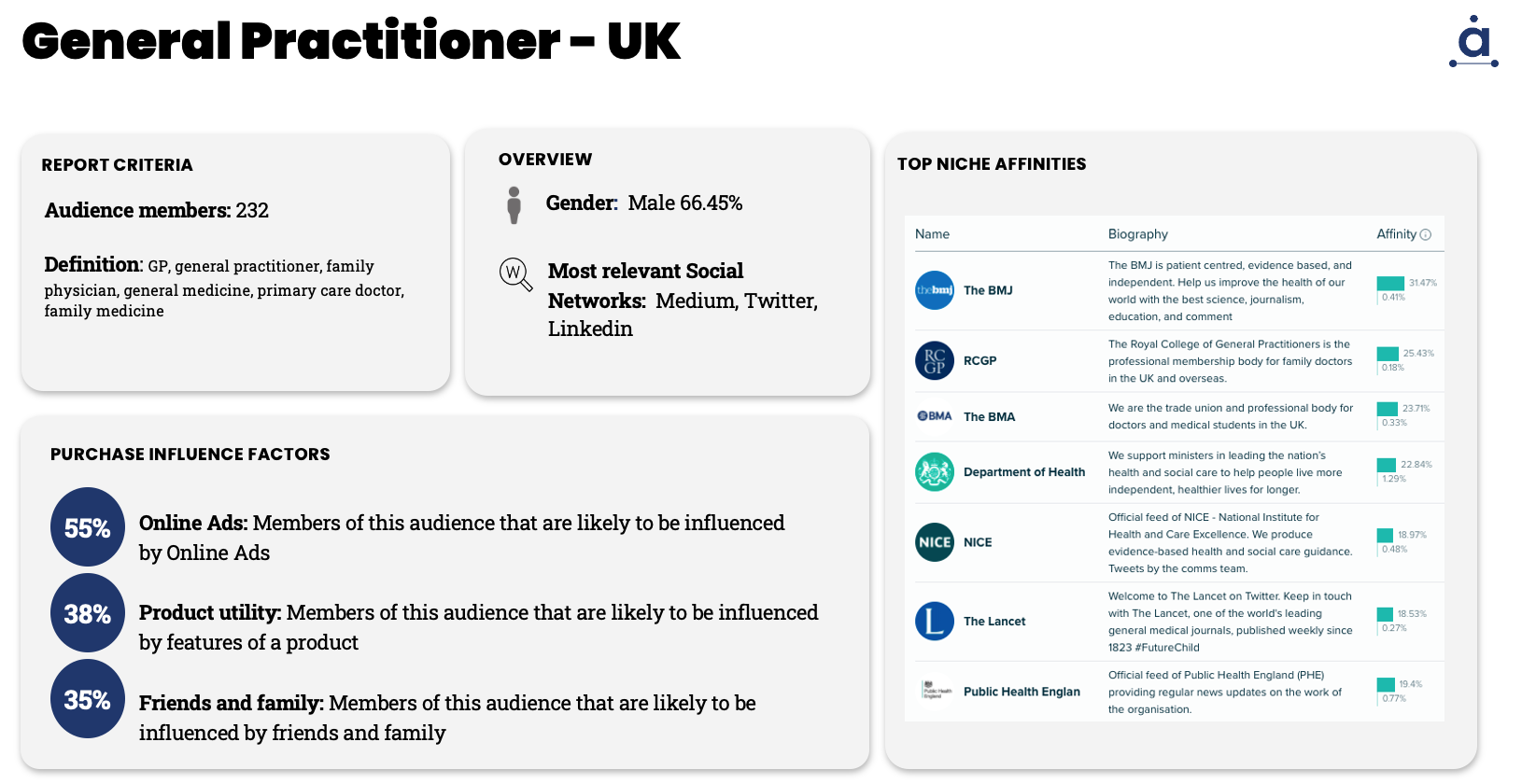 2: Dive into market of conversations around POCUS
Ideagoras then turned over the audience from Audiense Connect to Meltwater to filter the conversations using Advanced Boolean and identify ones that were of greatest interest to the client. These were conversations referring to Point-of-Care Ultrasound (POCUS), ultrasound, and handheld ultrasound.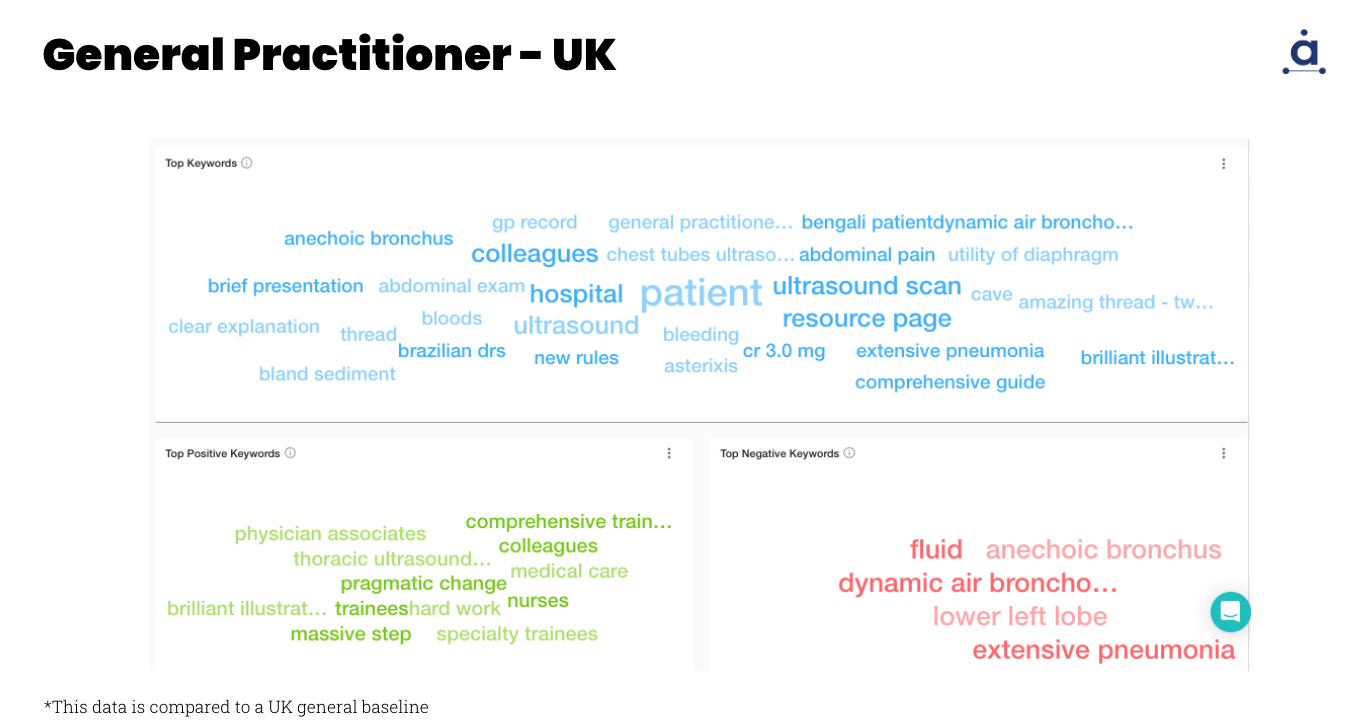 This provided them with key information on the conversation market for portable ultrasounds including:
Volume
Seasonality
Distribution by industry players
Narrative
Conversation sentiment
Weighting by specialty and country
3: Categorize the POCUS conversations
Once they got the results, the next step involved categorizing the conversations. For this, they exported the conversations into dynamic Excel tables so the Projects team at Audiense could manually analyze all the mentions one by one. The team classified the conversations by several categories, mainly – Educational, Positive Assessments, Events, and Competitors.
Findings and results
The initial intelligence exercise naturally brought immense value to commercial teams across all the regions analyzed, enabling the brand to know their clients and prospects much better. Using this exercise, the agency and its client were able to make actionable first decisions regarding the brand's strategy in terms of:
Networks to focus on
Type of social story
Organic follower growth policy
Community management protocols
Tone of communication
KPIs to establish
As a result, they were able to create a clear outline or a backbone to build their strategy around.
Moreover, analyzing and categorizing the POCUS conversation market helped Ideagoras to draw conclusions that were of great relevance to the client and brought them enormous value. They were able to:
Gain a better understanding of the conversational dynamics of the POCUS community
Document the kinds of activities that healthcare providers engaged in when it comes to ultrasound
Identify which conversation categories added the most value to the community
Understand the seasonality of the conversation
Identify the events and trade shows that generated the most conversation
Conclusion
With audience intelligence being instrumental for developing powerful strategies, Audiense played a vital role in helping the brand to understand their clients and prospects better. This was not just limited to the Audiense Insights and Audiense Connect technology solutions but also extended to personalized services by the Projects team.
"Thanks to the Audiense Insight services, we are helping our international and local clients navigate the 'back to the basics' journey: setting them apart from their competitors by discovering the infinite big value information they can gather through smart social data management," said Ángel González, CEO of Ideagoras.