Davids or a Goliath: Who should lead your influencer campaigns?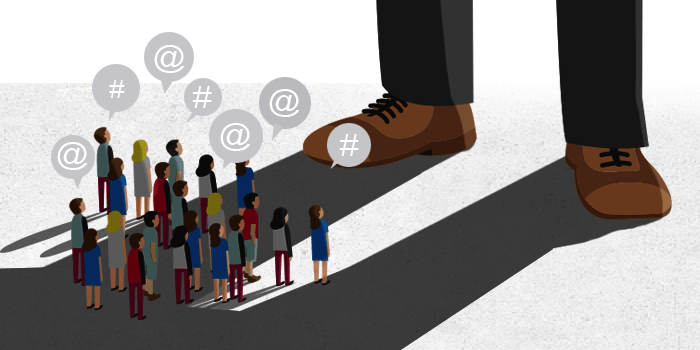 A creative influencer campaign with a strong execution is beneficial for both the influencer and the brand. The Journal of Consumer Research highlights how we value the opinions and actions of those we know, which will be a vital difference maker for many consumers in competitive markets. The right influencers deliver untapped audiences, connote certain qualities about the brand, and ultimately increase desirability of the product. So who do you pick for your Twitter marketing campaigns?
On the one hand, you could pick a large name with a sizeable audience to lead your influencer campaign. But alternatively you may find that integrating several smaller influencers into your campaign could be a more effective social influence strategy. Both approaches have their benefits, here's a couple of things to consider if you're thinking of embarking on an influencer campaign for your brand.
Choosing a 'Goliath' influencer
Major industry figures and celebrities have spearheaded some of the most iconic advertising campaigns of all time. The right connection, such as the one between Michael Jordan and Nike, will reward the brand with a lifelong association with a popular figure that drives sales for decades. It's an ideal situation when it works.
On the flipside, access to the audiences of these bigger names doesn't come cheap. A single sponsored Tweet from someone like Cristiano Ronaldo has been reported to cost a shade under €250,000. There's a risk that the delivery of the message (or the message itself) may fail to connect. This highlights the importance of researching the audience of your potential influencers to identify who is engaging with them, and if your audience has a significant crossover with who you want to be targeting.
Also, if the celebrity is particularly renowned for their sponsorships and advertising deals, a lot of people may not take too much notice of the celebrity selling another product or they may not completely trust the message being delivered. If this is a concern, what might be useful to do is analyse the audience that have connected with a previous campaign they have been involved with to see what the response was. Approaches to doing this include discovering retweeters of key campaign content, or finding the audience crossover between the influencers followers and people who used Tweeted specific campaign hashtags.
But what about an army of smaller influencers?
One practice that could yield significant rewards and give the campaign a more competitive edge is using a larger amount of micro-influencers and more niche figures. These generally wouldn't be celebrities, but would have a significant following in the audience you wish to target. It's advisable to use some tools to identify individual influential Twitter users within specific audiences as they cut down days of legwork and don't rely on guesswork to find out what type of audiences the profiles are connecting with.
What they lack in millions of followers, they often make up for in entrenched credibility with the audience you want to reach. This allows them to bring your brand into the conversation at a level that's personally connected to a lot of people in the audience, this is something that a celebrity or a brand account may be unable to do. As an example, PUMA used popular and socially active local runners in their #IGNITEYourCity campaign. The influencers they chose recorded engagement rates 24 times higher with their campaign Tweets than the ones PUMA's core accounts did. This gives PUMA eyes on their campaign in the short term, and a new, engaged audience to target in the longer term.
You may also find that 10 well-chosen influencers actually have more followers within the audience you want to connect with than a celebrity, whose audience may cover a wider range than you're interested in. Again, this highlights the importance of doing thorough research on the audience that you want to reach, and who the influencers are reaching.
Putting it into practice
To demonstrate how you could make these choices, we've put together a basic hypothetical example to quickly show what's possible. Let's say you are a luxury fashion retailer in London who wants to promote a style guide on Twitter to tie in with an upcoming clothing line. You want people interested in luxury lifestyle brands, so we will begin by looking at the audience of Tatler magazine. Initial checking of their followers interests suggests this is a good place to start as 'London', 'Fashion', and 'Luxury' are popular terms among their followers.

First, let's look at the big names following Tatler to get an idea on who would be a giant influencer. We've trimmed the search to list only those with very high levels of influence and looked at the highest followed profiles. As expected, all are household names with millions of followers.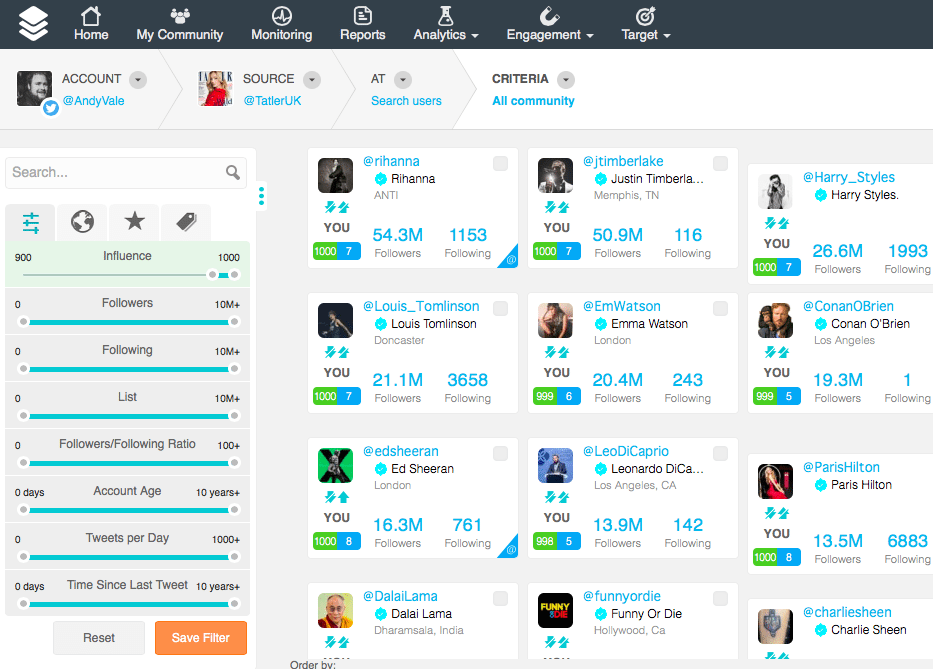 But what if you don't have a budget that can afford to sponsor a Tweet from Rihanna, Harry Styles, or the Dalai Lama? Perhaps you can afford them but want something that's more relevant to a specific audience. Here's where getting a larger number of more specific accounts could be beneficial. So, we've taken Tatler's followers and applied the following filters to them.
Location: London
Has 'Fashion' in their bio
High level of influence
Between 5000 - 50,000 followers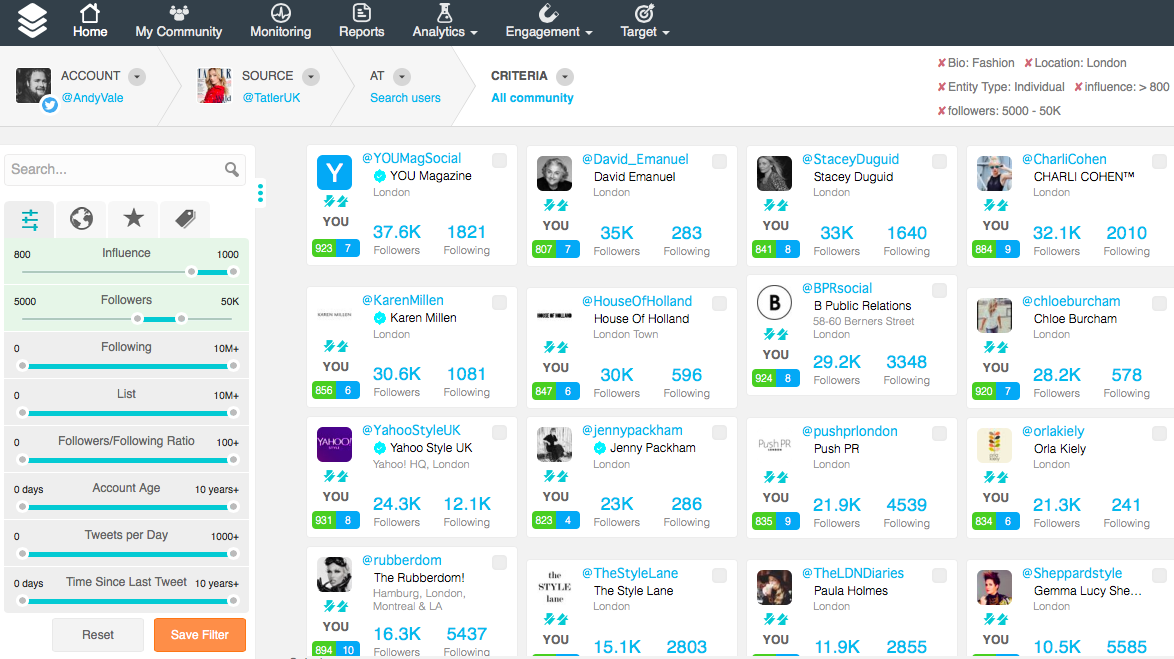 In the results we already see a number of potential individuals who could be approached to be involved in an influencer campaign. Due to the specific details of their account, their followers will have a higher percentage of Twitter users relevant to your campaign than the celebrity accounts. Further analysis of their communities will also validate your choices and tell you who you will be reaching by partnering with these users.
Your choice between using a big name or a group of smaller influencers could be compared to deciding between having the most popular person at a range of parties talking about your brand, or someone advertising it on a billboard. Both produce top results on social media, can be tailored to suit many different brands, and they needn't be mutually exclusive. Which approach do you lean towards?