Rachel May Quin
Retweeters: Why they're important to your Twitter marketing efforts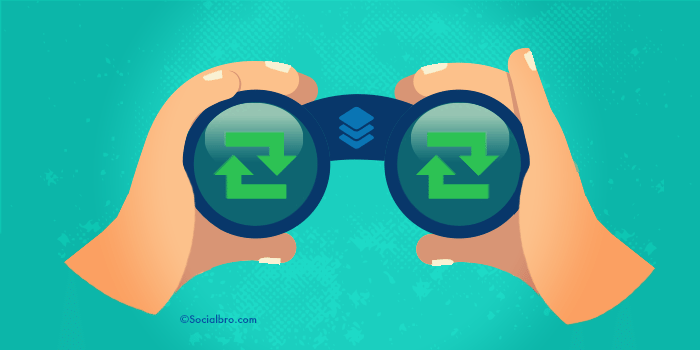 Today is an exciting day for our Basic, Professional and Business Plan users, we have an excellent new tool called Discover Retweeters. True to it's name, the primary purpose of the tool is to allow you to discover all the retweeters of a particular tweet so you can engage with them. If you take a look at our user guide you'll see the process is very easy. Simply add the tweet you want to analyze as a source and SocialBro will show you the profiles of all the retweeters of the tweet. Easy, right?
Ok, so what now? You've added the tweet, SocialBro's returned the user profile results and now you can get down to it. Down to what? Well, sit back, relax and take in the bevvy of tips we have for you! This is how to use the Discover Retweeters tool to build your community, improve your targeting strategies, and ensure your Twitter marketing starts delivering ROI...
Analyze your Content: Quantity vs. Quality
Engagement is an important factor in building customer relationships. Sometimes we seem to over obsess about the number of retweets, favorites or responses we receive. But what about the users behind the engagement statistics? Who are they? Followers or non-followers? Is your content attracting your target audience? Discover why these users are engaging and shape your future communication to achieve higher results. Defining the audience and understanding the type of content that appeals to them will help you improve your targeting strategies, enhance messaging tactics and achieve a mix of content that works for different segments and maximizes your overall results.
To retweet on Twitter you do not have to follow the user who originally tweeted, however by looking at all the users retweeting your own tweets you can find new members to follow. A retweet is such a beautiful thing, it's basically public endorsement of you business. Consider them an engaged member of your community - they're sharing your content! And you never know this may be the beginning of a beautiful loyal friendship!

Do you know how your Twitter campaigns are performing on Twitter Ads?
The use of promoted tweets is growing day by day. It's essential for businesses to understand and define the audiences that are engaging with their promoted tweets. SocialBro provides you the detailed information beyond the number of clicks, retweets and favorites. Not only will SocialBro reports provide the profiles of the users interacting with your content, you can analyze results, ROI and shape your marketing strategy accordingly.
Find the users who are sharing your tweets with their communities. Use the information gathered by SociaBro to understand the different user segments, define new target audiences and design specific Twitter marketing campaigns directed at them.
A new tool for your Twitter contests!
Do you use Twitter for promotions, contests and sweepstakes? If your brand regularly hosts competitions on Twitter you can use the Discover Retweeters tool to uncover users within your community who frequently retweet. Engage with them and they'll end up being some of your best allies.
Not only will you have the demographic characteristics of the all users who participated in the contest, as well as their interests, which will help you to determine if you are attracting the target audience intended (something that is difficult in competitions, as everyone's in it for the prize). Additionally, this new tool will help you organize the sweepstakes, if participation is by retweeting. Adding the contest tweet as a source will retrieve all the users who retweeted and you can then export all of them to an Excel file, a convenient way to get the list of all participants and easily choose a winner.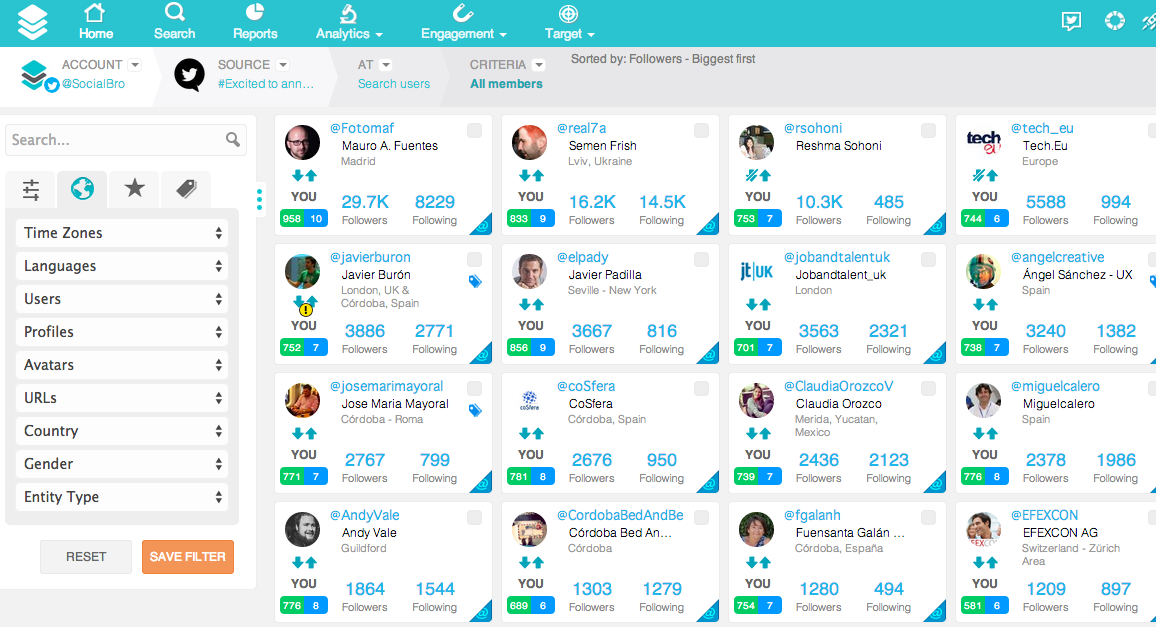 It's not all about you!
In business we not only have to analyze what makes our brand competitive in the sector, we also have to monitor and study what our competitors are doing.
The Discover Retweeters tool can also analyze the tweets of other Twitter accounts (the results will return maximum 100 users of accounts that are not authenticated in SocialBro). Add tweets from other users' Twitter profiles and discover the audience that the content resonates with and use the additional insight to attract and engage with users in different locations, insert the findings into your strategy to improve your targeting reach and results.
Don't forget that the users who are retweeting a tweet from your competitors might be interested in your brand/product/services. Why not start following them or add them to a list for monitoring? The community of your competition is always a good starting point to finding new and interesting contacts to follow and create new relationships with.
So there you have it! A few short ways to use the new tool to help you grow an engaged community! But we bet as you continue to use it you'll discover more ways to take advantage of discovering your retweeters. When you do, share them with us! We love to hear how our subscribers are using the tools. :)
*Please note that this new tool is only available for our Basic, Professional and Business Plan users. Contact sales@audiense.com for more information.