Michelle Deery
How an ovarian cancer nonprofit used audience targeting to reach 1 in 6 women in the UK
Ovarian Cancer Action (OCA) sought to connect with people on Twitter who were unaware of ovarian cancer and its symptoms. Early detection is critical for the best chance of full recovery.
OCA developed a UK campaign to bring awareness to ovarian cancer symptoms timed to align with World Ovarian Cancer Awareness Day on 8th May.
The challenge
OCA's audience is very custom, and they needed confidence in their campaign design, to drive the greatest impact in the UK population -- and save lives.
OCA partnered with TBWA London, Clear Channel UK, and Twitter Next to discuss the challenge—and come up with ideas to drive maximum reach.
It was TBWA, created the #FollowedByCancer campaign:
OCA would create Twitter accounts for each of the four main symptoms of ovarian cancer. These symptoms are persistent stomach pain, persistent bloating, feeling full quickly, and needing to urinate more frequently.
Then they would target a specific audience of 7,500 people that could either be affected or have a voice that could amplify this message.
Finally, on May 6th, two days before the World Ovarian Cancer Day, they would launch a reveal video about these four symptoms.
OCA knew that if they wanted their campaign to go viral, a novel idea alone wasn't enough.They also needed to be intentional about who they chose to follow. And that's why they reached out to Audiense.
The solution
OCA decided that the best way to spread awareness was to create four different Twitter accounts, representing each symptom. Since 7,500 British women are diagnosed with ovarian cancer each year, that's how many people they would follow.
To build an audience on Twitter for this campaign, OCA had to dig deep into their data. This would allow them to discover valuable insights about their followers.
Here are the steps OCA took to maximize the impact of their campaign using Audiense:
#1 Customer audience creation
OCA used the Audiense to identify four distinct groups of people.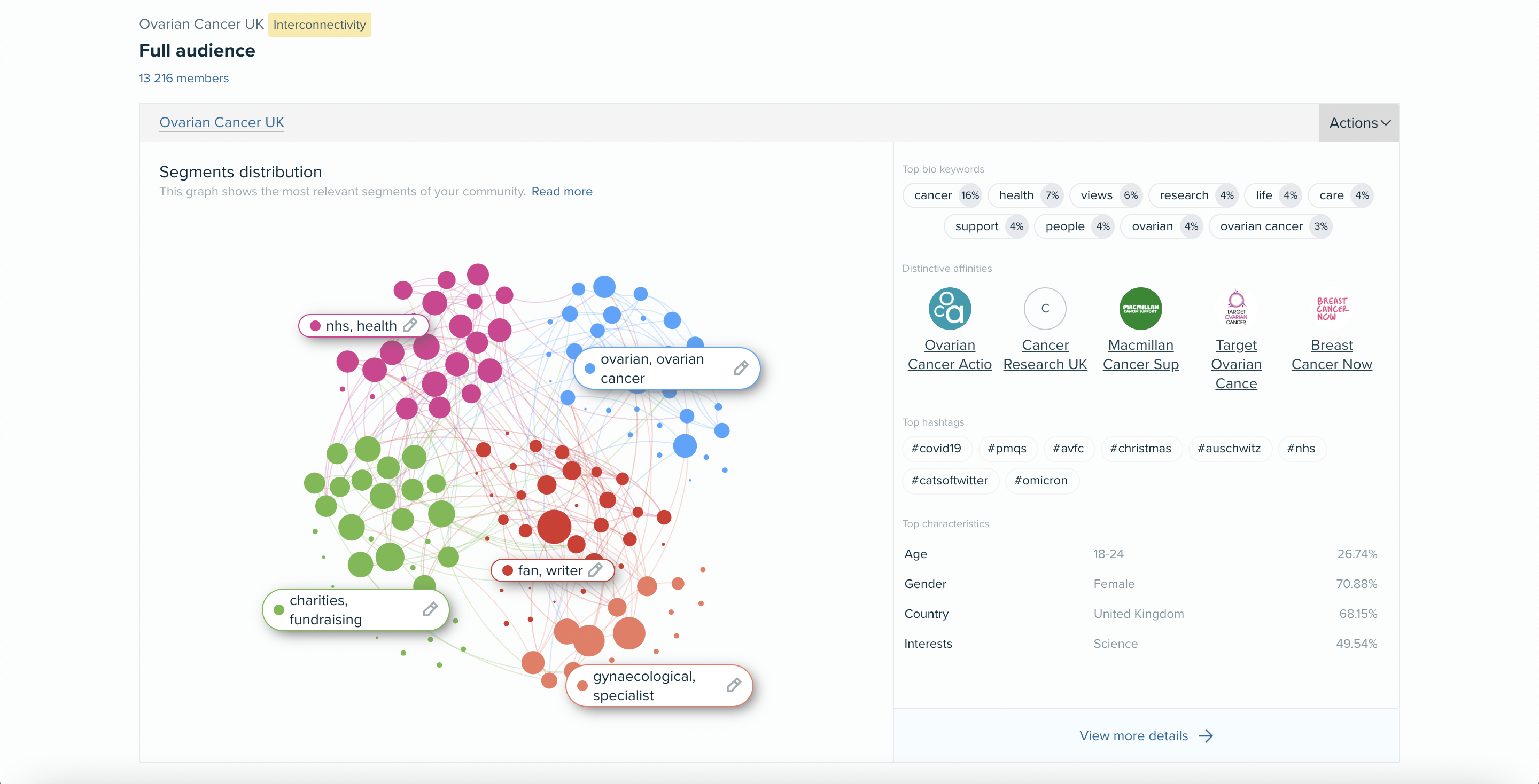 Audiense surfaced similarities amongst women that were likely unaware of ovarian cancer, its symptoms, and also interested in:
Talk shows like This Morning
TV shows such as EastEnders
Magazines such as Women's Health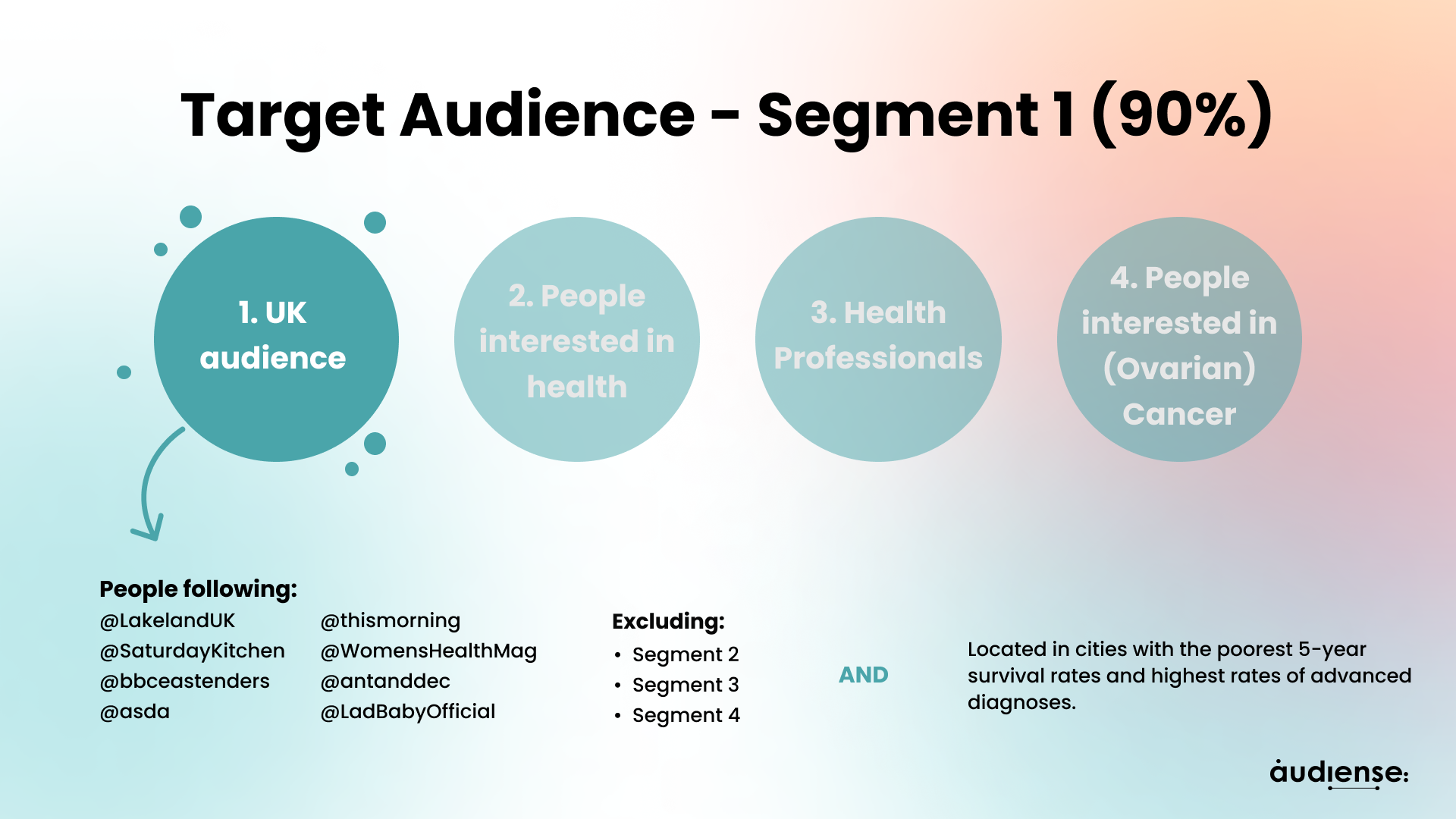 Additionally, it was critical to the success of their campaign that OCA reach people who have a propensity to share educational videos. This is why they created three more audience segments:

1. Women interested in health who follow healthcare organizations such as WHO and NHS England (5% of the target audience).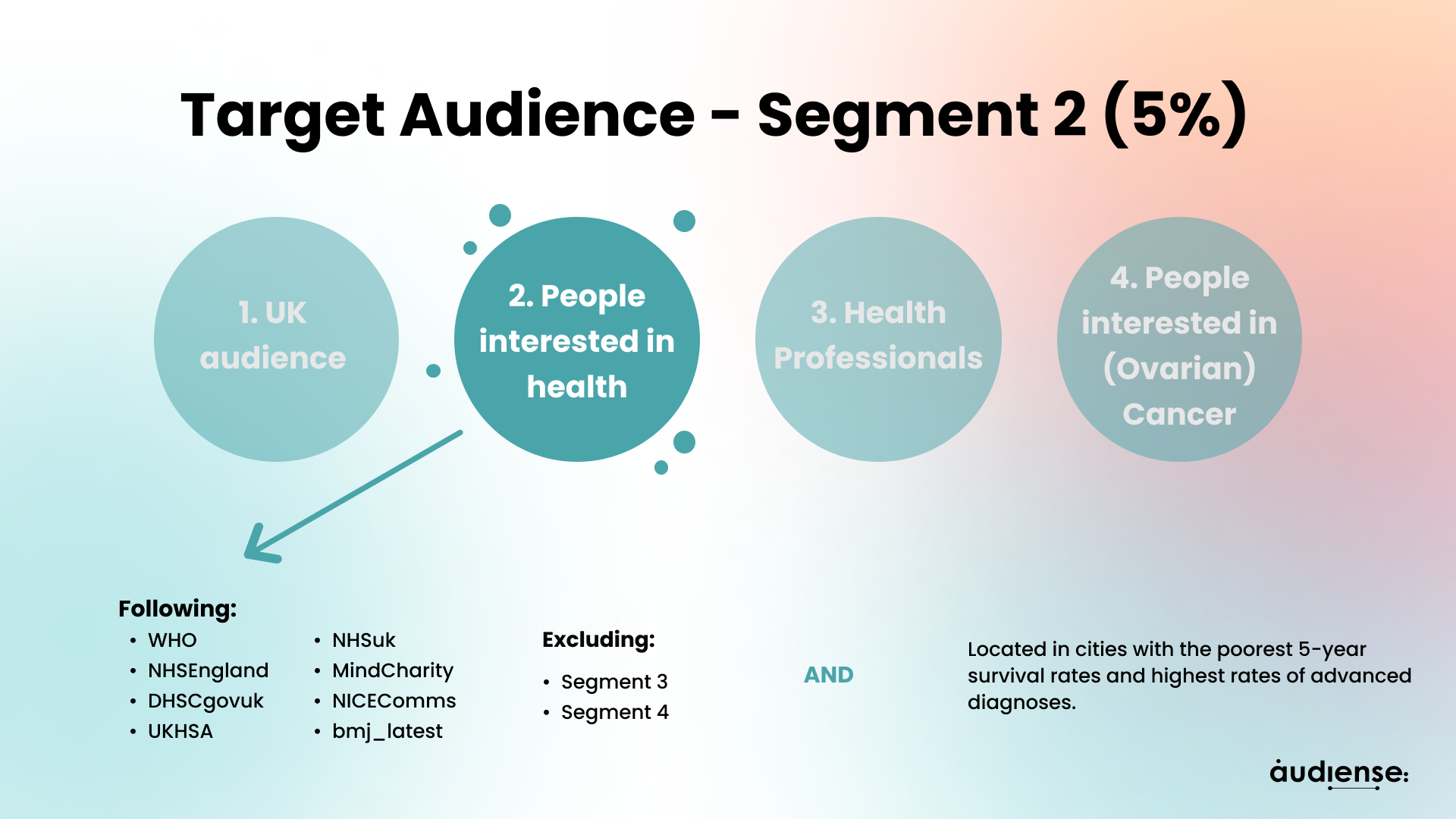 2. Self-identified health professionals with career titles in their Twitter Profile like NHS, gynaecology, or gynaecologist(2.5% of the target audience).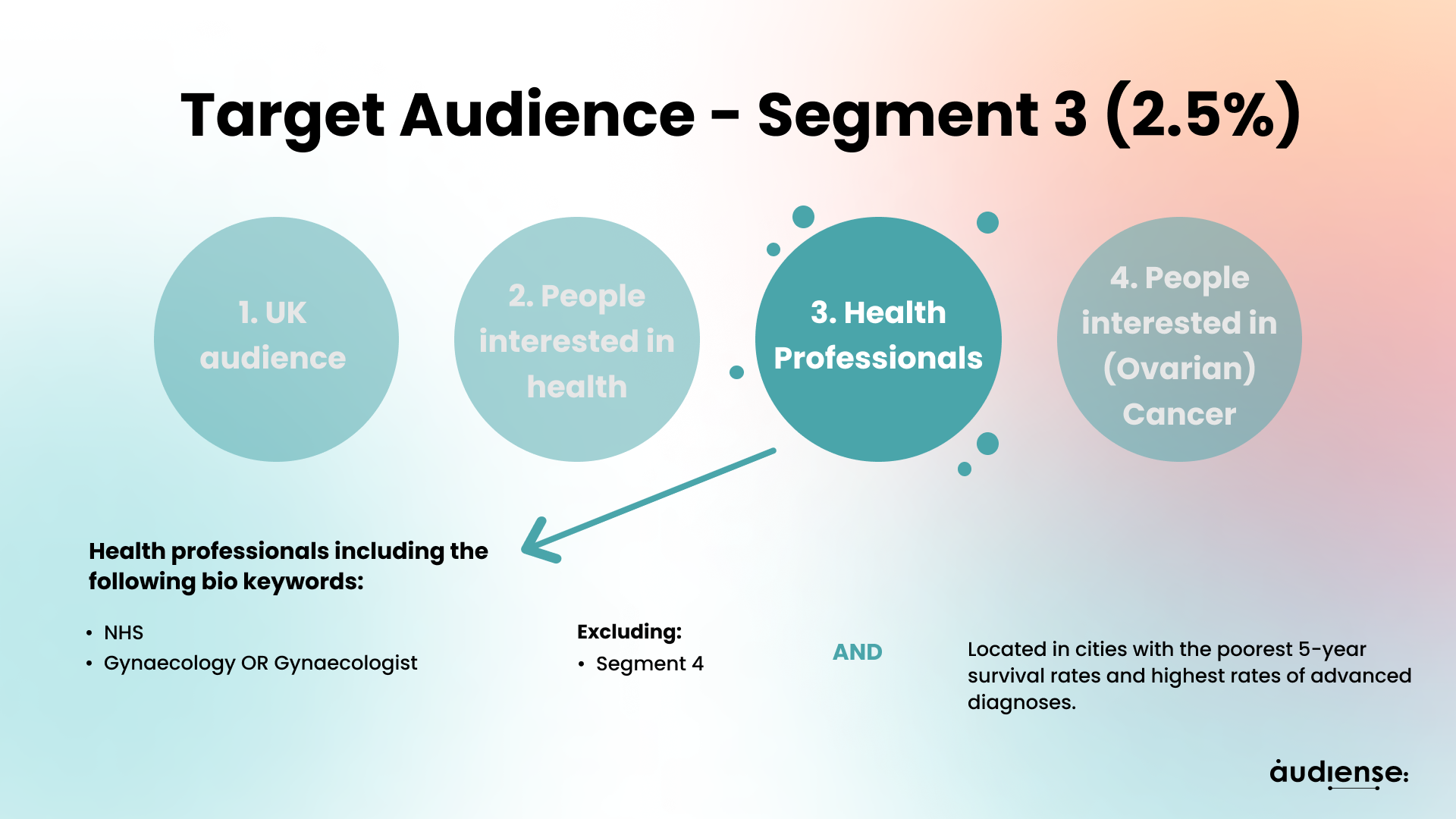 3. Women following cancer-related accounts or talking about cancer on Twitter (2.5% of the target audience).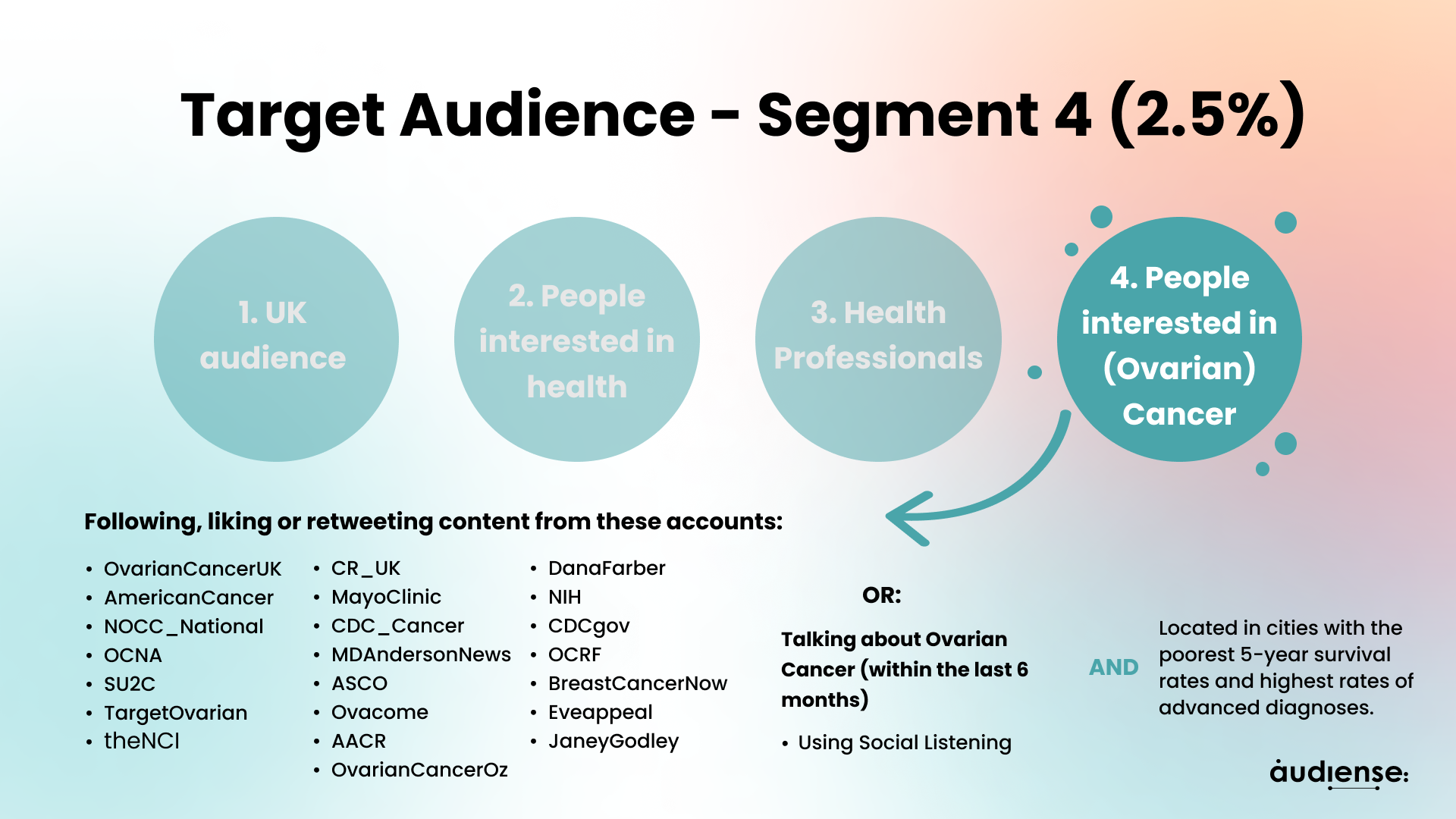 Moreover, Audiense enabled OCA to focus on women in cities with the poorest 5-year survival rates and highest rates of advanced diagnoses.
#2 Identify the right influencers
Once OCA had identified their target audience, it was time to start segmenting and identifying the most influential accounts that would help spread word-of-mouth about the campaign and allow them to grow their reach.
This involved accurate segmentation and careful curation, which enabled OCA to develop relationships and connections with their Twitter audience. OCA's criteria for selecting influencers was two-fold:
Following the Twitter account @OvarianCancerUK
Have a large following
This way, they were likely to share their educational video once it came out. Using Audiense, they filtered their followers for verified Twitter users that had more than 50k followers on the platform.
So they used Audiense Connect to narrow down their target audience to profiles with:
Personalized avatars
50k+ followers
#3 Monitor interactions to make sure that the campaign was flying under the radar
OCA knew that if they wanted the campaign to go viral, they had to keep it under wraps until the launch on May 6th.
So they used Audiense to monitor the interactions and engagement both on their main Twitter account and on their four symptom accounts.
This helped them to make sure that the campaign was successfully going under the radar before the big release.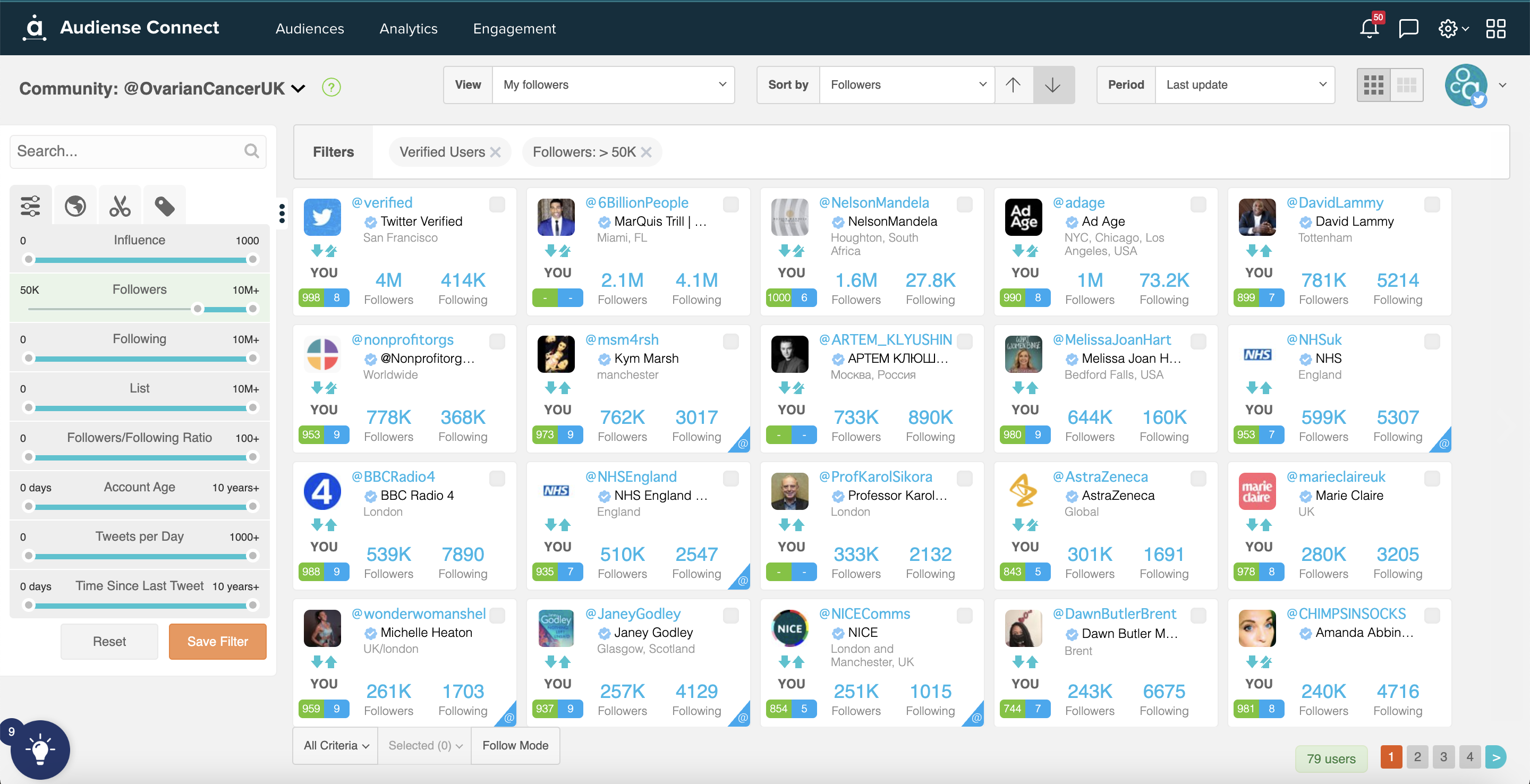 They reached out to those people directly via Twitter DMs and asked them to share their video. Twenty influencers, including singer and actor Kym Marsh, agreed to share OCA's video.
#5 Monitor interactions across all five Twitter accounts
Once OCA launched their video, they used Audiense Connect to monitor interactions on each of their five Twitter accounts.
Doing that from their Audiense account as opposed to their five separate Twitter accounts helped OCA respond to comments, questions, and concerns promptly despite having a very small team.
It also allowed them to see how the #FollowedByCancer campaign was performing in real-time via our Tweet Analytics functionality.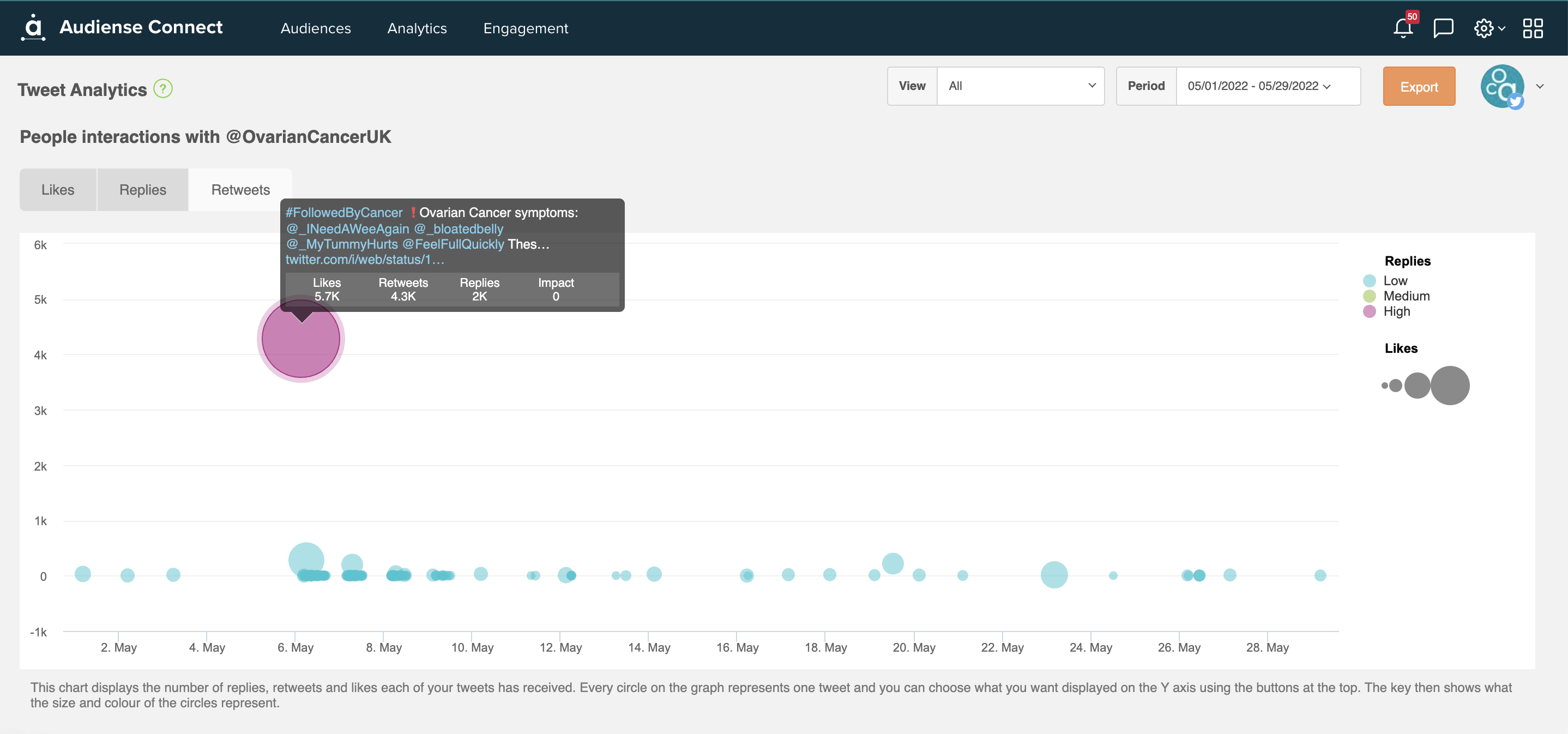 The results
OCA's World Ovarian Cancer Awareness Day Campaign launched 2 days in advance to build a timely conversation on Twitter generating:
1 in 6 women in the United Kingdom were reached with this campaign
OCA's Twitter audience grew by 50%
The campaign delivered 5M views, and 11M impressions
Their launch tweet saw 188k interactions, making it the most engaged Tweet from Ovarian Cancer Action to date
@OvarianCancerUK received as many mentions across the 4-day campaign as it did for the whole of 2021
Like many charities, resources are limited for us so tools such as Audiense are invaluable. Audiense allowed us to be really targeted about who we followed and reached out to, enabling us to maximise the reach and engagement of our campaign as well as raising vital awareness of ovarian cancer. This was key to the #FollowedByCancer success." - Nick Wright, Joint Head of Communications and Marketing at Ovarian Cancer Action
All in all, innovative marketing campaigns can help companies raise awareness and save lives. But you need to have the right tools if you want your campaign to go viral like #FollowedByCancer did.
Audiense played a crucial role in finding OCA's target audience on Twitter—allowing them to engage and increase their reach. Find out more about the tool here.