Brent Barnhart
How audience insights helped a company expand into three new educational markets
Pop quiz: how do you figure out the value of a target audience that might not even exist?
Seems like a trick question, right?
That said, figuring out the answer is a very real roadblock for global companies looking to expand into new markets.
And it's a challenge that Convosphere decided to tackle head-on.
Convosphere is a global insights and intelligence agency that provides expert multilingual business analysis for agencies and enterprise customers.
Their client, a multinational company in the "edutainment" space, wanted to explore opportunities to expand into Germany, France, and Japan. The client's goal was to reduce inequalities by providing global users with digital learning systems through their service.
To say that the stakes were high for Convosphere's client would be an understatement.
Recent research notes that the current ~$3.24 billion global edutainment market is expected to boom to $10+ billion by 2027. Recognizing the rise of digital learning immediately following the COVID-19 pandemic, the client rightfully wanted to capitalize on opportunities in these regions.
Global expansion and exploring new markets are crucial to the growth and longevity of so many modern businesses. The edutainment space is no different.
But given how often international expansions fail and the potential value of their client's opportunities, Convosphere had to dig deep into data to determine if these new markets were viable.
In this case study, we'll break down exactly how they got their answers (and how Audiense was integral to the process).
Challenges
Expansion is a tall order, even for multi-national companies with roots in multiple markets.
It's well-documented that even the most seasoned companies manage to flounder in new territories. From inaccurate market research to misunderstanding a country's culture or customers, there's plenty of room for error.
And on that note, the markets of France, Germany, and Japan don't exactly bear a bunch of similarities (especially in regard to the client's industry).
Totally different cultures, demographics, and educational systems meant that Convosphere would need to establish consistent data points and metrics to measure regardless of geography.
Another key challenge of the project was the fact that educational data can be tricky to gather in the first place. Students (primary students, in particular) bear little resemblance to traditional consumers and it's not as if data firms can directly assess their needs. Instead, data would have to be gathered via third-parties such as parents, educators and industry experts.
That said, Convosphere knew that they couldn't afford to second-guess or make assumptions about their client's expansion. Mariko Suzuki, Project Manager and Insight Analyst and Convosphere, acknowledged this directly.
"Everyone talks about education," Suzuki notes. "But we needed to know who those people really were in order to understand the context and nuance of each market."
Solution
For the sake of gathering data and assessing the viability of each target market, Convosphere set out to answer three questions about each region:
What are their needs and challenges related to education and ed-tech?
Who represents the largest sect of potential customers (think: educators versus parents)?
What is the potential reach of an edutainment company in the region (based on factors such as availability of Internet access)?
Convosphere relied on a combination of firsthand research and third-party data to determine all of the above. Using conversational data, social media, and AI, the company was able to fill in the gaps to determine whether or not it was worthwhile to pursue opportunities as an edutainment brand in France, Germany, and Japan.
Below are the four specific steps that Convosphere took to find and organize their data.
1. Connect with local analysts for demographic info on each region
Appropriately enough, Convosphere started by digging in and doing their homework.
Specifically, the company employed local analysts and conducted their own internal research to create a basic breakdown of each country's respective educational market. This includes:
Student age(s)
School information (how many, primary schools versus secondary schools)
Curriculum subjects (think: an emphasis on STEM versus the arts)
These data points represented the beginning of Convosphere's roadmap to determine what each region might need in terms of edutainment.
2. Conduct conversational analysis via social media
After gathering basic data, the company moved onto social media conversation analysis. Convosphere analyzed conversations around education in each market, eventually breaking down the conversations into specific subtopics (such as COVID-19, curriculum, and technologies).
The company used Talkwalker's consumer intelligence platform to uncover relevant keywords and phrases relevant to education and edutainment. Tweets, social comments, hashtags, and interactions helped highlight the biggest concerns and pain points for each region.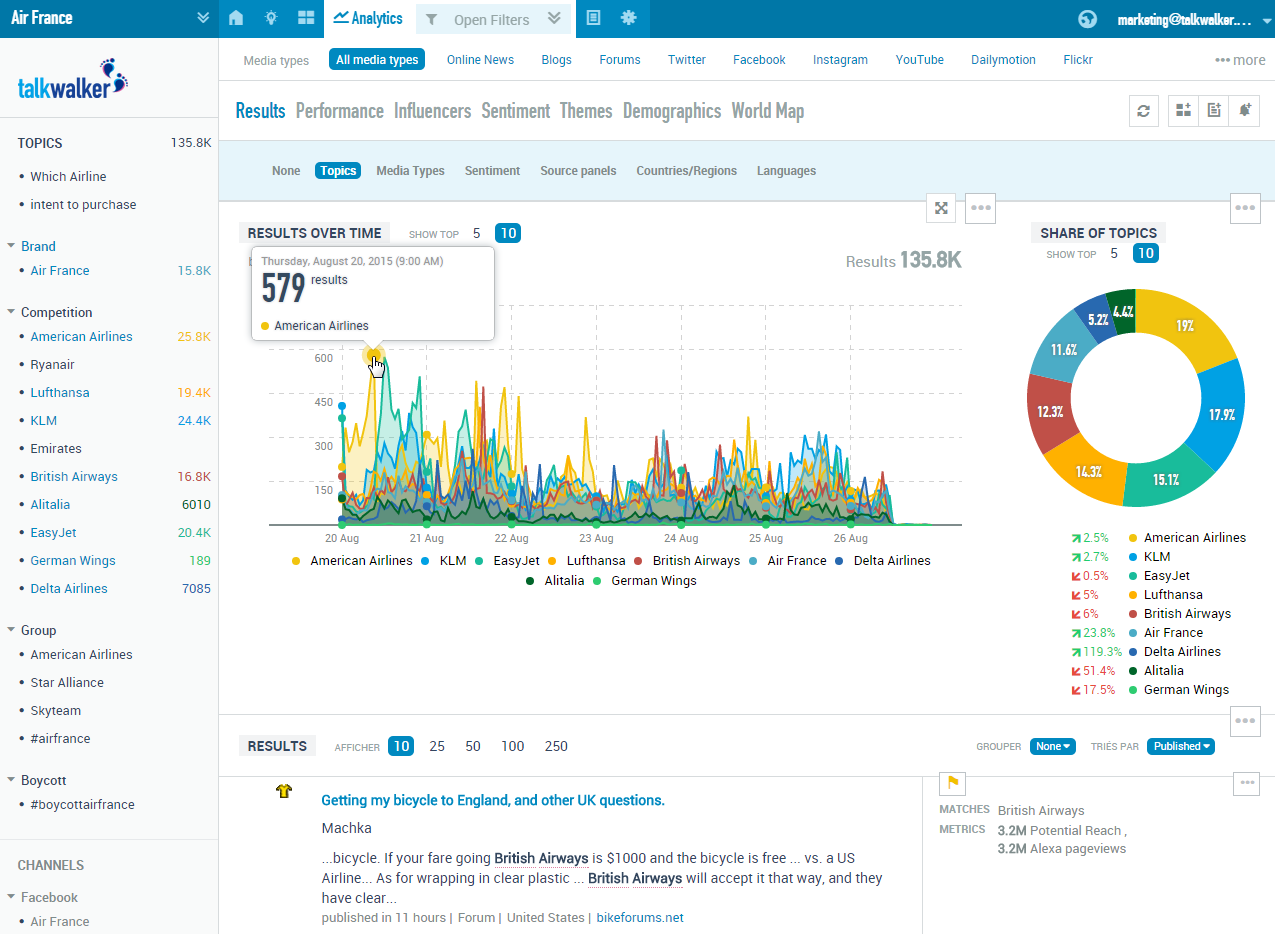 Through filtering and Boolean queries, Convosphere was able to narrow down these conversations into specific subtopics. Here's a snapshot of the most common educational talking points among consumers in Japan:
3. Put data into context and get even more granular with analysis
From here, the data was processed and interpreted by local analysts. With their knowledge of each respective market's school system, they were able to put the data into the context of ed-tech and edutainment.
This was essential for the client to understand the importance and interest around technology in the educational space.
Convosphere then broke down even further the conversational data surrounding tech-centric subtopics to determine each region's comfort and familiarity with ed-tech. For example, here were the most popular technology subtopics in Japan:
4. Separate consumers into specific market segments with Audiense
Finally, Convosphere fed their social conversation data into Audiense for segmentation.
Our platform was then able to identify the respective audience groups discussing and engaging with educational topics: this included parents, subject matter experts and teachers.
The analysis was essential for not only confirming whether there was a viable consumer audience in each region, but how big that audience was (and what their demographics were).
"Audiense helped us to segment the accounts actively discussing education, whether they were education experts or parents, based on their profile information," noted Suzuki. "We had interesting results which clearly showed the breakdown of segments was different by market ."
For reference, here's what that breakdown actually looked like:
Findings and Results
In short, Convosphere was able to return to their client with a sense of confidence regarding whether (and how) they should expand into the German, French, and Japanese markets.
Here's a quick snapshot of Convosphere's findings as they relate to the viability of edutainment businesses in each region:
School closures, online learning, and children's wellbeing during the pandemic were among the most-discussed topics among all markets. Still, the educational community demonstrated an understanding of the value of STEAM as an educational approach.
Many schools were not equipped with up-to-date teaching materials, connectivity or equipment: this made providing adequate digital education a distinct challenge.
There was a disparity between teachers and students in terms of access and use of online courses and Internet connectivity: this was especially true in France and Germany. In Japan, online safety and digital literacy were considered crucial topics for students to learn.
Translation? Convosphere's findings helped their client understand the prevailing interests and concerns regarding education in each region and what was driving them.
They also learned that current technological needs in the education space were focused more on hardware than software.
Based on these findings, the client was successfully able to narrow the scope of their next research phase. Meanwhile, Audiense played a pivotal role in contextualizing Convosphere's initial round of research:
"[Insights from Audiense] ultimately helped the client to determine which market and segment they should target in the long run," said Suzuki in closing.
Conclusion
Market research and consumer analysis can improve just about any modern marketing campaign.
But in high-stakes situations like market expansion, comprehensive analysis is a must-do.
Through firsthand research and AI-driven insights alike, companies can find the answers they're looking for to make the attempts at expansion more likely to succeed. That's exactly why a tool like Audiense can be a game-changer for businesses that need in-depth data.