Brent Barnhart
How audience insights helped IBM uncover consumers' must-attend events
Analyzing audience insights isn't a one-size-fits-all task.
Sure, some companies may be satisfied with sifting through a few profiles here and there.
But bigger businesses need to dig through thousands (if not millions) of customers and individual data points before they can truly understand their target audience.
This is exactly what Maven Road was tasked to do on behalf of IBM.
As an established global intelligence firm, Maven Road already knew a thing or two about translating data into action and results.
Working alongside IBM's Consumer Intelligence and Event Partnership team, their goal was to help IBM determine which sporting and entertainment events boasted the most buzz and affinity for their clients.
The goal here was to not only uncover which events IBM's audience were excited about, but also whether or not certain events weren't worth pursuing. In short, IBM was eager to learn which events deserved their investment and Maven Road was responsible for finding answers.
Challenges
Understanding audience affinities is crucial. Doing so empowers you to build stronger relationships with your customers and likewise give your audience what they want in terms of products and experiences.
However, determining affinity can be daunting when you're dealing with a seemingly endless array of customers and data points. Maven Road had to take a massive sample size of data and make sense of it without getting too into the weeds.
IBM was likewise trying to justify their spend on existing events beyond uncovering new ones to invest in: these weren't decisions to be taken lightly in terms of resources. The fact that this campaign was conducted in the midst of COVID-19 also complicated the analysis, requiring Maven Road to also assess the affinity of virtual versus in-person events.
Solution
Maven Road needed accurate, real-time data from dozens (if not hundreds) of IBM's events and a quick means of analyzing it all.
That's why they turned to Audiense, Maven Road took a three-step approach to wrangle IBM's audience data and answering the brand's most pressing questions:
Build a target audience for analysis based on specific parameters
Analyze social media conversations from those customers based on event-specific phrases and terms to determine affinity
Conduct further analysis of the audience above to discover additional affinities and interests relevant to the brand
Below's a breakdown of Maven Road's approach (and insights into how brands and agencies conduct audience analysis for their own clients and customers):
1. Identify and create a target audience based on specific social users
You can't determine affinity until you have an audience to work with.
Maven Road began by building a target audience within our platform, mostly leveraging users' social media bios as a starting point. From there, they took US census data to compile a list of companies with <100 employees. Putting those names into Audiense, they identified a list of workers and executives.
"We wanted to reach C-level executives and understand those decision-makers," notes Paul Herrera, COO & Co-founder at Maven Road. "With Audiense, we were able to identify the executives who are directors, vice-presidents, C-levels of the largest companies in the United States."
These movers and shakers would play a central role in figuring out which events consumers were most (and least) stoked about.
With Audiense, building out a target audience like the one Maven Road put together is a cinch. From keywords and interests to job roles and bios, you can hone in on a highly specific set of your audience or look at larger sample sizes to uncover industry-wide trends.
2. Dig into event-specific conversations on social to determine affinity
Once IBM's target audience was identified, it was time to listen to what they were saying. The good, the bad, and everything in-between, using social listening tools (such as Meltwater, Pulsar, Brandwatch...).
"We wanted a view to identifying events to invest in and trying to validate the sponsorship of events in which IBM already invests," Herrera noted.
Mentions, hashtags, and keywords from social conversations via Twitter are invaluable for figuring out how people felt about any given event.
With so much transparency and a willingness to sound off, there's arguably no better place to find unfiltered feedback. Maven Road also made a point to determine if users were following event-specific accounts to determine the degree of affinity.
"In addition to validating the decision to sponsor events that IBM already invests in, we checked if the target audience followed the event profiles," said Herrera. "If they followed IBM, we wanted to see the level of brand awareness that IBM has with that audience."
Tools like Audiense empower brands to search through such conversations in an instant, aggregating data from thousands of tweets from relevant users without requiring brands to look at individual accounts "by hand."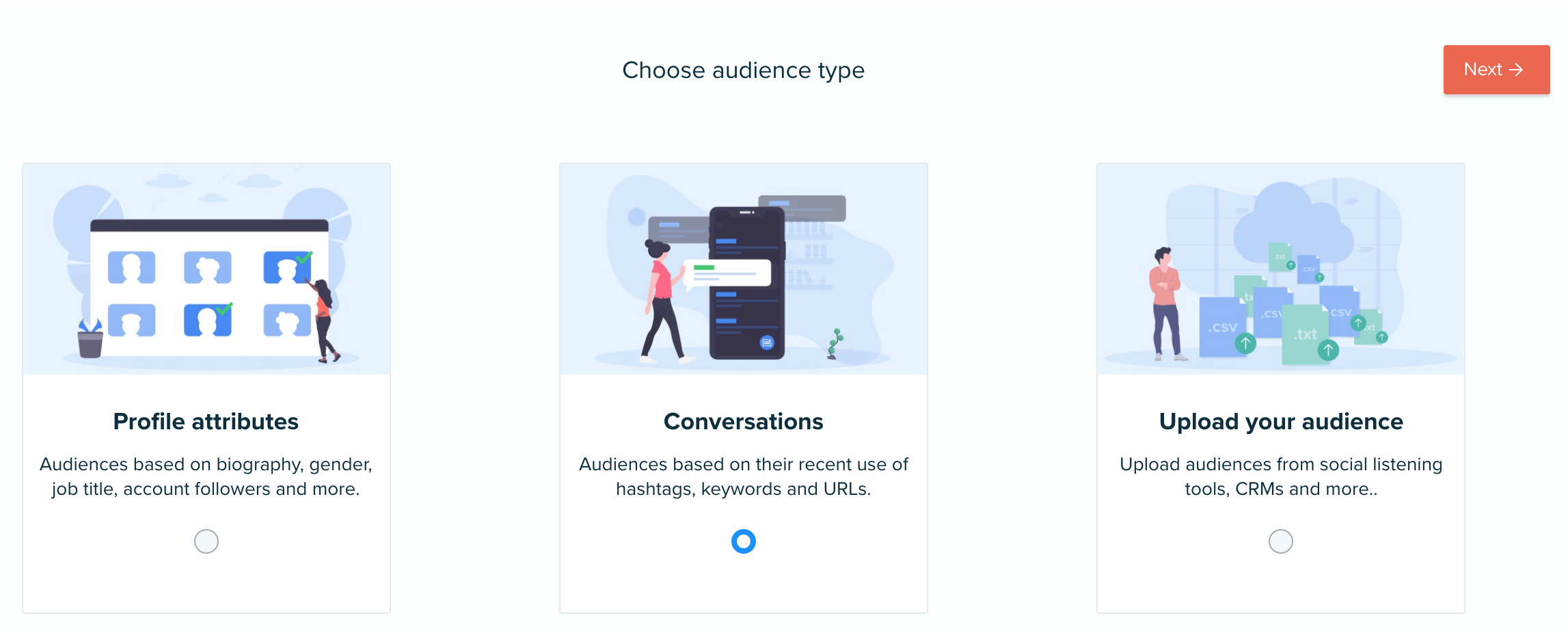 3. Uncover additional affinities and interests of your target audience
In addition to event affinity, Maven Road took an even deeper dive into their data using Audiense to determine what their users were talking about beyond events related to IBM. Specifically, they looked at:
Demographic characters
Age
Location
Accounts followed
Interests
Based on these data points, Maven Road had an even clearer picture of what IBM's audience was looking for in terms of both in-person and virtual events alike.
Findings and Results
So, was Maven Road successful in determining which sports and entertainment events people were actually interested in?
The short answer? A resounding "yes."
Although this campaign kicked off as COVID-19 began to unfold, the timing actually created a unique opportunity for Maven Road to analyze the affinity of both in-person and virtual events that IBM could potentially sponsor.
According to Herrera, Maven Road was able to identify:
The top 20 sports events with the greatest affinity among the audience
The top 20 entertainment and arts events across all audiences
The most popular virtual events (at that time)
Maven Road learned that when there is a sponsor present at an event, people prefer to have a booth at the physical venue. This creates a sense of interactivity, something that IBM will look to take advantage of when organizing large, face-to-face events are resumed.
"The insights Maven Road provided to IBM assisted the company in the decision not to sponsor virtual events, at least for now, because the data showed that their target audience wasn't interested in them," Herrera said in closing.
Conclusion
If you want to uncover opportunities and assess whether or not you're giving your audience what they want, the data is definitely out there to clue you in.
It's just a matter of taking a deep dive. With tools like Audiense, conducting in-depth analysis and discovering actionable takeaways is possible for brands that want to approach their business initiatives with a sense of confidence.