Leticia Polese - Content Marketing Manager
How audience segmentation was key to creating a successful data-informed campaign [Case Study]
The case study we are sharing today served as the starting point in implementing a new methodology for a brand's content creation: not driven by data, but informed by it. The case is an initiative led by the global insurance company MAPFRE and London-based business intelligence and insights agency Convosphere, which used social listening and audience intelligence as the basis of the methodology.
"Social data is more than just mentions of a topic. Every profile leaves a public footprint comprising a varied series of data points or metadata. At Convosphere, we understand the audience segmentation from a holistic point of view, mashing consumers' digital behavioural, attitudinal and interest data," said the agency's associate director, Tamara Lucas
The hypothesis which the agency and client tested was: "By analysing the conversations of our target audiences as well as understanding their personalities, interests and online behaviours, we can create campaigns that are more efficient and personalised for each segment of the audience".
Challenges
The main challenge was not only to define the methodology but to create a process that could be replicated across markets, languages and business questions, according to Tamara. "In big organisations, innovation comes with challenges. When things have been done in a specific way for many years it takes time to invoke change," she said.
The model for successful communication has changed. As explained by MAPFRE'S head of Social and Measurement, Eva Velasco Morales, the company understands that broadcasting to consumers is no longer working. "We were bombarding our customers with generic content, assuming we knew what all of our customers liked and treating them as a homogenous mass," said Eva, adding that MAPFRE invested large budgets into campaigns, "more in hope than expectation of reaching and engaging people".
Customers want to be in the centre, they want to be treated as unique and be engaged with by the brand. In recognition of this, MAPFRE looked to improve their customers' experiences, but first, they had to better understand their clients.
Solution
Using a three-stage methodology covering audience segmentation, profiling (demographics, personality, needs, values and online behaviour) and, finally, activation and messaging, Convosphere was able to give MAPFRE a deep understanding of their audiences.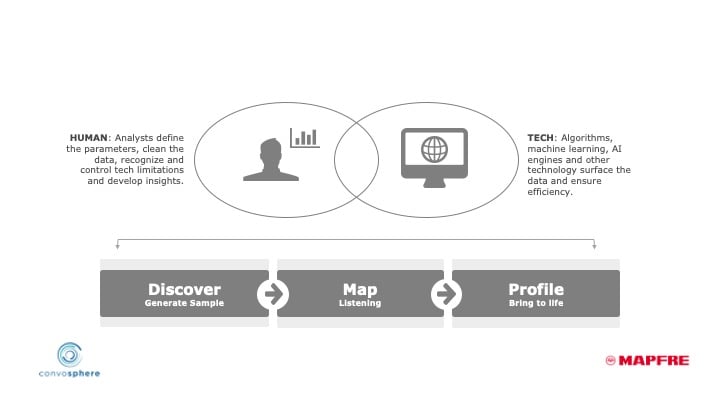 "Audiences are becoming increasingly fragmented, so brands need to use various data points to gain a better understanding of them," said Tamara, highlighting that by analysing organic social conversations, follower accounts or content engaged with (among others), brands are able to detect patterns and commonalities within the universe and action on them.
1. Audience identification and segmentation
MAPFRE wanted to understand Millennials (aged 25-35) in Pennsylvania, United States, grouped by significant milestones in their lives, such as getting married, buying a home or becoming parents.
"Using Audiense' social consumer segmentation, we were able to identify six segments based on their gender and marital status: single men, married men, fathers, single women, married women and mothers. After manually reviewing each group, we tracked their conversations over the last six months using Brandwatch. This way, we cleaned each group more thoroughly by deleting false positives, such as removing the 'parents' of dogs and cats," explained Tamara.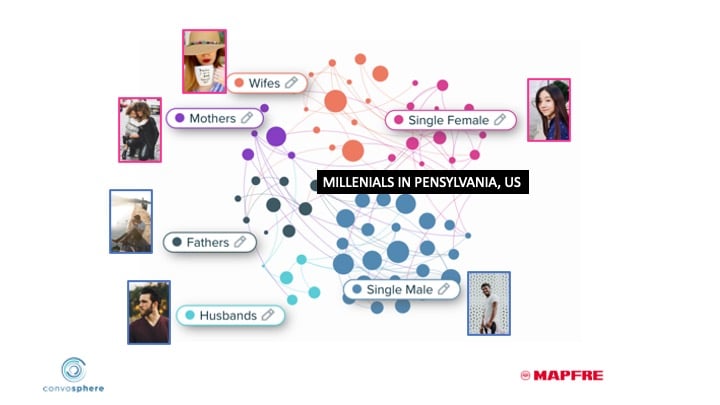 2. Profiling
Using Audiense, each audience group was profiled based on their unique personality traits, needs and values. "We also included information about their online behaviours, for example, preferred content formats, the best times to reach them and the factors that influence their purchase decisions," said Convosphere's associate director.
Using Brandwatch, they identified the topics that were of most interest and their relevance by each segment: entertainment, health and wellbeing, major life events and financial decisions.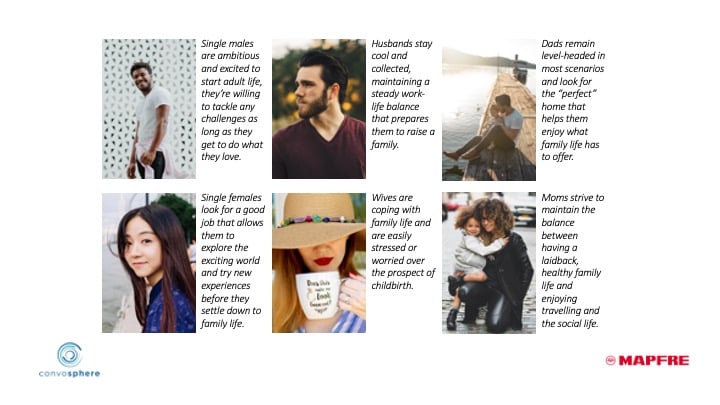 3. Audience activation and messaging
The final outcome showed the most relevant products and message types for each segment after combining personalities, user profiles and conversational data. According to Tamara, all this information was key to running a data-informed campaign: the content development team created different messages and images that matched each segment's content preferences, interests and personality.
Finally, each creative was tested against a non-personalised piece of content to measure changes in engagement and conversion rates.
Results
After three months of testing the different versions of the ads (personalised and non-personalised), these were the key takeaways Tamara shared:
1. Posting personalised messages and segmenting audiences drove higher engagement on Facebook. On Twitter, we saw similar results, albeit slightly higher on commercial messages. However, the piece with the highest engagement rate was one of the personalised ones (2.65% ER vs. 2.27% ER top non-personalised piece).
2. We also observed how CPC and CPE decreased when we targeted people based on their interest with a personalised message, generating similar CPE to that of general audiences. This allowed for personalised messaging per audience cluster in a more cost-effective way.
3. In terms of conversion rate, we did not observe a significant difference between the results from the message types.
How are we acting on these findings?
We will continue to use personalised messaging on niche audiences to drive engagement and brand awareness, especially on Facebook.
We will keep defining messages per niche audiences based on their interest in every stage of their journey.
However, we will revert to less-personalised campaigns when sending broader promotional and sale-related messages.
Key aspects to a successful case study
According to Eva and Tamara, there were two key aspects that
made the project successful. The first was the close collaboration between the teams. MAPFRE's business expertise was vital to the pertinent insights into their specific business questions, while the expertise of the Convopshere team provided a significant depth of insight and methodological knowhow.
The second aspect is the ability to grasp nuances, according to Tamara. "We combined technology and experienced local analysts, who understand the context, using their reasoning, judgement and discretion".
Photo by Michael Dziedzic on Unsplash