Jacqueline Zote
How consumer insights helped a CBD ecommerce platform identify and engage micro-influencers
Recommendations and endorsements from real people come off as more authentic and reliable.
That's exactly why micro-influencers have an advantage over their more famous counterparts, even though they may have a smaller following.
But since they have limited reach, you need to be very precise with the micro-influencers you choose to work with, focusing on people who can specifically connect with the audience you want to target.
And this is the challenge that Convosphere needed to overcome.
Convosphere is a market research agency that provides local social insights through multilingual social listening.
Their client, a UK-based ecommerce platform for CBD products, needed help developing and executing an influencer marketing strategy. The client's goal was to establish a long-term relationship with micro-influencers and use their help to not only raise awareness but also boost the perceived authenticity of their campaign.
Challenges
With strict regulatory measures in place in the U.K for advertising CBD products on Google and social media, the client needed to find a way around these regulations by exploring the opportunities that micro-influencers offer.
Being a U.K-based platform, they wanted to identify micro-influencers who are based in London and active on YouTube and Instagram. And in order to reach their main target audience, these influencers needed to have a strong presence in four main categories – wellness, sports, indulgence, and pets.
While brand awareness was a major objective, the client also hoped that these micro-influencers would help to add more authenticity to their social media campaign. As such, they needed to gain their endorsement and build a long-term relationship with them.
Solution
Realizing the need to get really precise with the influencer identification process, Convosphere set out to deploy several methodologies to identify micro-influencers meeting the client's criteria. This involved looking at influential social media users and filtering them based on interests, bio, and conversations.
Identify relevant influencers based on interests
Convosphere performed an interest-based influencer identification to discover influencers whose interests align with the client's offering. They used the robust influencer identification features on Audiense Insights to generate a universe of authors based on interests relevant to the key categories the client wanted to target. This included beauty, health, fitness, and pets.
The Audiense Insights platform comes with the ability to filter search lists using a number of factors. For example, you have the option to run a search for influencers who are using specific keywords in their bio. You can even filter the results to only see micro-influencers, which streamlines the influencer identification process.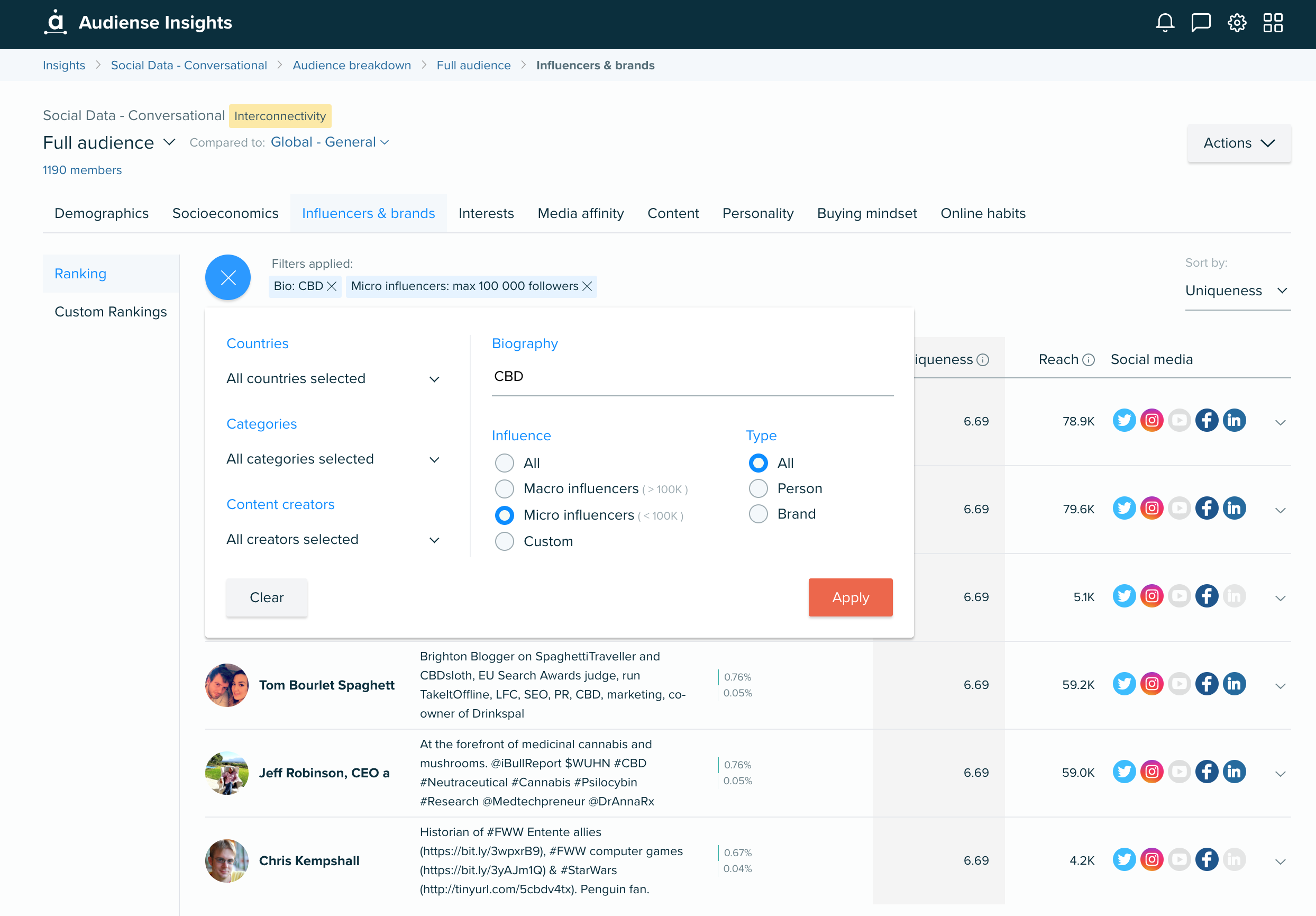 Identify relevant influencers through conversation and bio information
The project analyst team came up with Boolean queries to help Convosphere run a search for relevant influencers using conversation data and bio-based information. Through this process, they were able to key in on authors who frequently participated in conversations related to the four main target categories. They also identified users who claimed to be interested in these categories in their bio.
The hardest part of this step is in developing the Boolean queries that would be relevant to your search and your campaign goals. So it's important to have a team of professional analysts who have a clear understanding of your brand and your objectives to help you come up with the right set of queries.
Use Twitter as a data gate for building an "influencer universe"
Next, the Convosphere team built an influencer universe in their target categories. However, with the limitations that most social media channels place on author identification, they turned to Twitter as a data gate. This helped them to overcome the limitations and gather essential and relevant conversational data from key influencers.
"Audiense helped us to identify influencers based on their interest and geo-location, but more importantly to measure their presence across social media platforms and understand their audience. This data helped us to develop a pool of influencers in key categories such as wellness, indulgence, sports, and pets and for the client to choose the right influencer to collaborate with," notes Insight Analyst at Convosphere, Wonkyung Shin, who PM'd the CBD project.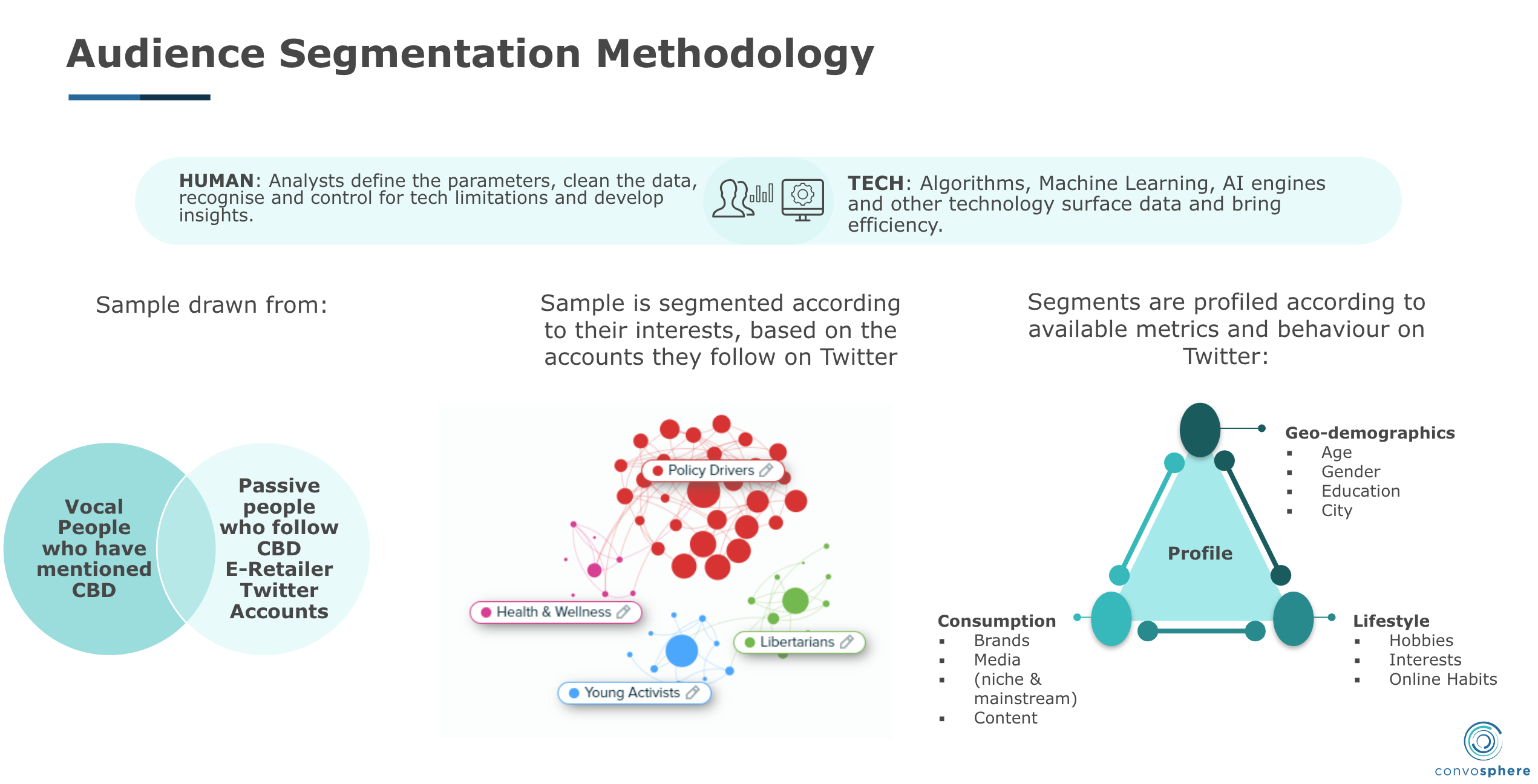 Findings and results
Using a thorough influencer identification process, Convosphere was able to shortlist 300 potential influencers. To further fine-tune this list, they reviewed the influencers for authenticity and influence. This involved looking at both quantitative and qualitative metrics such as:
Follower count
Social media presence (across platforms)
Influence in the category (under key categories and subcategories)
Author type – bloggers, vloggers, fitness coaches
Convosphere kept the list broad so the client could have the option to filter prospective influencers using different criteria. This gave them more flexibility to narrow their search according to different requirements.
As a result of this meticulous influencer identification process, the client was able to engage with authentic micro-influencers who were highly relevant to the four main target categories. This enabled them to successfully promote their ecommerce platform and new CBD product while circumventing the U.K advertising restrictions pertaining to CBD.
Conclusion
Due to their authentic nature, micro-influencers can boost the credibility of social media campaigns. But their limited reach means brands have to go through a time-consuming process of zeroing in on the influencers who can influence their target audience.
With the ability to search through multiple social media platforms for influential authors, Audiense played a key role in helping the client to identify key micro-influencers who can make an impact in the four main target categories – wellness, sports, indulgence, and pets.