How Twitter can bridge the gap between a consumer's first touch & purchase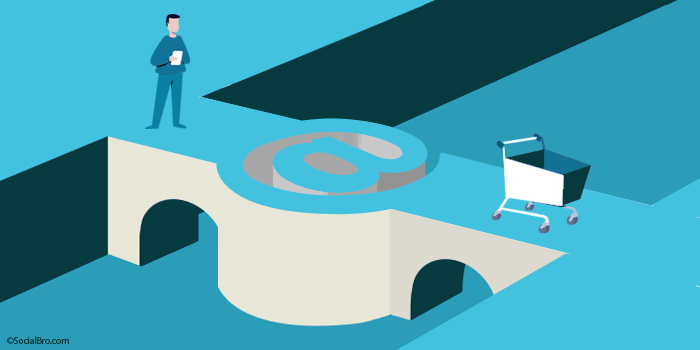 "Between a consumer's first touch with a brand, and them making a purchase there is a gap, it's the missing piece between an initial interaction and an outcome. Those who aren't filling that gap with a branded experience all the way through will eventually lose consumers."
Ian Irving, Creative Strategy Director, Breed Creative
Speaking at HATCH LIVE, London, April 2015
The modern buying journey is far more complex than in the past, we'd almost go as far as saying that no two buying journeys are totally alike anymore. A multitude of touch-points in the build up to a purchase gives brands a myriad of opportunities to engage with a consumer, or alternatively lose them. According to research from Google, for large retailers, social contact will first happen in the middle of a customer's buying journey 47% of the time. With just under half of your customers potentially influenced at this juncture, a strategy that creates desire and helps to build trusting connections between the consumer and the brand is vital. Here are 5 ways that Twitter can be one of the strongest bricks in building a bridge over that gap.

Make Twitter data actionable
The data you collect needs to be something you can perform actions with afterwards. For example, collecting emails means you can use an email integration tool to unearth Twitter profiles associated to email addresses in your CRM platform. This way you can advertise to Twitter users who didn't open follow-up emails, increasing the likelihood that you can find something which they will connect with and convert from.
"By personalising our remarketing activities using the customer intent data we captured in-store, we saw click-through rates approx 16 times higher than normal display retargeting. We know the products they're interested in, and someone who's visited a store already has a high propensity to buy - so we can deliver something tailored that's far more likely to convert them into a customer."

Esther Kho, Account Director, CloudTags
Add creativity to your Twitter data
Make sure that any data your audience gives to you is used to help give a personal experience. For example, insightful use of Tailored Audience Twitter lists combined with data on what customers have been looking at, or opening emails about, can be used to set up a highly personalised Promoted Tweet campaign to smaller batches of users with similar interests. A highly targeted campaign like this will be more likely to yield a cost-efficient response than a more generic message.
"Taking data from multiple sources, interpreting that data then adding creativity is what's driving change in our industry - this is an endless feedback loop. The brands leading the way put this feedback loop at the centre of what they do and build memorable experiences around their offering. Personally tailored content that's appropriate to your brand, such as video, can help to prime emotive states within the potential customer that are conductive to purchases."

Tom Head, Director, Lab | Digital Agency
Keep communication in context
If your messaging isn't aligning with what's currently relevant to your audience, you'll miss out on opportunities. Twitter is a real time medium, optimised for smart marketers to deliver communication that matches what people are doing. If you're encouraging potential customers to search a campaign hashtag, make sure your use of it at different times of the day/week/year reflect what your audience are likely to be doing.
"Context is the magic ingredient for not losing people down the gap. Understanding where someone is and their expectations is key. Your communication with someone checking a website on their lunch break potentially needs to be different from someone in store or relaxing at home in the evening. If you can tweak your messaging to match these changes, while keeping it consistent with your brand, then you're going to increase the probability of making a better connection with them than if you'd posted something generic."

Tom Head, Director, Lab | Digital Agency
Give unique rewards
A consumer may be casting their eyes across multiple brands in the build up to their purchase decision. One way of helping to swing them your way is to offer an overall branded experience that stands head-and-shoulders above your competitors. Content, giveaways, free samples, or other things tailored specifically to individual consumers who have reached out to you will help cement a bond with a brand, encouraging them to purchase.
"Look at interesting ways to reward the users, RIP to boring social media! One way of doing this is to create an outcome based on individual data. Our #OneLastTime campaign for The Hobbit created personal content for people based on their favourite Hobbit character, including a link to a live stream of the trailer. The average CTR was 61% and the posts had a 45% engagement rate."

Alex Newland, Co-Founder/Director, Visual Voice
Only interrupt in appropriate ways
While Twitter gives you endless ways to get into the foreground of your audience's awareness, you still need to be mindful of how you do so. Don't force yourself into spaces and conversations that you haven't earned the right to enter. For example, jumping into personal conversations between targeted Tweeters that aren't really relevant to you can come off as being very forced, and potentially rude. It doesn't matter who you are, the stalking angle is not the one for your brand! Focussing on making them aware of your channels in ways that are beneficial to them, and in ways that feel more human.

These are some of the ways that you can bridge the gap between a customer's first point of contact and making a purchase by using Twitter, but creative marketers will always be able to find more. What's your most effective way of engaging with potential customers on Twitter?