[Interview] Tweet Chariot: How O2's social channels make the England rugby team giant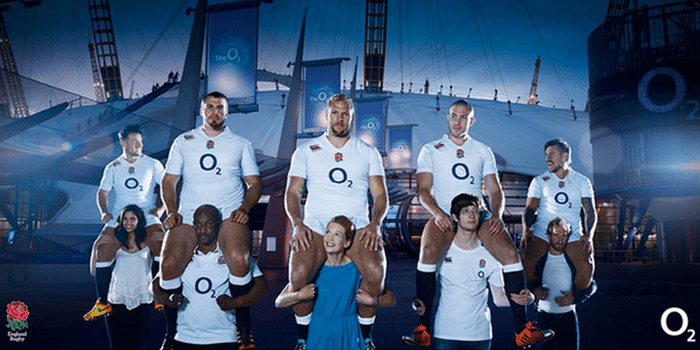 O2's sponsorships of both the England Rugby team and The O2 Arena provide high profile cross-channel promotional opportunities that any social team could learn from. Since their first Tweet in 2008, O2 have come to be known as a leading social brand within the telecommunications industry. With over 300,000 Twitter followers on their core UK account, they're the UK's most-followed network provider. Meanwhile, their dedicated team of four social media managers and 20 supporting social staff show the brand's devotion to delivering a world class social media strategy.
With a big couple months of rugby just around the corner, we spoke to O2's head of social, Kristian Lorenzon, to discuss his team's plans, how they've built one of the most reactive social marketing teams, and where he sees the future of social media.
Where does social media fit within O2's wider marketing strategy?
"We realised social media was important very early on due to the short distance between ourselves, the brand, and the customer. We started about seven years ago (our first Tweet was in 2008) and we've built our team in response to what the customers have needed. For example, we noticed that customers were increasingly using social networks to contact us with questions and advice so we needed to build a response team for that. It's been recognised as a key marketing channel right the way up to board level, including our CEO (Ronan Dunne), who is on Twitter every day."
How is social media implemented into the planning of your major cross-channel campaigns?
"As advertising has changed, we've had to change ourselves. Ten years ago most agencies would deliver a TV first approach, or at least something focussed around broadcast media. Now we look for a more centralised idea that can work across all channels. We also expect our agencies to consider how the idea can concurrently work in stores or in a sponsorship environment, such as with England Rugby."
How much collaboration was there between O2 and England Rugby for the #WearTheRose campaign?
"We work very closely with the Rugby Football Union (RFU) on all our campaigns as it needs to be done right and all parties need to be considered. We went to the RFU 18 months ago to discuss our current campaign and they were passionately in favour of it from the start. Many other brands try to push their own corporate agenda too much with these sorts of sponsorships, but we recognised early on that this particular campaign needs to be all about supporting the team. Therefore we highlighted wearing the rose as a very strong call to action asking the nation to get behind the team. One way to get involved is obviously wearing the actual England Rugby jersey, but social media is also a great way of showing your support through images and videos."
How has the campaign performed for you so far?
"We soft-launched the campaign on social media last year, gradually helping the audience to adopt the language of #WearTheRose. We saw fantastic results during this year's Six Nations tournament, which gave us a record number of mentions in the high tens of thousands.
One of our most successful pieces of content in that period was focused on Harry Westlake, the mascot who went viral when he passionately sang the national anthem before one of the games. We saw that unfolding on social media, so we got hold of Harry's family and asked him to become an official interviewer for the England Rugby team. We introduced him to the squad and managed to create some video content that people loved and it took off naturally."
How did you get that idea, and the subsequent content, signed off in such a short window?
"We've set up our team to be as agile as it's possible for a big brand to be. A lot of organisations struggle to do similar because they're not set up to be content creators and distributors like a news agency would be. We recognised the importance of this a few years ago and ensured we had processes in place to get quick sign-off from senior stakeholders, while also having the resources ready to turn these ideas a reality. Advance preparation for these sort of situations meant we were able to react to Harry's popularity straight away.
This will be hugely beneficial during the upcoming Autumn of Rugby too. We've been planning our strategy for a long time, but we're also aware that there will be a lot of reactive situations for us to be ready for. So we've set up a core team of social media managers, listeners, and creators that are ready to respond to whatever happens with a unique touch."
Your @O2 profile is aimed at the whole of the UK, yet you regularly Tweet about your sponsorship with England Rugby. Is there a worry that you may alienate potential customers in Scotland and Wales?
"We're proud of our sponsorship of England, but we don't want customers in other countries to feel left out. So we do offer special rugby offers via Priority to our customers in other countries in order for them to get something back from us. Also, not meaning to give too much away, but we do have a couple of surprises planned for them this Autumn that we hope will help Scotland, Wales, and England fans have a bit of fun on matchdays and support their teams."
What led to the decision to introduce a Twitter handle specifically for your sporting sponsorships, rather than using your main O2 profile?
"We knew that we had a lot of rugby fans within our community, and we wanted to take advantage of it with our sponsorships. They always responded well to exclusive content or news from the squad and demand for it was rapidly increasing. But we realised that we couldn't effectively deliver it from our core channel, as it has a lot of other purposes. So we developed @O2sports to help us stay in touch with those more grass-roots rugby supporters, and also support other sporting offers that we push through O2 Priority. Over the last couple of years we've built a big core of sports fans, and we expect that to increase with the big Autumn of sports ahead of us."
You've been at O2 for over three years, what have been the main changes within social media in this time?
"It's developed incredibly fast, and the change in sophistication has been immense. So now the likes of Twitter, Facebook, and Instagram are becoming as big as tech companies like Apple or Google. They have a large user base, and with that comes a lot of interesting products for brands such as ourselves to capitalise on, as well as access to current and potential customers. A few years ago social media was a lot easier to jump into, whereas now it's a lot more crowded and there's so many things to be aware of in terms of targeted advertising. Now, brands really need to devote resources and investment in this space to effectively reach people."
What kind of targeting are you doing with paid social?
"We're always looking at new ways to target new customers via social channels. The breadth of data and insight available really helps us to achieve that. The big thing we're focusing on this year with our partners is making the most of personalised marketing at scale. We're looking to understand the end user through the targeting and audience options that the social platforms make available to us. Our creative agencies then need to produce content, experiences, and advertising that appeals to each of these segments that are made available to us from various media owners."
How do you use analytical tools within your social strategy?
"We have a dedicated social insights team within O2. They're there to really understand what customers are looking for and what they're saying about our brand. This enables us to adapt both our content strategies and our wider business in terms of the products. We ensure that positive experiences and frustrations that they have with our products are listened to and communicated to the people within the business who may be able to act upon this social feedback."
What are the most unique aspects of being part of O2's social media team?
"The great thing about being in a digital and telecommunications company is being on the cutting edge of new ideas, services and products. Meanwhile, working in an area that has developed as quickly and recently as social media there's a similar innovative buzz. It's exciting to deliver news about these exciting products via the groundbreaking types of marketing that social is now able to provide. Meanwhile, we also have two of the best sponsorships in the world with The O2 Arena and England Rugby, allowing us regular opportunities to create great branded content around passionate national conversations."
What are the biggest challenges that you regularly face in such a role?
"The rapid changes in the social and digital world are important to stay up to date with. You need to be cutting edge, fresh and always standing out from your competitors. Ensuring that you are aware of both what the platforms and brands are doing alongside your day-to-day duties is a constant challenge that helps to keep us on our toes."
How does the social team at O2 ensure it is ready to meet these challenges?
"We have regular sessions with media owners so we can hear directly from them about what's happening. Then as a team we encourage everyone in our meetings to share the best recent work they've seen, either internally or by other brands, so that nobody misses a thing. We also have a dedicated digital excellence arm within our marketing department. Their key role is to develop the relationships with new, interesting organisations to ensure that O2 is considered a partner with innovation and new products"
What do you think will be some of the major developments in social media over the next year, which brands will need to prepare for?
"There's so much great content being produced, both by brands and users, that the competition for attention is already fierce. Brands will really need to concentrate on making interesting and entertaining content that suits the platform and drives engagement with the user. You can't just slap a TV ad on social anymore and expect the best results, you need a dedicated team to be on the pulse of your audience and understand what will work on each channel."
Want to hear more insights and opinions from digital marketing and social media professionals at some of the world's top brands and organisations? Check out the other social media interviews in our Spotlight Series, including NASA, Paddy Power, United Nations, Pizza Express, and many more.