Tara Twyman - Product Marketing Manager
Kantar & Audiense: Profiling potential demand with Digital Mirror
Audiense is proud to announce a new partnership with Kantar - as part of their new iLab open innovation ecosystem - alongside institutions and brands such as Coca-Cola, Twitter, Saïd Business School and Oxford University.
Launched last summer, Kantar's iLab brings together consumer brands, academia, and startup partners to address tomorrow's consumer needs today. This is done by experimenting, creating and testing innovative solutions and products.
Introducing Digital Mirror
The combination of Kantar's deep expertise in consumer research, analytics, innovation and brands, and Audiense's social consumer intelligence technology and data engineering capabilities has empowered an advanced platform.
Digital Mirror has risen to the challenge to uncover the behavioral context, trends, and people profiles behind consumer segments to amplify traditional segmentation studies and fuel strategic actions.
Innovating with a specialized audience intelligence platform such as Audiense and Kantar Growth Finder Methodology makes complete sense to us, as we aim to solve tomorrow's consumer needs today. This partnership will help us uncover disruptive trends with insights from social data at volume and scale to help brands worldwide." Cynthia Vega, Global Product Lead for Dx Analytics and iLab.
How does it work?
With consumer needs ever-evolving, anticipating shifts and translating audience insights into action can be very challenging. Digital Mirror connects the dots between deep audience knowledge and strategic marketing decisions to bring the most important part of consumer research back into focus - the people.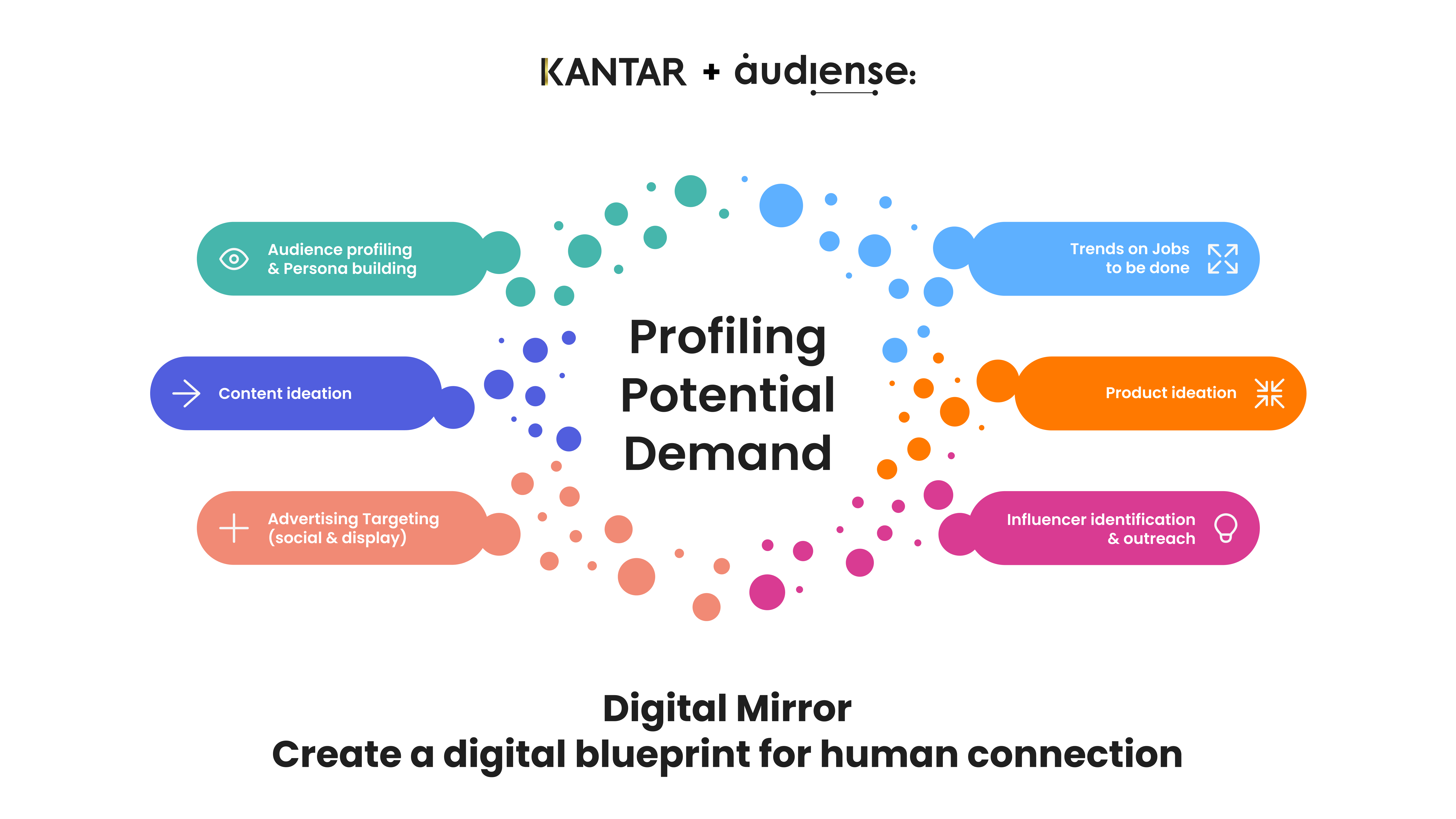 Digital Mirror uncovers products, interests, motivations, and formats that are trending amongst specific consumer segments. It then profiles the audience behind the segments to uncover demographics, media consumption and online behaviours, brand affiliations and psychographic data to help consumer brands take innovation, communication and targeting strategies to the next level.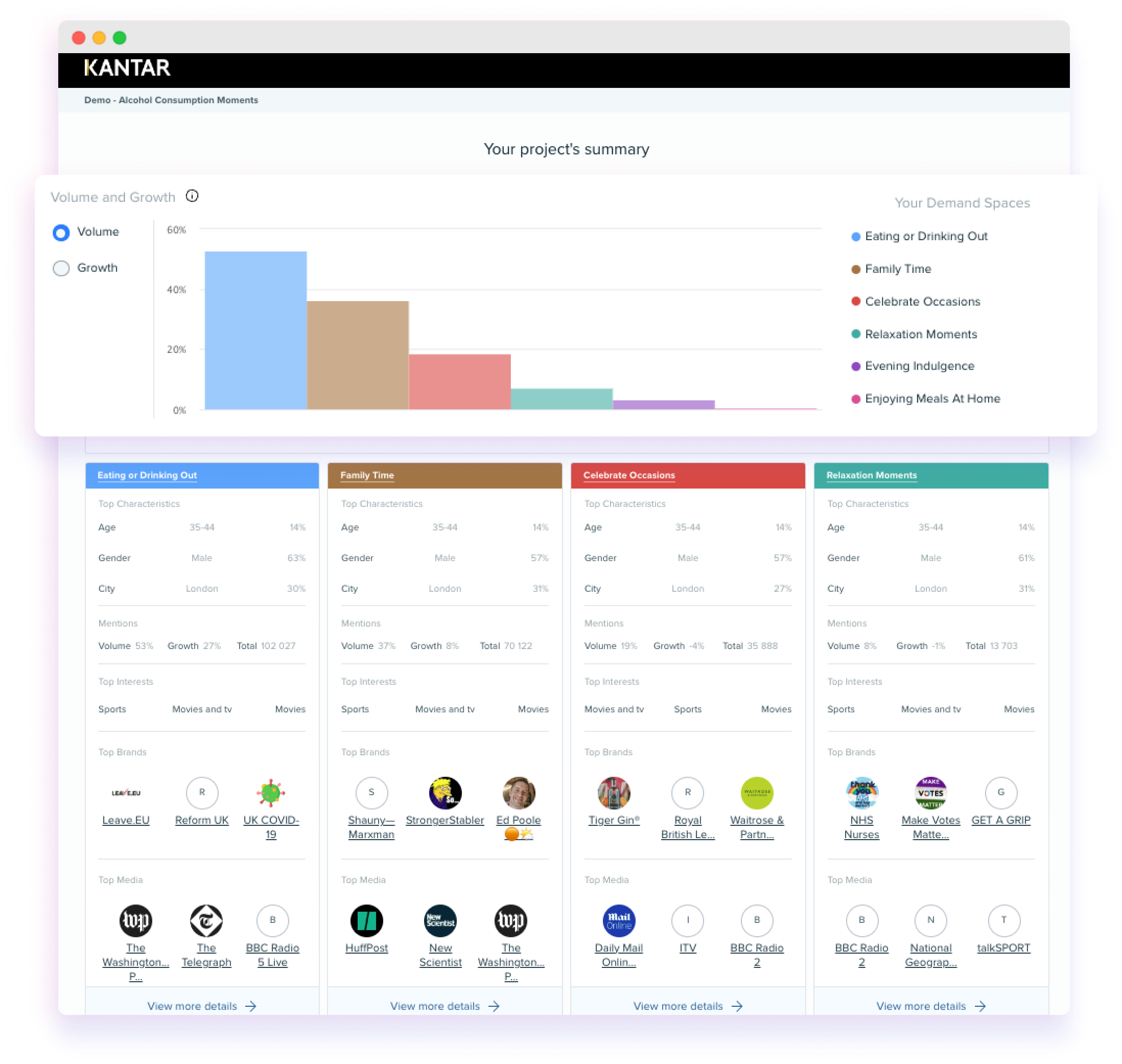 Digital Mirror can determine the emotional and functional human needs in the context of certain moments, occasions, and categories. This provides a robust ​read on who is doing what, when, where and why.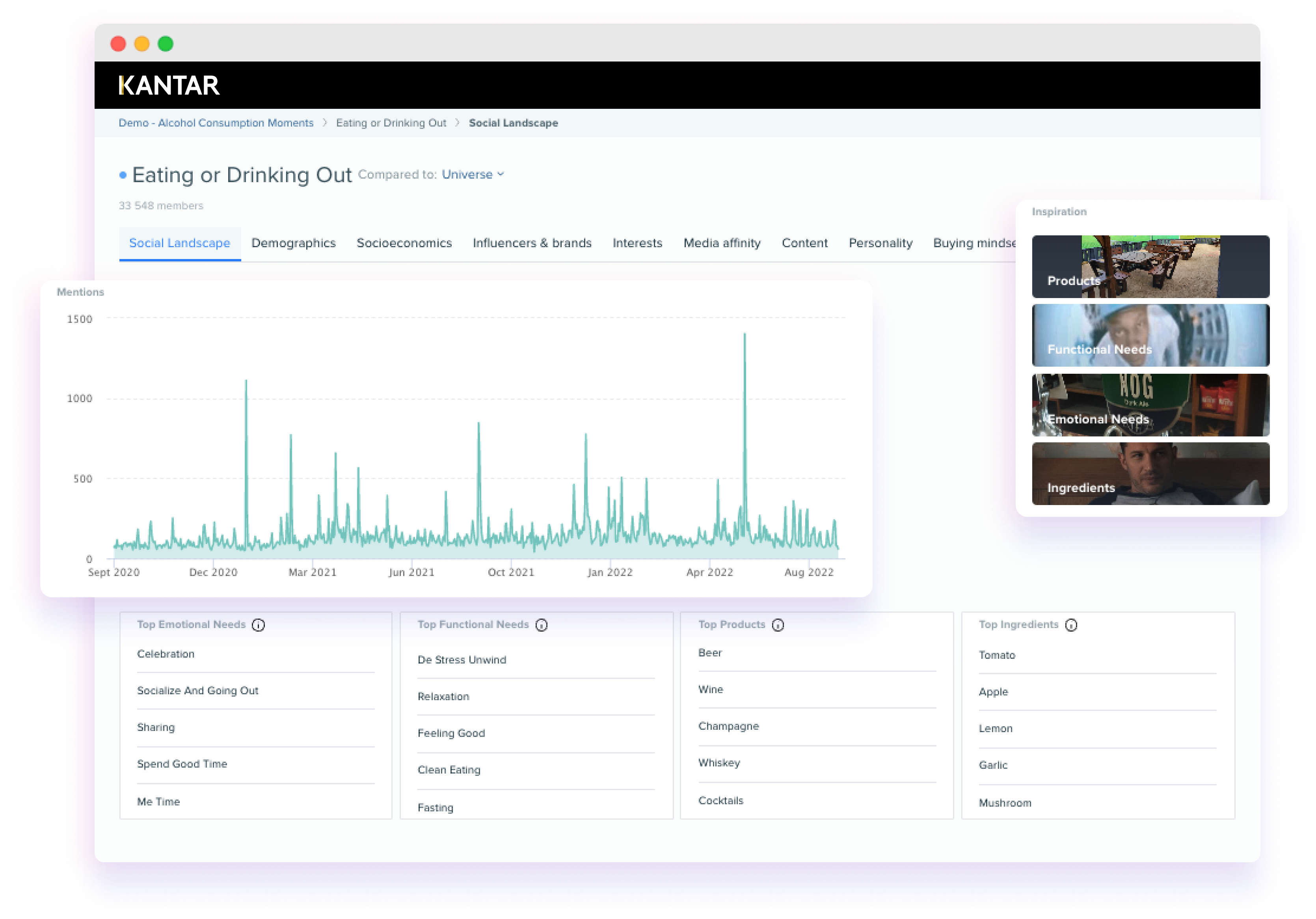 By segmenting consumer needs into pockets of potential demand, it extracts the 'who' behind the demand spaces, where the audience profiles behind each segment can be compared to market baselines or between segments to inform winning targeting and communication strategies.​
Methodology & approach
How does Digital Mirror uncover the audiences behind demand spaces?
Digital Mirror was developed with Kantar's Growth Finder Methodology in mind. It is a natural augmentation or add-on to any demand spaces segmentation.
If a brand's existing segments are rooted in the 5 'Ws' (i.e…what, why, where, when, and with whom) Digital Mirror can be mapped to an existing framework to enhance understanding of the trends and audiences behind key segments.
Scan
Scanning social media to capture category consumption related conversations, extending to Twitter, blogs and other online communities and forums.
Analyse
Using Kantar's Dx Analytics toolkit, relevant conversations are categorized.
This automated system uses Natural Language Processing and machine learning to eliminate noise within the data set and tag all relevant social mentions to give a robust analysis into who is doing what, where, when, and why.
Segment
Once the unstructured data is categorized, these conversations are segmented into demand spaces. This is carried out in several ways; leveraging Kantar's category and segmentation expertise and/or by creating spaces that map to a brand's existing segments. Once segments have been identified, rules are created from proprietary code frame to conceptualize these demand spaces.
Profile
Digital Mirror, powered by Audiense reveals audience profiles behind the demand spaces, using industry-leading audience identification and benchmarking functionality. Through IBM Watson and Twitter API, Digital Mirror uncovers demographics (age, location, gender), affinities (interests, macro and micro influencers, media preferences), online behaviors and personality insights to understand how to best target and connect with audiences.
What value does Digital Mirror provide?
Digital Mirror helps you uncover insights for pre-existing or new segments, to focus and improve targeting strategies that are more personalized to become culturally relevant and resonate with your target audience by uncovering their unique insights.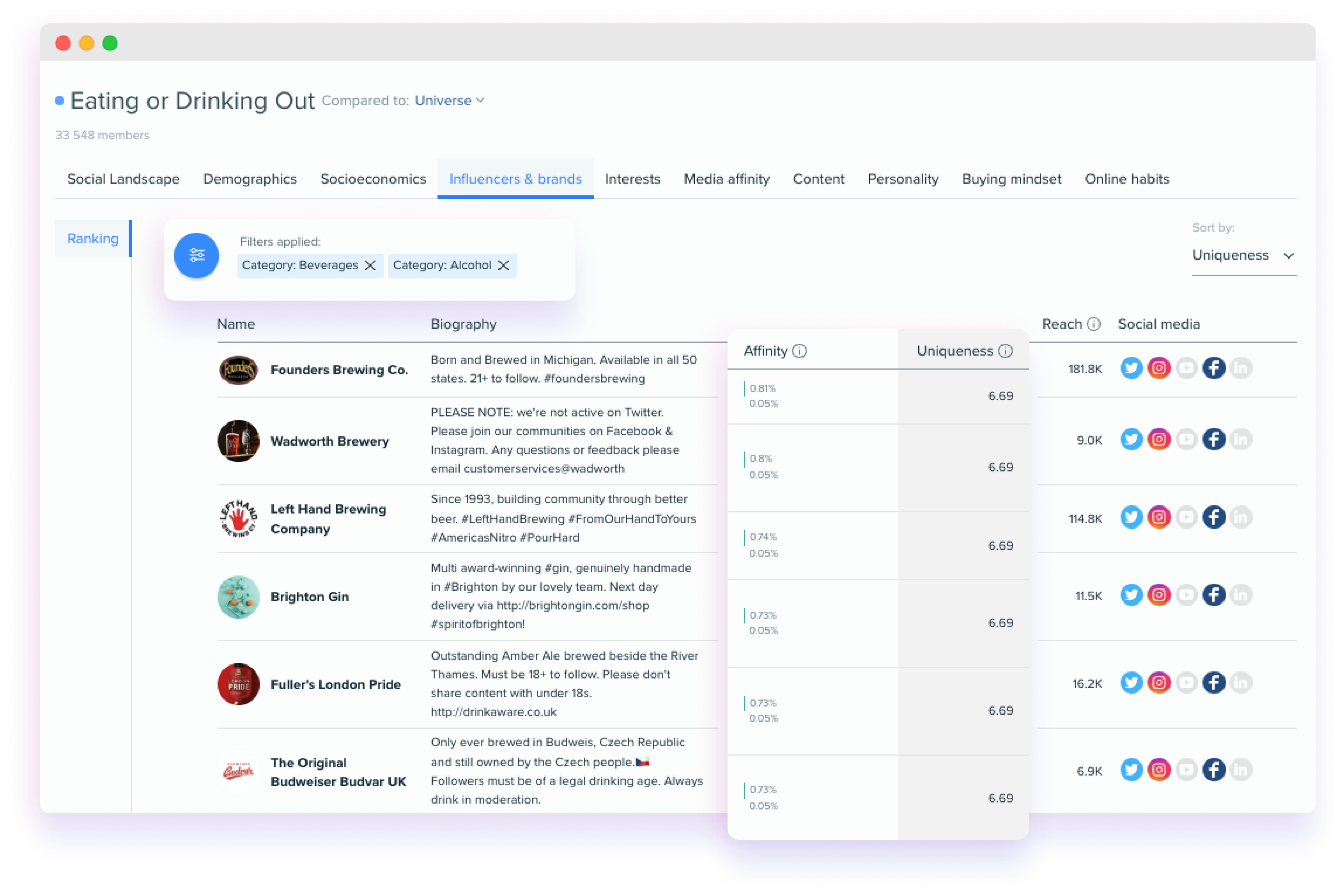 It helps to identify the key products, affinities, and needs amongst specific consumer segments, as well as uncover how they talk about them on social media to influence brand communications that can be adapted to address each audience segment individually.
It is designed to fuel inspiration and action, through insights that are delivered via interactive dashboards partnered with guided workshops and presentations from Kantar's consulting experts.
The dashboard includes downloadable media targeting packs for Facebook, Instagram, and Twitter and an option for direct integration with Demand Side Platforms (DSPs) for audience activation.
Partnering with Kantar is a huge step for Audiense. Combining Kantar's expertise in consumer research and our social consumer intelligence platform helps us both innovate how we deliver insights to global brands to achieve growth." Javier Burón, CEO and Co-founder at Audiense
How are brands using Digital Mirror?
One notable example is Coca-Cola, who have used Digital Mirror to understand the audiences and growth opportunities behind their demand spaces.
These spaces were derived from six key convergences of UK consumer wants within TCCC's (The Coca-Cola Company) Needs and Wants Framework, and chosen based on pre-existing research, which validated these convergences, highlighted these spaces as areas of growth and opportunity - a focus for Coca-Cola product and communications strategy.
Consumer needs don't live on their own, and combinations of them are fertile ground for future growth and innovation. With the help of technology and digital data, we can listen to consumers expressing their needs when unprompted. This allows us to identify white spaces, get inspiration and improve consumer targeting. Digital Mirror is a testimony of how open innovation can accelerate the development of MarTech solutions that better shape tomorrow's brands". Michele Morena, Digital Insights Marketing Manager Europe, The Coca-Cola Company
A few FAQ's...
How do I gain access to Digital Mirror?


You need to be a Kantar customer to gain access to Digital Mirror insights. Before committing to a project, a discovery session will be completed by Kantar to ensure there is sufficient data volume for your relevant category universe x market and that demand spaces can be represented.

For more information about Digital Mirror, you can reach out to the Kantar team here.

How is Digital Mirror different from Audiense?
Digital Mirror is not a self-serve platform, and it does not use audience definitions such as profile attributes or social listening authors in the same way as Audiense Insights does to identify social consumer audiences and segments.

Digital Mirror is a custom-built dashboard available via Kantar's consumer research experts. A lot of their research data goes into the platform, including pre-determined segments based on their demand spaces segmentation research. Their data is combined with our capabilities to identify audience segment insights uncovering demographics, media consumption, online behaviours, brand affiliations and psychographic data to help consumer brands take innovation, communication and targeting strategies to the next level.

Digital Mirror is powered by an online and offline data fusion, combining representative survey samples and advanced machine learning to analyze social data.

Why and when would I use Digital Mirror?


Digital Mirror was developed with Kantar Growth Finder Methodology in mind as an add-on to any demand spaces segmentation.

For any consumer research project where you have pre-defined segments based on the 5Ws (i.e. what, why, where, when, and with whom), or are looking to conduct this type of research, Digital Mirror is able to enhance the understanding of the trends and audiences behind your key segments.