Rachel May Quin
Money makes the world go round! 4 key learnings from the Financial Services sector
Another day, another dollar. You'd be forgiven for thinking that the world of finance can be a little dull. Mortgages, ISAs, life insurance… let's face it, none of these things are especially sexy. When you take into account that trust has significantly declined in the sector, it might not seem like there's a whole lot of room to play.
We're here to prove that that finance doesn't have to be boring. Brands doing well in the space are able to empathise and understand their customers. In this week's Contagious sector spotlight, we broke in the vault to unlock the key learnings, with case studies from legacy brands like HSBC and MasterCard to underdogs Habito and Klarna.
1. Incentivising responsible behaviour
The last year has been a difficult time for many. While other sector spotlights have flagged an increase in consumer spending, there is also a wariness with financial conservatism on the ride, according to a recent YouGov survey. With a clear focus on reducing non-essential spending, creating savings in case of an emergency, and clearing debt among many consumers, financial brands have an opportunity to help customers spend responsibility. Klarna have done just that, using their power as a lifestyle-orientated brand to help customers make responsible decisions with KlarnaSense.
This clever retail psychology campaign challenges customers to engage their conscious brain when making impulse purchases by asking three questions: Do I love it? Will I use it? Is it worth it? A potentially risky tactic for a brand that wants to encourage people to buy now and pay later, but in fact, a recent survey revealed that 67% of people use Klarna to help manage their finances so actually, KlarnaSense is pretty on-brand.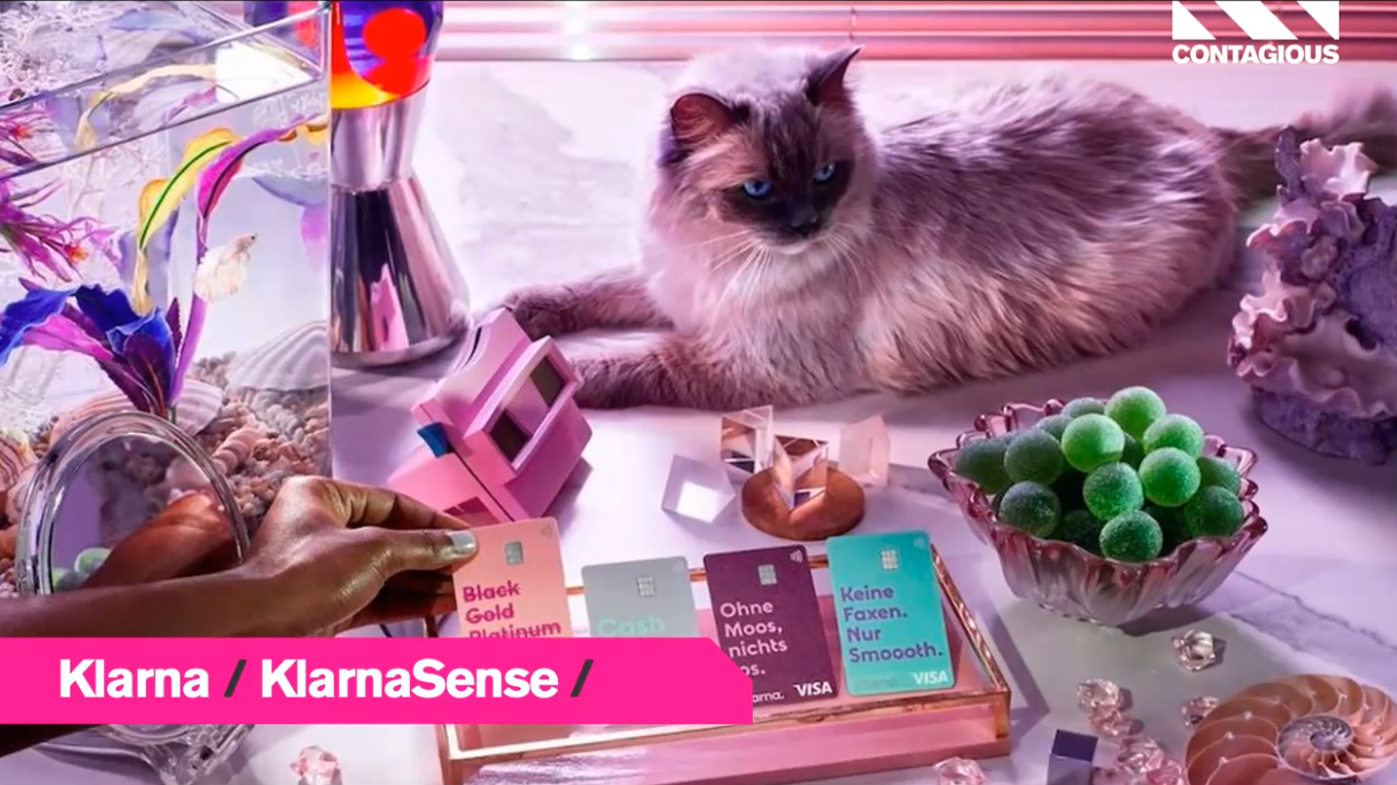 Another excellent example of incentivising responsible behaviour comes from Australian insurer NMRA, who recognised that by the time their customer's needed their product, disaster had already struck. So in an effort to help people protect against the worst and keep Australian homes, families, and first responders safe, they launched First Saturday.
They incentivised their customers to spend time at the beginning of each month taking simple steps to make their homes safer, in the aftermath of the 2020 bushfires. Providing a handy checklist that families could print or diarise in their digital calendars, the brand encourage people to take part and think about small behaviours that could make a big difference. A campaign focused on brand building as much as customer safety, 97,000 Australians implemented the monthly reminders and three months in, the campaign had reached 18.3 million people.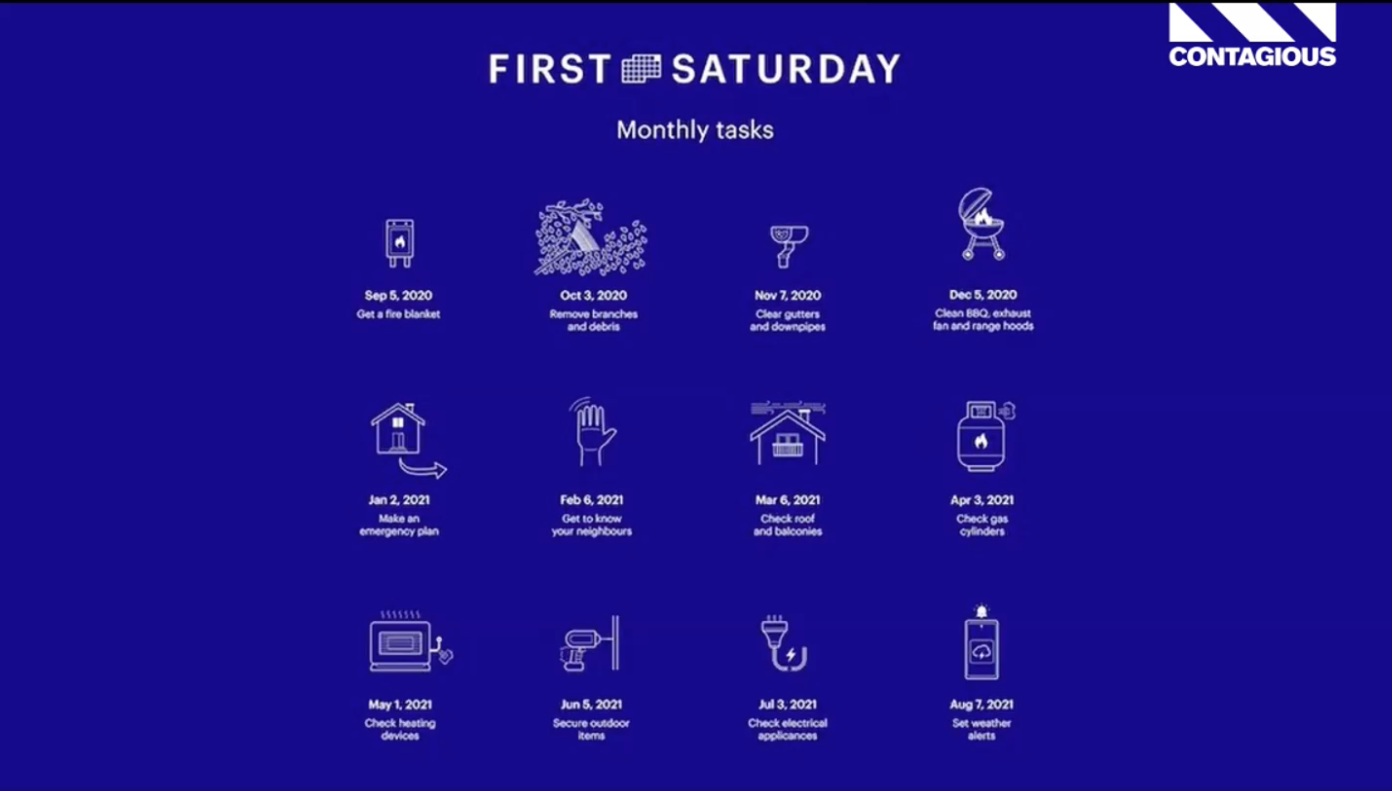 2. Solving pain points
We've already touched on the topic of impulse shopping with Klarna, but with so many brands vying for our attention on the internet, sometimes the siren call of that new pair of shoes is too strong. With every challenge comes an opportunity, how can financial services help customers spend less money on tat online? Enter Fifth Third Bank, a Cincinnati-based financial institution, who recognised customers are being overwhelmed by highly-targeted programmatic ads and decided to help them resist temptation, and maybe save a bit of money in the process.
The Buy Now Blocker was a cheeky campaign designed to make use of the tools brands employ to trigger impulse purchases online. Fifth Third Bank turned this marketing tactic on its head, by bidding against popular keywords and serving customers with eye-catching creative letting them know what they could have been tempted by. If they did still give the ad a click, they'd be driven to download the bank's savings app, to put their saved cash to good use. A smart way to grab consumer attention and solve a problem everyone has experienced at least once online.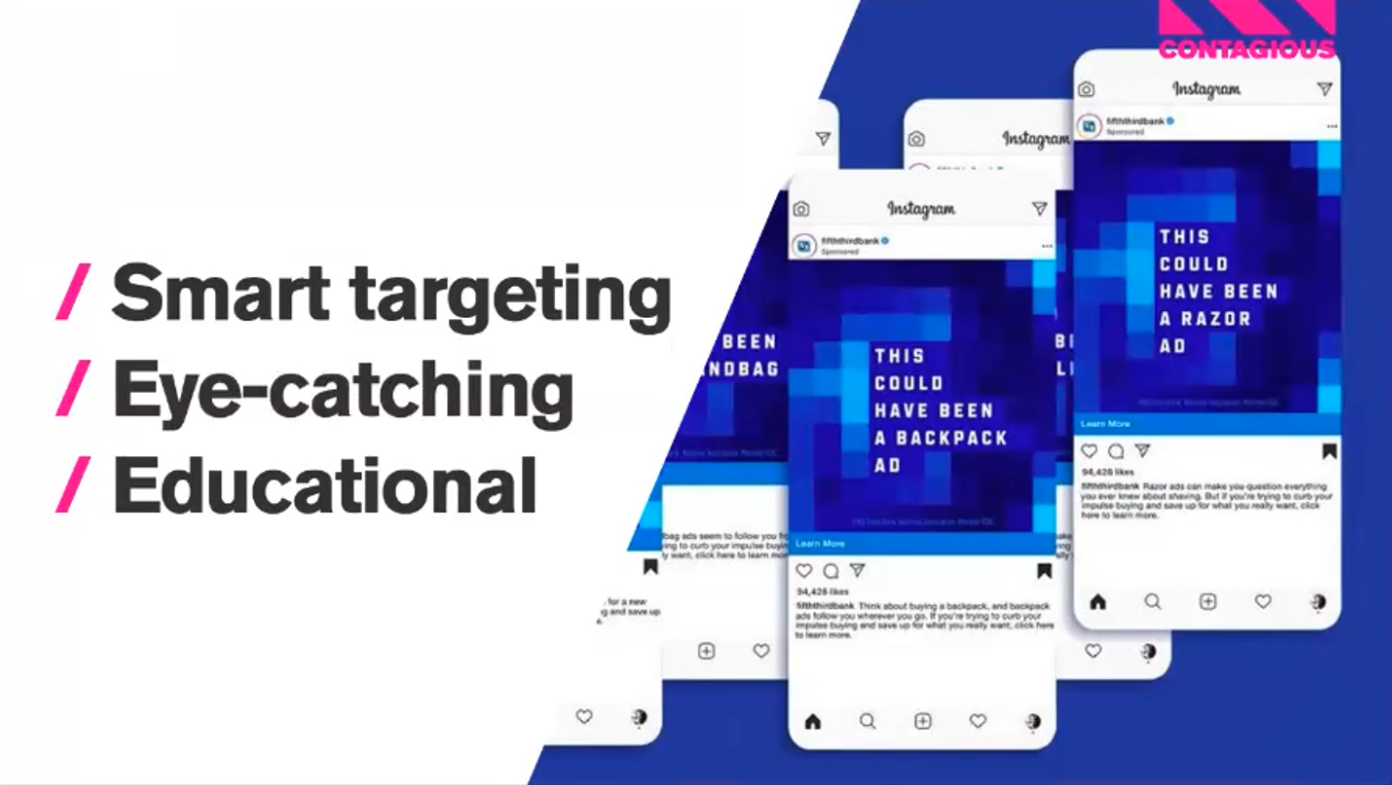 From an established bank to an up-and-comer, Habito have been shaking up the mortgage scene in the UK with their somewhat unconventional marketing tactics. As a new digital player in a competitive category, they acknowledge that getting a mortgage is a total pain-in-the-arse and they grab attention by empathising with their potential customers, bursting onto the scene six years ago with their Habito or Hell campaign. And they haven't stopped there.
According to research, over 50% of couples reported that buying a house had a negative impact on their sex life. The stress of moving can be a bit much for everyone. Habito leveraged this insight in the run-up to Valentine's Day with a massive out-of-home campaign promoting their new mortgage erotica, The Road To Completion. Created with the brain behind My Dad Wrote A Porno, Habito proudly declared to have satisfied over 500,000 home owners in the UK, with more to come in the future. Porn and fintech? A match made in Habito heaven, apparently.
3. Understanding your audience
As all good marketers know, understanding your target audience is a key element of any successful campaign. If you want to be able to reach customers on their level, you have to understand what matters to them. This can be tricky for any brand, but perhaps even tricker for financial services which is often deemed to be a low interest category. But Australian motorcycle insurer SWANN took it in their stride, harnessing audience understanding and a lot of creativity to create the Inconvenience Stores.
This experiential campaign drew on the knowledge that Australia is home to some of the best motorcycle rides in the world, but Aussies were only hitting the road twice a month. To help customers spend more time doing what they love, they placed stores featuring essential items like milk, toilet paper and chocolate, at the end of the rides for bikers to 'pop out' to. Suddenly an errand became a three-hour scenic ride. The results were phenomenal, with social media engagement up by 284%, leads up by 22% and revenue increasing by 52.6 year-on-year.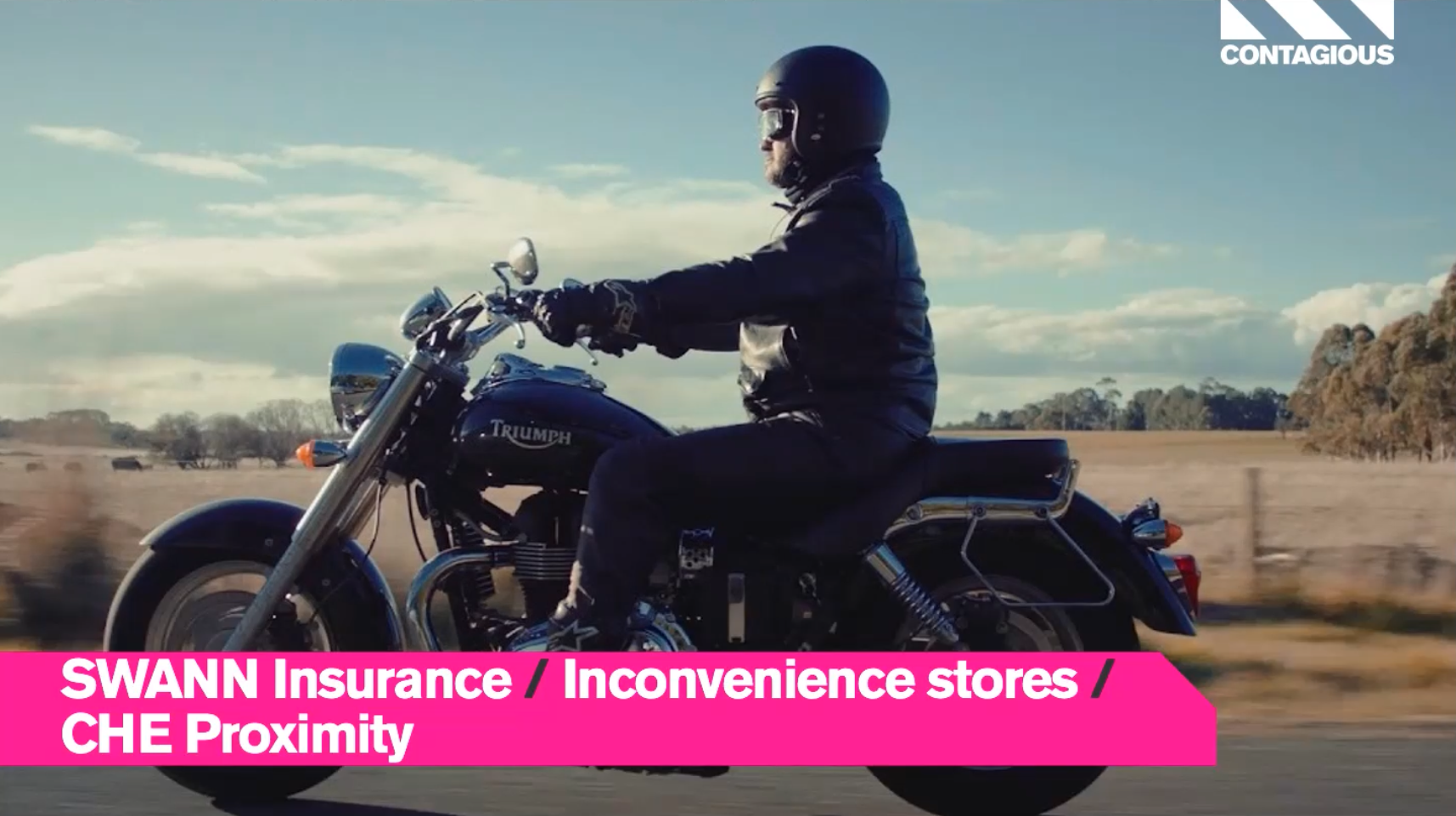 With Pride month upon us, it felt only right to share this fantastic example of a brand truly understanding what matters to their customers. MasterCard's True Name showed care, support and understanding for the LGBTQIA+ community, who are at risk of suffering humiliation, discrimination, and harm if their bank card doesn't reflect their true identity. In fact, according to their research, 32% of the community have experienced this.
True Name allowed people to feature their chosen names on their card, no mean feat in the world of banking. MasterCard tackled an issue that was causing real pain amongst their customers and importantly, led by example, encouraging other banks and financial institutions to do the same.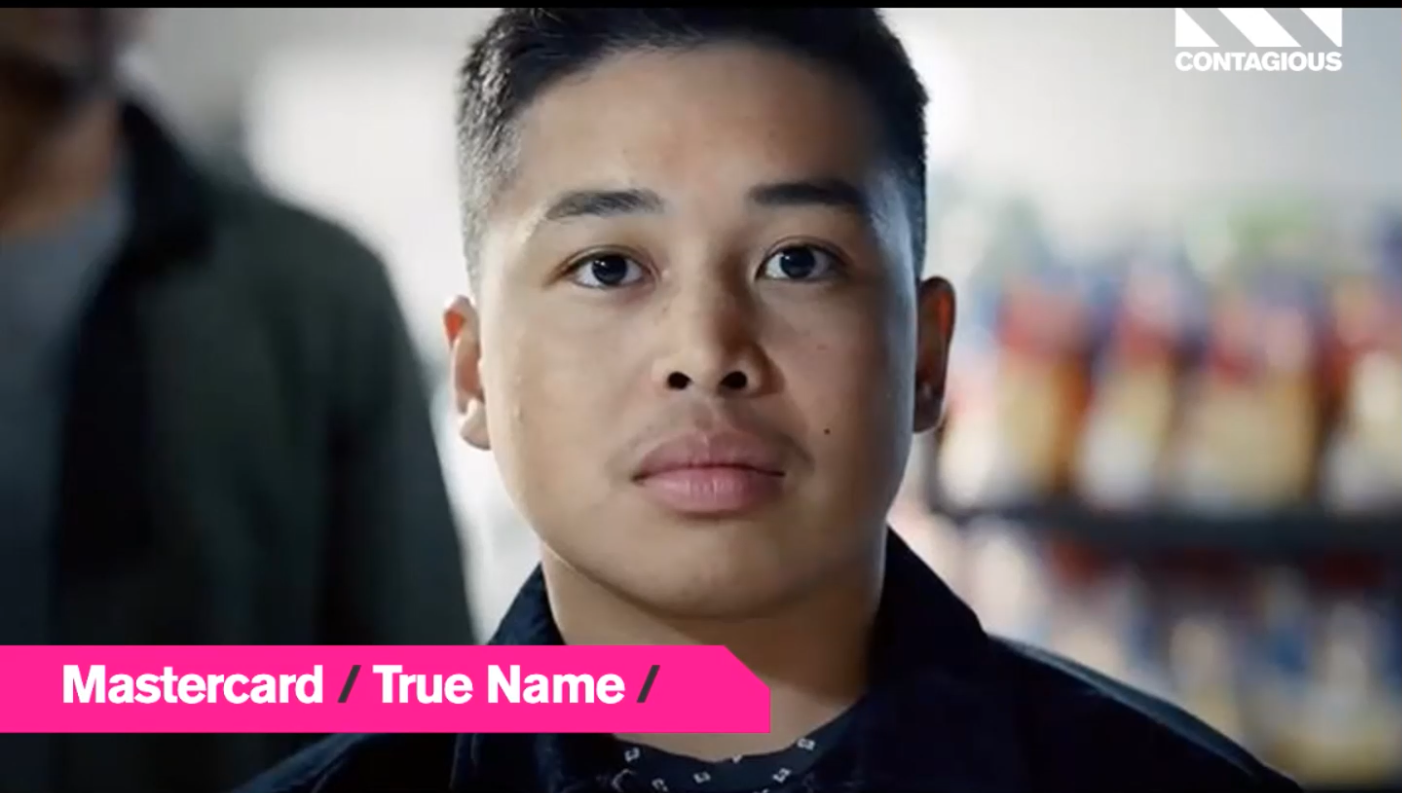 4. Communicating your values
Last but not least, we have two mammoth brands communicating their values and taking their customers on the journey, legacy bank HSBC and China's largest mobile payments platform, Alipay. A lack of trust is a real challenge for the sector, which is why brands with a strong purpose have the upper hand in winning hearts and minds.
For HSBC, this involved evolving their positioning from being the world's local bank to emphasising the power and importance of working together in order to thrive. They also supported this change in positioning with a smart TV advertisement featuring Richard Ayoade connecting the dots of international trade and geographically resonate out-of-home placements such as billboards and 48-sheets.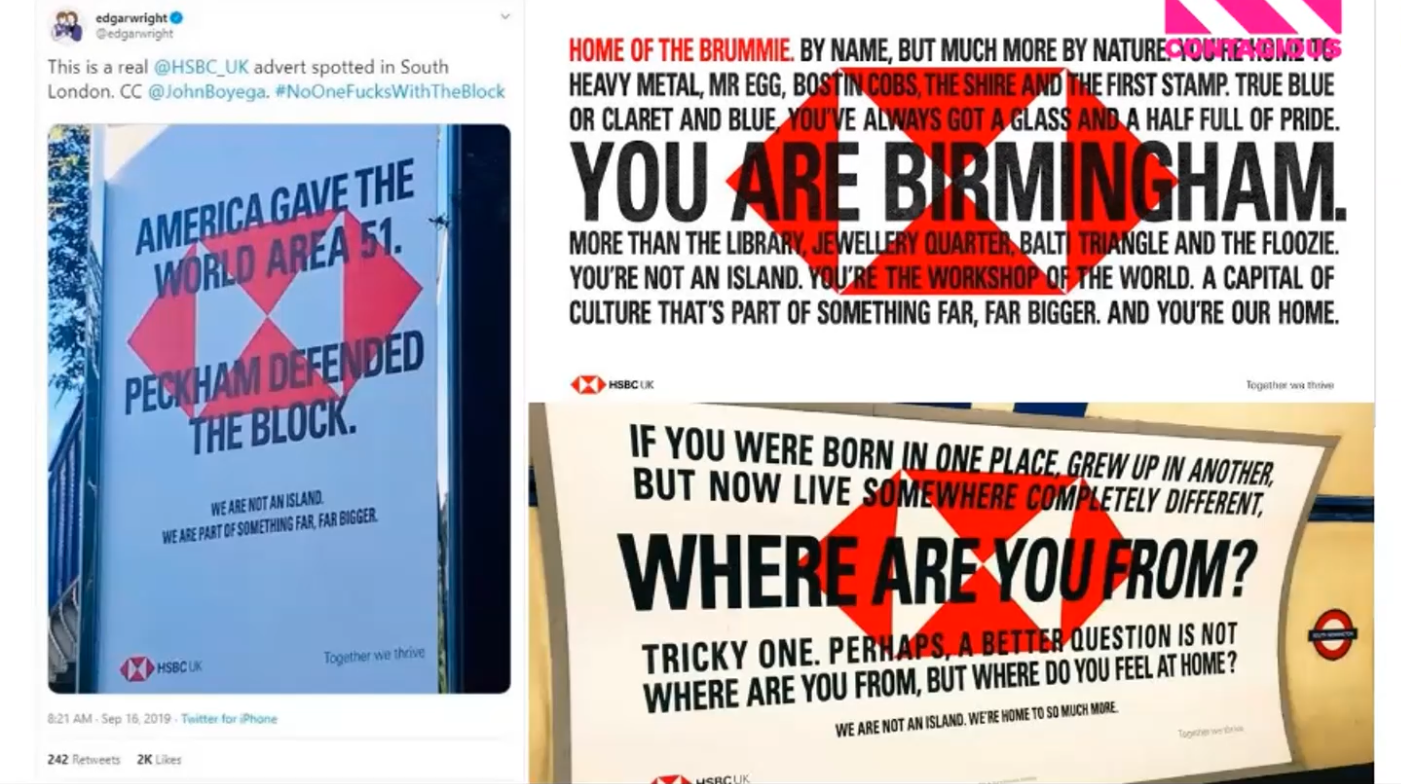 For Alipay, their focus has been on encouraging their customers to make greener choices that will have a real-world impact. The Alipay Ant Forest project, launched in-app, rewarded customers with green energy points each time they completed an action that would reduce their carbon emissions, such as cycling to work, printing less, or opting to purchase sustainable products.
If customers collected enough green energy points, they were able to plant a virtual tree, which Alipay matched by planting a real-life tree. They followed up on this promise by allowing people to see their tree growing using live cameras - a slow process but rewarding all the same. Since the launch of Ant Forest, Alipay have attracted over 500 million users, planted over 100 million trees and created around 400,000 job opportunities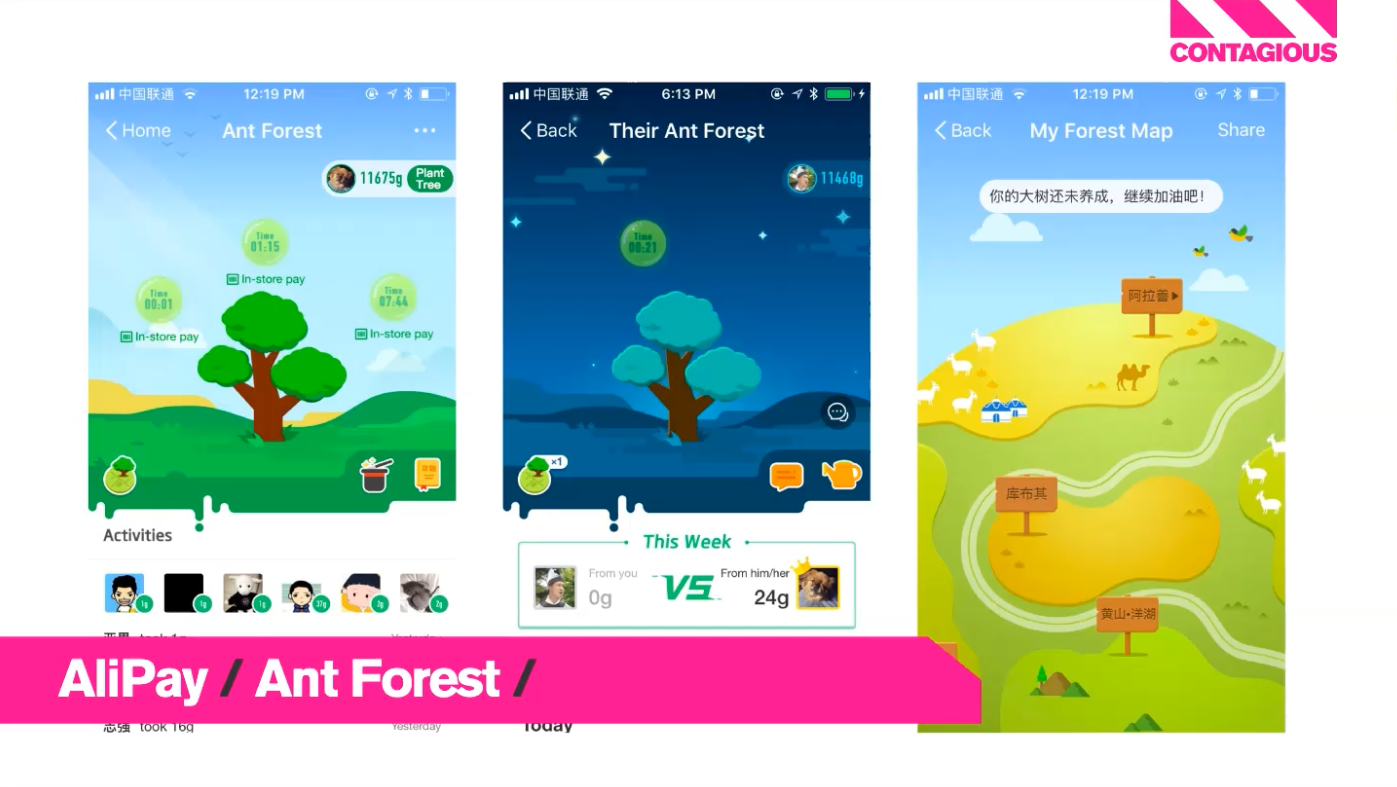 Join us for the final webinar on the 9th June when we'll be exploring innovation and creativity in the Technology sector. Register now.