NY vs. LDN: Which Fashion Week was more 'on-trend' according to Twitter?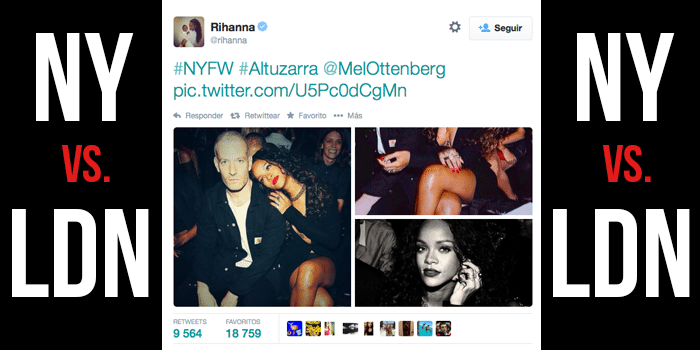 Fashion Week dominated Twitter over the last fortnight in both London and New York, with a collective 1.27 million Tweets sent as models hit the catwalks. Which Fashion Week was considered more 'on-trend' by Twitter users? We put the two events head-to-head and found #NYFW generated a flurry of 87 Tweets per minute on average, in comparison to #LFW's 44 Tweets per minute on average. New York triumphed, with nearly 1 million Tweets sent overall and 704,000 users engaged with the event; with London trailing behind with only 286,000 Tweets and 218,000 users.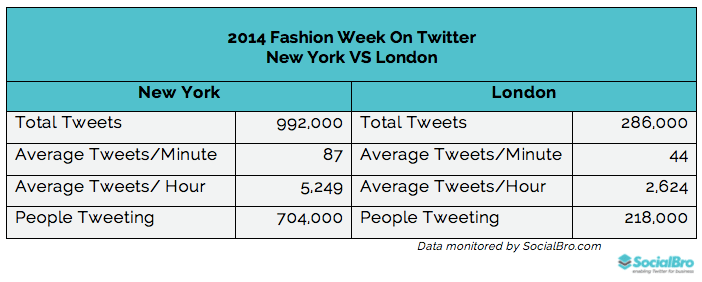 New York won Fashion Week this year, but fashionistas around the world took an interest in both star-studded weeks, with UK tweets making up 3% of #NYFW Tweets and the US making up 10% of #LFW's Tweets. Nothing like a little friendly competition to keep things interesting.






Surprisingly in the US, it wasn't just brands in the spotlight. Rihanna stole the show for 'most retweeted Tweet', sharing a photoset of the outfit she wore to the Altuzarra show which was retweeted almost 10,000 times and favorited by nearly 20,000 people. She also took second and third place for most retweeted Tweet during New York Fashion Week, sharing pictures from the Alexander Wang and Adam Sellmann shows as she rocked designs from their Spring/Summer 2015 collection - clearly these brands know the one of the keys to a successful Fashion Week show is which starlet is wearing your clothes.






The most on-Twitter-trend brand in London was Burberry. With over 8,000 Tweets during their Spring/Summer 2015 show, it was by far the most mentioned brand on Twitter during London Fashion Week. Was it the stunning clothes or the killer combination of Cara Delevingne and Kate Moss holding hands to watch the show? Either way, Burberry sent Twitter into a frenzy.
The luxury brand also made it to the top 5 most retweeted Tweets during London Fashion Week, sharing a sneak preview of their models backstage. It's Spring/Summer collection went down a storm, with an overwhelming 97% of Tweets about the show being positive! Congratulations Burberry.
We also compared the top 5 hashtags used during London and New York Fashion Week, as shown below.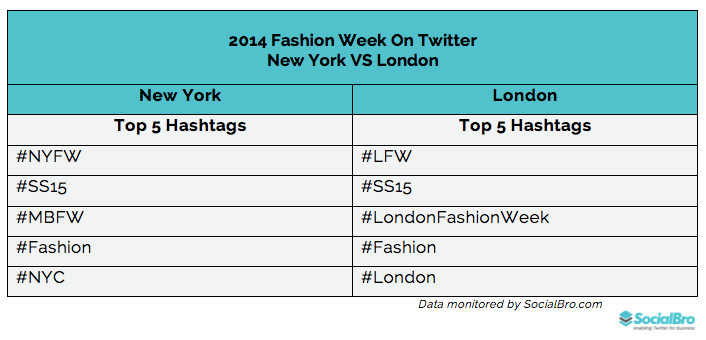 About the data: SocialBro monitored keywords and hashtags surrounding New York Fashion Week from 4-11th of September and London Fashion Week 12-16th of September. All data is based on a 5% sample.