Jacqueline Zote
How 5 retail brands are stealing the show online
Digital innovators are changing the face of marketing for fashion retail brands. Be it using Twitter to tell a story or crowdsourcing content on Instagram, more brands are shifting their focus toward integrated marketing campaigns that allow them to generate buzz around new products and strut their stuff–both offline and online. Social media presents marketers with a unique opportunity to connect with their target audience, build a consistent brand image across channels, and generate more sales.
With 78% of internet users researching products online and 66% of businesses using an effective online marketing strategy, digital marketing (especially social media marketing) has become a necessity rather than an indulgence. So it's time to start thinking about innovation and integration to make your campaigns count. Take inspiration from these five fashion brands blazing the trail for unique and innovative digital marketing campaigns, and use integration to breathe life into your own marketing campaigns.
1. Adidas
At the forefront of social media innovation is sports brand Adidas, who constantly hit the right note with their campaigns. From lucrative sponsorship deals with sport stars that give Adidas the unique opportunity to connect sportspeople to their fans to an all-star World Cup campaign, Adidas are the front-runners in fashion on social media.
Throughout the years, the brand has been consistently leading the way in social media marketing with powerful and impactful campaigns. A key strategy that Adidas uses is standing up for social causes–whether it's about inclusivity and diversity or the Black Lives Matter movement. By getting involved and speaking out about issues that matter to their audience, the brand has been able to build a strong community of loyal fans.
For instance, Adidas joined up with Arsenal Football Club for the No More Red campaign, addressing the high numbers of knife crimes and teenage murders in London. The initiative was aimed at getting to the root cause of violent youth crime in the city.
Key Takeaway: Don't be afraid to stand up for causes that you genuinely care about, especially if it's about issues that matter to your community.
2. Topshop
British fashion retailer Topshop nails their social media game by speaking the language of their audience. As a brand that mostly targets young millennial women and Gen-Zs, the brand's Twitter page reflects exactly that.
Topshop regularly shares style inspirations, practical tips, and user-generated content on Twitter. But what stands out most is the way the content is tailored to appeal to the people they want to reach, speaking to their interests, using the same language as them, and evolving their style according to what's in trend.
For example, with the Dark Academia trend taking over Instagram mood boards and style influencers' feeds, the brand was quick to jump in and provide tips on how their fans can style the trend.
Key Takeaway: Speak the language of your key audience group and appeal to their interests to better resonate with them.
3. Everlane
Clothing retail brand, Everlane stresses sustainability, transparency, and ethicality with the aim to make sustainable fashion more affordable and accessible. The brand's goal for ethical transparency really shines through on their Instagram, where they regularly host Transparency Tuesday sessions through their Stories.
The brand invites fans to submit questions, which they then answer in the following Stories. To keep it personal and human, these sessions are hosted by an employee, who answers the questions through recorded videos and other creative ways. Most of the questions are about design inspirations, shipping-related queries, how certain products are made, what materials are used, and more.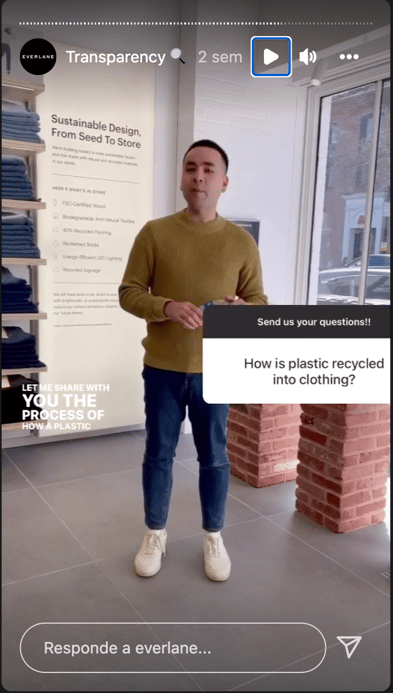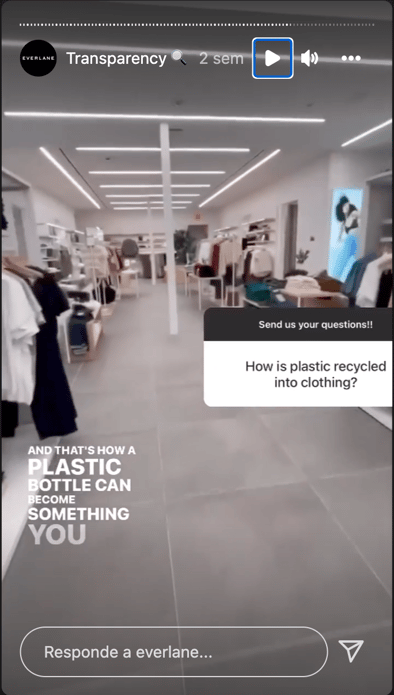 Key Takeaway: Be open to answering questions from your audience and clearing up doubts to maintain transparency while boosting engagement.
4. tentree
Sustainable lifestyle apparel brand, tentree wants to make a positive change in the world by planting a tree for every item purchased. The brand's mission is to plant 1 billion trees by 2030.
Keeping in tune with their goal to make a positive change, the brand's social media is also focused on having a positive influence in the minds and hearts of their audience. tentree regularly shares feel-good content like otters holding hands and bear cubs climbing trees, giving people a refreshing change from the flood of alarming and negative content available on social media. Naturally, the brand has a strong social media presence resulting from their focus on positivity.
On Twitter, tentree regularly shares Tweets to inspire and uplift people, giving recognition to individuals and communities that have helped restore forests. They also do a series of "some good news" Tweets where they share a short bit of good news to give their followers something to look forward to.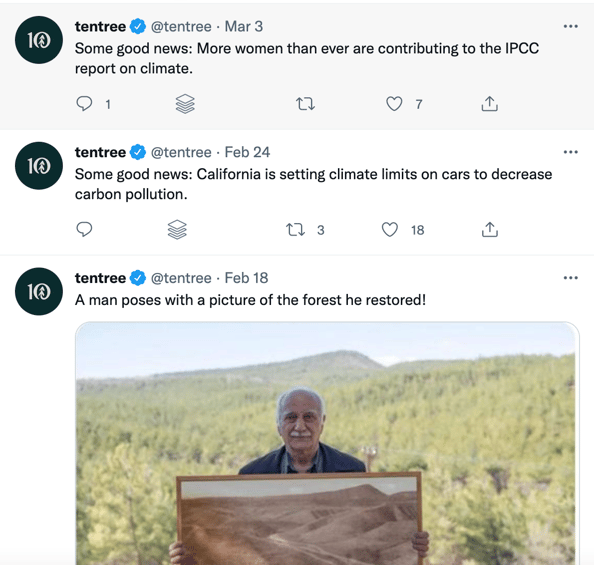 Key Takeaway: Be a positive influence on your audience by sharing feel-good and uplifting content.
5. ABLE
ABLE is an ethical fashion brand that's made by women and for women, built on the belief that women weren't made to fit into clothing but that clothing should be made to fit women. The brand is focused on empowering the women who make the clothes and the women who wear them. As a result, they constantly evolve their product lines to address the needs of different types of women.
Realising the very real challenges that women experience when buying clothing, ABLE uses social media to reduce shopping anxiety and give customers more confidence to buy from the brand. They use the channel to help women learn more about the brand and their products as well as the different services they offer such as the try before you buy option and the virtual styling service.
For example, the following post is an infographic to explain what the "TryNow" service is and how it works. This is a great way to tackle the challenge that women often face when buying clothes online–ending up with pieces that don't fit well.
Key Takeaway: Use social media as a channel to inform and educate potential customers and ease their anxiety about buying your products.
Are there any other fashion or retail brands you think bring their A-game to their digital marketing? Let us know in the comments.