Rachel May Quin
How to easily search for lists on Twitter
Twitter lists are an incredibly useful resource with hundreds, maybe even thousands, of them out there full of vital information. Though it's simple and easy to build your own Twitter lists, there's no point in trying to replicate a comprehensive well-maintained list of users that already exists. We've got two ways to search for lists on Twitter that will satisfy your every need, using either Twitter or Google.
What are Twitter lists?
Twitter lists let you customise and organise the Tweets in your timeline; think of them as folders for Twitter. Join lists created by other Twitter users, or create lists of other accounts segmented by groups, interests or topics. Organising your followers using Twitter lists can help you keep track of your community and the discussions they are having. Twitter lists are also a great way to split your business' followers into groups you can manage.
How to find Twitter lists
Searching for lists on Twitter is quick and easy; simply go to the navigation bar on the left, click the (...) icon and select Lists.
In the lists tab, you'll be able to see Pinned Lists, Your Lists, and recommendations for lists you should be following under Discover new Lists.
Search public Twitter lists to find influential groups of people who you're not currently targeting, and turn them into prospective customers. Public Twitter lists allow you to find people of interest; including thought leaders, industry leaders and influencers. If you're not sure where to start, look at other Twitter lists for inspiration. Who do other businesses in your industry have on their lists?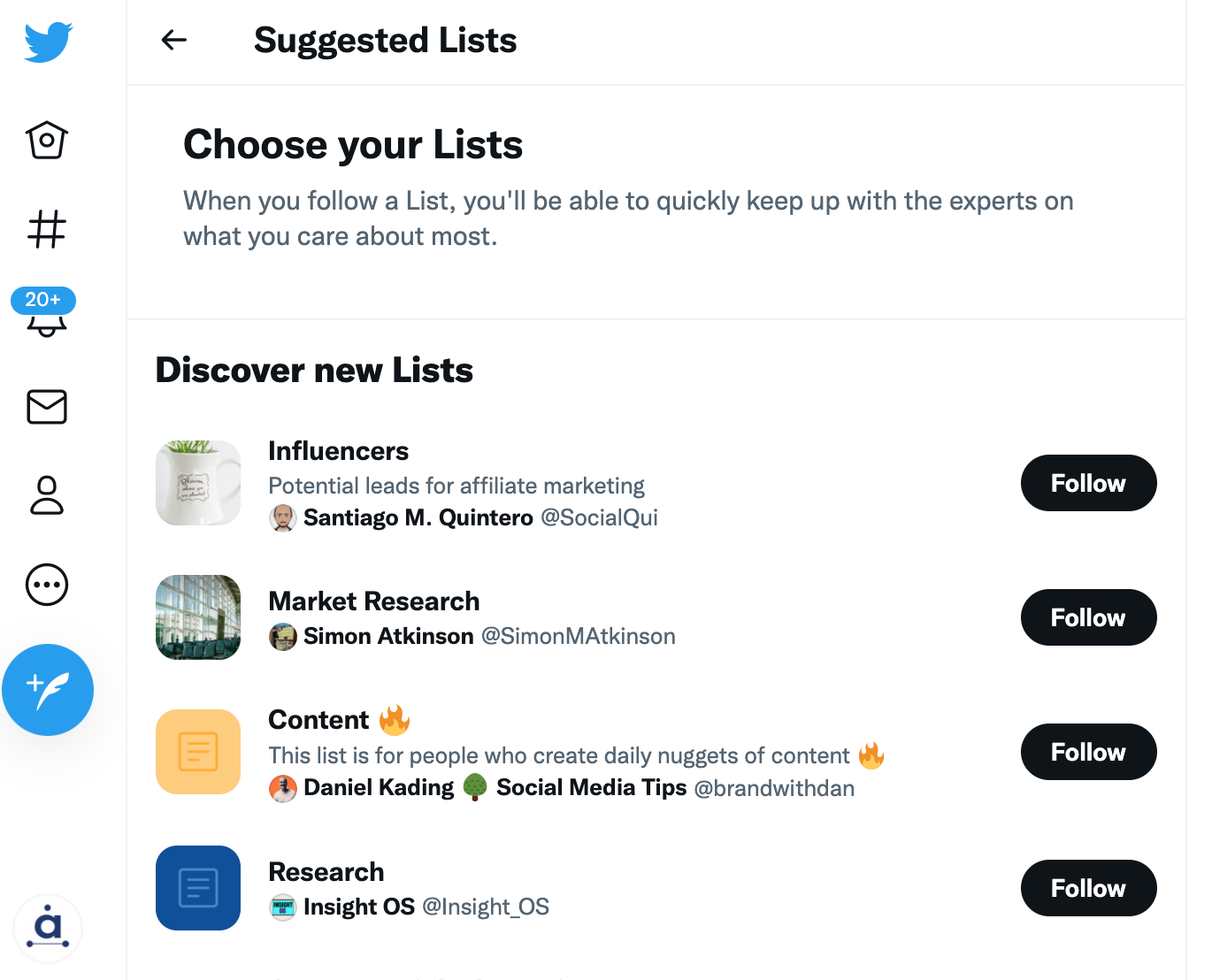 Searching public lists with Google
Search engine masters Google can also help you locate public Twitter lists with ease. Here's how:
1. The shortcut method to search for lists on Twitter using Google is to type 'site:twitter.com', followed by the keywords you are looking for in quotation marks, and the word 'list'. So you can see, we want to find lists on Twitter containing 'digital marketers'.





2. Here's what Google pulled up for us. Now all you have to do is browse the lists, see which ones you like best, and follow!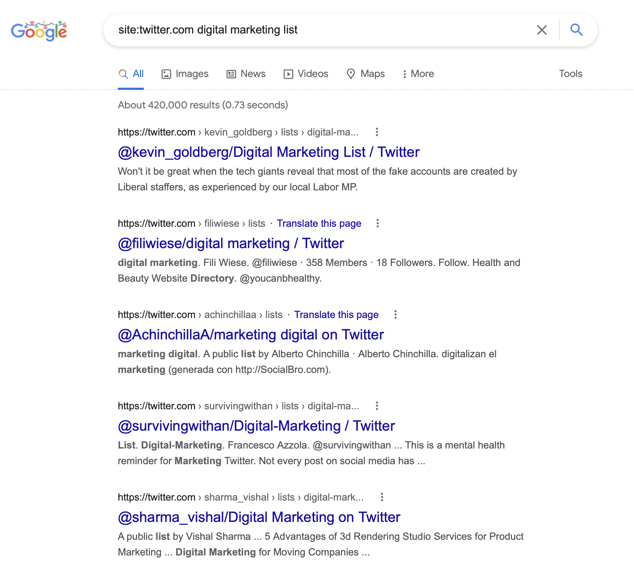 Now you know how to search for lists on Twitter, are you looking to do more? Find out for yourself how to make a list on Twitter or delete an old unused list on Twitter.
Optimise your Twitter marketing with Audience Connect, using unique audience insights and segmented data to personalise your strategy. Build high quality audiences segmented by demographics, interests, personality, values and behaviours to create targeted campaigns at scale. Drive your social marketing strategy with Audiense Connect and sign up today.
Got any other tips on how to search for lists on Twitter? Share them in the comments.