Leticia Polese - Content Marketing Manager
5 ways to use social listening marketing for better customer advocacy
As brands explore social listening marketing, customer advocacy becomes integral to their success. Building a customer base that actively promotes your brand through word-of-mouth, physically or digitally, can significantly increase brand awareness and improve your bottom line.
In fact, surveys find that online reviews influence 93% of consumers during the buying process. Platforms like Facebook, Instagram, and TikTok are a go-to spot for this information. So the question becomes — how can brands leverage customer loyalty to drive advocacy on social media? This blog will explore 5 ways brands can use social listening marketing tactics to improve customer advocacy and engagement.
What is customer advocacy?
Customer advocacy is about putting the customer first — creating positive experiences that excite people to promote your brand. It's an approach that places the customer at the center of a company's operations. Their needs, preferences, and feedback are always being considered.
According to Gartner, customer advocacy now occurs in several different ways thanks to the availability of digital platforms: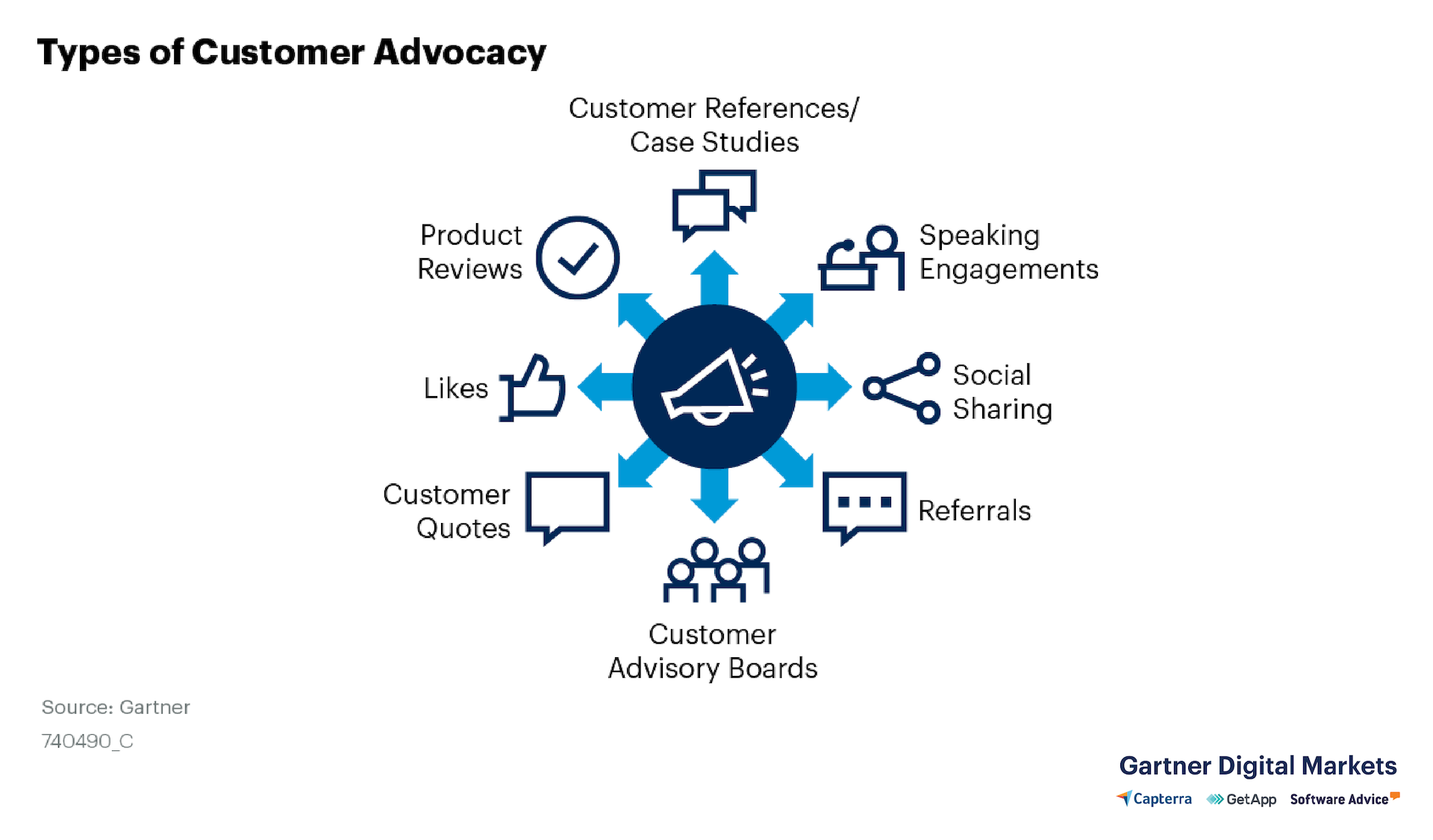 The ultimate goal of customer advocacy is to build long-term trust with customers. When customers feel that a company genuinely has their best interests at heart, they'll probably remain loyal, make repeat purchases, and recommend the company to others.
The value of customer advocacy
Customer advocacy has emerged as a pivotal component in the success of any business. It's an organic form of marketing that's high in social proof and produces a range of benefits:
An increase in sales and revenue.
Up to a 7x reduction in customer acquisition costs.
An increase in customer retention by 3%.
A better understanding of customer needs and experiences
An overall increase in customer satisfaction.
How you can use social media listening to increase customer advocacy
Social media platforms have become the modern-day word-of-mouth channels. People go to Instagram, TikTok, and X to share their experiences, voice their opinions, and interact with brands. Engaging with customer advocates on these platforms is crucial for businesses to foster and amplify positive sentiments.
Responding to positive reviews and comments
When a customer takes the time to leave a positive review or comment on social media, it's an opportunity for you to strengthen that relationship. Listening and improving customer service by responding to these positive remarks shows appreciation and demonstrates that you value customer input. Moreover, other people in their network will see this interaction and perceive your brand as attentive and caring, creating a snowball effect of positive sentiment.
Sharing user-generated content
User-generated content (UGC) is any content — photos, videos, reviews, or testimonials — created by users rather than the brand itself. Sharing UGC is a powerful way to showcase real-life experiences with the brand's products or services.
For example, American Eagle sub-brand Aerie has a dedicated page on its website where customers can upload unedited photos of the products. Not only does #AerieREAL empower original content creators, but it also provides customers and potential buyers with an authentic view of the products. It's a testament to the brand's authenticity and commitment to its user community.
UGC also acts as social proof. When potential customers see real people using and enjoying a product, they are more likely to trust its quality and effectiveness. This can significantly influence purchasing decisions, driving more sales and fostering customer advocacy.
5 ways social listening can increase customer advocacy
One of the most important parts of any relationship, including those with your customers, is the ability to listen. Hearing and understanding the experience of others is the foundation of any good relationship. But now that more and more conversations happen online, you need a tool to help you listen more effectively at scale.
Here are five ways social listening and audience intelligence tools can help you monitor and analyze topics, conversations, and trends on social media.
1) Identifying and engaging ambassadors
A great way to start building customer loyalty is by identifying and engaging with your most enthusiastic customers who love your brand and constantly like, comment, or post about it on social media.
Once you've identified these individuals, engage with them by sharing their content, responding to their social media posts, or offering other incentives that reward their loyalty. This approach can help turn existing customers into brand ambassadors, significantly increasing the reach, effectiveness, and ROI of your social media marketing efforts.
2) Monitoring and responding to feedback in real-time
Social media listening goes more in-depth than traditional monitoring approaches that track brand mentions. It's a more proactive and analytical approach that helps you delve deeper into the context, sentiment, and themes behind social media conversations and create real-time personalized responses.
Prompt responses to feedback help build trust with customers and show them that their opinions and feedback matter. Brands like MeUndies provide quick responses to Instagram comments, whether asking where to find a product or just responding to a funny comment.
Social listening tools can help identify when customers talk about your brand, and responding to their feedback is a critical step toward building brand loyalty.
3) Crafting personalized and relevant content
Crafting personalized and relevant content for your audience is an essential aspect of building customer advocacy. Social listening and audience intelligence tools both provide valuable insights into what your audience is interested in, what they talk about, and what they find engaging.
With this information, brands can tailor their content better to meet the needs and interests of their target audience. Creating content that resonates and connects with your audience can increase engagement and build stronger, longer-lasting relationships with customers.
4) Utilizing user-generated content
User-generated content (UGC) is one of the most valuable assets for building brand advocacy. By sharing content created by your customers or followers, you can create a sense of community around your brand and demonstrate that you value your customers' opinions. Social listening tools can identify relevant UGC content and make it easy to share across your social media channels. Sharing UGC can also help brands reach a wider audience through the influencers and followers of content creators.
5) Monitoring customer, competitor, and industry trends
Finally, keeping up with the trends exhibited by your customers, competitors, and the broader industry is essential to creating effective social media marketing campaigns. Social listening tools can help monitor competitor activity and industry trends, enabling brands to stay ahead and identify new opportunities to engage customers.
For instance, our team observed a cultural shift in consumer sentiments surrounding Netflix UK during the pandemic using a combined approach of social listening and audience intelligence.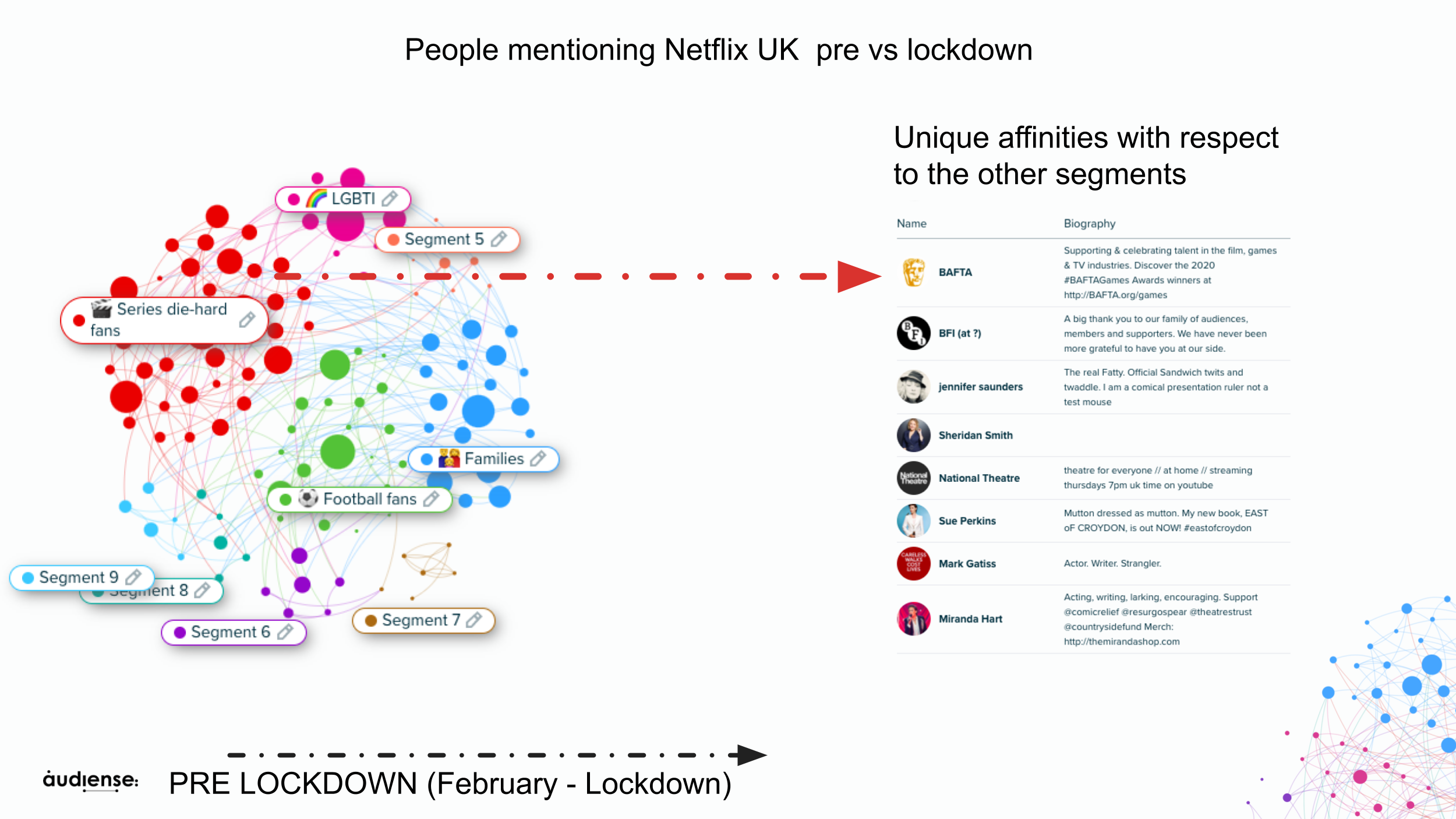 The affinities and desires of people are constantly evolving, just like the strategies of the companies that sell to them, so having the right tools in place is crucial to business success.
Key takeaways
Customers are increasingly wary of conventional marketing and sales tactics — they want to hear about genuine experiences with a product. In the digital era, finding this information on social media or review sites is easier than ever. So, brands should tap into their customer base to drive customer advocacy.
To do this effectively, brands need to leverage social listening in 5 key areas:
Identifying and engaging ambassadors and potential influencers
Monitoring and responding to feedback in real-time
Finding topics to create more personalized, relevant content
Picking out popular user-generated-content to reshare
Analyzing consumer, competitor, and industry-wide trends
Become a loved brand with social listening and audience intelligence
Recognize the undeniable impact of customer advocacy on your bottom line. With over 90% of customers looking for perspective from other shoppers, developing a social listening strategy is key. But to become a truly loved brand, you must make your social listening insights more actionable with Audiense Insights.
The audience intelligence platform helps you analyze your target market to create more accurate personas, develop targeted content and advertisements, and engage with customer advocates who act as ambassadors for your brand. If you're ready to go beyond surface-level demographics, Audiense Insights is your tool.
Sign up for a free Audiense Insights account today.