[Twitter Analysis] Fashion bloggers are making & breaking brands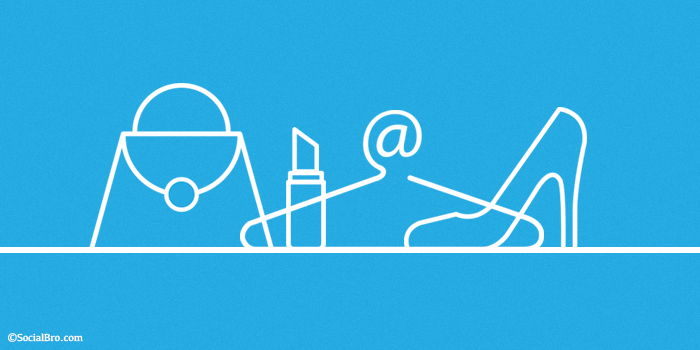 New Twitter analysis of dedicated followers of fashion reveals that top fashion bloggers can now have more influence on buyers than celebrities and even rival established fashion media titles such as Vogue.
Six years after launching her fashion blog, Chiara Ferragni has managed to build a social media empire with an influence/outreach score greater than the youngest member of Forbes 100 most powerful women Taylor Swift, and has projected revenue of over $9 million for 2015. And in five short years blogger Leandra Medine has built an engaged fashion audience of over 1.3 million on social media for her Man Repeller blog.
Analysis of the affinity between top bloggers and fashion brands on Twitter reveals brands that fail to connect with high powered fashion influencers on social media are missing out.
With an association lower than 3% with Man Repeller's Twitter audience River Island have the potential to increase their fashion audience exposure by over 223%. Similarly, without a relationship with fashion influencer Chiara Ferragni, Armani misses out on exposing the brand to 25% more potential buyers.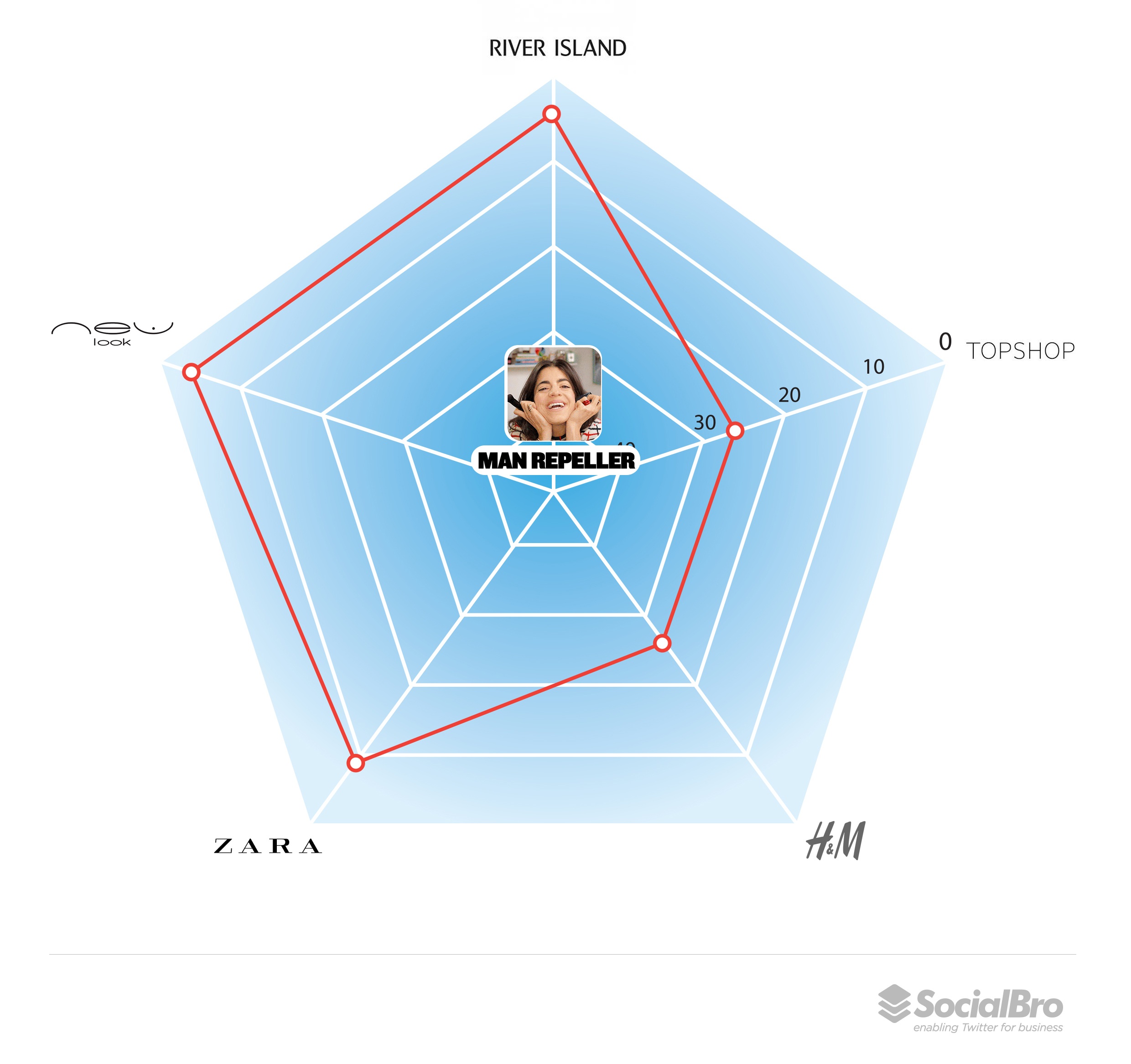 The above graph indicates a strong association between brands Topshop and H&M - who have previously collaborated with Man Repeller - outlining a strong 26% and 25% crossover in audience. The fashion influencer's latest venture is with Zara and we expect to see the brand affinity strengthen from its current 9%. The analysis in the image also clearly outlines close to no connection between Man Repeller and both New Look and River Island with weak 3% audience association.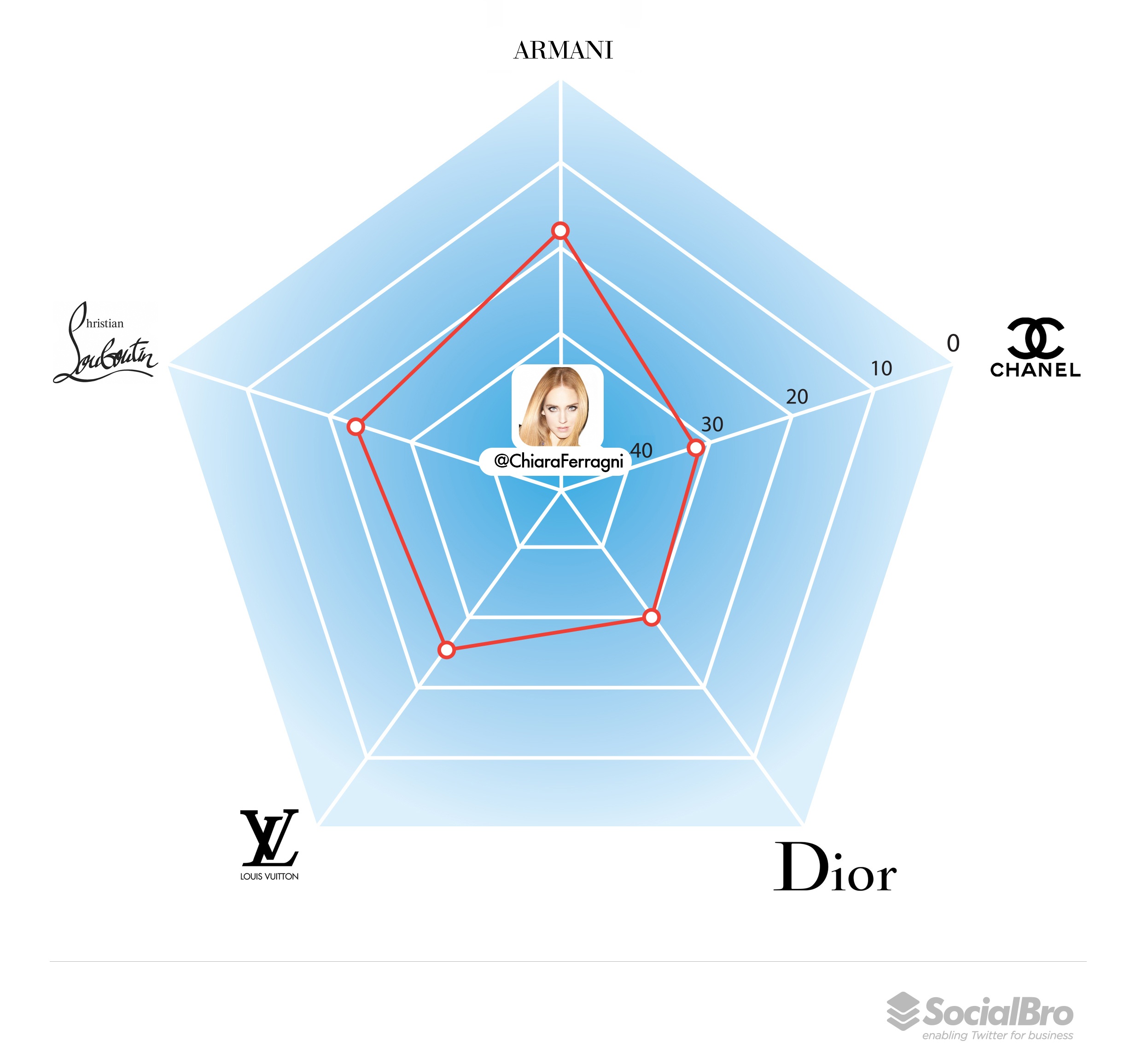 The second graph, analysing Chiara Ferragni's audience, shows a strong connection between all brands but with Armani's visibly weaker than the rest at 18%. Ferragni has previously worked with all the brands analysed in the graph apart from Armani, with Chanel's affinity overtaking the others at over 31%.
The open nature of Twitter means brands have access to a torrent of public data about their audience and other Twitter users. Brands need to be strategic in their use of this data, using it to leverage influential users and uncover collaboration opportunities to expand their engaged audience exposure. The strength of association between an influential blogger and a brand could be the difference between someone choosing your brand or a competitor's.
Fashion brands must look beyond the fashion media titles and towards the influential fashion bloggers that in a short amount time have managed to accumulate as much, if not more, influence than publications like Vogue that have been around for more than 100 years.
With only 5% of luxury sales taking place online, why are relationships in the digital sphere so important? It's simple. Almost 50% of sales start there, with potential customers carrying out initial research of the must-have items online before purchase.
Brands have the opportunity to capitalise on this 'research' stage, appear in more searches and shorten the buyer journey. Through Twitter they also have the ability to tap into a wider, highly relevant and engaged audience through the blogger's Twitter accounts.
Customers no longer take a brand's word for how good their products are, they want affirmation from other sources. 84% believe recommendations from friends and family are more effective than any form of marketing or advertising. Word of mouth is still one of the most trusted channels available to brands, and public displays of approval online can be leveraged to help with further sales.
The sudden surge of support in the blogger lifestyle means people are relying more on influential bloggers for their updates and opinions whether it be fashion, general retail or restaurants. Brands can leverage the blogger audience by investing in the right tools that can unearth details, such as finding users following specific Twitter profiles and identify users that exert their influence over a target audience.
The above Twitter data was collected by SocialBro.com. Figures are correct as of 26/05/2015. Audience analysis is based on the Twitter users with fashion, style or designer in their bio.