Leticia Polese - Content Marketing Manager
Using audience intelligence to supercharge fashion innovation
Do you remember what you wore before 2020? Us neither. The past two years have been turbulent ones for the fashion industry, shaped by consumers ditching their suits, shirts, and outdoor shoes for more WFH-friendly loungewear. Buying new clothes wasn't a priority, unless they had elasticated waistbands.
The good news is that since 2020's low ebb – described by the British Retail Consortium as 'the worst year on record' for retail sales growth – the sector is slowly recovering. Global non-luxury sales are projected to rise by up to five percent in 2022, according to data from McKinsey & Company, with the US and Asia already seeing growth.
However, as memories from the early days of the pandemic fade, new challenges emerge: soaring inflation and fresh supply chain woes could torpedo this recovery. With less disposable income, consumers will be much more selective about what they buy.
As a result, it is even more important that fashion brands and retailers understand the needs of their target customers and ensure they can demonstrate the value of their products. Who these consumers are, how clothes fit into their lives, and what (or who) influences them are all questions to answer when adapting communications strategies to address new market realities.
Fortunately, audience intelligence – combined with social listening and search data – allows us to uncover clues about these consumers, and about the makeup of groups engaging with key issues. Here, we explore three opportunities for fashion brands and retailers to tap into online audiences.
The return to the office
The office is back, and we're not sure how we feel about it. On one hand, Google searches for formal work attire like suits are up on the same period last year, yet interest in 'remote jobs' is also at its highest ever level.
So who are these two work tribes? Using a social listening tool, we can identify US consumers working from an office (by identifying people talking about commuting and plans to work on-site) as well as those who continue to work from home. Transferring these profiles to Audiense, we are able to compare each group – and as a result, get a sense of their clothing needs.
Beginning with the office-based audience, we see men are better represented, making up 56% of this group. It is also possible to identify some of the professionals working from the office, which includes a small segment of Legal Professionals – indicating a continued need for tailoring and formalwear – alongside larger communities of more casually dressed Tech & Marketing Professionals and Journalists.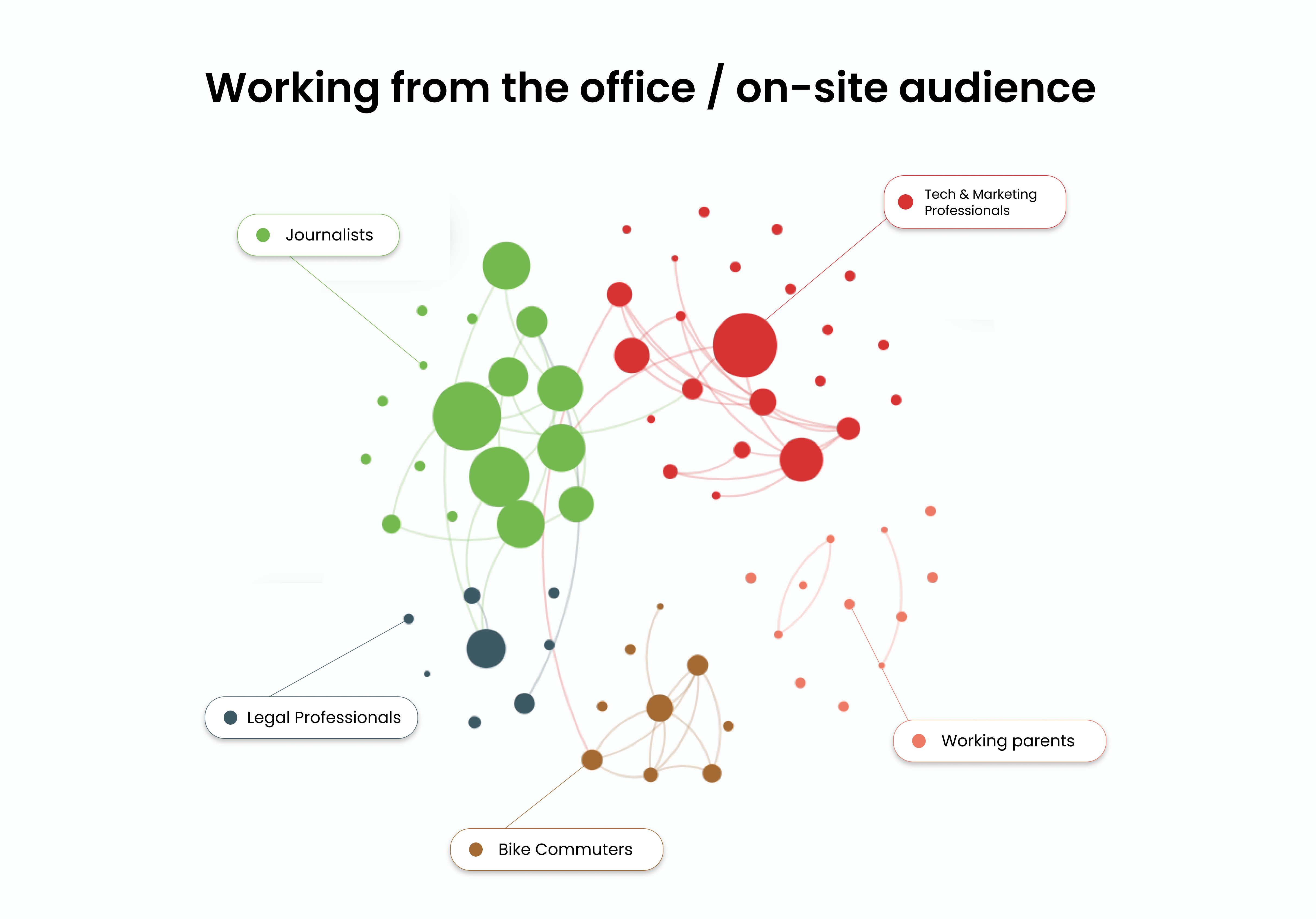 Modes of transportation are also important when it comes to dressing for the office. People commuting to work by bicycle represent 14% of the segmented audience, presenting opportunities for work appropriate backpacks, versatile outerwear and multipurpose clothing that can be easily stored away.
When we look at the remote working audience, our segments map reveals that technical jobs and those involving significant amounts of solo work feature prominently, such as software engineers and writers. Early career professionals – recent graduates and twenty-somethings – also make up 29% of the overall audience, something youth-focused brands and retailers should keep in mind.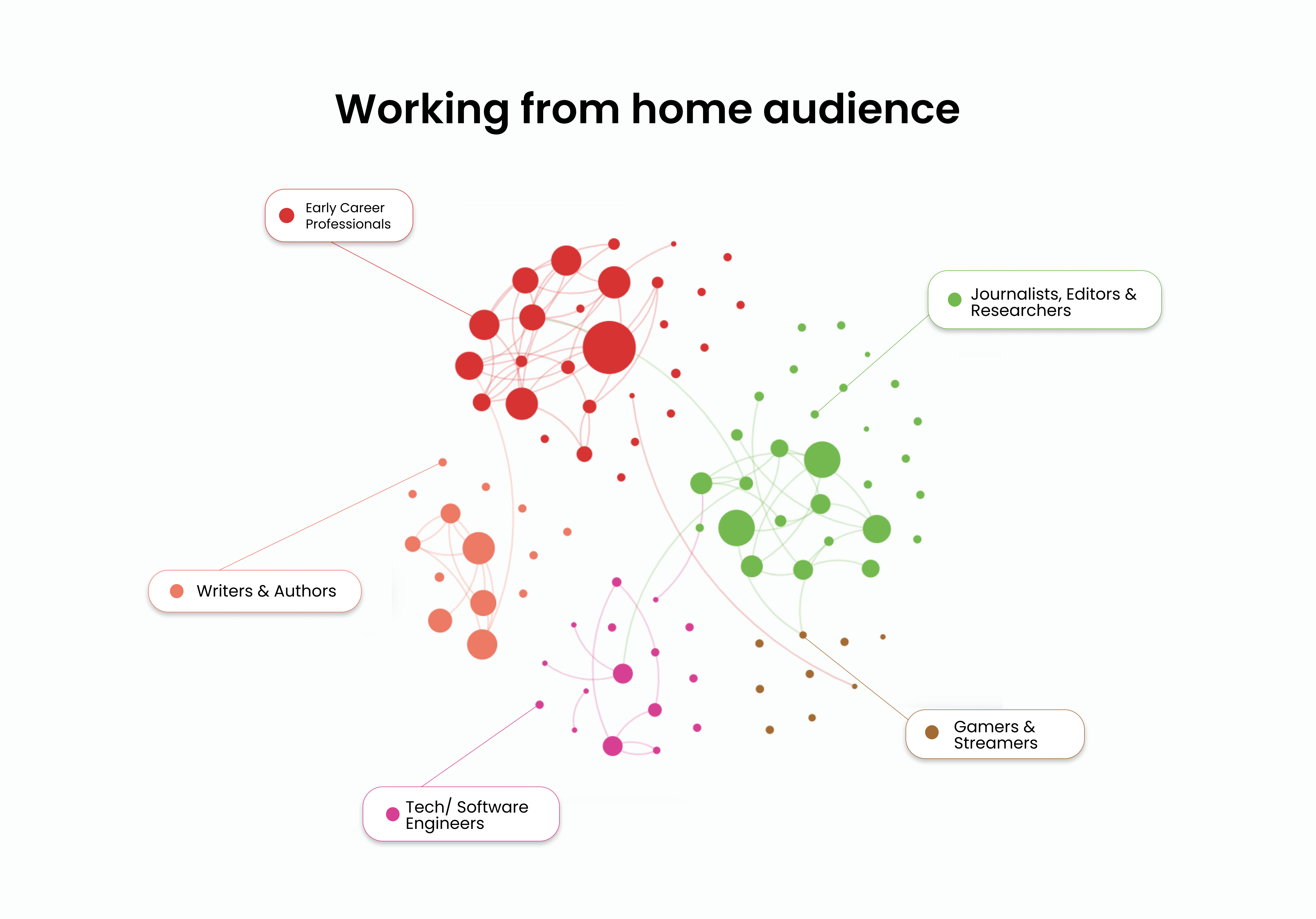 The sustainable consumer in 2022
Covid-19 didn't kill the climate crisis. The pandemic did accelerate a move away from the hype-driven fashion cycle towards a more 'seasonless' approach to production; however, the pressure for brands to commit to more meaningful environmental action remains.
A growing number of brands are weaving sustainability into their DNA, while ensuring their products appeal to broader audiences. Using UK Twitter followers from a sample of these brands (Girlfriend Collective, Lucy & Yak, Sezane, Reformation and Pangaia) to define a Sustainability audience, we can shed light on the motivations of these consumers.
Audiense's Personality Insights are a useful window into these behaviours. Comparing the personality of our audience to the UK – Female average (as the brands underpinning our audience cater primarily to women), we see that they over-index most strongly for 'openness' – at 13 percentage points more than average.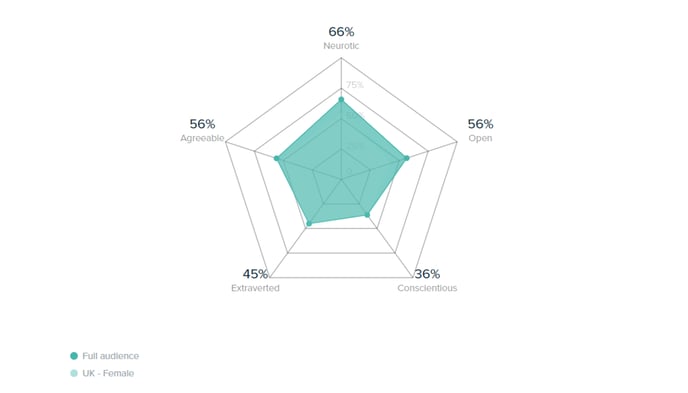 Drilling further into this touchpoint, we get a sense of why this is the case. The Sustainability audience are significantly more likely to be authority-challenging (+19 percentage points) – questioning traditional values to help effect positive change – as well as philosophical (+16pts) and appreciative of art (+13pts).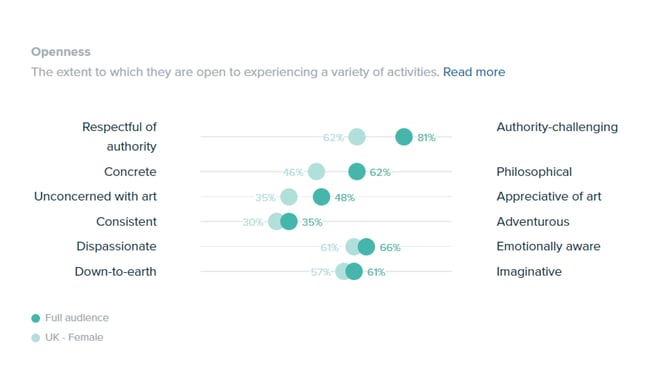 Based on this, we can make assumptions about the kind of branding and messaging that appeals to sustainability-conscious consumers. Fashion brands that challenge the status quo may pique their interest: those that don't just highlight the green credentials of individual garments, but put sustainability front and centre, and confront environmentally damaging practices across the sector.
Pangaia is a good example of this, billing itself as a 'materials science brand on a mission to save our environment'. In August 2021, it called out fast-fashion companies including Shein and Boohoo for copying its garments, inviting them to get in touch to learn more about sustainable practices.
We saw earlier that this audience is more 'appreciative of art' than average. Interpreting this, 2022's sustainable consumer wants garments to not just be eco-friendly, but also stylish and fashion-forward – something ethical brands haven't always excelled at.
New ways of consuming fashion
The growth of clothing rental services has been one of the most interesting developments in recent years. Fashion lovers are able to borrow garments and accessories, either directly or via a peer-to-peer arrangement, promoting more sustainable consumption while also saving money on items that will get little wear (e.g. wedding dresses, holiday and maternity clothing).
US consumers are recognising the benefits of this approach: monthly Google searches for Rent the Runway – one of the big US companies in this space – have risen by an average 83% over the past 12 months, while those for its more budget friendly rival Nuuly are up 173%. Spotting the opportunity here, a number of brands and retailers have established partnerships with these companies, with some even starting up their own services.
For those that haven't decided on their strategy here, audience intelligence provides a useful window into consumers who are engaging with fashion rental and the brands they follow – highlighting whitespace opportunities.
Our first step is to create an audience based on this category: US consumers who follow either Rent the Runway, Nuuly, Le Tote, Gwynnie Bee or Style Lend on Twitter. Filtering for brands in the fashion sector on Audiense's 'Influencers & Brands' tab, we are able to see the top companies followed by this audience.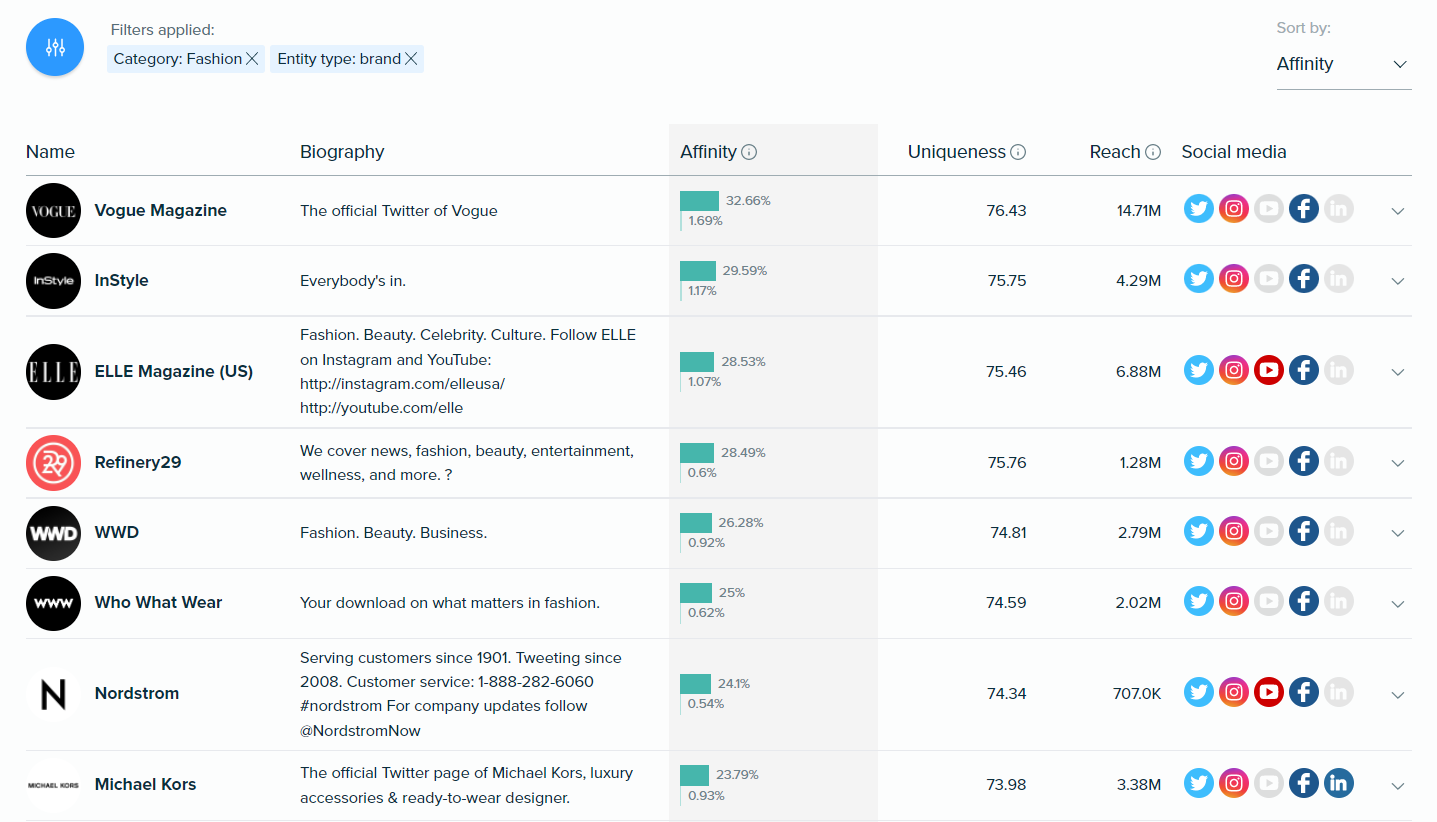 Nordstrom is the top-ranking retailer, followed by almost a quarter of the audience. This is not surprising as Nordstrom is a Rent the Runway partner, contributing inventory to the site as well as offering drop off points at its stores for customers to return rented garments.
Further down the list, we see Diane Von Furstenberg (DVF), which has affinity with 20% of the audience. This brand initially operated its own rental service, DVF Link, but shuttered it in 2021 in favour of a Rent the Runway presence.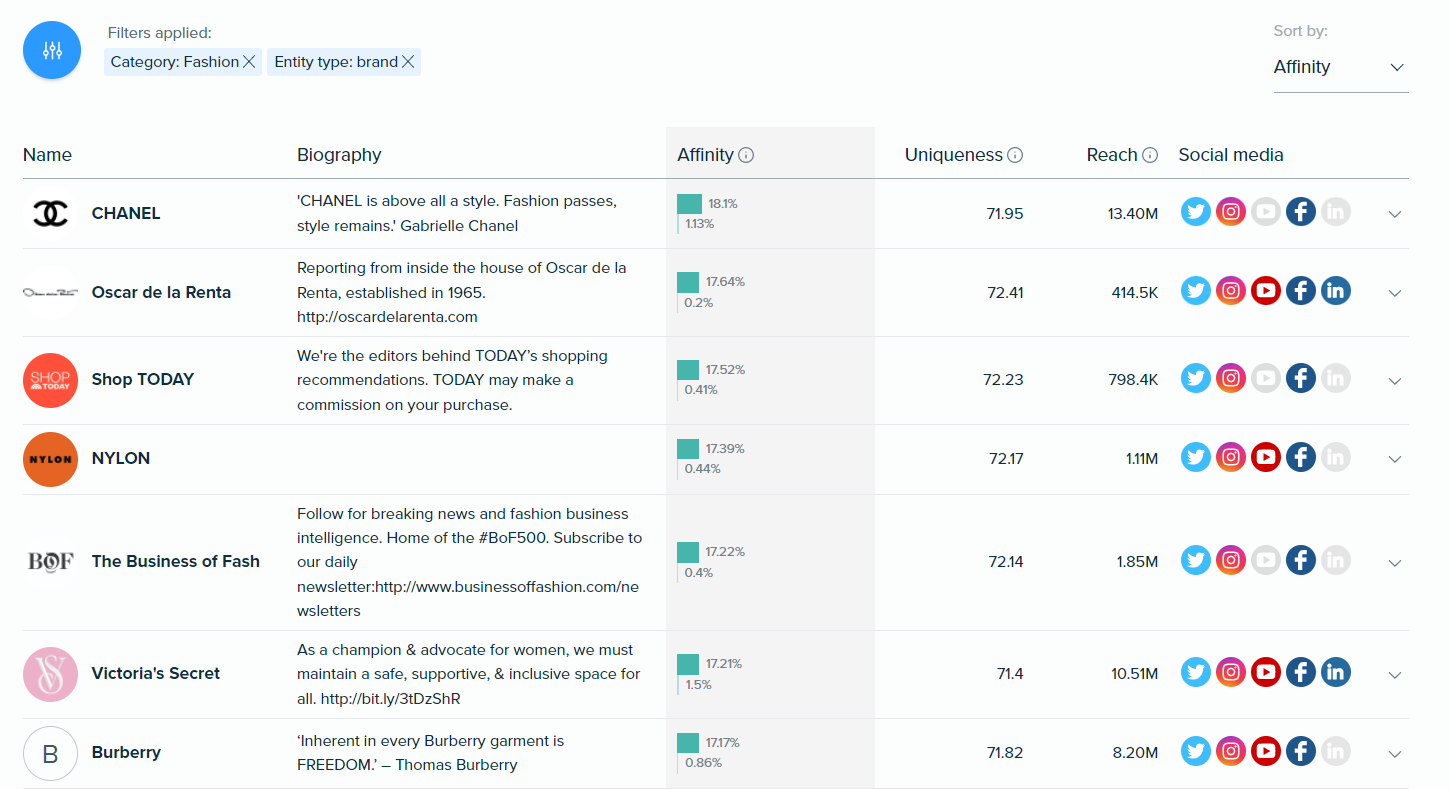 However, there are also brands and retailers not capitalising on this new market: Chanel is followed by 19% of the audience and while vintage items are available from some rental providers via third parties, there is no clear strategy on the part of the brand itself. Similarly, only Saint Laurent accessories are available for rental.
These brands might like to take a tip from another premium brand, Burberry, which announced its first rental and resale offering in December. A UK partnership with My Wardrobe HQ will also see 40% of sales donated to Smart Works, an organisation that provides interview clothes and coaching to unemployed women in need.
Summary
These are just a handful of ways audience intelligence can inspire innovation and uncover new opportunities for fashion brands. Using tools like Audiense, actionable ways to improve marketing and communications strategy are close at hand.