Natalya Bucuy
5 ways to turn your audiences into brand advocates
What does customer-led brand advocacy look like?
Ask any woman with a steady hairdresser for a stylist recommendation and you will see it. She will tell you how skillful, gentle, caring, and wonderful her hairdresser is. She will tell you exactly how long she's been going to that hairdresser. And she might even tell you a funny story the two of them shared during the last appointment. In other words, she will give you all the reasons why her hairdresser is truly the best and why no one should ever think about getting hair done anywhere else.
Brand advocacy goes beyond mere loyalty. It's a devotion to a service provider that sparks storytelling, recommendations, and endless referrals. And just like some amazing hairdressers, if a company manages to inspire customer-led brand advocacy, it might have a customer for life.
So how can a company get there? Here, we explore some ways a brand can do just that.
1. Good News or Bad News - Your Choice
In 2020, in the midst of the pandemic, when the feeling of dread universally hung over the world, a few people took the matter of good cheer into their own hands. Perhaps, because they have had enough of bad news. Or, maybe because that's what the world needed right then. And so we saw the Italians sing from their balconies with their neighbors while in isolation. We saw people cheering and clapping every evening for first responders and healthcare workers. And we saw actor John Krasinski start a Youtube show called Some Good news, where he delivered nothing but good news from around the globe. (If you haven't seen it, check it out, it's truly a cure for a tired soul.)
We talked about these positive instances as we connected with our isolated friends and loved ones. We shared them on our social media pages. And we still talk about them, a year later, evidently.
So, do you want people to talk about your brand?
There are two ways it is going to happen. They will either talk about you because you did something bad or because you did something amazing. And the good that you do has to be multiple times better and bigger than anything that is not up to customers' expectations. Because, as statistics show, people will talk about bad experiences more readily than they will about good ones.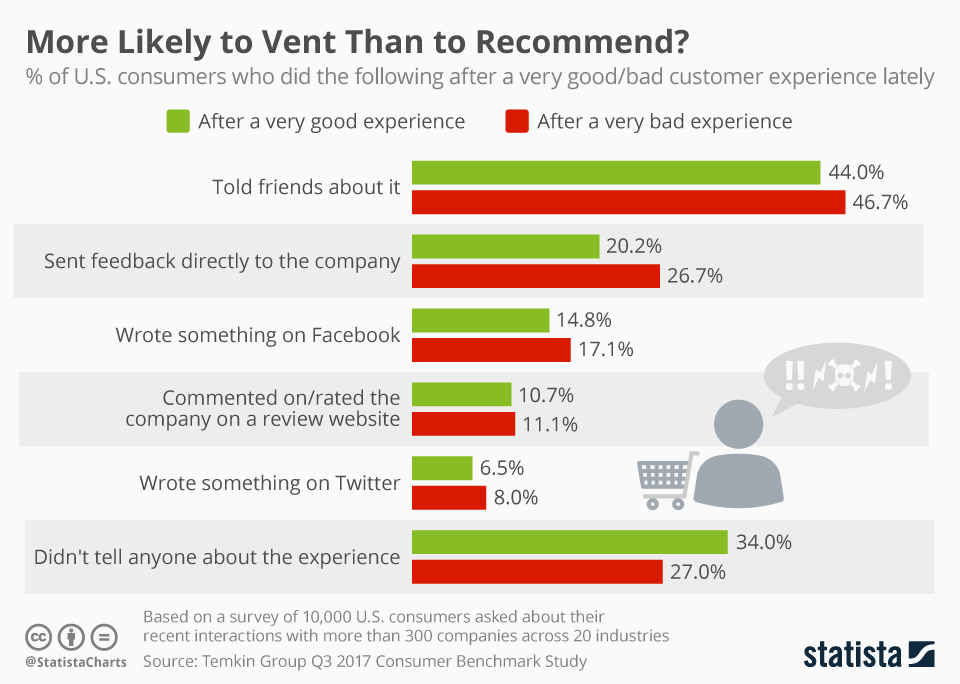 When it comes to customer-led brand advocacy, companies must work hard to amaze and delight their customers. They must deliver such positive customer experiences so that the customers can't help, but to share them. These experiences can't just be good, they have to be outstanding.
So, find out what resonates with your audiences, then up it a notch. Get creative. It could be something personal like pet supplies retailer Chewy did when the company sent painted portraits of people's pets along with their orders. It could be something really neat, like Venmo's packaging of their credit cards that truly stand out. It could be something innovative, like some smartphone's ability to transfer all of the user's information from an old to a new device with a click of a button. It just has to be memorable.
You can be the good news customers discuss at the dinner table or you can be the bad ones. It's your choice.
2. Give Them All The Feels
Good experiences become memorable and worth sharing because they satisfy customers' deep emotional needs. In other words, they make people feel good. That is why backing your customer satisfaction strategy with psychology can really help companies create unforgettable experiences.
Some successful tactics include keeping customers' self-actualization goals in mind, as well as showing the utmost respect for their time, dignity, and intelligence. Targeting customers' emotional highs and lows throughout the experience, ensuring positive interactions at the peak of the customer journey and another at the end, also have proven to be successful.
Michelle Clarke, the CEO of Empowerment Empires, urges companies to pay attention to how customers are feelings through all of their interactions.
"Get the customer feeling something," she says. "An example of this that worked for a client of mine with a nutrition supplement company was asking customers to rate how they feel each day from day zero to day 21 while taking supplements and sharing their progress. People love to talk about themselves, but there is more to it than that, this strategy gets people to not only notice the effects and therefore be happy with the product, but also get excited and want to share that excitement."
Clarke stresses the importance of encouraging customers to share their feelings.
"Customers love to inspire and help other people," she adds. "If you ask them to share what they have learned, gained, changed by using your product or service they will feel they are contributing and therefore push aside any concerns about being visible and talking about themselves and revel in the opportunity to talk. In order for customers to talk, we have to make them comfortable."
3. Reward All the Good Things
An old saying tells us that "you can catch more flies with honey than vinegar." And like any parent can confirm, positive reinforcement can do wonders to encourage repeats of the desired behavior.
Rewarding customer loyalty can really aid your advocacy encouragement efforts. However, in the world of reward cards offers customers get from every turn, once again, creativity is the key. To stand out, your reward program should offer something unique. After all, unique means memorable. And memorable experiences lead to customer-led storytelling.
One successful principle that works when it comes to rewards is gamification. Quizzes, points redeemable for prizes, and other games, reward customers with material items. But they also play on people's natural attraction to fun and games.
Take the app Fetch rewards, for example. The app awards points to users when they scan receipts from any purchases they make - from gas station fill up to grocery bills. As a customer, you never know how many points you're going to get because the amount changes depending on the products you purchase. There is something fun about watching those points rack up. Users can then redeem points for gift cards from various retails. The creators of Fetch rewards must be on to something, as the app currently has over 7 million users.
4. Light Up the Stage
Customers talking about your company at the office water cooler or in a text to a friend is great. But most of the feedback about your business will probably end up showing up at the village square of the 20th century - online. People will make recommendations on Facebook, post reviews on Yelp, and possibly tweet about their experiences. Providing customers with a specific online platform can not only encourage customers to share their stories but also create an easy-to-access place for potential customers to reference. Additionally, it will allow you to have unique insights from your audience that might help shape further experiences your company provides.
One way to connect customer-led stories of your brand is to create a hashtag. A successful example of this tactic is Dove Skincare company, which created the #MyBeautyMySay campaign. The campaign's intention was to promote beauty and body image positivity. With the hashtag, women could share their stories on social media. Nike's famous #JustDoIt is another example of a company's slogan becoming a part of a storytelling strategy across many social media platforms.

Another example of creating a space for customer-led advocacy is AirBnB's story page, where the company shares its community stories.
Providing a platform for your customers is like lighting up the stage and bringing the microphone in the middle of that village square. The easier it is for them to share their experience, the more likely they are to do it. And why not make the whole process easier for them?
5. Bring the Village Together
Speaking of the village, creating communities around your brand might be one of the best strategies to encourage brand advocacy. People are social animals and they love coming together. Like the singing neighbors and people sharing good news and helping one another during the pandemic show, positive community vibes make the messages we try to deliver ring louder.
Eric Dahan, the CEO of Open Influence, recommends openly sharing company values with audiences.
"People connect through shared values. When you communicate those brand values effectively and in ways that matter to today's consumers you will naturally create a community that will help amplify your company's purpose," he says. "But that's just the first step. The next step is making sure you're constantly engaging your communities by interacting with them. Stand for something and create brand experiences that resonate with the audience you are trying to connect with. We've learned from challenger brands like Peloton or Glossier, that when you cultivate a sense of belonging people will naturally tell stories of brands that speak to their values and lifestyles. Also, keep in mind that people don't think in terms of facts or numbers, we think in terms of stories. Give them a story that they can make part of their own."
Turning your audiences into brand advocates
No amount of advertising can deliver the kind of results that come from true heartfelt stories your customer tell about your brand. When you have your customers on your side you get all the power. People value the opinions of people they know. That is why it's essential for companies to encourage customer-led brand advocacy. So deliver some feel-good experiences, stress positivity, create communities, reward your customers, and provide a place for them to share their stories. Put your audience at the center of your strategy. Then hear your customer tell everyone she knows that you are in fact, just like her hairdresser, one of a kind.