Paz Segura - Marketing Manager
Who sets the beat in the electronic music industry?
The music industry continues to boom, partly thanks to the continued advances in technology in how we share, stream and consume our favourite tracks. The most innovative companies are already benefiting from technological possibilities, from discovering up-and-coming talent on social media platforms to creating more personalized marketing strategies and working with related brands that can lead to more profitable partnerships.
Audience intelligence and big data are transforming many sectors, and music is no exception. Rob Stringer, CEO of Sony Music, said: "All our business units must now leverage data and analytics in innovative ways to dig deeper than ever for new talent. The modern-day talent-spotter must have both an artistic ear and analytical eyes."
We're big champions of using audience data intelligently. Consumer insight empowers you to go beyond assumptions and use real-time data to form the backbone of your marketing and publicity strategies. For example, in A&R (Artists and Repertoire) departments, decision-making no longer depends solely on someone having a "good ear", but the data that presents provides concrete information about, for example, the tastes of the consumers.
This is not just useful for the teams responsible for discovering new talent. Accurate consumer insight opens a whole world of possibilities for data-based marketing strategies: from identifying locations for events in your most enthusiastic locations or finding brands and influencers to spread the word. The possibilities are unlimited, you just have to select which audience segments you're most interested in and start gathering data!
If you read this article previously, you may remember at Audiense, some of the team are passionate about electronic music. As spring approaches and restrictions begin to ease in some parts of the world, we're excited about the imminent return of festivals and concerts. So, we decided to re-run our report of the EDM industry to give you the latest breakdown of hot new DJs, labels and events that are setting the beat. Get ready to party!
Identifying EDM industry audience
To help us identify the audience of the EDM industry, we used a ranking of the 100 best record labels. Using this as the starting point, we identified profiles of individuals that featured any of these names in their Twitter bio, giving us more than 2,600 profiles within the sector: labels, producers, DJs, and other professionals with an active interest in the industry.
What are the key characteristics of the EDM industry?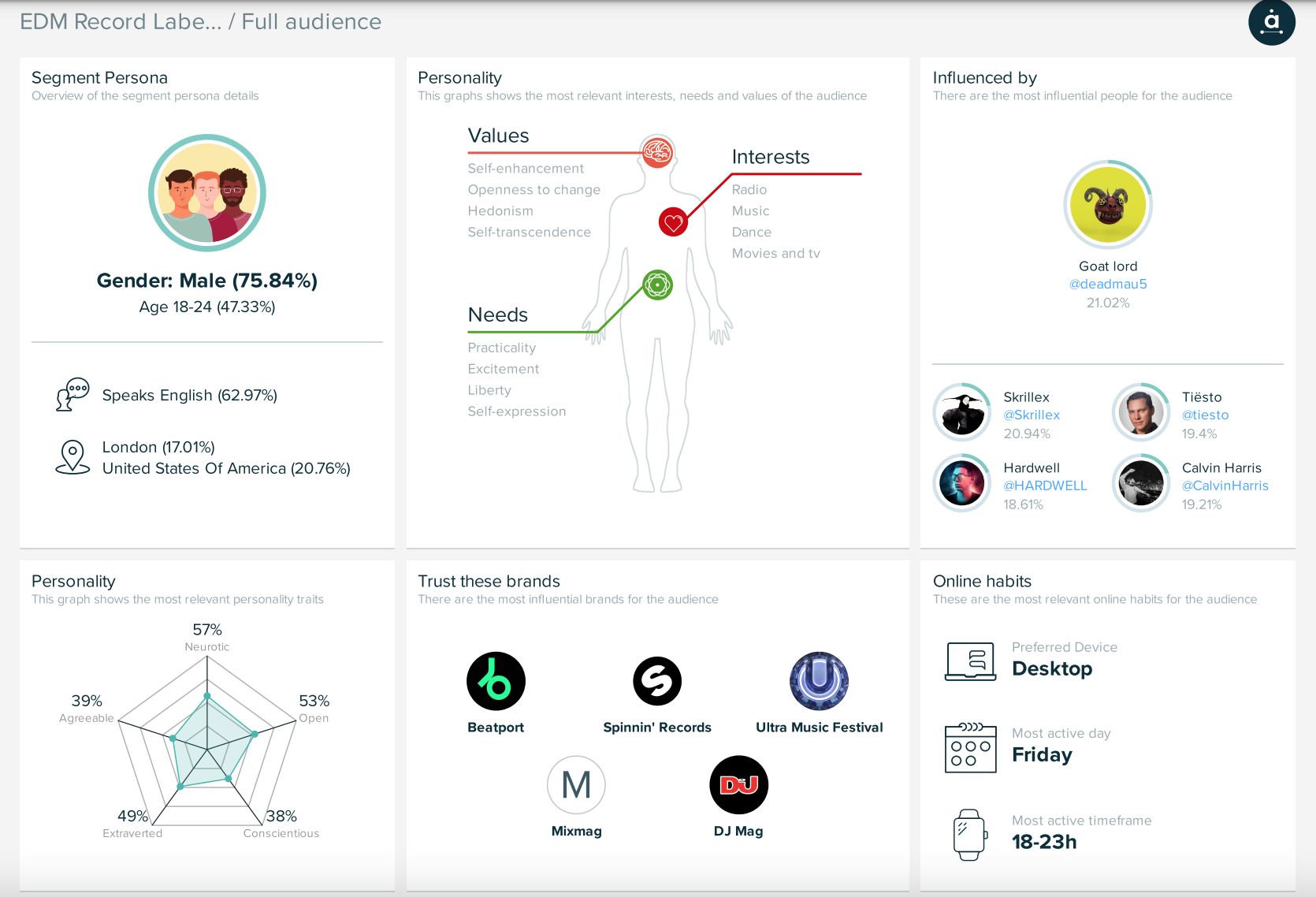 Our data shows that the EDM industry is predominantly male (75%) and largely based in the US and UK (20% in the US and 18% in the UK respectively), with high levels of engagement in the Netherlands, Germany and Spain. With this insight, it's probably safe to assume that Europe is one of the central hubs of the industry.
Diving deeper into city-specific data, London leads the way, accounting for 17% of the audience, closely followed by Los Angeles, Amsterdam, Vancouver, Miami and Barcelona. Interestingly, while English is the primary language spoken by this audience, there is also a lot of conversation happening in Spanish, German, Japanese and Dutch!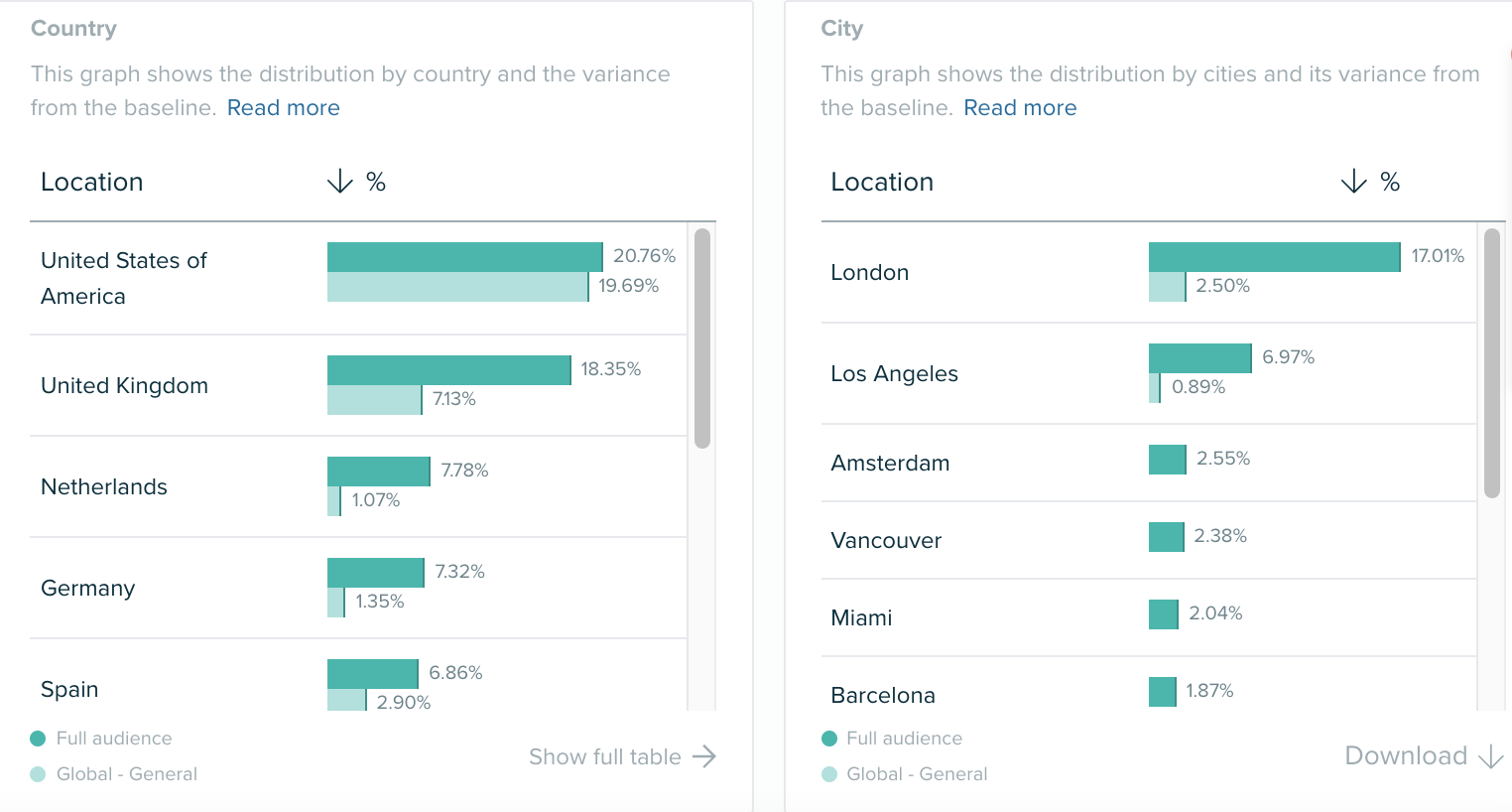 Compared to the rest of the global population, it might not surprise you to hear that this audience is especially interested in radio, music, dance and EDM-related events. However, if you were interested in extending your reach to find new fans, it could also be useful to note that they love movies, TV, and sports.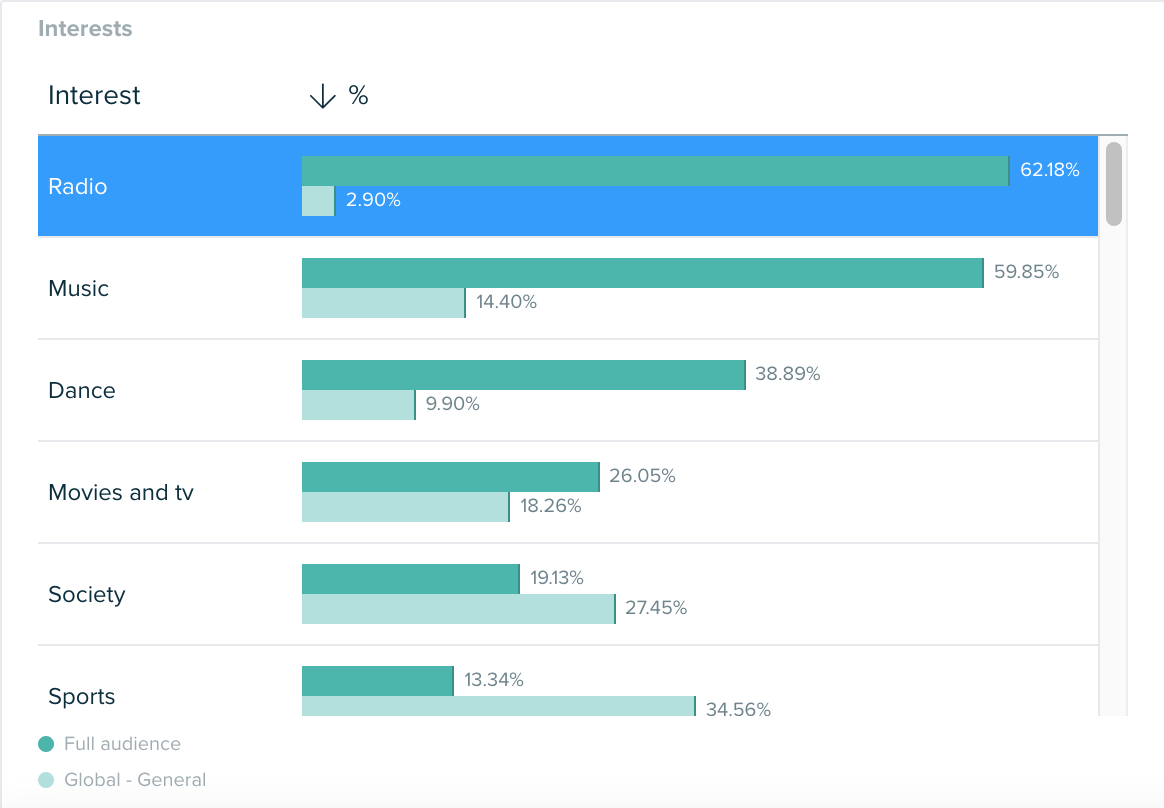 So, where are they spending the most time online? Well, they're significantly more likely to be using a desktop rather than a mobile - an unusual insight given the general trend toward mobile browsing - and they're also 78 times more likely to be browsing SoundCloud than any other platform! But not on Saturdays or Sundays, because they're out on the dance floor. They're also heavy users of Twitch, Snapchat, Spotify and TikTok - everyone's favourite emerging network that makes heavy use of popular sounds.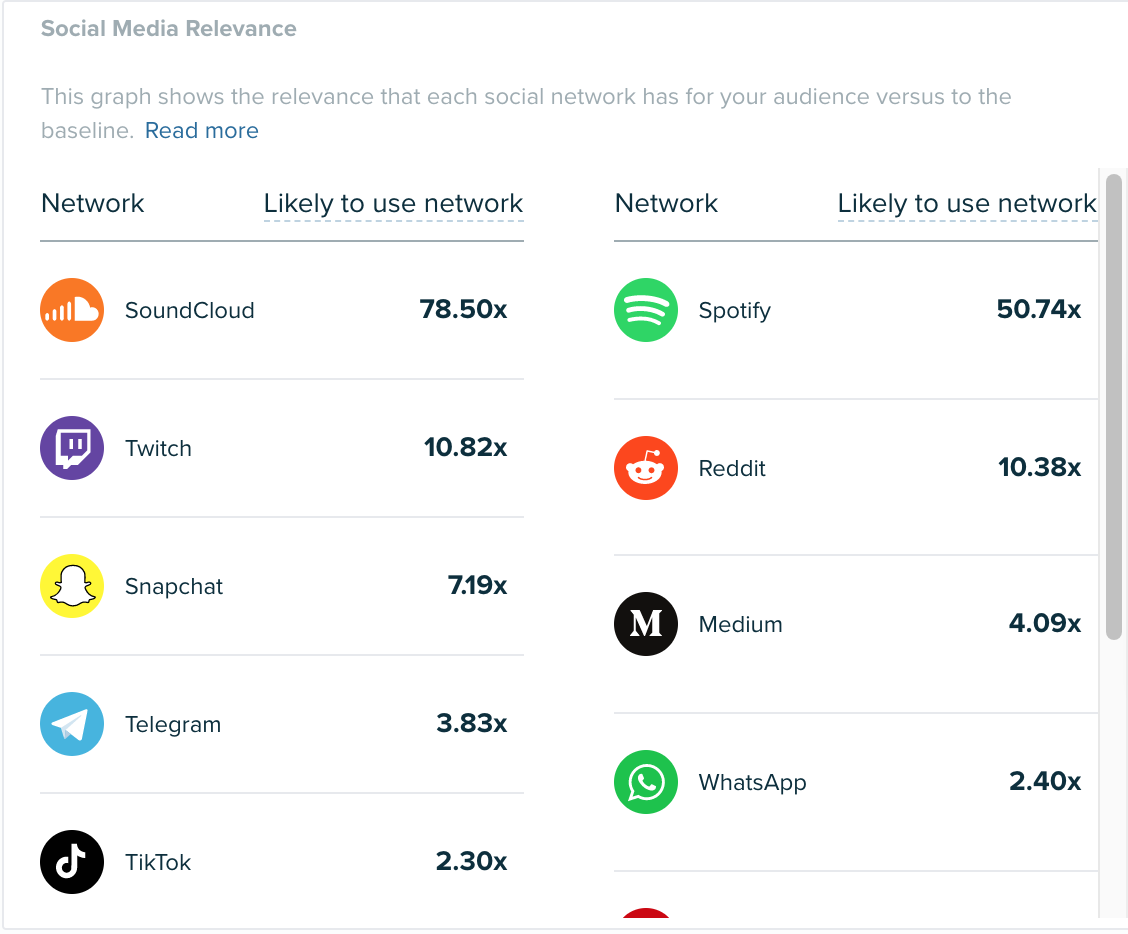 Who are the biggest influencers in the EDM industry?
After identifying the most influential profiles, we've created several rankings in different categories, taking as a criteria the "uniqueness" of each person / brand to the analyzed audience compared to a concrete baseline (in our case, the global population). Without further ado, here's the Audiense round-up of the top DJs, producers, festivals and clubs in the industry.
Top 10 influencers
This first is the general ranking with the top 10, without separating by categories.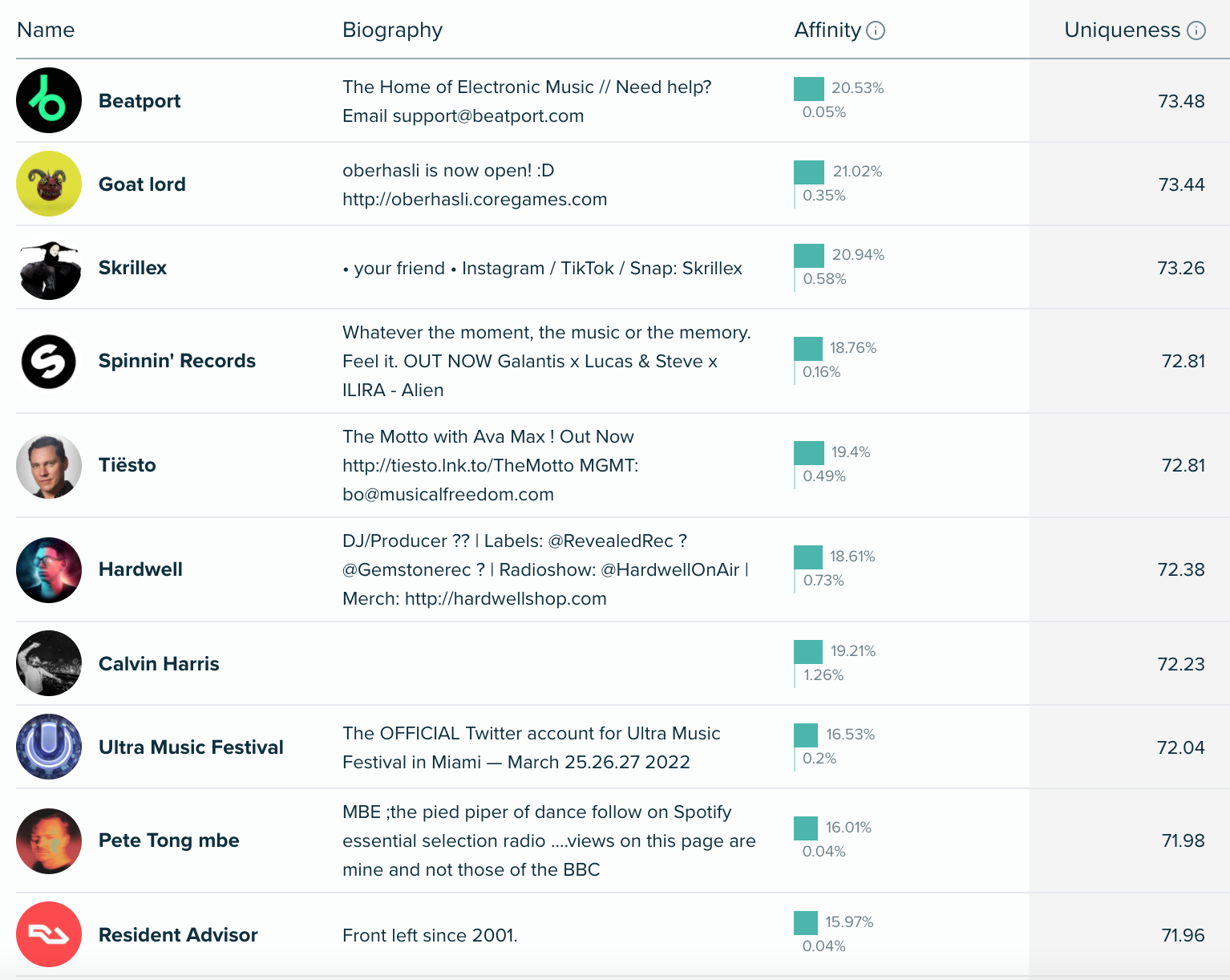 Top 30 DJs / producers / artists
Top 20 record labels
Top 3 music platforms
Top 10 festivals / events
Top 10 clubs
Top 3 radios and 3 radio shows
Top 10 media / online communities
If you're interested in the electronic music industry and want to get more insights about this audience, access the report here.