Rachel May Quin
Bringing wellness to the masses: Health brands shaking up the FMCG sector
It's a fast-moving world for fast-moving consumer goods, aka FMCG. If you work in the sector you probably know that FMCG is a hugely diverse and innovative industry, selling everything from milk and gum to candles and the hottest skincare serum. Essentially, if it's sold quickly at a relatively low cost, you've got yourself an FMCG.
The largest FMCG companies in the world include behemoths such as Nestle, Procter & Gamble, Unilever, Coca Cola and L'Oréal, with the top 40 alone estimated to have generated over $1 trillion in revenue in 2020 alone.
But the category is quickly diversifying, as disruptive products such as meal replacement drinks and CBD-infused sparkling water aim to shake up the wellness niche. We were curious, which wellness brands are saturating the market and where do the opportunities lie? Let's take a moment to refresh ourselves with the key stats around the sector:
Wellness as a category has become increasingly accepted by consumers over recent years, with products such as vitamin fizzers, protein bars and pre-workout drinks and gels becoming more popular on the supermarket shelf. Similarly, due to the COVID-19 mental health crisis, more consumers are interested in mindfulness and anxiety-related products.
In this blog, we'll be examining the opportunities for savvy wellness brands looking to make their mark in the FMCG sector. P.S. If you're interested in innovative FMCG brand campaigns and opportunities for CBD-infused products, we highly recommend bookmarking these pieces for later.
Where do the consumer opportunities lie in the wellness space?
To answer this question, we ran interconnectivity reports based on two leading wellness brands and similar audiences that surround them: Medterra, a CBD brand, and Huel, a nutritionally complete food (note: not a meal replacement). Both brands have a presence in the UK and the US.
We wanted to understand who the existing audiences of these brands were and any potential opportunities to reach more people like them. These reports looked at two types of audiences within the FMCG sphere. The Mediterra report is based on people mentioning either Medterra or Charlotte's Web in the last 6 months, whilst the Huel report is based on people mentioning any of Huel, Soylent, Vitabiotics, Optimum nutrition, or Berocca in the last 6 months. In terms of audience sizes, the Medterra audience pulled around 11k people, while Huel pulled a massive 120k. Bear in mind that the difference in size between these audiences can simply come down to the smaller audience being based on two CBD brands that are arguably still in early adoption phases compared to five brands in the nutrition industry.
For both brands, their audience tends to skew toward the younger demographic of 18 to 24 years old. Interestingly, while these audiences are largely based in the US (64% for Medterra and 45% for Huel), London was the top city for both audiences. Their top interests also differed slightly with the Medterra audience most interested in pets and Huel most interested in movies and TV.
If you've read our previous sector spotlight pieces, we don't need to remind you that your audience is not a monolith. Audience intelligence is our bread and butter, so let's break down this health and wellness audience into bite-size chunks. We're going to focus on the main segments that appeared, however, our reports can produce up to 20 segments.
MEDTERRA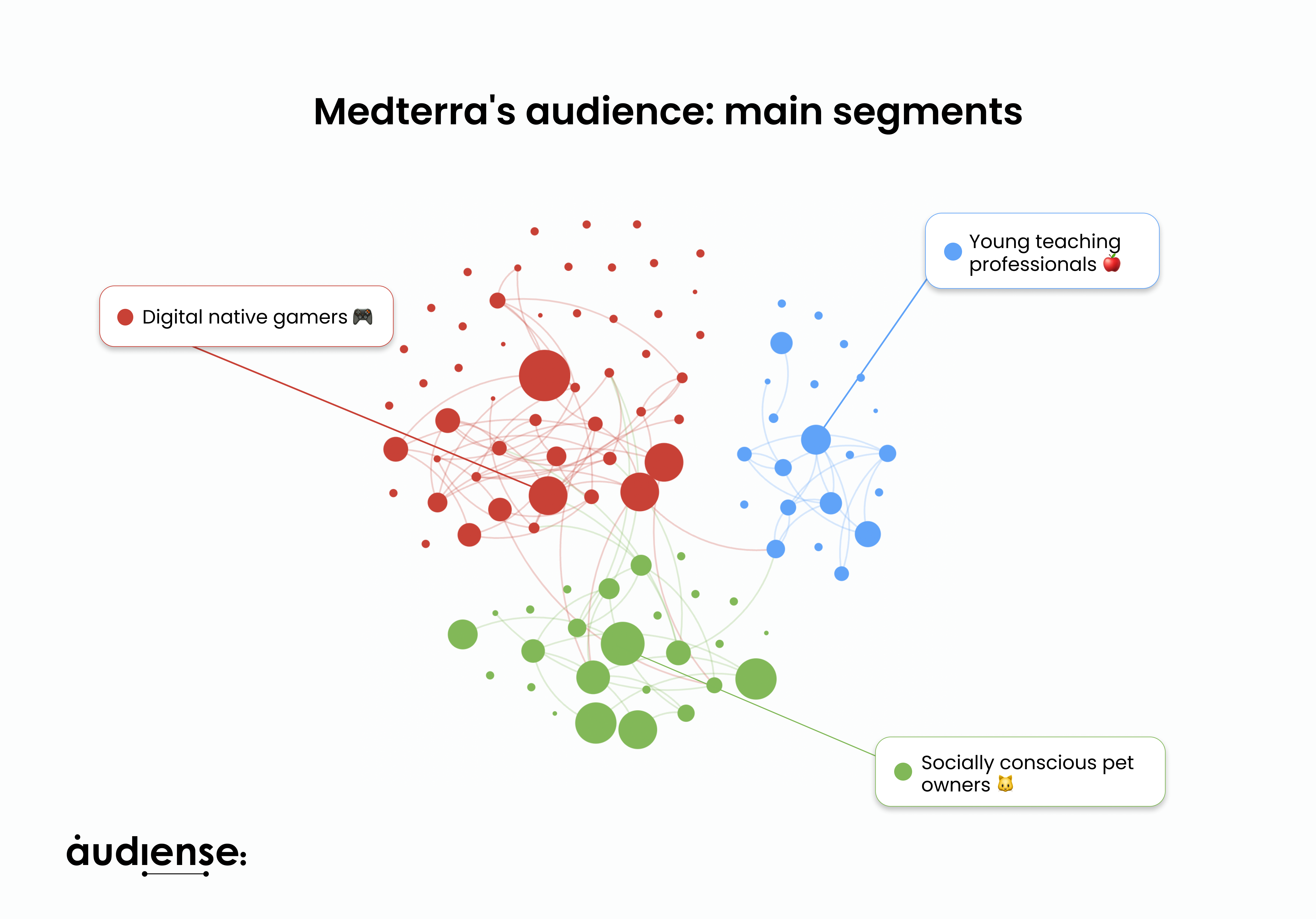 Digital native gamers 🎮
Accounting for nearly 25% of Medterra's audience are the creative gamers, a segment made up of 18–24-year-old males who are likely to describe themselves as writers, fans, artists and musicians in their online bios
They're passionate about fan communities with entertainment brands and franchises such as Disney+, Cartoon Network, Marvel, Nintendo and Pixar all ranking highly in the most influential brands
Looking at online habits, they're mostly spending time on Discord, Twitch, Snapchat, Spotify and TikTok; presenting an opportunity for wellness brands looking to break out of their niche without breaking their budget, through organic and paid social
They're also more likely to indulge in spur of the moment purchases (inspired by the latest must-have product on TikTok, perhaps?); so, it's not surprising to see that their main purchase influencer factors include online ads and social media
Socially conscious pet owners 🐱
Next up we have our socially conscious pet owners, a largely female and slightly older (compared to our gamers) audience who actively talk about #BLM, resistance movements, democrats and more liberal politics… and their pets!
A whopping 65% of this audience are obsessed with their pets and interestingly, only a small segment (19%) are parents, suggesting this 25-34 segment is fully leaning into millennial stereotype of opting for puppies over babies (honestly, same)
Perhaps not surprisingly for this audience, political figures such as Ted Lieu, Adam Schiff and news anchors such as Rachel Maddow and Glenn Kirschner of MSNBC appear in their top influencers and brands; this is reflected in the media affinities too with MSNBC, The Daily Show, NPR and the Washington Post all prominently featured
While activism and politics features prominently in the kind of content this audience engages with and shares online, it's also worth noting that #catsoftwitter and #dogsoftwitter appear in their top used hashtags, suggesting while they tend to lean toward more serious topics, there's room for light-hearted fun
Young teaching professionals 🍎
Mostly made up of women aged 13 to 24, our teaching professionals' audience is so named due to a large volume of bios featuring keywords such as 'teacher', 'school' and 'books', as well as 'Mrs.' And 'Dr.' appearing as common names
While the audience is largely US-based, it's interesting to note that top cities include London, San Francisco and Vancouver, suggesting global potential for Medterra
Top influencers for this audience include a mix of education brands (Edutopia, Scholastic, WeAreTeachers) as well as children's authors and publishers (Scholastic, BookTrust, HarperKids), suggesting they're both engaged and influenced by thought leaders in their professions
Looking to digital platforms, they're likely to spend time on Medium – presumably reading – but they also have a presence on more traditional social networking platforms such as Instagram, Facebook and Pinterest
Looking to purchase influencer factors, they're much more likely to trust friends and family over brand names, suggesting that social circles and communities are key to reaching this audience
HUEL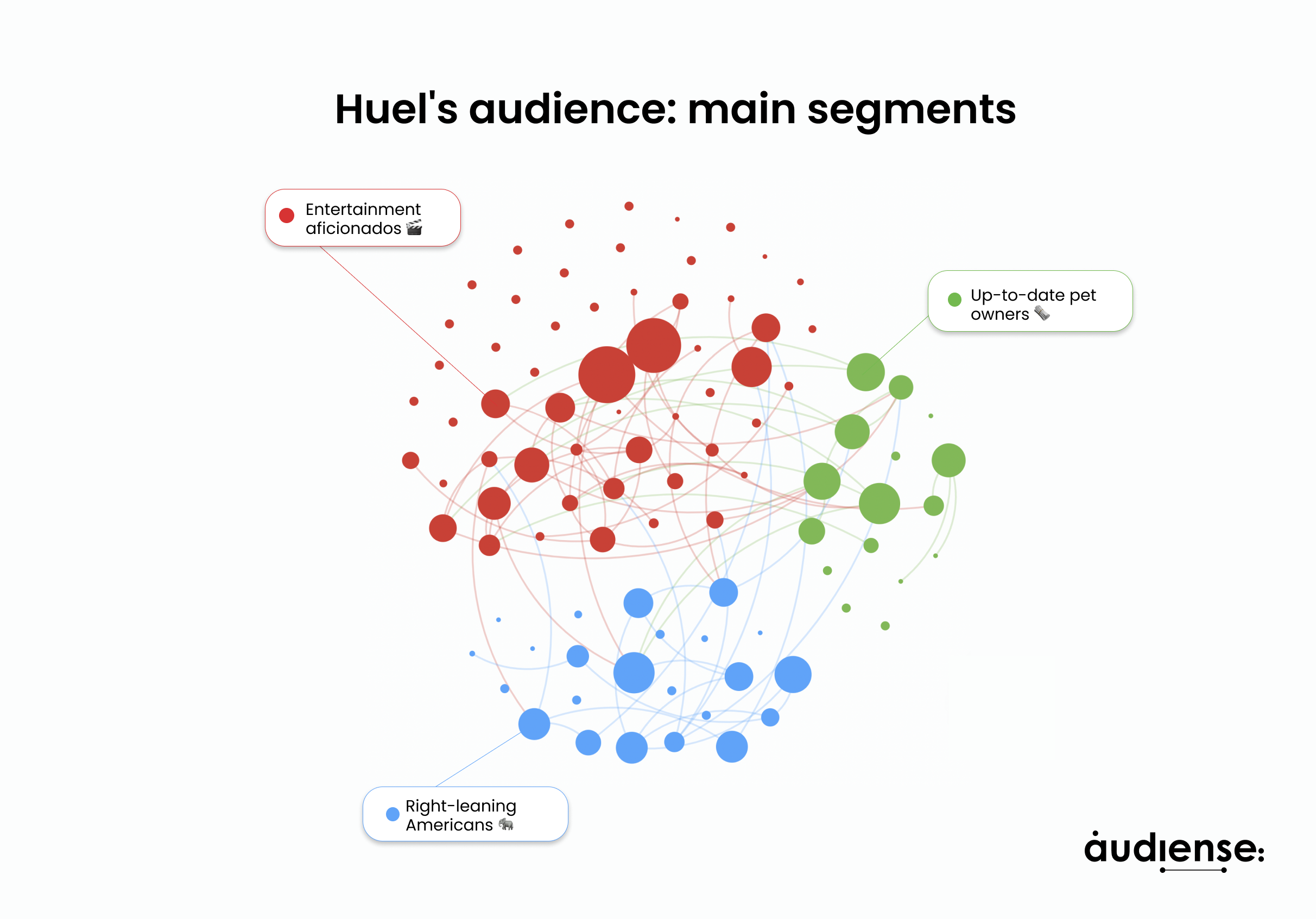 Entertainment aficionados 🎬
Largely consisting of men aged 25-34, this audience has diverse interests centred around entertainment, with Eurovision, the Met Gala, anime, Elden Ring and Sonic the Hedgehog all appearing in recently discussed hashtags
They're 2.5x more likely to spend time on Twitch, suggesting they are influenced by streamers and vloggers, plus they're also spending time on Discord, Snapchat, SoundCloud and Reddit
In terms of significant influencers, YouTuber SungWon Cho and video game creator / composer Toby Fox - who worked on Undertale, Pokemon and Super Smash Brothers Ultimate - both appear in the top three, alongside rapper Lil Nas X
Looking at specific personality insights that define this segment, their choices are driven by a desire for discovery (what's the latest Netflix show to stream?) and they're likely to be excitable, sentimental and helpful, all excellent qualities in fandoms
Marketers looking to break into this segment should pay attention to those all important purchase influencer factors, given that 62% of this audience are likely to be influenced by the features of a product - which makes sense for a gamer-esque audience looking for their next greatest playthrough as opposed to remaining loyal to one developer - though online ads are also powerful
Right-leaning Americans 🐘
One of the most prominent segments in this audience skews almost entirely male (81%) and US-based, consisting of primarily 18-34 year olds, and strong alt-right views with particular focus on the US
Sports and news are the foremost interests for this segment, with paintball, baseball and basketball all ranking highly among favorite sports
While their top influencers are largely political and therefore, probably quite tricky for marketers to infiltrate, there are digital opportunities in the form of Barstool Sports and social networks such as Discord, YouTube and Reddit
What about their consumer behaviour? The good news is, this audience are likely to be receptive to marketing campaigns and targeted ads, plus they're spur of the moment shoppers and they prefer to pay via credit card for goods; basically, if you can get them with a good paid social campaign to your website, you're likely to make a sale
Up-to-date pet owners 🗞
Our third segment for Huel audiences is an audience that looks remarkably like Medterra's socially conscious pet owners! But this time, they're also fond of science and news too
Largely based in US cities such as LA, Chicago and Washington, prominent bio keywords for this audience included blm, love, resist and interestingly, retired; this correlates with 20% of the audience being aged 45-54
Similar to Medterra's segment, this segment in Huel has an affinity for political figures such as Ted Lieu, Adam Schiff, Preet Bharara, news anchor Rachel Maddow of MSNBC, and political writers such as Dan Rather, Rick Wilson and Molly Jong-Fast; this is reflected in the media affinities too with Maddow Blog, The Daily Show, NPR and the Washington Post all prominently featured.
How wellness brands are shaking up the FMCG space
We've done our homework into Medterra's and Huel's potential audiences, now let's get to the juicy details. How are brands shaking up the FMCG space?
Medterra
Medterra goes hard on trust as a core element of their brand, which is interesting, given the dwindling consumer trust in brands and Gen Z's resistance to traditional forms of advertising. This extends to their marketing strategy as well.
In 2021, they launched their first digital campaign called "the CBDo's and CBDon'ts of CBD", which focused on busting the myths around CBD and establishing Medterra as the go-to brand for purchasing high-quality, reliable CBD products.
They play on the typical misconceptions around a relatively niche product (i.e., 'I knew you were on drugs!) to create a playful and informal tone, while also educating their audiences. They also cater firmly to that younger audience, posting visual content across Twitter, Instagram and YouTube, plus jumping on memes whenever it feels right. Notably for Medterra, based on the socially conscious pet owner audience we discussed earlier, they are very pro-pet in their social content.
While their organic strategy is clearly still in development, Medterra are tapping into that spur of the moment audience with a comprehensive digital advertising strategy. According to Pathmatics, Medterra invested almost $708K toward its digital advertising in 2021.
The brand's top invested digital advertising channels are Facebook at $396K (56%) and Desktop Display at $212K (30%). Their most successful Facebook campaigns continued to focus on building trust, offering free samples and educating their intended audience on the benefits of CBD for health, wellness, and yes, even your pets. It's fascinating to see that Facebook is such a core part of their advertising strategy, particularly as teachers are heavy users of Facebook!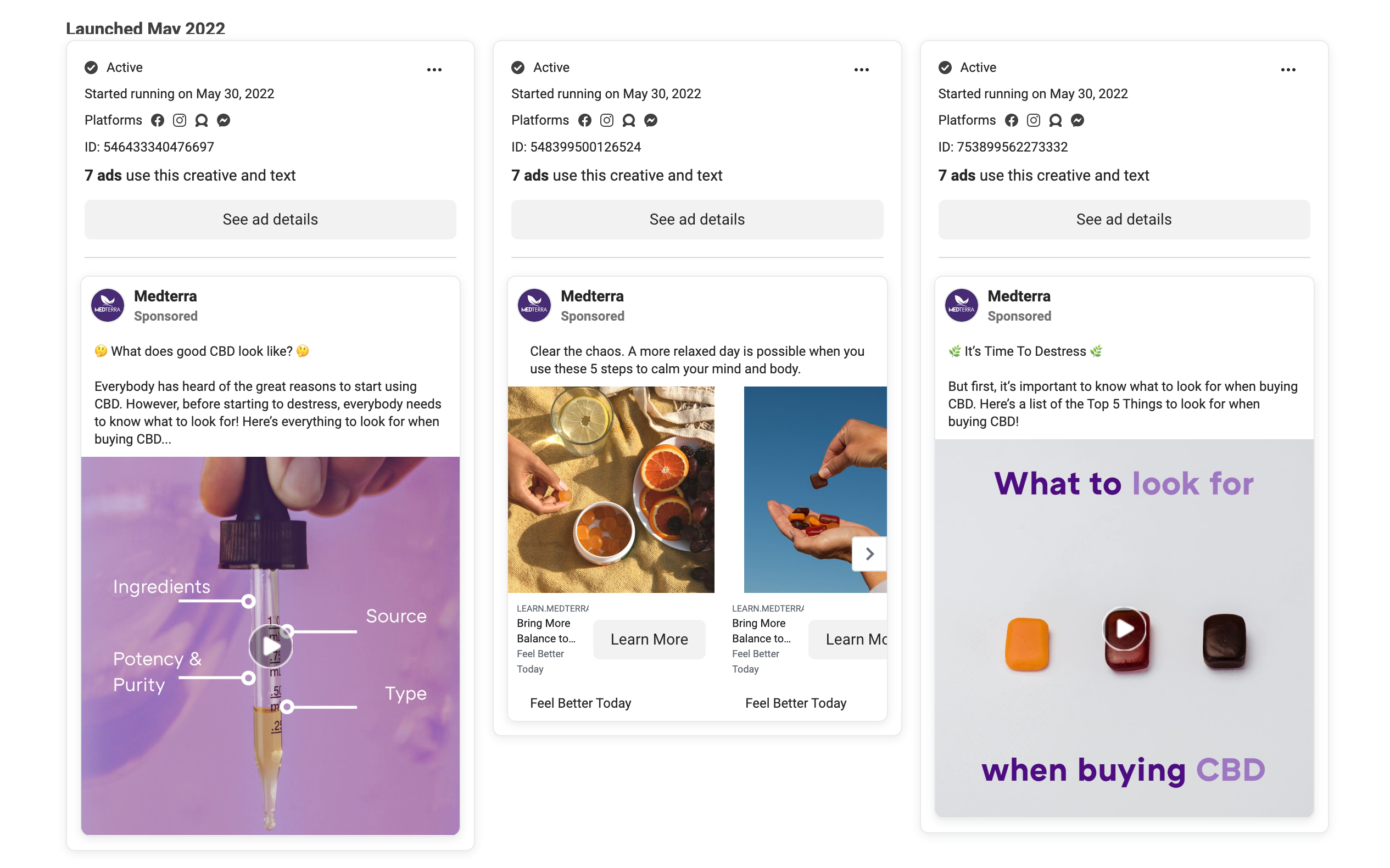 While still early days for Medterra's digital strategy, there's definitely room for growth in how they engage and grow their communities. This case study from Convosphere is a great example of how to use audience insights to identify and engage micro-influencers in the space.
Huel
Born in 2015 out of a desire to make nutrition more accessible for everybody, no matter how frantic your lifestyle, Huel has become a firm favourite of gym bros, tech bros, and basically anybody who would like to stop obsessing over what to have for lunch. To date, Huel has sold over 100 million meals and according to Buffer, successfully built a community of around 400,000 followers across their digital channels.
Along the way, Huel have struggled with positioning. Criticised as just another meal replacement shake or denounced as pointless by people who like to chew, this somewhat niche product has fought hard to make its way in the UK and US markets. When faced with a tricky product and a resistant consumer-base, it makes sense that Huel focused on a digital-first marketing strategy.
Audience intelligence and the superior targeting abilities of digital channels, versus more traditional marketing opportunities, has helped Huel create their very own 'Hueligans' - passionate brand champions who await each new product with bated breath. They focused on transparency and education, making the science behind the product one of their strongest USPs for doubtful consumers.
Of course, Huel's greatest USP is nutritionally balanced convenience, which explains why gamers, vloggers, and streamers all appear in their audience segments. Their mission is to make nutrition easy for the time poor and the hustlers, with CEO James McMaster quoted as saying, "Huel is about tackling your most inconvenient meal of the day" — for most this is breakfast or lunch, leaving room to "enjoy a more 'traditional' meal with family and friends in the evening or at the weekend.' Essentially, Huel isn't trying to replace food and bore you to tears with the next Slimfast diet, they're trying to make life simpler. This message shines through in their approach to social.
When you're trying to appeal to a massive audience of people, it helps to have a product and audience strategy that aims to be inclusive. Now widely available in supermarkets (at least in the UK), Huel appeals to a range of subcultures, from tech-industry influencers trying to embrace Steve Jobs' one less decision philosophy to vegans and vegetarians just trying to get a decent meal on the go. This has made their product a social media goldmine, as well as the free swag they send to each and every customer.
How can wellness brands break into the mass market?
So, what are our key learnings from Medterra and Huel? Perhaps most importantly, it doesn't matter how 'niche' you think you are, there's almost definitely an audience of customers out there that can be reached through a variety of marketing tactics. Here are four other key takeaways to bear in mind.
Be prepared to educate your consumers - If you're promoting an unknown or often misinterpreted product, be prepared to spend time educating your customers, whether that's through an information-focused marketing campaign or by providing free samples in places you know your ideal consumer is likely to see them, i.e. teachers being offered CBD gummies on Facebook.
Be transparent and trustworthy as a brand

- Consumer trust is dwindling, it's up to you to ensure that your products and your operations, as a business and a marketing team, are as transparent as possible. Transparency and honesty builds trust, which is a key part of marketing to consumers.

Understand where your audiences are spending time

- We've definitely said it once and we'll absolutely say it again, if you want to reach your audiences, you need to go where they are. Something like Facebook advertising might seem like the most budget-friendly option, but if your audiences are more likely to be spending time on Discord, TikTok and Medium, it's not a good use of your time or energy.

Don't just sell a product, sell a lifestyle

- One of the most striking similarities between brands like Huel and Medterra is the ability to sell more than a product, they're selling a lifestyle shift. Whether you want to eat better and you just don't have the time, you want to find a community of like-minded people centred around a product's philosophy, or you're interested in leading a more mindful, less stressful life, wellness products can offer you the life you're dreaming of.
If you want to uncover opportunities to work with influencers and reach new audiences, the data is out there. It's just a matter of taking a deep dive. With tools like Audiense, conducting in-depth audience analysis and discovering actionable takeaways is possible for brands that want to approach their marketing strategy with confidence.