Rachel May Quin
How luxury travel brands are using UGC and influencer marketing to sell the finer things in life
We all enjoy the finer things in life. But with the current global economic downturn, how much are consumers really willing to spend on luxury travel in 2023?
Turns out, the future's looking bright for the industry, with many people continuing to prioritise those once-in-a-lifetime vacations even if it means cutting back on day-to-day luxuries. At least, that's what the latest data is showing us. Here's the highlights:
Surprised? So are we. But this presents a major opportunity. How can travel marketers overcome consumer hesitation and help sell more dream vacations and luxury experiences? What marketing tactics are luxury brands deploying to make this possible?
"Luxury is a very broad concept, it varies depending on the vision of each individual. There is not only the classic luxury of premium accommodations but a unique or an authentic experience, more tailored and personalised. Hospitality companies, such as Marriott or Accor, adapt themselves to those views by developing specific brands to cover all the range from luxury to premium to create a perfect experience for each of their publics and their approach to luxury." – Andrea Trillo, Global Marketing Director at AIRE Ancient Baths Group.
In this month's spotlight, we're examining the luxury travel industry. We'll explore what type of consumer makes up the luxury travel audience, what they're interested in, and how brands are using different marketing tactics, including influencer marketing, to sell the finer things in life. Grab a cup of coffee and let's jet!
Who makes up the luxury travel audience?
We wanted to understand what the typical consumer looks like. We wanted to answer questions such as: What experiences are they interested in? Which luxury brands do they currently follow? What drives them to make purchase decisions and how are they spending?
To help us answer these questions, we built an affinity report based on consumers who follow a range of luxury brands including InterContinental, Waldorf Astoria, Marriott International, Four Seasons, Shangri-La and others. We then cross-referenced this with specific behaviours and interests such as an interest in luxury travel. We applied this criteria across our wide range of available platforms, including Meta. Explore the full report here.
Looking broadly at our audience of luxury consumers, we can see that both men and women enjoy the finer things in life, with an almost 50/50 split.
While younger consumers do spend on luxury travel and experiences, it does tend to skew older, with the majority of this audience aged between 25 and 44, but the audience with the most spending power being 35 plus. The majority of this online audience are based in the US, but we also see that luxury travel is of interest to consumers in India, Indonesia, Brazil and other countries consisting of high-net-worth individuals in Saudi Arabia, the UAE and China.
While we can make general assumptions about the entire audience based on this, as our regular readers know, your audience is not a monolith. So, we've broken down our luxury travel consumers into three bite-size segments to help us drill down into individual interests.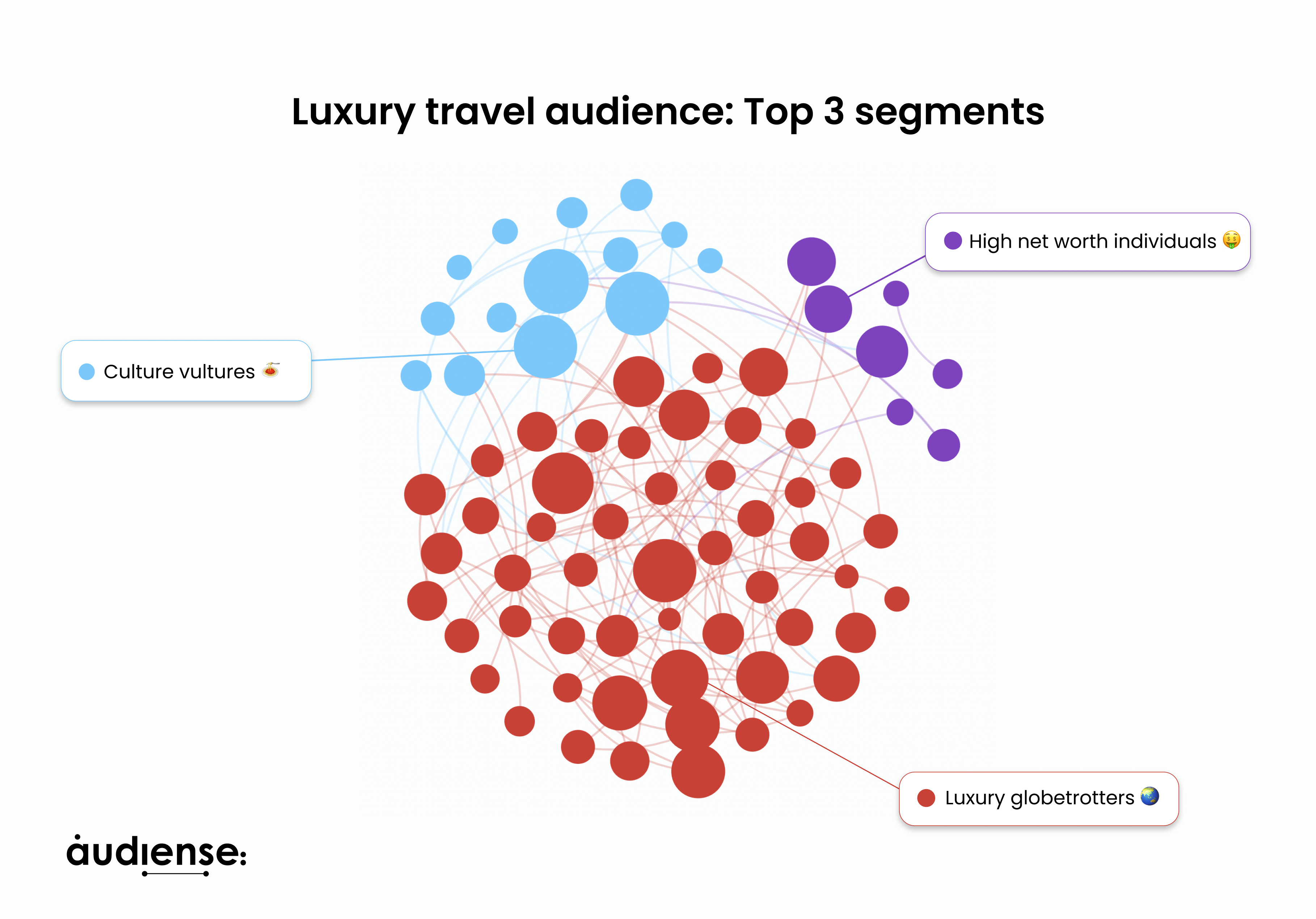 Luxury globetrotters 🌏
This segment of our luxury travel audience is all about the destination! These consumers love to explore, and international travel is their number one priority when it comes to spending those valuable vacation days.
Travelling the world knows no age or gender. This audience is split pretty much 50/50 between the genders and the most active luxury traveller is aged between 35 and 64.
Interestingly, our luxury globetrotters aren't looking for just one kind of experience. They're interested in flying to international destinations, taking the road trip of a lifetime, ecotourism, and luxury cruises. Their travel choices are inspired by books, TV and movies.
Looking more widely at what influences their purchase decisions, we see a whole range of travel accounts appearing in their top influencers and brands including Travel Weekly, eGuide Travel, AP Travel and one of the world's largest travel events, World Travel Market. They're clued into top travel accounts, and they consult them when researching.
Digging into their mindset, while brand name is their second top purchase influencer factor, friends and family also play an important role in their decision making. Which means if you can tap into word-of-mouth in your marketing, you've got a better chance of grabbing their attention.
High net worth individuals 🤑
We've touched on high net worth and ultra-high net worth individuals previously on our blog, and given our topic today, it's unsurprising to see them appear prominently in our audience segments for the luxury travel market.
Our high-net-worth individuals are looking for that perfect combination of beach, music, city, business and shopping opportunities when they're planning their luxury holiday. That said, they're also hugely interested in the detail and want their experiences to be as frictionless and personalised as possible.
Perhaps of most interest for travel marketers, this segment are equally as likely to be travelling for business as they are for pleasure. But that doesn't mean they're not interested in small luxuries to make their time away from home worthwhile. For example, consider digital nomads, they want to be able to enjoy the destination while also working flexibly.
When we delve into the top influencers and brands for this segment, it's clear that it's not just luxury travel they care about. Luxury brands such as Vogue, Chanel, Dior, Louis Vuitton and more all appear prominently. We also see shopping appearing in their top three interests, alongside travel and finance.
So, what influences their buying decisions? According to our IBM Watson insights, this segment is likely to be helpful, social and expressive. This makes friends and family an important influence on their purchases. That said, social media and online ads also play an important role in helping them make purchase decisions.
Culture vultures 🍝
Finally, we have our culture vultures. They love to travel just as much as our globetrotter's segment, but their choices are driven by local culture, art, wine and food, as well as experiential activities.
Where this segment differs from the others is their values-driven approach to travel. They're keenly interested in

sustainability

,

wellness

and ethical tourism. This is reflected in the influencers and brands they follow, with American Red Cross appearing in their top five accounts.
While our culture vultures enjoy spending money on luxury experiences, they're partial to a bargain. They're very interested in discounts and promotions offered by luxury travel brands, as this means they can stretch their budget even further.
They're clearly big foodies. Food Network, NYT Cooking and Food, LA Times Food, Saveur and Bon Appétit all appear in their media affinities. We also see their interest in arts and culture shining through, with New York Times Arts and the Guardian appearing as well.
If you want to reach this audience, pay attention to where they're spending time. Medium and Pinterest both appear as top social networks, alongside Twitter. In fact, our culture vultures are three times more likely to use Medium and Twitter than the general public.
How luxury travel brands are tapping into consumers
Based on our data and the wider travel trends, it's safe to say that luxury travel is thriving. When planning B2C campaigns, marketers need to factor in the mindset and behaviours of this audience. For example, luxury travellers expect premier experiences, and they won't settle for anything less. Here are four ways luxury travel brands are tapping into consumers.
Put UGC at the heart of your strategy
One of the strongest marketing tools at the luxury travel industry's disposal is user-generated content (UGC). The ability to influence the creation of, and repurpose, authentic and organic social media content can be hugely influential in reaching more consumers.
Why? Because travellers are increasingly relying on their smartphones when it comes to making purchase decisions. According to Skyscanner, three out of four UK consumers are using their mobile devices to plan their trips at work, at the pub, and even while already on holiday. Plus, one in two people say that social media influences where they'll go next.
Conrad Hotels and their Instagram Butlers campaign is a sterling example of putting UGC at the heart of your marketing strategy. Their Maldives property perfectly tapped into word-of-mouth by deploying social experts to help travellers capture picture-perfect moments in their little slice of paradise.
Their butlers took guests on Instagram worthy experiences, sharing iconic spots such as the world's first undersea restaurant, and going on special tours. Plus, they could advise on the best time of day to take sunset selfies and show them the perfect positions for a sun-dappled yoga pose.
Not only did this campaign add a little something extra to their guest's vacation, it allowed them to capture likeworthy moments that would help spread the reach of the Conrad Maldives and bring more visitors in the future.
Offer personalized service
Providing premier experiences relies on understanding your customers on a deeply personal level, enabling you to offer personalized service. Bespoke travel agency Travel Edge tapped into this desire for bespoke service with a consumer facing campaign that promised to deliver exceptional personalization and customer care throughout the travel experience.
How did they deliver on this? They launched a new web platform which allowed their advisors and concierge team to support clients on a 24/7 basis, providing access to a wide range of exclusive properties, experiences, insider perks and amenities – perfectly personalized to the traveller's needs and wants.
Given that this was launched post-pandemic, this gave them a competitive edge in a hesitant consumer marketer where travel restrictions made vacations a little more chaotic than usual. Their platform also showcased curated itineraries to encourage consumers to get in touch with one of their team and start planning their ideal getaway.
Executive VP Gavin Miller said, "Our new website is the first step in ensuring travellers get access to this higher standard of service. By the end of this year, that's where they'll find a wide range of curated travel experiences to aid their decision making and connect with the right expert for them—someone who listens, who is knowledgeable, and who can offer thoughtful suggestions for creating a truly personalized travel experience."
Let influencers speak for you
If you don't have the time or capacity to help your customers generate UGC, then partnering with the right influencers is definitely the way forward. Influencer marketing campaigns are particularly effective within the affluent travel sector, given how much power word-of-mouth recommendation has over each of our segments.
Instagram is a particularly powerful platform for influencer marketing campaigns, but any visual channel is helpful, with YouTube and TikTok influencers quickly gaining massive followings. Micro-influencers can also play an important role in generating attention for luxury travel brands, as their content often comes across as more authentic and trustworthy.
The Safari Collection and their Giraffe Manor property is a particularly inspirational example of influencer marketing. The Safari Collection comprises of four boutique properties spread across Kenya, focusing on high-end, sustainable tourism.
They teamed up with multiple Instagram micro-influencers in the luxury travel space to promote the resort to their ideal audience, high-net-worth and ultra-high-net-worth consumers. They worked with influencers such as blacktravelpassport and girlstravelmagazine to create adorable content with the resort's famous giraffes, showcasing just a few of the many attractions at the resort.
This clever influencer marketing campaign helped spread the word about Giraffe Manor further, faster, by highlighting the unspoilt beauty of the resort and its five-star credentials. The million-dollar question is, how can you identify these perfect influencers? In addition to being able to identify audiences and break down into actionable segments, Audiense is able to help you find the most influential accounts in your chosen industry to help you reach more consumers.
Key takeaways
We've covered a lot of ground today, so let's take a moment to remind ourselves of the key takeaways for luxury travel brands.
Put UGC at the heart of your strategy

– Word-of-mouth is incredibly important to the wider luxury travel audience as well as the individual segments. Putting UGC at the heart of your marketing strategy allows you to reach more consumers with authentic, organic content, and can add a layer of creativity to your campaigns.

Offer personalized service

– Luxury travellers expect premier service and exceptional experiences. The only way to achieve this is to be as personalized as possible, in your customer approach and your marketing campaigns. Use audience intelligence to reveal hidden insights about your customers and create more bespoke experiences.

Let influencers speak for you

– You can use this alongside UGC or in place of, partner with the right influencers and let them do the talking. Influencers can give your brand reach and authority you might struggle to achieve alone.
Ready to take the next step in audience intelligence for your marketing? With tools like Audiense, conducting in-depth audience analysis and discovering actionable takeaways makes creating tailored marketing strategies easier than ever.