Josephine Durney - Product Marketer & Relationship Manager
How to build your audience segmentation with free Audience Intelligence reports
Researching an audience, whether it's for a product launch or pre-campaign, during an ongoing campaign or trend, or after a shift in tactics or viral movement, whatever the cause, can be a strain and drain on your energy and time. Surveys aren't easily scalable, casual social listening is wishy-washy, noisy and over-saturated. Then bringing it all together to make sense of it? A head-ache. And make it actionable? A dilemma. Until you started using Audiense.
Audiense is a leader in its field. (No, really! Check out our G2!) As time passes and digital progresses, more and more people are realising the value and importance of audience segmentation and insights.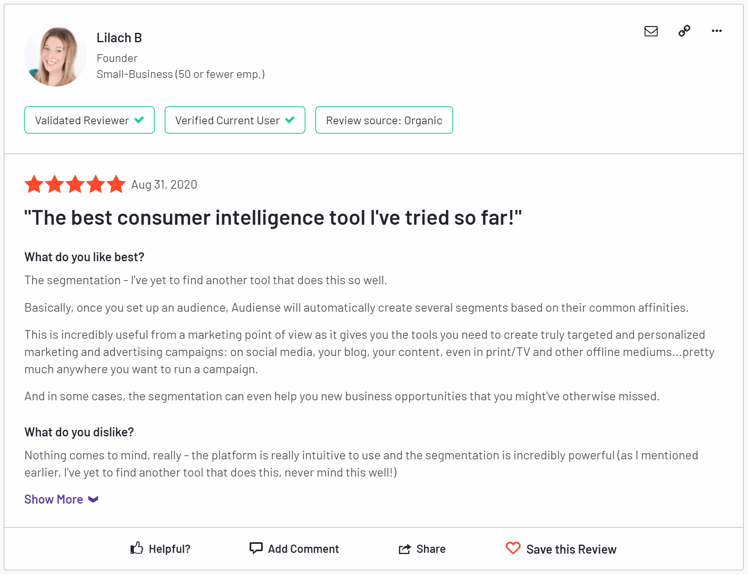 I speak to users everyday, especially people just starting out on the Audiense platform. Audiense has so much to offer, and I've seen confusion on quite how to use the product, what it can help you to accomplish, and what makes the difference between a great report and a not so great one. Today, I'll be helping you with that!
The magic of Audiense comes to life with its accurate and representative insights with which to understand your audience, as well as the actionability to do something with them in the real-world. Let's get started!
Listed below are the ideas of searches you can try for yourself that I'll be covering today, plus I'll be sharing ways of making use of the data your search returns.
How to create your first audience reports
1. Your own brand/business account
Look at 'followers of' your own business. This is straight-forward. It will show you the first segmented understanding of your audience, the ways they describe themselves, the social channels they spend their time on, the posts/publications they're engaging with, and everything else in between. And at this level, it points you in other directions to better engage with your audience, for example partnerships and relationships worth forming, so use them!! Likely to be your supporters and cheerleaders of your brand, or have an interest in what you do at some level, these are the people to continue engaging with and use as vessels to share your content and message. Work with what you've got, and use it to your advantage.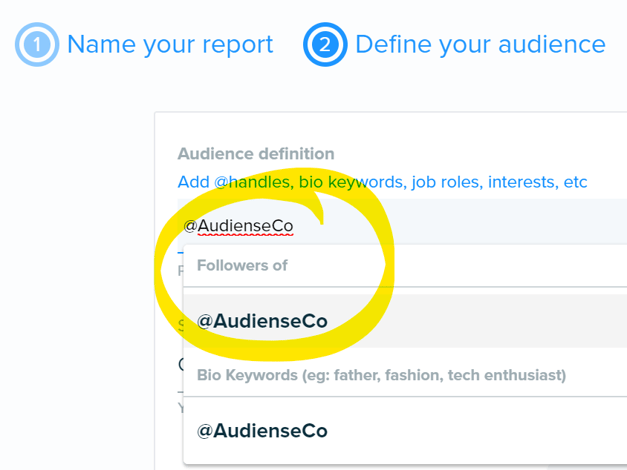 Level up:
After yourself, check who are the next profiles, people or brands, that your audience is engaging with, and start following them yourself and pay attention to the content that they're producing, and this will signal to you the kind of content you can create that is likely to be engaging.
Found a profile that looks a bit like a competitor you haven't heard of before? Try reaching out! These are opportunities for partnership in guest-posts, podcasts, webinars, co-marketing, you name it. It gets your content and name in front of eyes and ears that are already receptive to similar messages and topics.
2. Your competitors' accounts & compare
Search for 'followers of' and input a handle or few of your competitors. If you can't beat them, join them. Imitation is a form of flattery. Say what you like, but scouring your competitors is a fantastic starting point for learning about your target audience with a shift in perspective. In Audiense, you can also view the individual members within the audience or segment. With all these insights, you can use these as criteria to build your next campaign.
Level up:
Compare to your own baseline. This function allows you to pinpoint the unique differences between audiences. You could then re-frame who is influencing your competitors audience and try introducing your product to them, get them onboard with your offering, and collaborate with them to trickle your message to their followers.
Reaffirm your customer base. Take another look at the bio-keywords using this baseline technique. You might find that there's a job role, or group, that is a key target audience you're unaware of, or hadn't thought to target your efforts on previously. This approach can help you close that gap.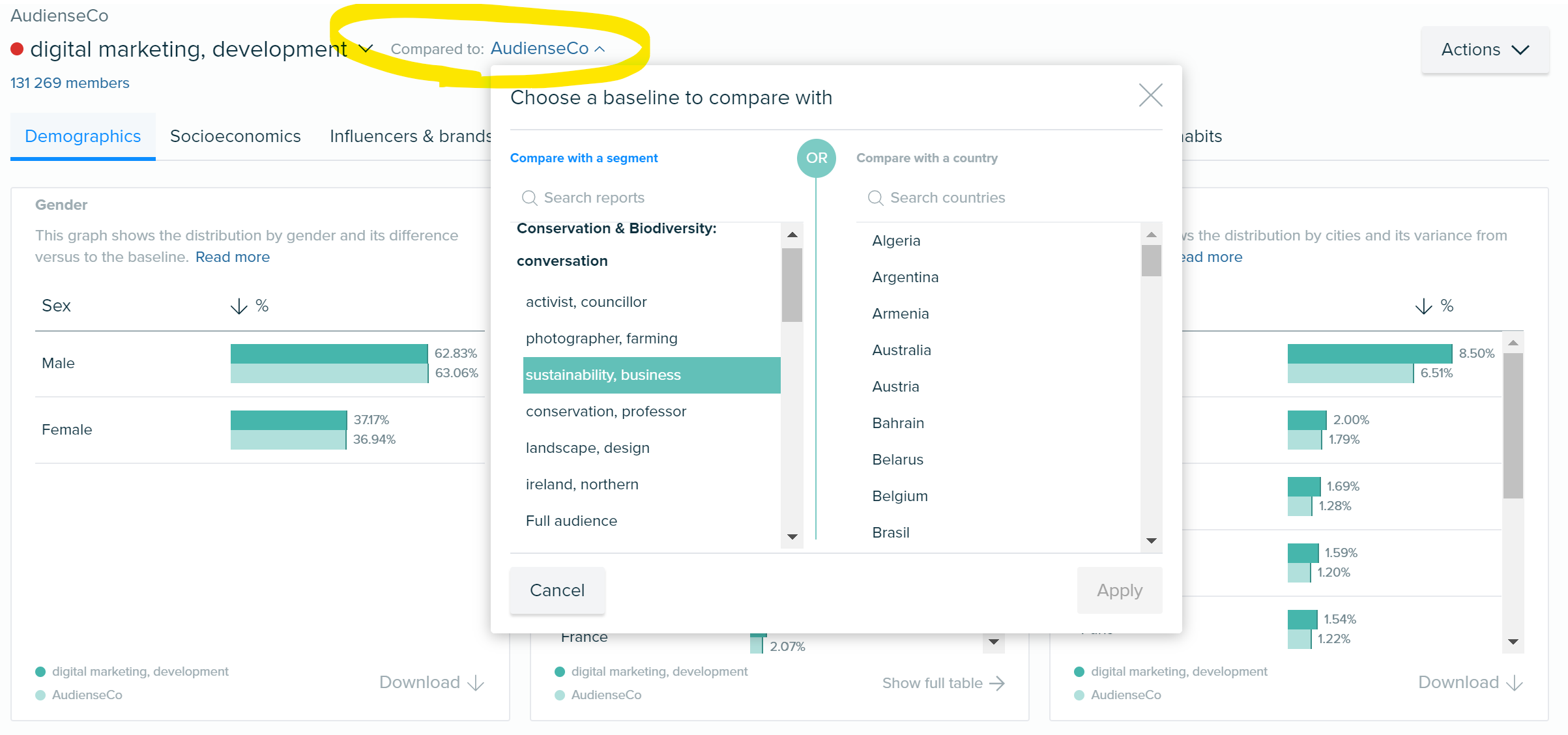 3. Discover a new audience you're targeting
Buyer Persona. You probably already have an idea of what this means for you. In Audiense, it's just a matter of feeding that through the criteria input. Take for example, you're on the hunt for yoga mums. Bio keywords are great for this! Input bio-keywords such as: yoga, yogi, mum, mummy, mother, mumma. Bios are commonly used as self-descriptive compilations of our work, personal, attitudes, values, social presence, and more, always making it a great starting point when building an audience. In our free version of Audiense, conversational keywords aren't available to create a report, but in full access, you can create a report using hashtags and keywords.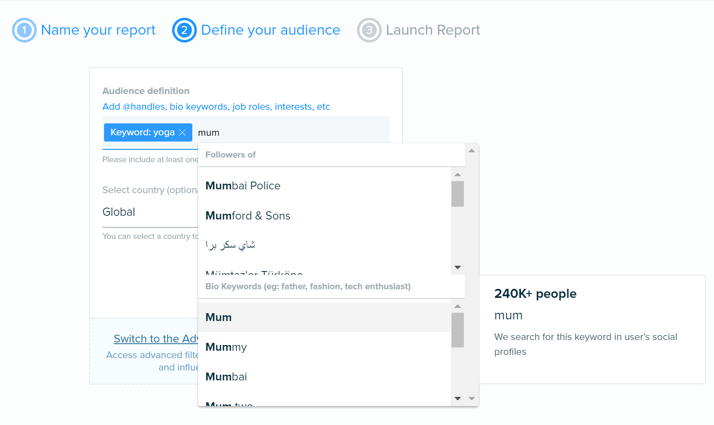 Level up:
Pitch your content. It's a bit daunting, but reaching out to publications or brands that resonate with your audience, and backed with valid data from Audiense, makes sense. In the full platform, you can use the filters in the 'Influencers & Brands' tab to narrow down profiles that you feel prepared to connect with, and go from there.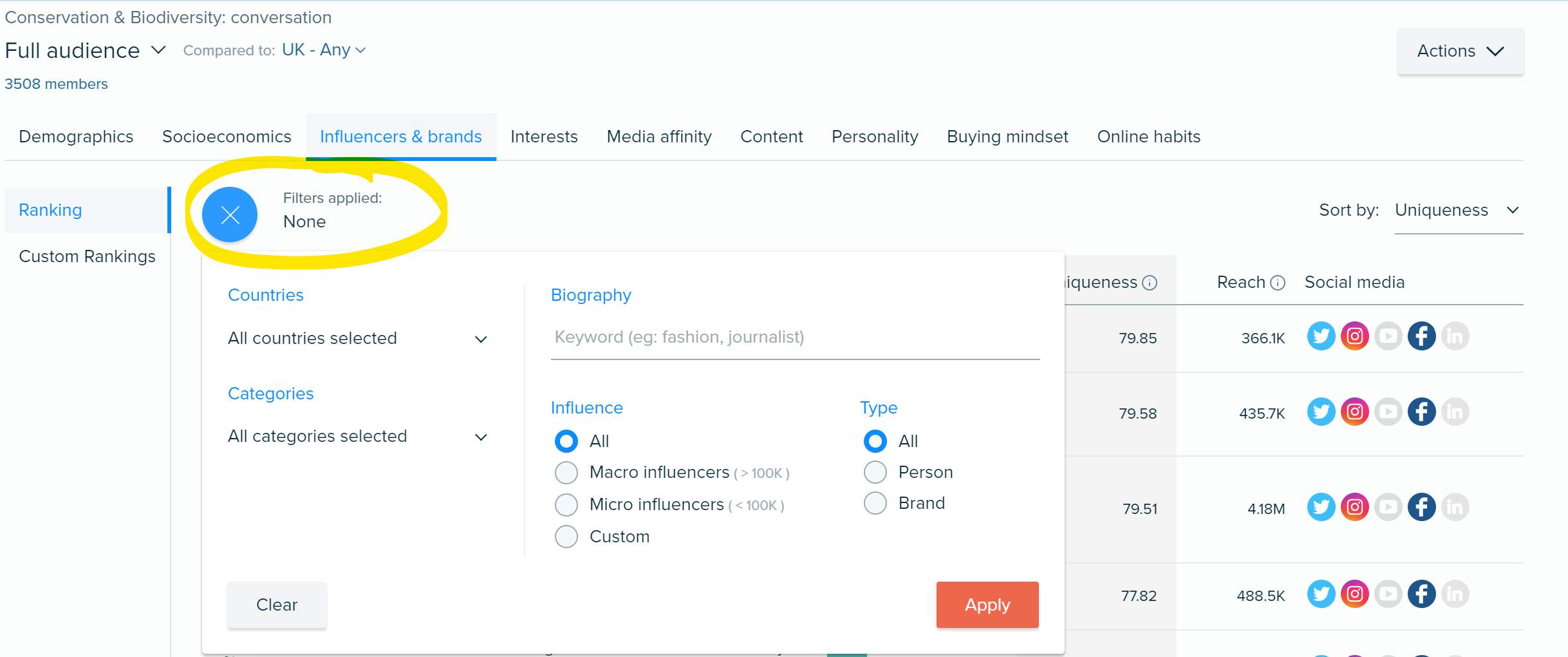 Advertising. The Online Habits panel in your insights report will tell you which platforms the audience you're looking at is more likely to be on. Use this to inform your decision when it comes to ad platforms. You might find that YouTube ads are a more effective channel.
4. Job roles of your best customers or desired reach
If you're looking to do lead generation or something more B2B, then building an audience through job roles is an option to try. Start typing in a job role such as CEO, Head of Marketing, or Designer, or a different role that you're looking to find. Take a look through your CRM for most common job titles, then input those roles or similar into Audiense. I'd recommend trying combinations of the same role, as this will help you bring the profiles together. For example is someone a barista or a cafe team member or a Coffee Artist or a Roasted Bean Expert? There's multiple names for similar positions, so take this into consideration. Don't forget to select 'country' if your ABM/ABS strategy is more localised.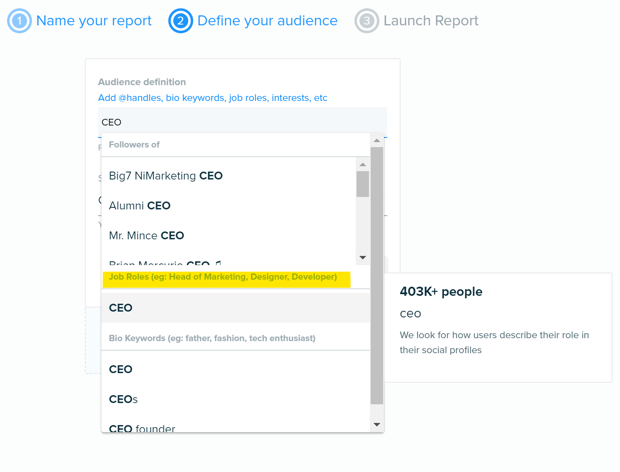 Level up:
If you're producing content in response and demand to your current audience of x job title, then this new audience will likely take an interest in it too. If you've surveyed your audience on upcoming trends, or end of quarter findings, then these are some great examples to share.
Once you've created an insights report on any criteria, your own/competitors' following would work well for this example, check out the bio-keywords and job titles in the Demographics and Socioeconomic panels, then use this to inform your next report.
5. Interests within your industry
Look back at top performing content, and the topics and interests that people focus on. Or, if you're using a social listening platform, run a query to gather some buzzwords. Or, look at the demo reports in your account to get ideas of interest categories to use. Input your choice into Audiense to discover who is engaging with these areas of interest. These are the people you'll want to target with similar and relevant content. Tip: you might also want to use the country selector for this one too.
In full access Audiense, you can take this up a step by running reports on conversations, e.g. keywords and hashtags.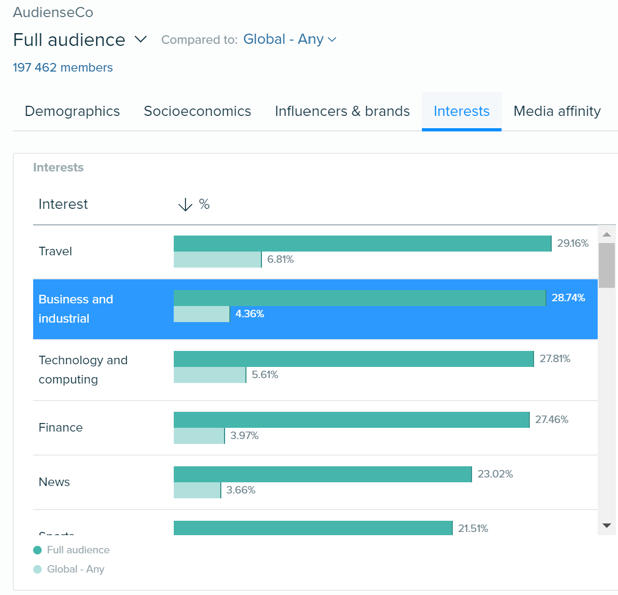 Level up:
The insights for this audience will continue pointing you in the direction of further collaboration opportunities, and with people/brands that the audience is engaging with already, so these are good sources to pitch your content towards.
On the other hand, try asking them if they'd like to produce content for you. It could be a guest blog, a video of them using your platform, or interview them and get down to the nitty gritty areas that people want to know more about.
6. The 'It' profile, your manager insists you get on board
'We need someone high-profile, we need …' your manager drones on in each meeting, but if it wasn't already pushing your budget, it certainly isn't going to promise an audience that converts just because it's La-di-da or SoAndSo. You run the search anyway, and you deliver the data. Then you run searches on your core audiences and find the high-profile influencers that ACTUALLY matter to your audience, and also where the 'it' profile ranks too.
Level up:
Present the results side-by-side. Show your manager you gave it an honest attempt, and focus on the treasure you did find. Then explain how this is also likely to be more budget-friendly, and worth your while.
Remind yourself of the benefits of a data-driven approach, with your human touch and know-how. Start pushing out the marketing that matters to the audiences that care.
7. Using Social Listening? Upload a file of handles (contact us!)
Your current Social Listening query is always a great starting point for defining an audience. Social Listening platforms could be anything such as Pulsar, Meltwater, Netbase, Brandwatch, Talkwalker, or others. Export a list of @handles and we can run it in your account for you to get a premium trial of how this full Audiense access function works, and the insights it can bring back. Contact us at help@audiense.com.
Level up:
If you have launched a Social Listening query, but want to dig further into the audience behind the conversation, the individuals driving it forward, the people that influence them, their other areas of interest, and their context in the conversation. This is a method you've got to try. It will bring to life your search, and deliver to you the insights to action your next moves.
Reach out to the influencers. The influencers themselves might not have directly engaged with the conversation your original query was based on, but that doesn't mean they're not influential to the audience (these are what we call 'non-conversational influencers'). You could leverage their position to push your own messaging through influencer marketing.
8. Combined Searches
Looking at our own data, I found out that many free audience report users only used single searches, and less than 50% used combined search terms! In the methods I've mentioned, there's been examples of both, but perhaps the next report you try should be a combined search. All it means here is inputting more than one search term! In this example, I chose followers of @handles, job title, interest, and country. In full Audiense access, you can combine more criteria such as age, gender, cities, languages and more.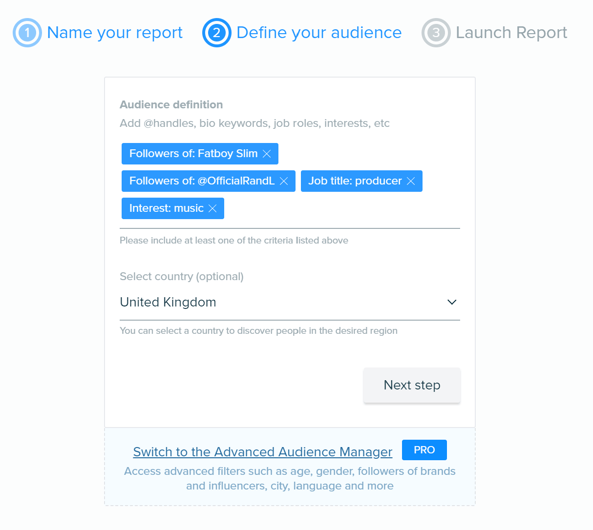 Level up:
Refine your audience! A report is often as good as it's criteria, which is one reason why we encourage using previous data to inspire your next report. This method will bring together a more niche selection, and focus your insights to something even more valuable.
Take a look at your current criteria input for your ad targeting, are you taking a one perspective approach there too? Using the criteria that you use in an ads platform, use this to create an insights report. Then use the results of our segmentation to choose which audience segments you want to focus on with more attention. This approach can help you re-define your reach, and tailor your content to these audience groups.
9. Further your exploration
Our insights will bring to light information and data points that you might not have been aware of or even considered before, you could even say they are surprising. So if you find a high-ranking influencer or a hashtag you know little about, don't be shy to read into this, and create a report taking this into account in the criteria input. In the free access, you get 3 reports per month. You can even return to a previous report and update the content panel to see the latest engaging topics.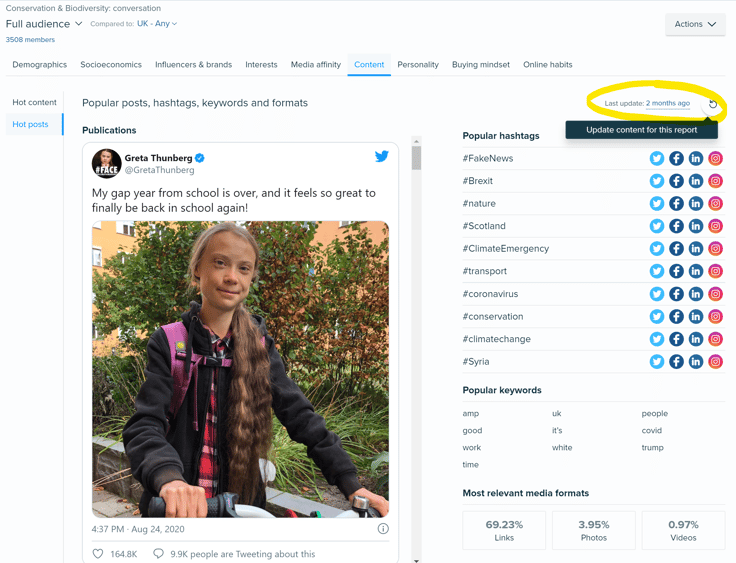 Level up:
Confirm your suspicions. Considering a digital outlet to push content through? Considering a new niche or segment of your own audience to focus your content towards? Do they tick the geographies that you operate in?
Do other panels signal towards different audience searches? It might be that you find a high-ranking bio keyword that points to an audience group, or your audience is likely to be spending far much more time on LinkedIn than you realise, or that there's a lot of hot content engaged with from a particular website.
Note: In full access, you can easily select 'create a report with these segment members' and resegment an audience! This is particularly great with large segments, or ones you want to dive deeper into.
10. A pre-made audience from our library & your own custom
Need more of a helping hand? If you already have a brief or a particular persona in mind, and you aren't certain of how to translate it into Audiense, you can reach out to us, and we'll tailor it on the Audiense platform with you. From parents, students, job roles, and more, check it out for yourself on our Airtable.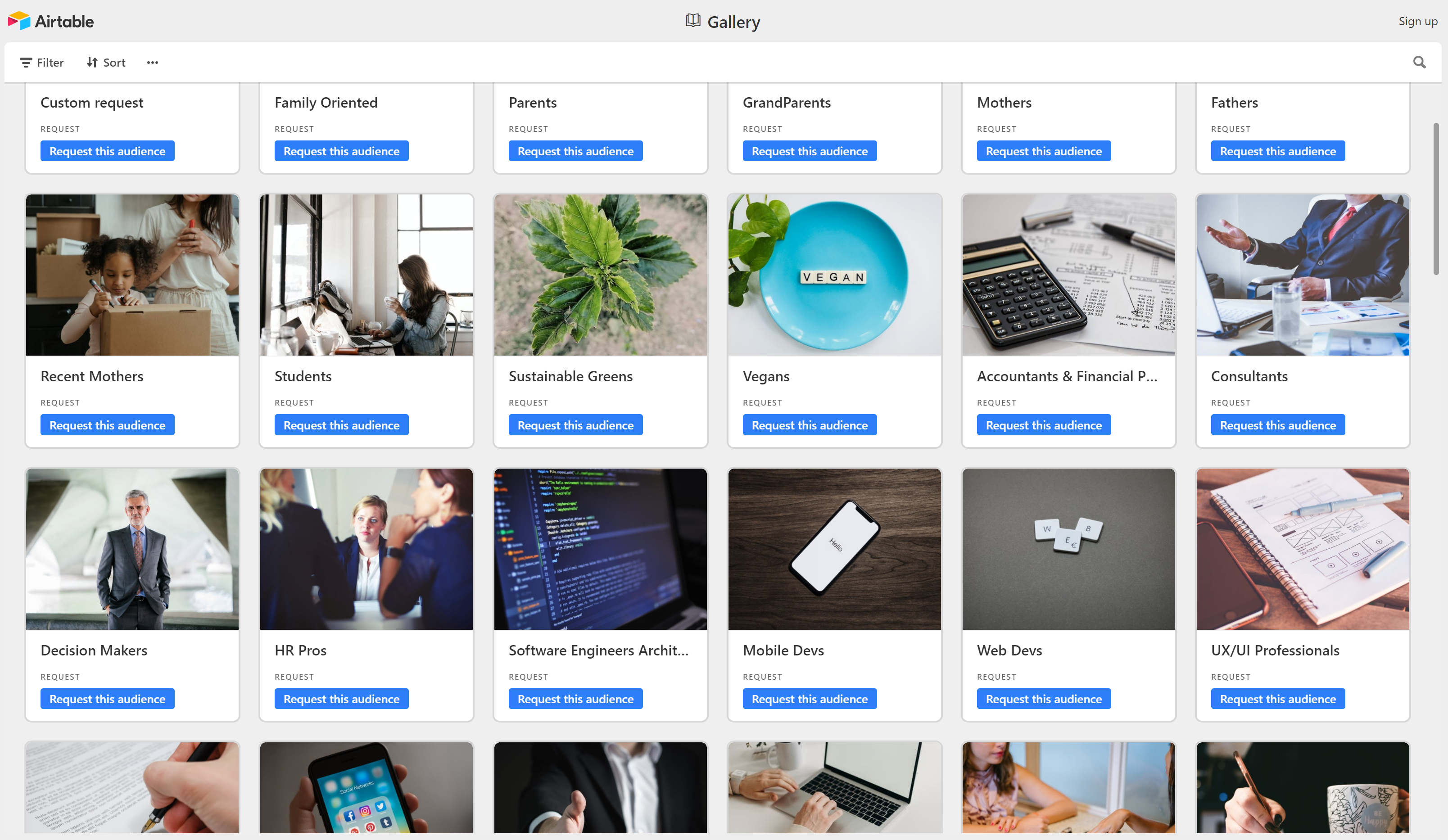 Level up:
Customize! A generic audience group might be of value to you, but anything you do will always be better when it's made relevant, which is where customizing comes into play. This is the difference between students, and students that are studying at university, like to go out to bars/clubs, and are looking for job prospects in the media industry.
Tailor your messaging. Audiense provides you with personality insights and online behaviours. Use this data, including the time of day and when in the week your audience is most active to inform your tone of voice, and when you post or target them. Maybe they care about brand name a lot, or perhaps it's the words of their friends and family that matter, and the sentiment you need to hone in on.
Creating your first free audience insights reports can be quite simple in practice, and perhaps the hardest part is figuring out an audience to start with inputting; hopefully this will have given you some pointers.