Michael Brito
The audience behind Clubhouse & social audio apps
What is Clubhouse and how does it work?
Clubhouse is a social audio app and was founded in 2020. It has quickly become the place for early adopters, technologists and influencers to meet, talk, and share ideas. Clubhouse lets you create and join "rooms," where you can moderate and invite speakers up to participate in a panel. There are no photos, videos or status updates. It's just audio.
The rise of social audio
The hype behind social audio is just getting started. With a $1B valuation and 8M downloads to date, Clubhouse is the early leader and dominating headlines along the way.
But Clubhouse isn't the only player in town. Twitter will be launching Twitter Spaces any day now and Facebook isn't too far behind. According to Industry Analyst Jeremiah Owyang, there are 28 other social audio apps in the market.
Who is using Clubhouse?
All that said, I wanted to understand the audience using Clubhouse to see if and how it has changed from being in closed beta to date. The first thing I did was scrape all the social handles who mentioned Clubhouse from June 2020 to October 2020. I then used Audiense Insights to cluster the audience into the below segments.
As expected, the early audience of clubhouse consisted of VCs and founders, the media and creatives in the music industry.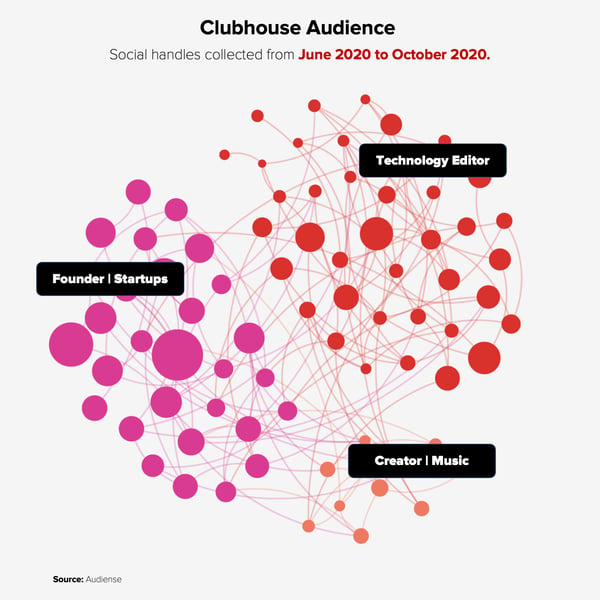 To dig a little deeper, I wanted to understand the basic demographics of this audience as well as the interests and characteristics that make them unique and different from others. The below data shows just that.
I then ran an identical analysis but pulled social handles from October 2020 to February 2021. You'll notice how diverse the audience has become in just a few short months. There is some consistency with the segments which is expected But it's good to see female business strategists, and black entrepreneurs making up a large portion of this audience.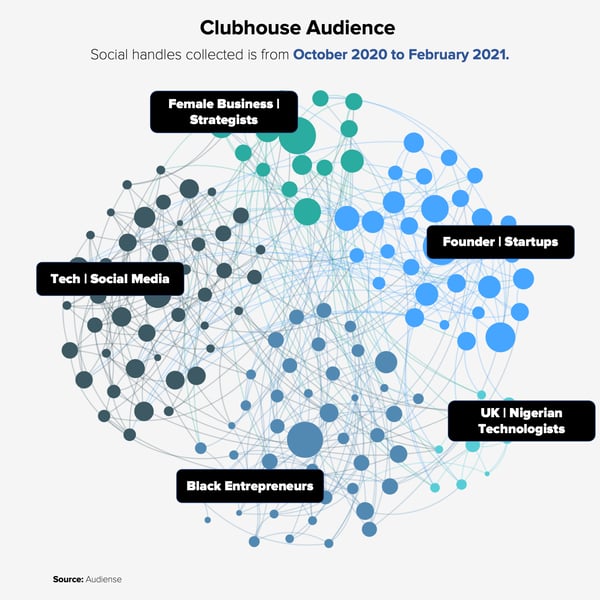 Similarly, I wanted to document the basic demographics and their unique interests. Most of the data points are similar to the first audience with the exception of media affinities. The best way to interpret this is that when this audience is reading the news related to business and/or technology, they prefer reading TechCrunch, Entrepreneur, WIRED, Blavity, The Economist and Complex.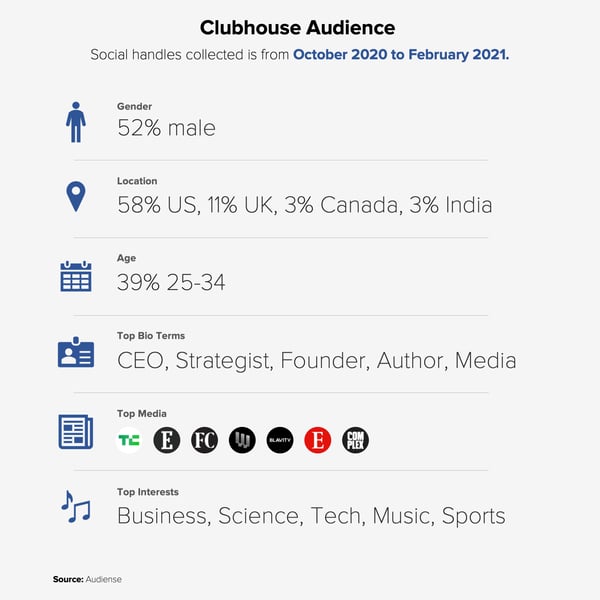 Should brands use Clubhouse?
Using Clubhouse for brands is a no brainer. There's no doubt that social audio apps will become a new medium for customer engagement. In fact, I've already seen brands like Kool-Aid, Hubspot, Barstool Sports and Mailchimp join the network. However, before brands jump in head first, they must be very clear as to what their goals and objectives should be.
It's also important to remember that social audio, long-form content, video, etc., are just vehicles to tell brand stories. What's more important is the story itself: the brand message and the narrative that clearly articulates your purpose. Please visit my blog for more Clubhouse analysis.