Tara Twyman - Head of Product Partnerships
Audiense and GWI integration: How to enhance your audience intelligence by combining social & survey data
Audiense and GWI have teamed up to provide a powerful integration, where you will be able to port your audiences from social to survey data, removing any previous challenges of joining these data points manually to enrich your audience insights.
As you may know, GWI is home to the world's largest survey of online consumers, with a platform that provides up-to-date and easy-to-use audience insights representing the views of over 2.7 billion consumers across 50 markets. By combining both data points, we are offering a unique opportunity to validate your social audiences against reliable insights from over 200,000 profiling points.
While Audiense taps into shared beliefs, interests, lifestyle choices, and affinities through social consumer segmentation, which is powerful in itself, GWI can help you build a more in-depth quantitative view of your audience's behaviors, including the customer journey, to arm you with cultural insights that help you develop strategies that are more likely to create real impact for your brand and customers.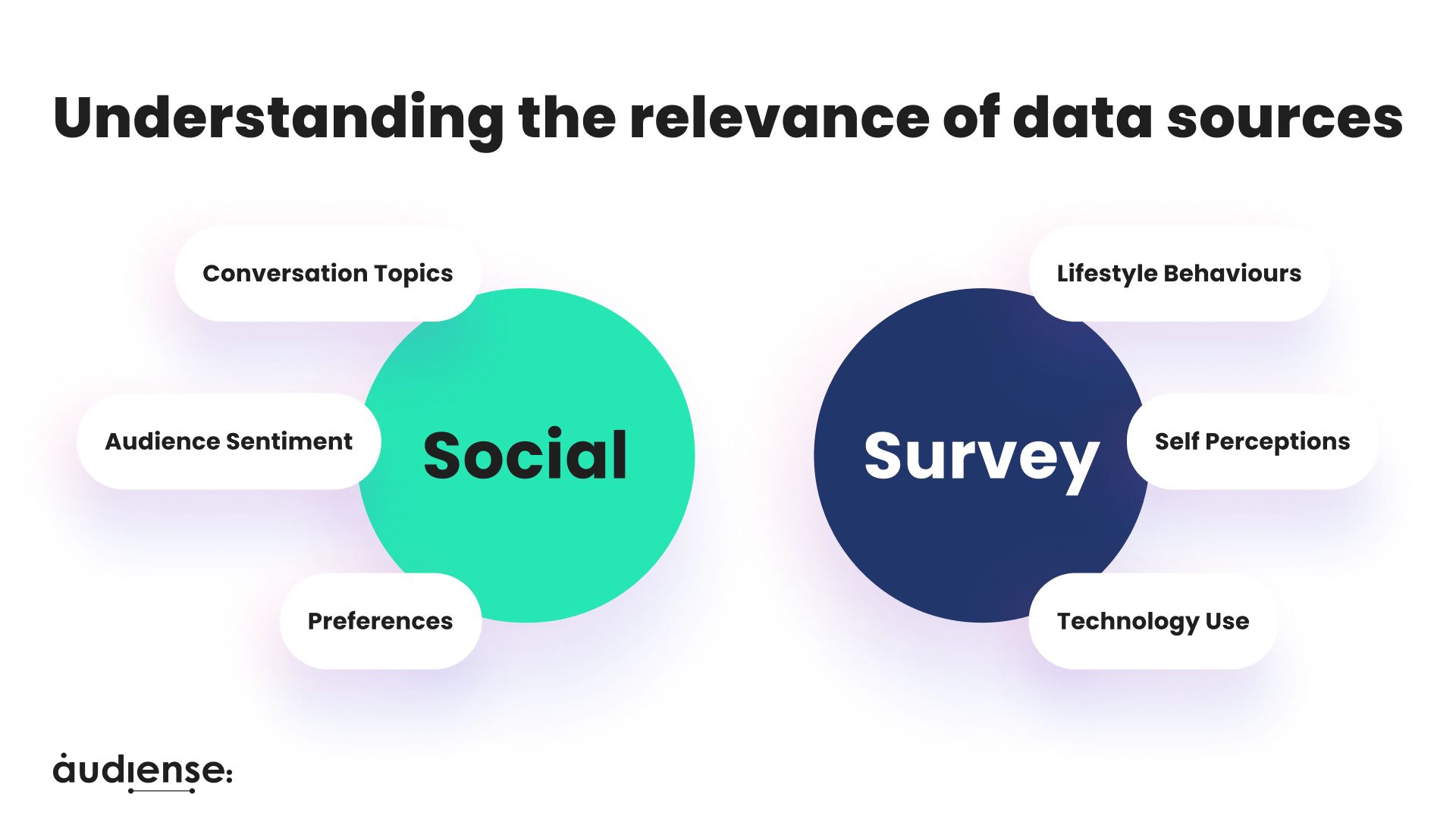 What makes this integration unique?
This integration is unique because it is a market first! Currently, this is the only tool that can integrate social listening platforms such as Pulsar and Meltwater among others with GWI, combining these insights and enriching target audiences, not to mention being able to transfer your audience definitions from Audiense to GWI to connect your qualitative and quantitative research.
With this partnership, we are closing the gap between the two most used data sets to understand consumers. This integration leads the way for researchers and marketers to combine social listening and audience insights powered by social data with surveys of online consumers, so they can save time, validate insights and most importantly expand the knowledge on consumer behavior to stay more relevant." Javier Burón, Audiense CEO & co-founder.
What are the main benefits of this integration?
Understand your audiences in detail at every touchpoint
Discover what matters most to them
Save time by porting your social audiences into GWI at the click of a button
The first phase of this integration lets Audiense users quickly and easily create GWI audiences, including attributes from either the full audience or individual audience segments identified within their Audiense Insights report. The next phase of this integration will include sending GWI audience profiling points and match them with social data to identify these audiences, most likely towards the end of 2023.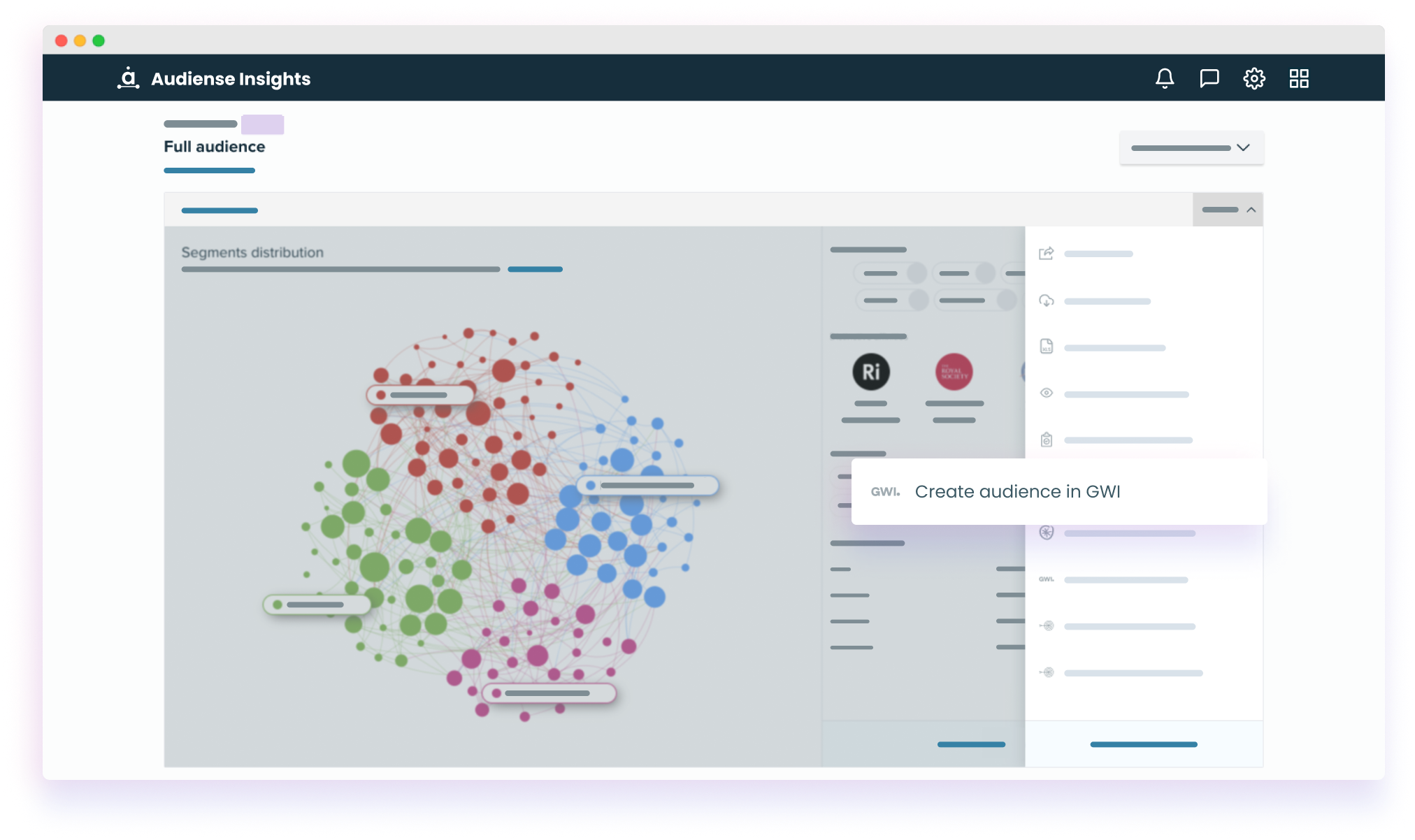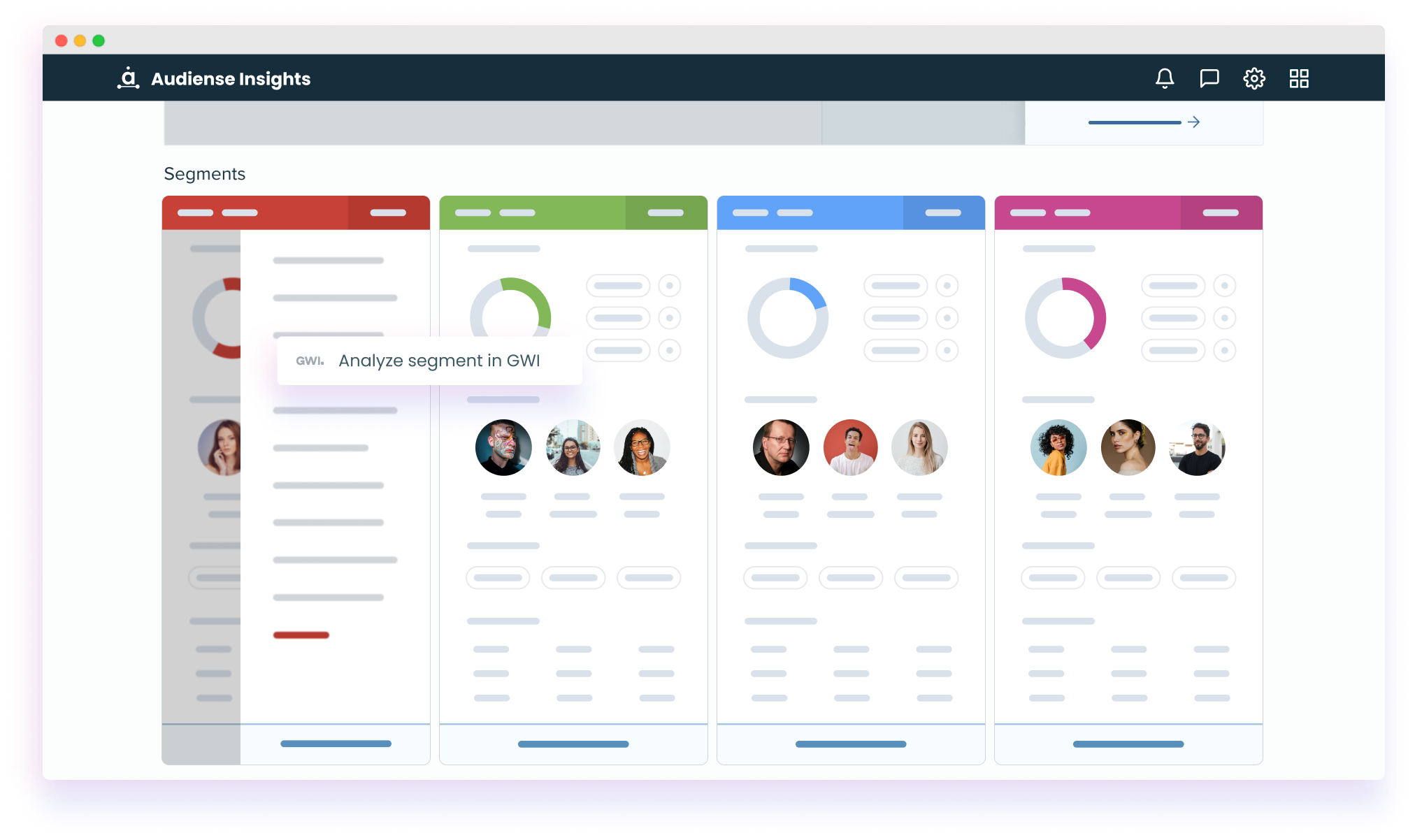 Finally! The complete solution for audience intelligence we've been waiting for." Edward Bass, founder & lead consultant at More Light (Insights professional and Audiense power-user)
What are the main use cases?
With the GWI integration, you can expand on Audiense's existing insights to allow you to build a far more in-depth view of these audiences' behaviors. Here are some examples of the kind of additional depth you can discover using GWI.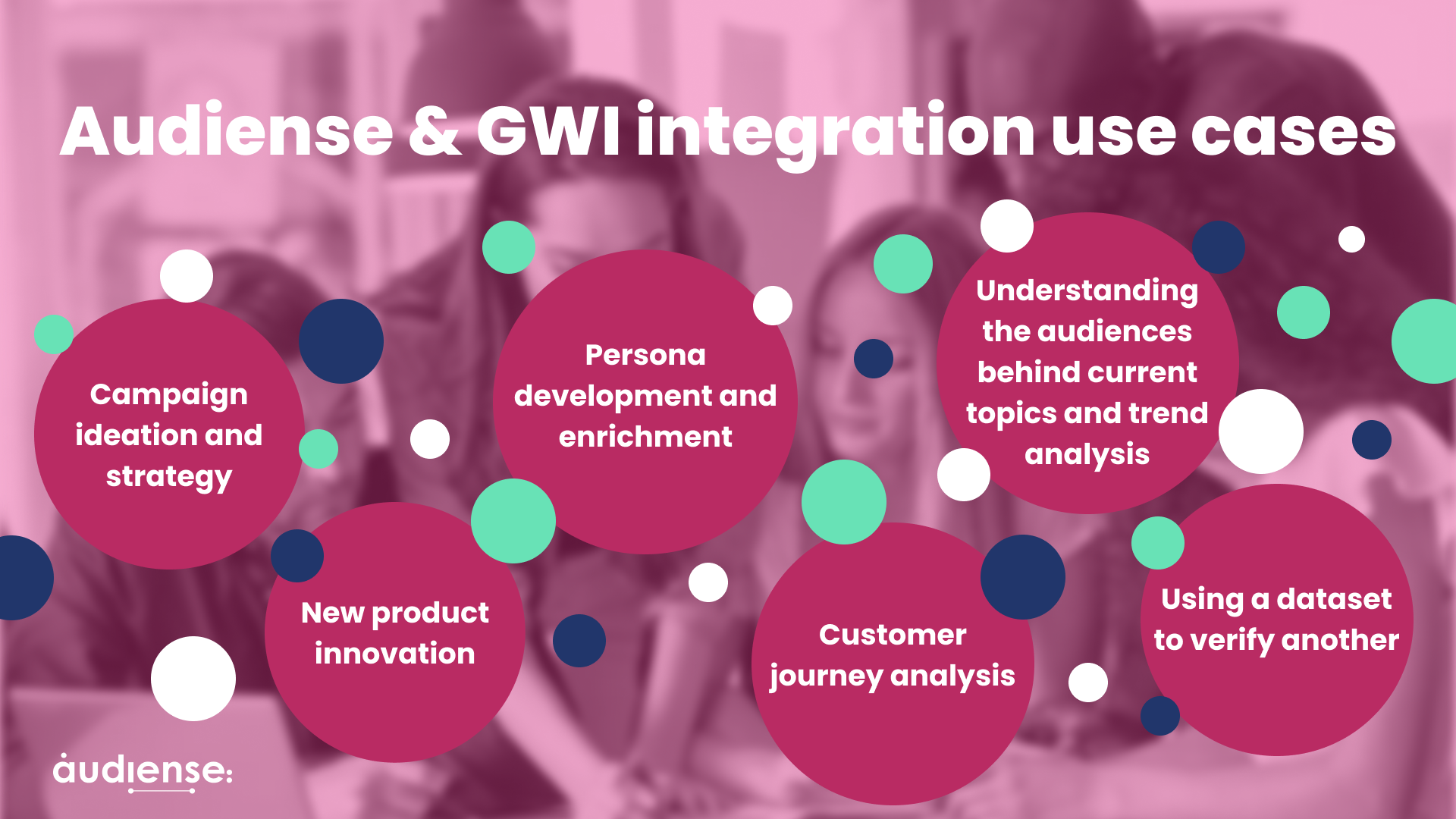 Campaign ideation and strategy
Porting your social audiences from Audiense to GWI means you can improve campaign ideation and strategy by learning even more about your audiences, whether these originate from defined profile attributes or through social listening conversation analysis. These insights will most likely include things they don't reveal on social media, like purchase intent and general shopping preferences - all of which enables you to shape your campaigns and strategy around deeper audience insights.
New product innovation
Pairing reliable, robust and trustworthy GWI data with audiences built in social means you can create a more holistic, 360 view of them. This can help with new product innovation, enabling you to discover exactly who your target audiences are and how you can shape your product to service them.
Persona development and enrichment
Building the kind of accurate audience persona needed for an effective result requires a defined picture of how that group thinks, feels and acts. GWI has a wide range of data points available to ensure you can achieve this - as well as some useful pre-defined segmentations and persona types.
Customer journey analysis
Understanding how your audiences Discover, Research, Purchase, Experience and Advocate their favorite brands is of course essential to developing effective strategies for them. GWI features extensive data around these customer journey stages - including useful coverage of the expectations audiences have of favored brands.
Understanding the audiences behind current topics and trend analysis
GWI is constantly active and responsive when it comes to adding new data on emerging trends as part of their extensive 'Zeitgeist' dataset. This means that data is likely to be available on many of the current issues that are impacting your audiences - which in turn will ensure you can develop informed strategies which are responsive to these.
Using a dataset to verify another
Combining these data points can help to validate one dataset over another, as described in this blog about blending social and survey data.
How to use this integration?
Watch this video from Edward Bass, an experienced insights-driven strategist, who will take you through the integration and an example use case.
If you are an existing customer and have a paid subscription with both platforms, just get in touch either via EMAIL or speak to your account manager. If you are new to either platform, we can also share more information on how to get set up.
Once your integration is in place, this companion guide provides a step-by-step on where to find the "create an audience on GWI" button and how to edit your GWI audiences further.

How to request this integration?
You will need to have a subscription to both platforms to use this integration, and make sure you have access to GWI Core Data. At the moment we are integrating into Core, but in future we will include GWI Core + and further sources.
Although we have already run tests internally and through a focus group, please bear in mind this integration is at the very beginning stages, and will require users to work with it and provide feedback to our Product team (as part of a beta stage).
If you would like to embrace the integration and support us in developing it further, you can get in touch with your Audiense account manager, or email help@audiense.com.
We have lots more in the pipeline and we cannot wait for you to start using GWI and Audiense together. Got questions? Visit our FAQs page which will tell you everything you need to know about this exciting integration, or contact your account manager directly.