10 ideas to get you integrating your offline marketing with social media
No man is an island and neither is a marketing campaign. Whatever you do on one channel is going to be tied to your brand in the minds of your audience. It will make no sense if people visit your social pages and everything about the brand is unrecognizable, from the billboard they saw that morning or the ad they heard on the radio. This disconnect could turn people off, or even cause you to miss out on chances to engage with potential customers who encountered you on another channel.
Even in 2015, this is still the reality for a lot of brands. Only 22% of businesses feel they are integrating their social media channels with their offline ones notably well, and only 29% of UK businesses feel that their online marketing is totally integrated with other areas. The time of having social as an unconnected wing of your marketing is long gone, here are some of our top tips for integrating online with the rest of your marketing efforts.
Campaigns
Remember The 4 Cs Of Integrated Campaigns
When beginning to plan an integrated campaign, go back to the roots. It's good to remember the 4 Cs of integrated marketing. If you're thinking about how your social media can help your campaign to tick these boxes, then you'll be off to a good start. They summarize vital points that must be considered for optimum campaign performance.
Coherence – Are all aspects of your campaign logically connected?
Consistency – Do all messages and connotations support (and not contradict) each other?
Continuity – Are the communications of your campaign connected and consistent across platforms throughout all the campaign?
Complementary – Does the whole campaign add up to something better than the sum of its parts?
Let The Campaign Bloom On Social
A TV slot may be 30 seconds, print ads are fractions of pages, but on your social media pages you decide how much people can see. You're not restricted by time or space in the way that you are with commercials in traditional media. Use this flexibility to build on your offline campaigns with extra content on social media.
For example, Old Spice had one of the best Super Bowl commercials of all time when Isiah Mustafa was 'The Man Your Man Could Smell Like'. Building on the ensuing social media discussion, they invited people to Tweet comments or questions to Mustafa. He would then answer a selection of the question in a series of exquisite YouTube videos just like this one.
Consistent Hashtagging
Bring the real world discussion online. Unique, concise hashtags can fit on marketing collateral, be mentioned in any form of audio, and be displayed on any screen. There's really no excuse not to fit them in somewhere, and make sure you use the same one across all channels. Last summer, mobile network Three placed large billboards all over the UK apologizing for all of the #HolidaySpam that their overseas network coverage was causing.
By using the hashtag in their offline ads, as well as in all communications (such as the title of the video above), it meant that customers using their service abroad were far more likely to include the #HolidaySpam hashtag in posts when they were going away. This user generated content kept the brand, and one of its major updates which their competitors at the time did not offer, at the forefront of people's minds.
5am start. Dubrovnik here we come!! :) #HolidaySpam pic.twitter.com/nmKSVWubzG

— ReebexWilson (@ReebexWilson) October 23, 2014
Produce A Style Guide For Your Campaign
Social media allows for real time posts, interactions, and overall flexibility which isn't available in many offline channels. This means there may not always be time to get everything approved during a campaign, especially if you're hoping to jump on some real-time opportunities. Make a guide of key terms, phrases, images and tone of voice that will be used throughout the campaign, this will mean that spontaneous posting on your social channels can work alongside your long-term planned campaign. Also, use this to ensure your social pages share a visual theme with the ad campaigns.
Advertising
Match Your TV Commercials To Social Targeting
If you've paid for a TV slot, get the most out of it by targeting people talking about that show on social media. 46% of US smartphone users are using their devices while watching TV on a daily basis, and 20% of tablet users have purchased something advertized on TV. By doubling their exposure to your brand, you can turn people who were interested into followers, and maybe even future customers.
Additionally, half of all households with over three people in the US now have Netflix. Online streaming means your carefully chosen target audience could be missing your commercials because they're not watching traditional TV, where you're advertising. Targeting people who are talking about the show on social media means you're finding potential customers who may not be aware of your campaign.
Clear CTAs
You COULD just tell people to visit you on social media in your commercials, but they're unlikely to do without a reason. One way to get a significant amount of traffic to your pages is to offer helpful content related to the commercial. For example, if you're a pasta sauce company, then you could drive viewers of your commercial to your Pinterest page for delicious recipes. This post by Innocent Drinks wouldn't fit in an ad, but it's definitely useful and shows the type of thing you could create to encourage people to visit your social channels. Mention in your commercial material that more useful things could be found on social media and you'll drive plenty of inbound traffic to your social pages.
Include Your Main TV Commercial In Your Facebook 'About' Section
On Facebook, your 'About' section can now have videos in your bio. Use this retail space to show off your latest TV commercial, or get creative by producing a tailored version of it specifically angled for Facebook users. Hosting a video in your 'About' section will ensure that potential leads and customers can easily find it - showing off key content can sometimes be tricky with Facebook algorithms. Think of it like pinning a Tweet to the top of your profile. Here's where it will appear, it expands when played: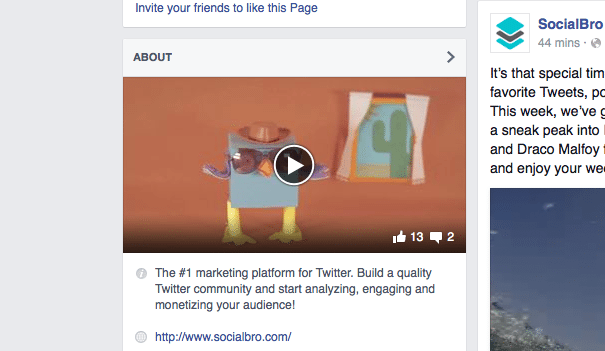 Wondering how to get your featured video on Facebook? For some of you, the option to do this may appear as a pop-up window when you visit your page, but if you don't get that then it's still pretty simple to do. Go to your business page (the one that people 'like'), and look at your tabs along the top. Go to 'Videos' (it might be under 'More', screenshot below), and there will be an option to 'Feature a Video On Your Page'. You can then pick which of your uploaded videos you would like to be featured in your bio.
Events
Social Media Competitions For Events
If you're at an event, you can create a social media competition for people who are attending. This could either be your own event or - if it's okay with the organizer - another one that you're appearing at. This can be used to encourage other people to post about you on their social channels, giving you exposure to both their followers and other attendees at an event. This can be particularly useful at large events where there may be many brands competing for the attention of many delegates. An idea for this could be handing out small branded mascots to everyone that attended one of your talks, and giving a prize to whoever posts a picture of the mascot in the coolest place at the event.
Get Social Details At Events
If you're collecting leads at events, try asking for social handles as well as email addresses. You can then create a private Twitter list of these users to target in follow-up campaigns, monitor closely to develop and build on relationships, or even upload to a Twitter ad campaign as a tailored audience
Chat On Social After Talks & Presentations
If you're holding an event, carry on the discussion online once a talk or presentation has finished. A Twitter chat or Facebook Q&A will allow for a greater depth of insight or precise analysis than that given in the talk. It will also allow interested people to interact further with your brand. Even if you can't hold a Twitter chat after the event, you can always elicit questions via social media to get people talking about your brand and encouraging them to come along to your talk.
These are just some of the ways to integrate your online and offline marketing for optimum results. Got any ideas or examples you think we should include? Let us know in the comments, we'd love to hear from you.