3 ways sports marketers need to be using Instagram data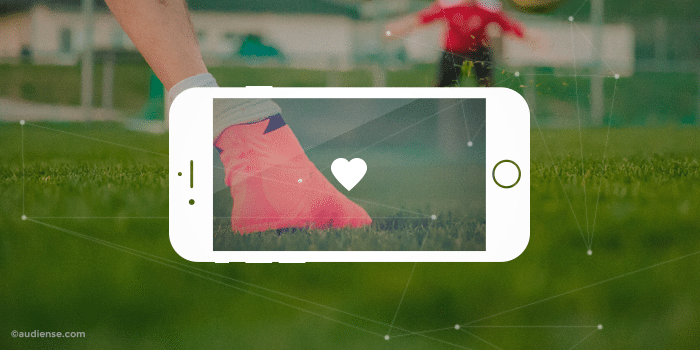 Demy De Zeeuw posted on 433, his highly popular Instagram account for football fans, with his notifications turned on, the video below is what happened. This is what marketers of major sporting brands can expect when their social media strategy is driving a lot of engagement. Getting to this point is great, but how can it be built on?
What can you do with all of those interactions, and the insights they can lead to? More than just sip a cup of coffee. Implementing insights gleaned from Instagram data can impact a sporting brand's social activity on more than just instagram. The importance of extracting data will only increase as Instagram continues to experiment with providing audience analytics to marketers. These insights could soon be utilised further when combined with an integrated audience platform, allowing brands to swiftly act upon the findings from their data. For now, let's kick-off with some things you can start doing today:
Know the sport's audience landscape
All sports, athletes, and clubs have their own unique interests. Search Instagram users to see who has your chosen sport, related terms, clubs, or hashtags in their bio. This will give you a view about who is commanding an audience among specific segments of your sport. Building this picture will help you craft a strategy relevant for the platform.
As an example of what you can know, here are a few golden nuggets we have collected about various sports:
@NikeFootball and @NikeGolf are the most followed profiles with the words 'Football' and 'Golf' in their bio. Meanwhile…
There are no major brands in the top 25 profiles with 'Boxing' or 'MMA' in their bio. Does this mean there is a gap in the social media mindshare / market for a sportswear brand to step in and dominate like Nike has elsewhere?
And just to add a surprising twist to things, the most followed person on Instagram with Rugby in their bio is Matthew Lewis, who played Neville Longbottom in Harry Potter. A potential influencer?
What are the community insights?
If you have a million followers and know nothing about them, there's a lot you're missing out on. Identifying the most common keywords within your followers' bios will tell you a lot about the type of people your account is attracting. Ideally it will have a mix of terms related to your sport, and things that tell you something else about the audience. Once key traits have been identified, you can search for related specific keywords in your followers' bios to build a more refined picture. Clarifying your engagement with a particular audience can help to build partnerships and entice sponsors to your brand.
Here we see the top bio terms for the Welsh Rugby Union's followers. The prevalence of rugby related terms shows they're successful in connecting with that audience, but a more interesting insight is the inclusion of 'London' and 'living' as well as 'student' and 'university'. This initially suggests there may be significant amount of Welsh rugby fans studying in London, and this could be an avenue worth researching further.
Evaluate your progress
A social media strategy is more than simply monitoring the progression of your followers, it's about measuring the long term strength of the relationships you're building with your fans. Evaluate the churn over of your followers over time to understand the performance of posts. It's also worth looking closely at the quality of followers you gained or lost during specific campaign periods, are they within your target audience?
It's also vital to remember that audience opinions in sport can change quickly. When looking at periods when your activity was/wasn't successful, remember the context of the post. Had a star player you'd posted about had a bad week? Was there a negative story around the team at that point? These aspects can affect how an audience responds.
Bonus tip - Use Twitter data to inform Instagram strategy
One of the advantages of Twitter being an open network is that you can perform deep analysis which can be used to help inform your activity on other platforms. You can see who certain athletes are connecting with, as well as who specific audiences have an affinity to. Read more of our articles on Twitter data to give you ideas of what insight you can collect and apply to different channels.
What other ways do you think it's important to use Instagram data in sports marketing?
Are you an Audiense customer? Don't forget to add your Instagram profile to your account to be able to do all of the above right away. Audiense's Instagram capabilities are available on all paid Audiense plans.