Rachel May Quin
6 brands making their advertising campaigns go further with social media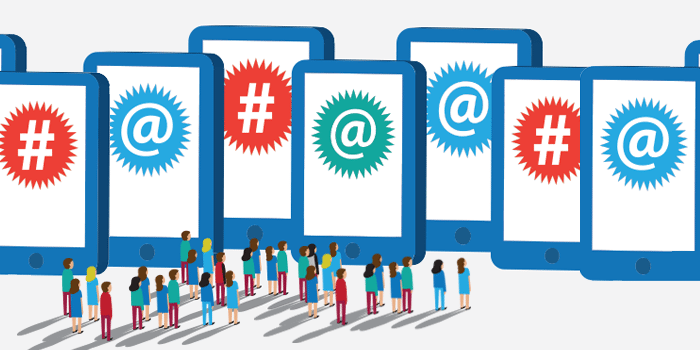 Advertising and social media are the marketer's peanut butter and jelly. The recipe for a successful advertising campaign is one that considers Twitter a key ingredient in its amplification strategy, with big brands standing to grab the attention of a collective audience of over 300 million active users, 500 million unregistered unique Twitter visitors, and 700 million monthly consumers of Twitter content through third party sites. But how can brands use social media effectively to make their advertising campaigns go further? Here's six brands, and six key takeaways, to consider when marketing using social media.
O2 - #BeMoreDog
Forget Grumpy Cat, O2's 'Be More Dog' campaign encourages their existing customers to take life by the scruff. 'Be More Dog' is a long-term integrated marketing campaign that was first implemented in 2013 to promote their new 4G mobile services. The #BeMoreDog campaign combines offline efforts (such as TV and print ads) with digital elements (such as BeMoreDog.com and social media).
'Be More Dog' is also designed to promote the brand and its core values. To enhance recognition of the campaign and the brand on social media, O2 have been consistent with their branding, as can be seen on their Twitter profile page. With a number of marketing channels used, O2's customer journey can be complex. However, regardless of whether prospect sees the ad on TV, or their first encounter takes place on social media, potential customers are guided effortlessly through the process using consistent branding. One thing's for sure, their key campaign communications are consistent across all channels.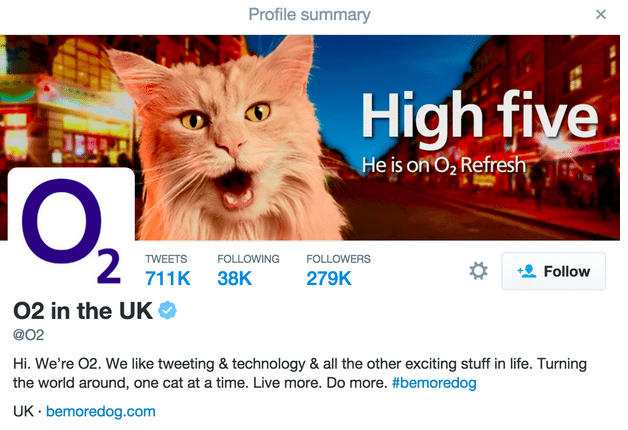 Key takeaway: For a successful long-term social marketing campaigns that help your advertising strategy go further, ensure branding is consistent across the board in all your communications.
Marks & Spencer - #FollowTheFairies
Marks and Spencer used Twitter to create mystery and intrigue around the launch of their Christmas 2014 ad. The TV advertising campaign, based around the two fairies, was born through a paid social media campaign where the brand Tweeted as 'two fairies', Magic and Sparkle.
TheTwoFairies used guerilla marketing tactics, with images of the fairies spray-painted on the streets of the UK showing the Twitter handle and the #FollowTheFairies hashtag. Using Twitter to advertise their upcoming campaign generated lots of organic buzz for Marks & Spencer, both online and offline, spreading their message further than they could have anticipated. The media was abuzz with feel good stories of the fairies spreading joy in the form of presents, cards, and even fake snow for one lucky school.
Finally in November 2014, after a week of offline surprises and teasing on social media, Marks & Spencer revealed they were the brand behind the campaign, along with this touching Christmas ad giving the two fairies a face. By this point, the campaign and the fairies already had a huge fan following on Twitter (currently standing at 36,000 followers), giving the brand a springboard to fully unleash their Christmas advertising campaign.
Key takeaway: Use social media in your advertising strategy to drum up excitement for the campaign prior to launch and create buzz, so that when it is officially launched it will reach a wider audience.
Oreo - #OreoEclipse
Oreo overshadowed the competition during the most recent solar eclipse, with an integrated marketing campaign which shone both online and off. They worked with agency PHD to create the campaign, which involved both advertising on their social media channels, as well as a takeover of the front page of UK publication The Sun.
Oreo supplemented the offline print campaign with digital graphics for fans to share, and content was shared by both Oreo and The Sun.
The #OreoEclipse hashtag was pushed further into the public eye with digital outdoor elements in two major UK cities, London and Edinburgh, with large TV screens that pulled data from the Royal Astronomical Society to track the exact movement of the moon and the sun. This data was applied in real-time to the image of Oreo gradually blocking out the sun. Their first ever translucent cover wrap, which appeared on two million copies of The Sun newspaper, made Oreo's campaign to eclipse the sun literal.
Key takeaway: Real-time marketing is perfect for spur of the moment Tweets that lead to viral success, but planned real-time social media marketing activities and integration within a wider advertising campaign can create a roaring success.
Just Eat - #whatifancy
The million dollar question: how can brands capitalise on sponsorship deals? In the age of social media, it's not enough to execute a standard advertising campaign and expect to grab the attention of your viewers. To really see that ROI, you need to ensure your social media marketing activities truly complement your offline activities. Online takeaway website Just Eat paired up with British dating TV show 'Take Me Out' as a sponsor, and used social media to promote both the show and their own brand.
Just Eat capitalised on their prime time sponsorship by running their very own Twitter contests as the show aired, asking followers to Tweet #whatifancy for the chance to win a £20 voucher. The classic 'RT & Tweet us' Twitter contest format ensured that not only were viewers of the show and followers of the brand engaged, but Twitter users multiplied Just Eat's exposure by sharing branded content on their own Twitter feed. In addition, the social media team over at Just Eat kept up their own running commentary of the show, and monitored the hashtag to engage in some real-time witty banter with viewers.
Key takeaway (no pun intended): Capitalise on your big offline advertising spots with a hashtag that will take the conversation, and marketing campaign reach, online. Social media is the best place for two-way conversations after all.
Dr. Marten - #STANDFORSOMETHING
Dr. Marten's #STANDFORSOMETHING campaign brought the brand to a whole new age, with an integrated marketing strategy designed to appeal to their target audience, described by the brand as rebellious, free-thinking individuals that religiously wear Dr. Marten's footwear with pride.
Their 2014 revamp of the #STANDFORSOMETHING campaign involved films focused on a diverse range of nineteen characters, all intended to be Dr. Marten's target audience - from young to the old. The #STANDFORSOMETHING campaign went offline with a UK tour in both 2013 and 2014, which saw a variety of popular bands come together for Dr. Marten's customers.
In 2013, Dr. Marten's leveraged their online community to drive results in their global #STANDFORSOMETHING campaign. They teased fans with a video charting the brand's history and evolution over the years, before inviting them to get involved with their own stories and experiences with the brand. The purpose of the campaign was to celebrate diversity and drive engagement, which was incredibly successful and saw thousands of participants. Dr. Marten's then featured their fans photos and videos in a commercial.
Key takeaway: For marketing campaigns that seek to embody the spirit of a brand, leverage your online community and integrate their content into your campaign. Also, give your popular older campaigns a new lease of life.
Lidl - #LidlSurprises
The #LidlSurprises campaign has one core purpose: to change perceptions about Lidl as a supermarket. In the last year, Lidl have been fighting the big four retailers for market share, as they seek to establish themselves as a high-quality, yet affordable, supermarket.
To achieve this goal, Lidl have been supplementing their traditional media advertising with social media advertising, in the form of promoted ads, Twitter contests, and by consistently using the #LidlSurprises hashtag when talking to customers.
In addition, Lidl have been supporting their offline campaign and in-store advertisements with Tweets from real customers, further strengthening customer relationships.
Key takeaway: Create a long-lasting hashtag unique to your brand that will survive the test of time, and be sure to consistently use it throughout your advertising campaigns.
All in all, marketing using social media and utilising its advertising potential should be top of every marketer's priority list. Seen any other fantastic brand campaigns that involved advertising on social media? Share them with us in the comments.