Michelle Garrett
How to use audience research to fuel your marketing & PR campaigns
Audience research is defined as research conducted to make discoveries about your audience to help you better understand them and their preferences.
It's increasingly in demand as brands attempt to gain insight into their current and potential customer base.
To address questions about how to do audience research and how you can plug it into your marketing efforts, this article covers:

Let's dig in.
The purpose of audience research
Before you start a new marketing initiative, conducting audience research is always the right place to begin. Why? Without it, you may not be able to tailor your content to the prospects who are the best fit.
You can plug the research into branding efforts and pricing strategies, as well as owned, earned and paid marketing campaigns. Knowing your audience will help you reach them more effectively.
What is the difference between audience research and market research?
Audience research and analysis differ from market research, in that the target audience is smaller than the target market. Think of it like a pie. The target market is the WHOLE pie – the target audience is a SLICE of that pie. It's the portion of the market most likely to buy the product.
Why is audience research important?
With digital marketing only growing in importance, audience research is a top consideration. Without it, your efforts may fall flat. Studies show that 70 to 80% of people research a small business online BEFORE visiting the business or making a purchase. But if you don't know who may buy from you, your campaigns may be like a shot in the dark.
Audience research techniques can be used to pinpoint buyers. For example, Facebook is known for its ability to leverage data to reach the most relevant buyers through its ads. But, even when you're running a campaign, you'll want to check to see how it's going so you can make tweaks as needed. Use it as a way to test your messaging. You should check to see if you're reaching the desired audience, if they're responding – and in the way you'd like to see them respond. Also, consider if there any other related audiences you may want to reach out to.
Audience categories
When it comes to segmenting your audiences, what demographics and psychographic categories will you use? And why is audience segmentation important? Not everyone thinks alike.
If you want to target your ads – because again, one ad does not fit all – you need to know who you're targeting. This can help lead to higher conversion rates. What do your customers really want?
Audience research and analysis for demographic segmentation can include:
Age
Gender
Income
Location
Family Situation
Annual Income
Education
Ethnicity
And for B2B it may include:
Company size
Industry
Job function
Regarding psychographic segmentation, consider factors that relate to the audience members' characteristics, including:
Personality traits
Values
Attitudes
Interests
Lifestyles
Psychological influences
Subconscious and conscious beliefs
Motivations
Priorities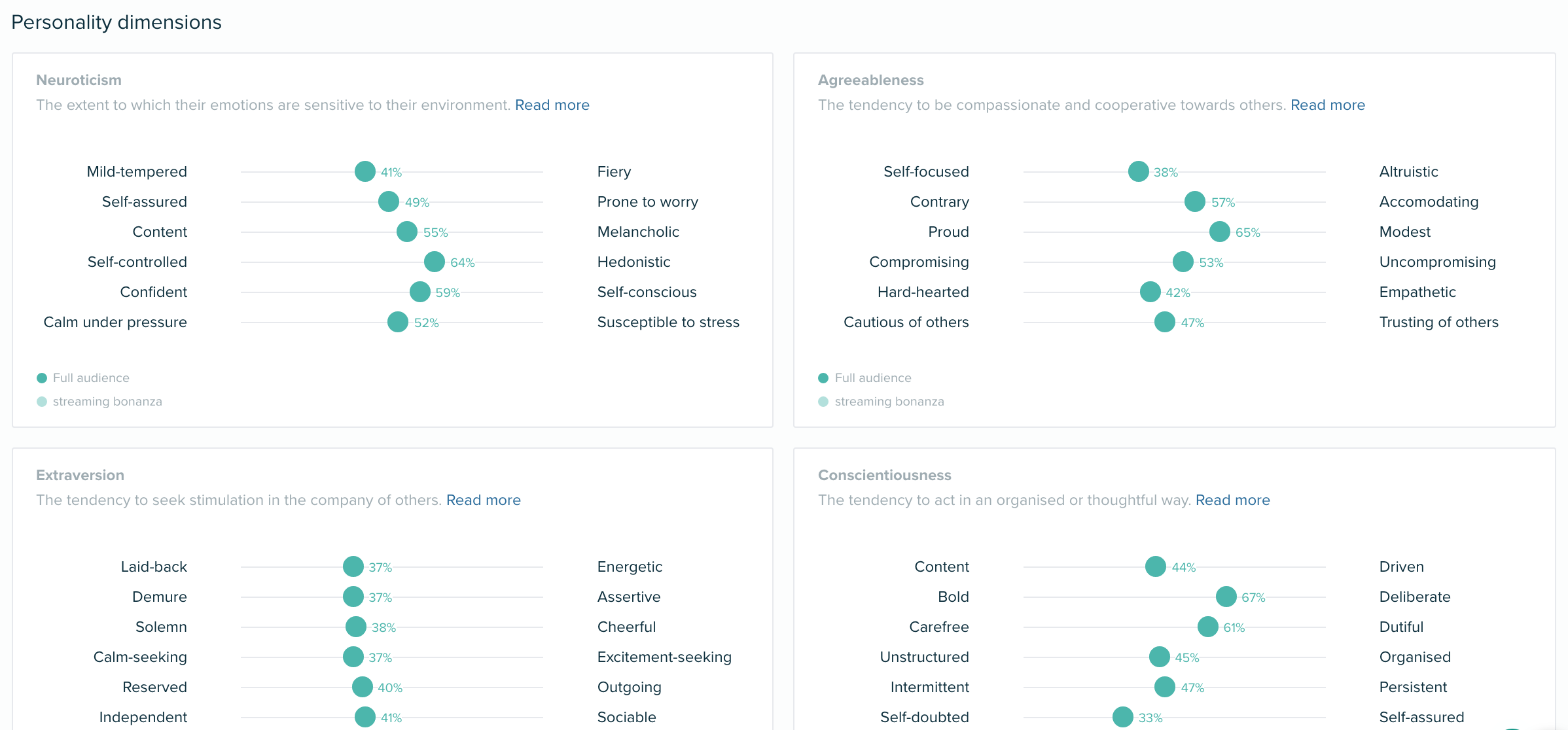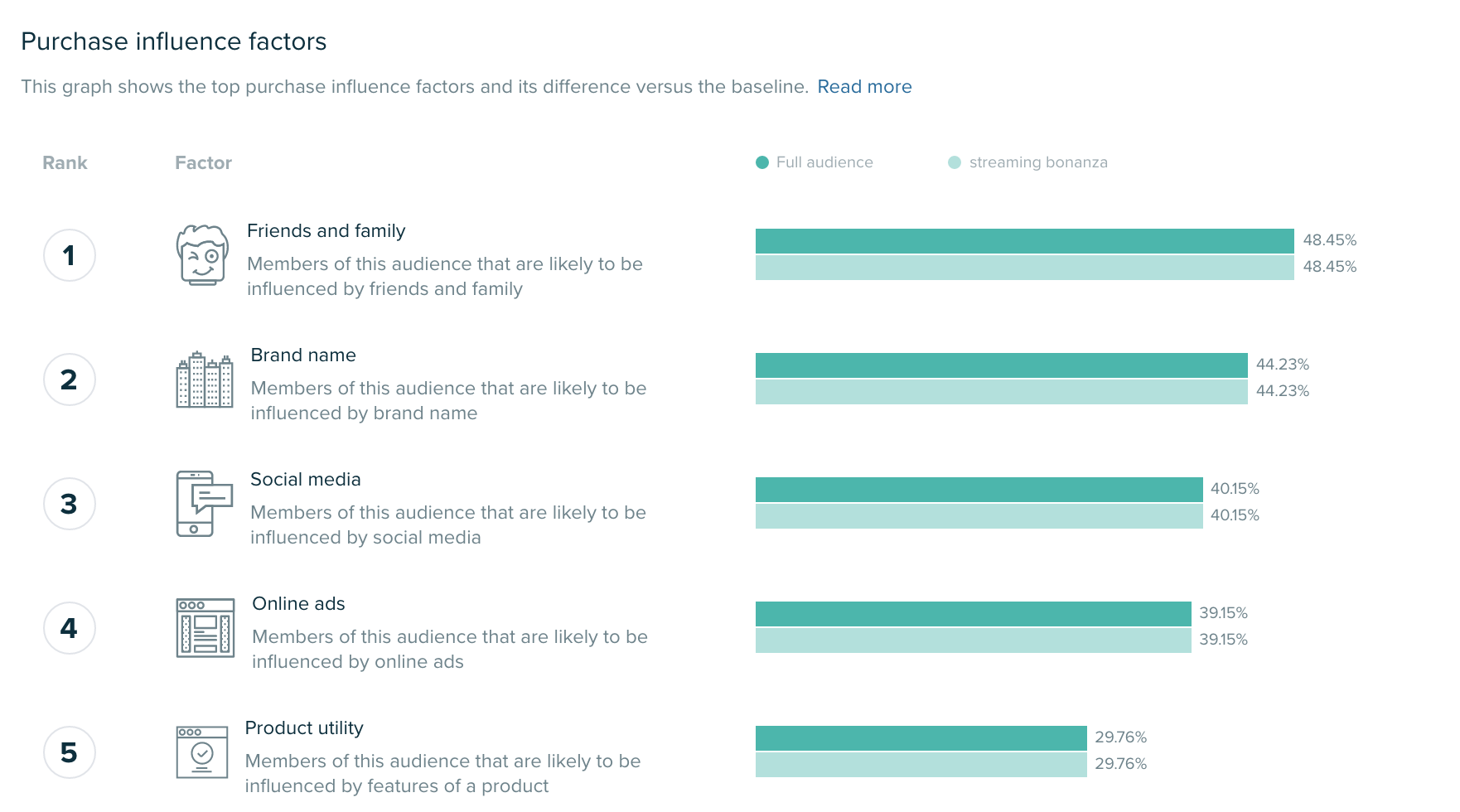 Keep in mind that, because these qualities aren't data-focused but are more subjective, they may be harder to pinpoint.
Examples of audience research questions
What questions should you ask when conducting audience research? Here are a few examples:
Where is my audience located?
What language does my audience speak?
What topics are they interested in?
What's the highest level of education they've achieved?
What are their primary personality traits?
What factors influence their purchases?
When are they most active online?
Audience research methods
Methods used for audience research include these examples:
Social listening: Social listening involves monitoring social media to "hear" what people are saying about you or your brand. Social listening helps you monitor mentions and chatter across social platforms. It can help you formulate a strategy as well as understand how/if that strategy is effective.
Audience intelligence: Audience intelligence is the practice of extracting key and valuable insights about audiences through data from various sources, which allows you to inform, define and plan your strategies based on rich, real-time data, generating authentic business value.
Online surveys: Surveying your audience – or potential audience – can yield insight you can use in your campaigns. Surveys can be done with current customers or with prospective buyers online via email or with a survey tool like SurveyMonkey or HeySurvey, for example.
Interviews with customers: Another way to conduct research is to interview your current customers. This can be done in person, via email, through your business phone platform or video conference.
Focus groups: Focus groups usually take place in person. A group of potential or current customers can be gathered and questions can be asked to gain insight into any number of elements.
Competitive analysis: Competitive analysis involves digging into what your competitors are doing to reach out to potential new customers, as well as existing ones. You can use this to see what might be working for them and gain inspiration for future campaigns.
Google Analytics: If you have Google Analytics set up on your site, you can find the answers to questions like which pages are most popular, which social media platforms are driving the most traffic, or what countries your visitors are coming from.
Audience intelligence tools: These are tools that give you insight into your audience (like Audiense). They can help you find out who your ideal customer are – and where they're spending time.
A/B testing: To understand which messages your audience responds best to, you can use A/B testing. This is when you send one portion of your audience one message while sending a different message to the other portion. This technique helps you understand which message resonates most with the intended audience.
Audience research for Digital PR
Audience intelligence is crucial in digital PR. Here are a couple of examples of how this can work to make your media outreach more effective:
To identify journalists covering your space, you can use a tool like Audiense Insights to discover the media your audience is consuming – then find the reporters at those media outlets who are the best fit.
To find the right influencers, a tool like Audiense can be used to uncover those who are a match for your brand. Once you've found them, you can use that list to tailor content to that audience. To take it a step further, you can pay to promote the content to that list, for example, on Twitter.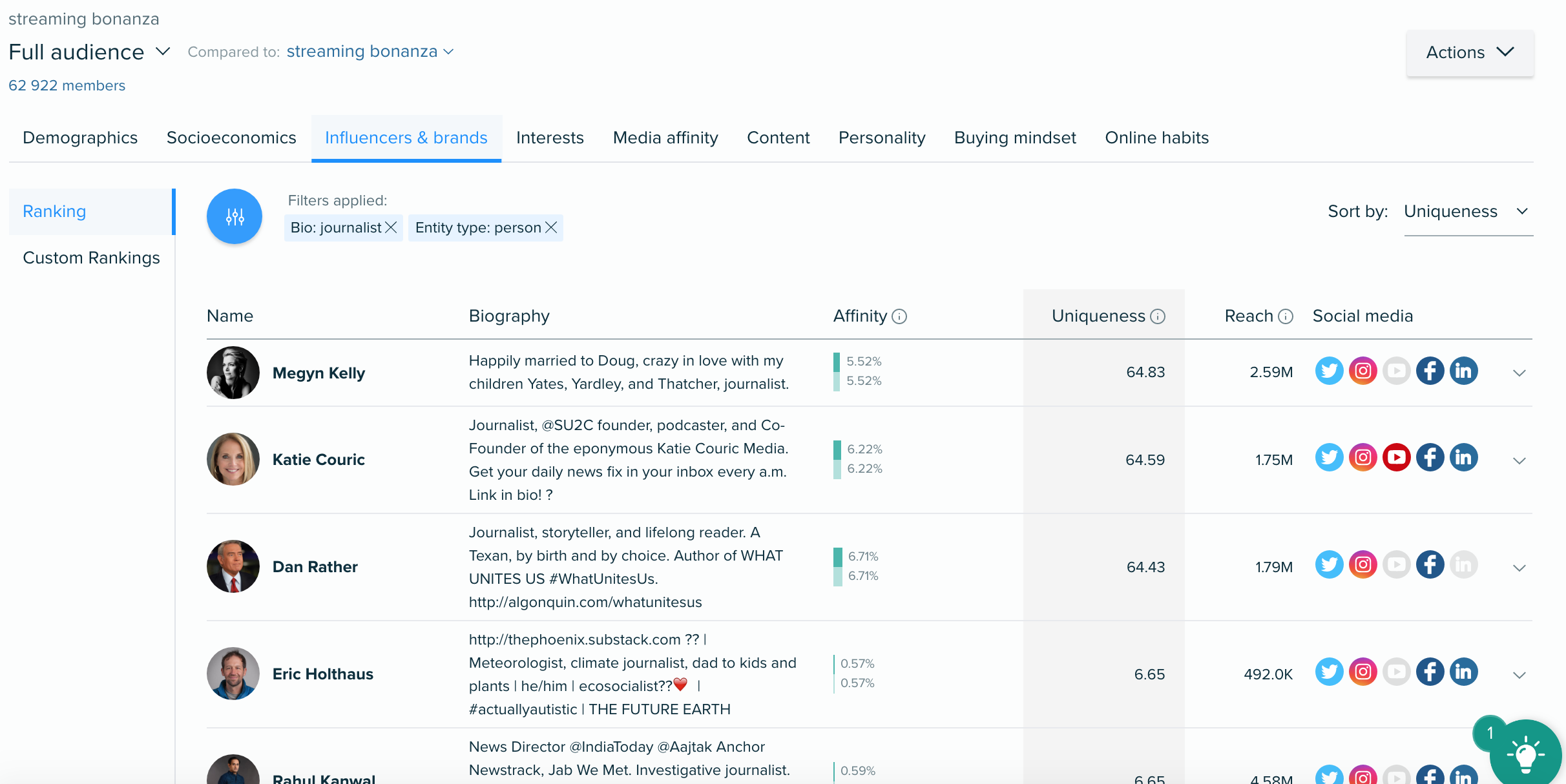 Using Audiense for Audience Research
To conduct detailed and comprehensive audience research and analysis, use Audiense for:
Audience Identification: Create tailored audiences to identify specific people and understand the different segments that comprise them.
Audience Segmentation: Audience segmentation is identifying groups of people within a broader audience who are interconnected.
Influencer Identification: One of the biggest challenges for marketers is to find and engage with the right influencers for the right audience.
Personality Insights: Reveal the psychological inclinations of an audience to uncover a deep understanding of people's personality characteristics, needs, and values with the end goal of driving personalization.
Media Strategy: In our current landscape, reach, budget and resources are limited, making the need for a strategic approach to reach our target audience fundamental.
Data Export: Download data and pre-made report templates to be more efficient in day-to-day efforts and integrate insights into your current methodology.
To learn more try Audiense Insights for free.