#BeatTheBuzz: 9 ways to extract value from social media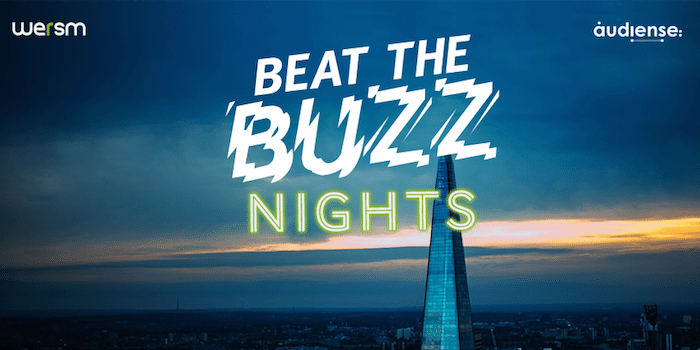 Social media keeps changing and has become the perfect place to engage with customers. From a place where people catch up and share their feelings, it is now, the holy grail of marketing for brands and businesses. But… how can we approach it properly?
We got the chance to hear some tips from successful social media professionals last Tuesday at our latest #BeatTheBuzz night with WeRSM. It was simply amazing to hear how the following professionals are getting the most of it in social:
Tim Hughes, the best-selling author (Tim Hughes),
Raisa Sufian, Head of Business Development at VaynerMedia
Simona Pop, InstaSupply's Head of Partnerships & Global Communication
In case you were unlucky and couldn't make it (all spaces were taken weeks before the event), and also because we love to share wisdom, we have summarize the best moments of this exciting meeting. Keep reading to hear some tips from Tim, Raisa and Simona. You can thank us later!
Raisa Sufian, head of business development at VaynerMedia
Remember The Little Guy
While it's good to get the big influencers involved, a lot of them get free stuff all the time. It's worth remembering the Average Joes that big brands often don't pay any attention to. Surprise them, they will LOVE it, and more often than not they'll tell everyone about it.
"There's A Big Advantage To Being There First"
Testing is the way to learn. Social brings us the opportunity to try stuff, the more weird the better. New things are meant to be weird and exciting at the beginning, and social being "immediate" makes it the best place to test what you believe will make a difference.
What If We Fail While Trying To Innovate?
"WHO CARES?! We live in an era that there's so much stuff out there that you want to make noise. And if you fail, learn from the mistake and think about the next step"
Simona Pop, Head of Partnerships & Global Communications at
InstaSupply

What's The Main Key In B2B sales?
"Your prospects are all human, the process must be what I call H2H (Human to Human). You need to find your potential customers, listen to their needs, and build a relation through social, always start with social".
Why Use Social For B2B Selling?
If you're not using social media in B2B selling, there's a ton of opportunities you're missing out on. To demonstrate this, Simona shared the following stats with us. The benefits are clear!
B2Be Smart, Start With A Small Target
If you want to engage with your ideal customers it's better to focus on a small group of ultra-valuable prospects. Building a relationship can take longer than some marriages, so you have to be patient and make it enjoyable. Align values and make sure it is a match, and always have fun.

Tim Hughes, best- selling author, recently, Co-Founder of Digital Leadership Associates.
"If You Are Not Online, You're Missing Out"

Customers are on social and you need to be where your customers are. The buying process is taking place online and it has also become longer, people have now the chance to ask friends and compare brands. People influence other people, and here's where we need to make a difference.

How Can Brands Drive The Conversation?
"People buy from people they trust, so You need to find the perfect Influencers in your community and then build a relationship with them., For one of my book launches, I started building a relationship with my influencers 18 months before asking them for help promoting it. Once you find your influencers make sure you understand them, you can help them and they understand your product and people will get the right message, for sure.. You buy from friends because you trust people"
Remember To Listen "You Need To Be Social While Selling"
"One key thing for any brand in social is listening, listen or you'll miss out on deals and sales. You get to know what people talk about, what they think about the last book they read or the last movie they watched, and THAT is your chance to talk about what they are interested into.
A clear pattern is emerging: Know everything about your audience gives you the edge before you make a move, then you can engage and influence them in due time. And always look to experiment!