Jacqueline Zote
How audience analysis helped WWF to engage a niche audience for their Nature Positive campaign
When spreading an important message, creating resonance with your target audience is key. This makes it critical to ensure your targeting is fine-tuned to reach people who are likely to respond and take action.This is exactly what WWF achieved with their Nature Positive campaign.
WWF (World Wildlife Fund) is a leading conservation organisation that looks to address the most pressing issues related to nature, people, and climate.
With the current environmental crisis that we're experiencing, human and planetary health is at risk. This decade gives us a unique opportunity to turn things around before it's too late. WWF International is calling for all countries to take action to reverse nature loss and secure a nature-positive world by 2030. To this end, they created a campaign to highlight the importance of a Nature Positive global goal, and wanted to spread the message.
Challenge
Since the campaign and idea were completely new, it required significant work to socialise a new terminology and familiarise people with the concept, eventually increasing the use of #NaturePositive across social networks.
The organisation faced the challenge of building widespread support, starting with sympathetic organisations and other NGOs and later broadening the campaign to public audiences. It was important to be highly precise with the initial targeting efforts, ensuring that they reached an audience that would help them spread the word.
Moreover, they also needed to specifically influence the people who are making the decisions. This included Elizabeth Mrema, Executive Secretary of the Convention on Biological Diversity; Basile van Havre, the Co-Chair for the Convention on Biological Diversity's Open-Ended Working Group; and Inga Andersen, Executive Director of the United Nations.
These are key players in instigating the global plan for nature that the campaign was focused on.
Solution
The purpose of the campaign was to advocate for a nature-positive mission in the Global Biodiversity Framework. To fulfil this, the organisation leveraged a targeted list of like-minded individuals and its partnerships with other NGOs. Audiense played a key role in understanding the organisation's audience and identifying who to target.
Building audience lists
The target audience for this campaign involved a niche audience made up of relevant policymakers and decision-makers. WWF used Audiense to perform an audience analysis and better understand their behaviour. They looked at who they followed on social media and analysed the content they shared.
They then built a list of targeted individuals and other people in the sector sharing similar interests. Moreover, they also included follower lookalikes in the list.
Using this list, the organisation was able to push out Twitter Ads to reach the right people.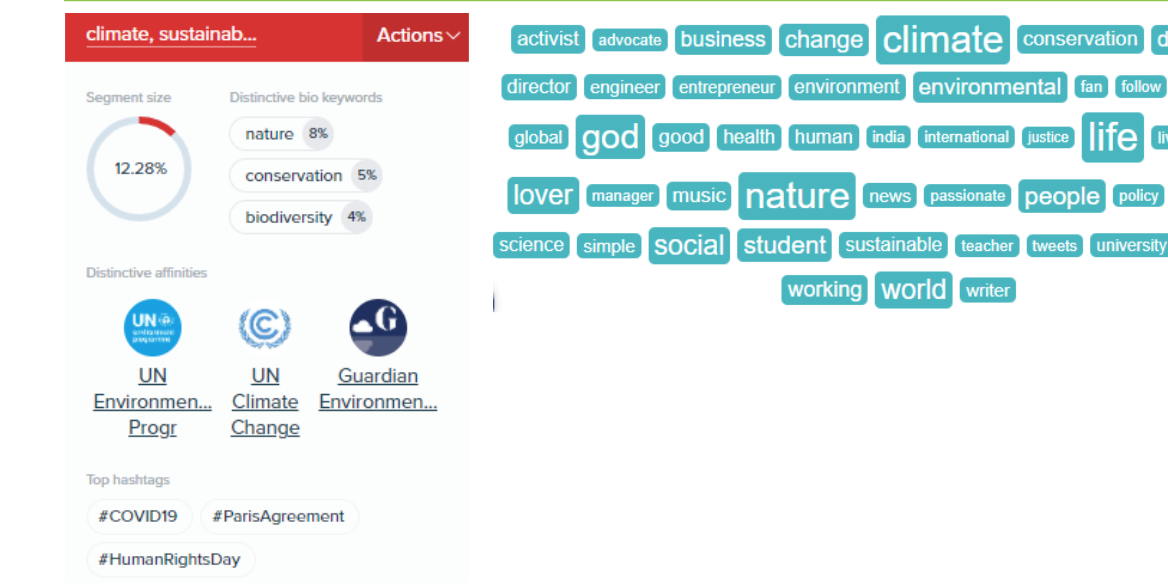 Maximising NGO partnerships and influencer advocacy
Realising the need to amplify their reach, WWF also wanted to spread their message through relevant accounts that already had significant reach. This involved targeting accounts with a significant following, but focusing on the follower quality rather than numbers alone.
As a result, they aimed to target high-reaching, influential stakeholders in the right sectors. So they looked at which key influencers had signed their "Voice for the Planet" and whether they were already following @NatureDeal – WWF's advocacy channel – on Twitter. The idea was to have those key stakeholders to advocate for the cause and maximise the campaign reach.
WWF also made the most of their partnership with other NGOs involved in the campaign. After noticing peaks in traffic around key events such as the United Nations General Assembly, they realised the importance of capitalising on such events. So they organised peaks for content with a focus on similar key international policy events. They even launched discussion papers ahead of key negotiating periods.
These efforts allowed them to increase the impact of their content at critical times.
Findings and results
WWF witnessed fantastic results with the Nature Positive goal seeing exponential growth in awareness with influential stakeholders and relevant NGOs helping to spread the message. In fact, mentions of the #NaturePositive hashtag increased by over 400% between 2020 and 2021.
The Romanian President, Klaus Iohannis, who commands a Twitter following of almost 250,000, was one of the influential individuals who advocated for the campaign.
Climate change champion, Nigel Topping, with a Twitter following of almost 25,000, was another key advocate for the Nature Positive goal.
Other than individuals, many other NGOs in the climate and biodiversity space also helped to amplify the campaign's reach. UN Biodiversity, the Convention on Biological Diversity's Twitter account, shared the following Nature Positive report with their 127,000+ followers.
As a result of this increased exposure, the organisation's advocacy channel @NatureDeal has seen exponential growth. They gained over 10,000 followers with the help of these influencers and NGOs, speaking for the success of the campaign.
"But it isn't over yet," says Emily McCoy, Digital Specialist for WWF International. "We won't rest until we have worldwide support for a nature-positive world and change is in progress!"
Conclusion
Audience analysis helped WWF to get a better understanding of whom to target with their campaign. By maximising niche influencers as well as their partnership with similar NGOs, the organisation was able to spread the message, grow their following, and amplify mentions of #NaturePositive.
Audience analysis isn't something you can approach lightly. The more data points and insights you have at your disposal, the more you can make decisions with confidence. That's where a tool like Audiense can be a game-changer.