Jacqueline Zote
FMCG brands: Are you leveraging your retailer's audience?
From highly creative campaigns to brand-customer interactions that went viral – FMCG brands are no strangers to social media marketing. But are they missing out by failing to consider a whole set of audiences bigger than that of a prime-time news channel?
The 'big four' UK retail grocers - Tesco, Sainsbury's, ASDA, and Morrisons - have a combined audience of 2 million followers on Twitter alone and over 1.6 million on Instagram. They also command a massive following across other leading social networks including Facebook and TikTok. That's millions of potential brand advocates that FMCG brands could lose out on if they aren't reaching that audience.
Tapping into retailers' audiences for brand awareness
Brands ought to think of retailers' massive followers as channels within channels. For everyone who is tweeting and engaging with the retailer, there is a potential customer in there for the brands.
Rob Sellers (now VCCP Head of Retail) said in a 2015 Campaign Magazine article, "Savvy FMCG brands have regarded retailers as a media 'channel' for some time. We often frame the weekly footfall of ASDA or Tesco as bigger than the audience of the X Factor final."
There are multiple ways for brands to tap into their retailers' audiences – through both organic and paid media. This will help get your brand in front of millions (if not more) of people, instantly boosting brand awareness.
San Pellegrino, for instance, collaborated with Tesco to create a short promo video for Instagram, which garnered thousands of views.
Some FMCG brands go so far as to exclusively make certain products only available to the audiences of specific retailers. ASDA is famous for these types of partnerships.
For example, the new vegan chocolate from Galaxy and white chocolate Smarties from Nestle became exclusively available at ASDA. The brand promoted these products in front of their 558,000+ Instagram followers along with their 500,000+ Twitter followers.
This allowed both Nestle and Mars Inc.to raise awareness about these new products and instantly reach ASDA's massive follower base on Instagram and Twitter.
Galaxy Chocolate… but vegan 🙌

This unbelievably scrummy treat is exclusive to Asda – and customers are already loving it! @thindrutt on Instagram said: "Ohhh my, definitely worth the trip 🤍"

Head in store or online to grab yours: https://t.co/DIe6bSKx2S pic.twitter.com/MsUVtkMIbq

— Asda (@asda) May 1, 2022
The need for advanced audience targeting capabilities
Another way for brands to tap into retail audiences is by targeting them in paid advertising campaigns. eMarketer reports that audience targeting capability is the fourth most important attribute of retail media networks.
It's crucial that you fine-tune your audience targeting strategy to make sure that you're reaching the most engaged audience segments. Highly focused targeting and segmentation of audiences help in combing through thousands of followers and really attracting only those that would potentially have an interest in a specific brand.
Since you'll be paying for clicks, you have to ensure that each click is of high value. Instead of treating their audiences like a monolith and targeting every follower, focus on people who are most likely to be interested in your product. Let's say your brand sells chocolates. You'll want to get your ads in front of people who have shown an interest in chocolates or have expressed having a sweet tooth. But if you're promoting a new range of vegan chocolates, you'd also want to further narrow your targeting down to reach people who practice or are interested in veganism.
So there's a need to better understand your audience and take a closer look at what they're interested in. For a brand to target potential customers through a retailer's followers, the first step is tailoring your message to a specific audience.
Leveraging audience intelligence technology is essential to narrow down your target audience. For example, Audiense Insights can help you identify key target audiences and segment them based on important audience insights such as how they're connected or what they care about.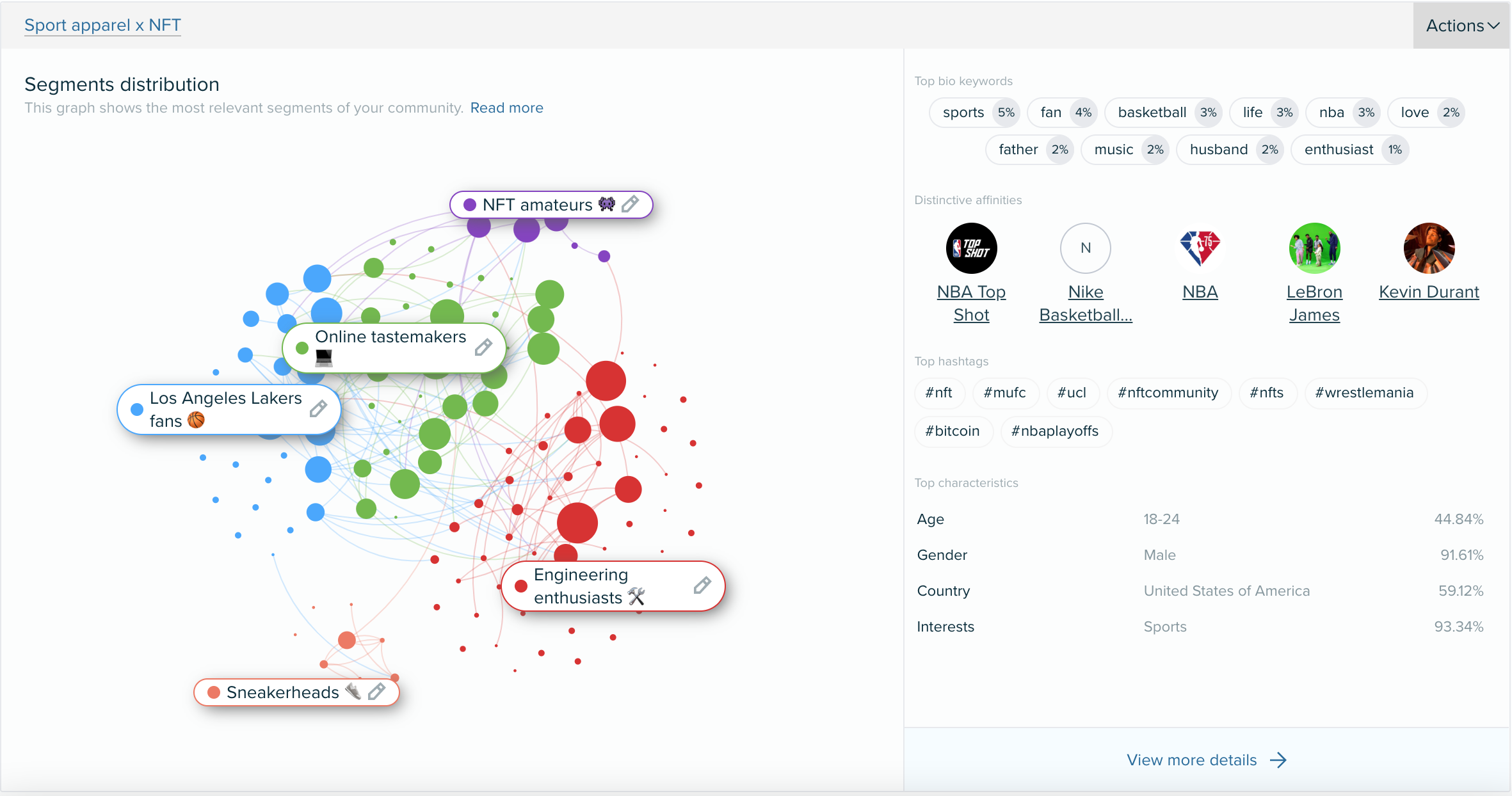 You can even use a Targeting Pack to streamline your ad targeting across different platforms. This Targeting Pack gives you access to the segmented and unique affinities of the audience or segment you want to target. You can then plug this data into major advertising platforms such as Facebook, Instagram, YouTube, and Twitter. For a more personalised and strategic targeting, Audiense Insights even lets you download a Targeting Pack for each segment.
To truly tap into your retailer's audience, it's crucial that you look at relevant audience insights to understand them better and personalise your messaging. This will ensure that your targeting efforts yield favourable results. Sign up for Audiense Insights for free and fine-tune your audience targeting.