Leticia Polese - Content Marketing Manager
G2 Summer 2021: Continuing to lead audience intelligence whilst growing in influencer marketing
G2 has just released the Summer 2021 Reports and thanks to your great reviews and continued support Audiense has kept its lead in Audience Intelligence, a category that we proudly helped create. We also remain the leaders in Influencer Marketing and Social Media Analytics.
New Audience Intelligence badge
Audiense has been awarded a new badge for "Best Relationship", which means we earned the highest "relationship" rating in the category based on real-user satisfaction ratings. "Software buyers can compare products in the Audience Intelligence Platforms category according to their Relationship scores to streamline the buying process and quickly identify the products that provide the best relationship with software sellers based on the experiences of their peers. For sellers, media, investors, and analysts, the Index provides benchmarks for product comparison and market trend analysis," according to G2.
As our CEO, Javier Burón, said when G2 announced the Spring Reports, "leading the Audience Intelligence category pushes us to continue helping marketers and consumer researchers to be innovative and develop relevant audience-centric strategies." Audience intelligence and social data makes identifying segments and understanding their behaviour fast and accessible.
"The most important thing you can do as a marketer is to admit that you do not know much about your audience. Once you overcome that hurdle, you can explore several ways to uncover insights into who they are, what they care about, what motivates them, and their personal values," pointed Michael Brito a few days ago. He's one of the first people in the industry to start using and advocating for audience intelligence.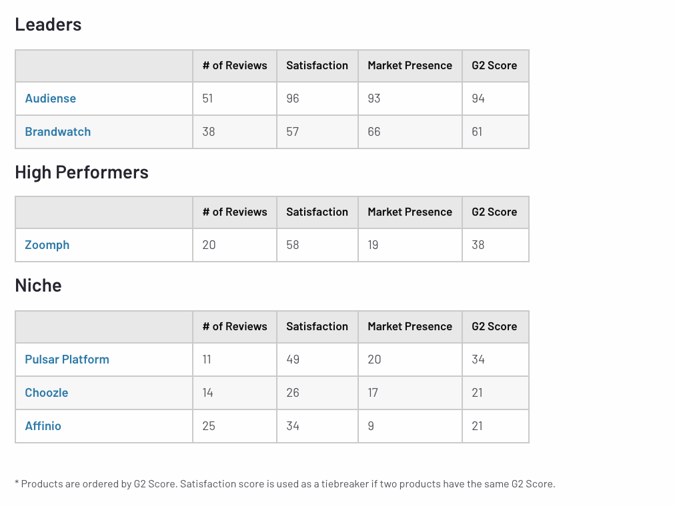 Taking over Influencer Marketing by storm
The G2 Summer 2021 Reports has awarded us a new badge "The User Most Likely to Recommend" in Influencer Marketing.
Apart from being leaders in this category, we also managed to maintain our lead position as a Momentum Leader in Influencer Marketing as well as be recognised as a leader in the Europe Regional Grid in the same category.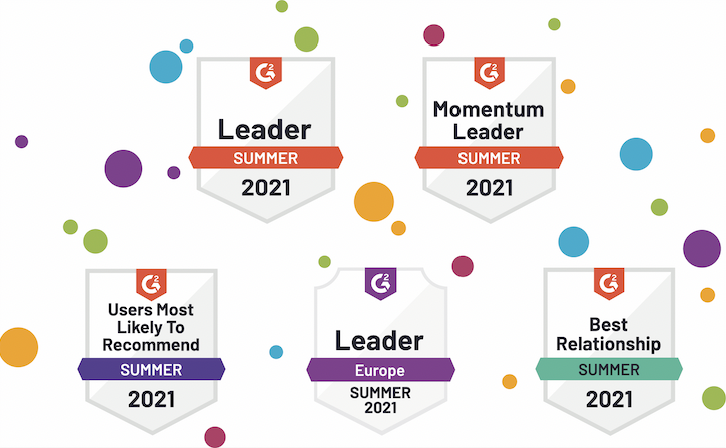 Edward James B.

Founder & Director

Small-Business

(50 or fewer emp.)

"Firstly, the team behind Audiense are absolutely focused on delivering a great product shaped by their users needs. They've not only been really open and responsive but have taken our recommendations and suggestions on board - this is what a real partnership looks like. Secondly - this level of service is reflected in the solution itself, and its our choice of social audience segmentation tool because of the range and usefulness of features."
Nathaniel H.

Chief Operating Officer

Marketing and Advertising

Small-Business

(50 or fewer emp.)

"We are finding ambassadors for the brands, banks and financial services groups we work with (using the Influencers tab on the Insights dashboard. We are identifying individuals who command attention/drive awareness on topics amongst finely vetted subject matter expert groups. We are able to really dig deep and find current thought leaders using Audiense."
Michael B.

Executive Vice President

Mid-Market

(51-1000 emp.)

"Audiense allows us to find the nuances of audiences, especially the ones that are very similar like engineers, developers, CIOs and CTOs. The platform also gives us actionable insights into these audience allowing us to understand their media consumption, sharing patterns and social media usage."
Review us on G2
If you're an Audiense customer we would love for you to share your experience with your colleagues and other industry professionals by leaving a review of Audiense on G2. Need a bit of a push to do so… just think for every review left we make a donation towards the Girls Who Code project on your behalf.
If you're still not an Audiense user, sign up for FREE right now and start your journey through all that that audience intelligence can offer to your business.