Paz Segura - Marketing Manager
Here come the nanoinfluencers! Who they are and how to find them
Although influencer marketing may seem like a new concept, it's actually a trend that's been around for a while. It's a trend that has also evolved as fast as it has been penetrating the marketing industry and certainly still has a long way to go.
The evolution of influencers
At first everything revolved around celebrities. For decades, brands have always tried incorporate into their campaigns brand ambassadors or prescribers, public and recognised figures that called attention to, in the most traditional way in that ATL (Above the Line) marketing, the products of the brands they worked for. When people began talking about influencer marketing, these public personalities began to be called just influencers, and later they were classified as macroinfluencers, those whose fame and community are as exorbitant as their caché.
More recently, to meet the needs of brands, a new trend within influencer marketing came to light: microinfluencers. These influencers are people with medium-sized communities (typically this group includes individuals up to 100000 followers in their social media profiles) who are usually more specialised in a specific topic, with a more loyal network of contacts and followers, they have greater engagement among their community and working with them is suitable for more modest budgets. These niche influencers have become a real boom within influencer marketing over the last year.
Here come the nanoinfluencers!
Who are nanoinfluencers?
Nanoinfluencers are people with just a couple of thousands of followers, who do really well on social media and who collaborate with brands promoting their products and services through their profiles
In most cases, nanoinfluencers do not establish agreements in which there is economic consideration, rather they generate content in exchange for obtaining the products for free.
One of the most advantageous features of this kind of influencer is that their words sound as authentic as any recommendation a friend would make to you. In the end, this is how it works out. Kelsey Rosenberg, a 26 year-old with 1900 Instagram followers who does nanoinfluencer campaigns, explained the phenomenon to The New York Times: "It's like one of your friends telling you a new skin care product is amazing, but instead of me telling my friends at happy hour, it's me telling them on Instagram."
This type of influencer has a great capability to generate engagement among Generation Z. The members of this new generation take technology for granted because they were born with it in their hands. It is a target that seeks quality in the products they consume and tends to share their life publicly: they are connected 24 hours a day, share their stories and speak their minds either on Instagram, tweeting or posting snaps. And they expect the same from their peers and, as such, the nanoinfluencers.
How can I find the ideal nanoinfluencers for my brand?
Although it may sound a little presumptuous, these days Audiense is probably the best tool that exists to find the most relevant nanoinfluencers for your brand.
Most of influencer identification services on the market operate using a database of influencers that are classified by set categories. Our methodology identifies influencers by looking at how people are interconnected, who knows who, what audiences are connected, and we uncover what are the real communities and relevant segments and therefore who are the right influencers for them. What's more, we are able to detect very specific niche influencers who aren't aware of being influential in that niche.
Our algorithm provides data on who are the most relevant and unique influencers for each audience, offering the results organised based on the relevance these individuals have for the target audience. We also provide the ability to identify those of greatest interest to the brand depending on how many followers these influencers have. As our cluster identification improves so does our influencers relevancy index. We have recently tweaked our micro and nano influencer identification algorithm to disregard "generic" (common to many audiences) influencers, which still seem to be abundant in other influencer identification platforms. All you have to do is define your ranges and select your battalion of nanoinfluencers that you want for your brand. We'll serve you the nanoinfluencers on a platter! All of this with a minimal economic investment and, most importantly, in just a few hours!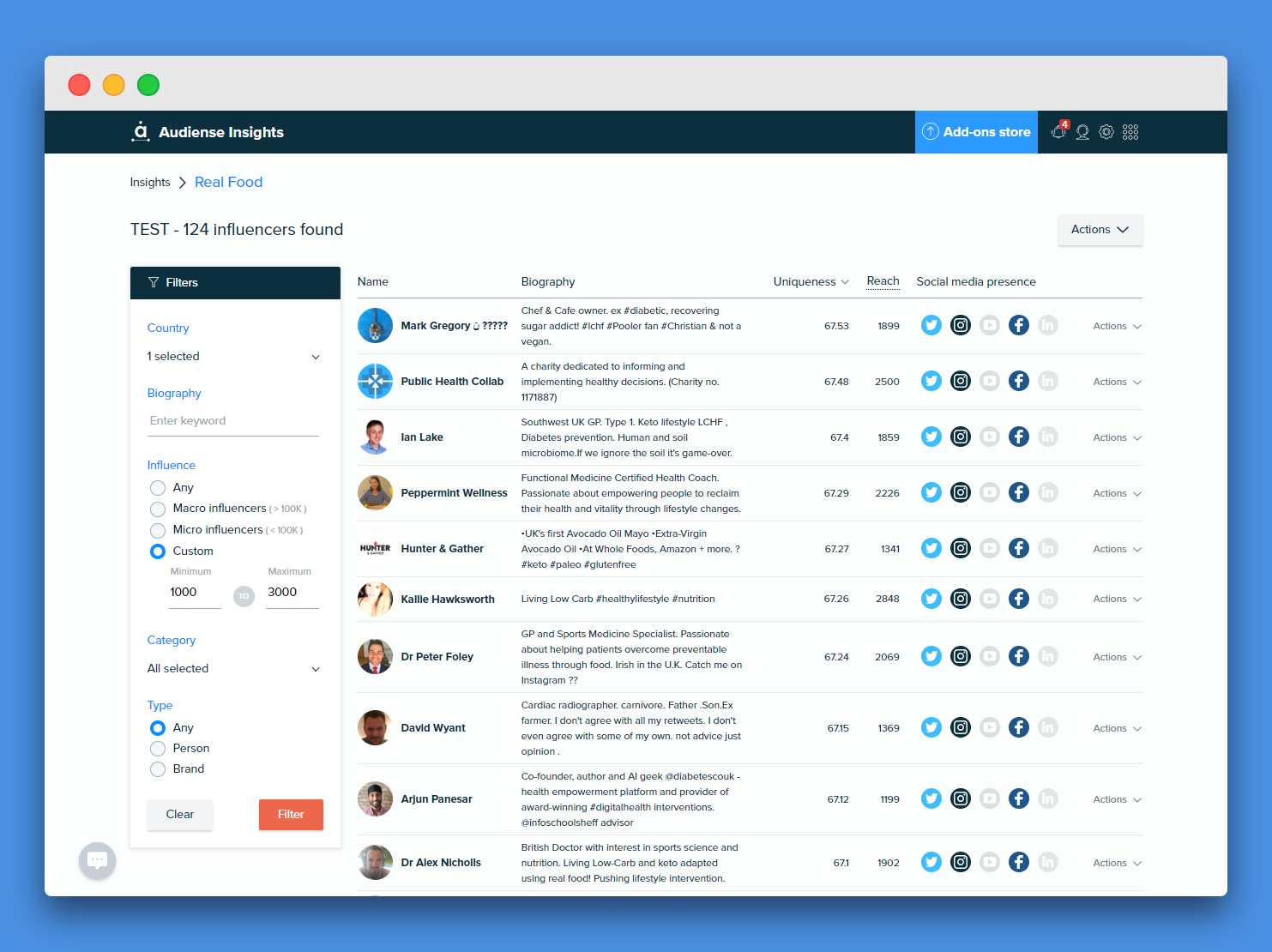 The most avant-garde agencies are already banking on this newest trend and are seeing very positive results. Want to be the first to adopt this approach in your influence marketing strategies? Sign up for free today and discover nanoinfluencers you can work with tomorrow!
Photo by Sandrachile on Unsplash.