Edward Bass
Audience insights for sustainability focused organizations
NGOs, brands and government departments working in the sustainability sector face the challenge of having to engage and persuade audiences to act. Social media is quickly proving to be the key platform for these efforts.
Audience intelligence and social listening can support these efforts by helping these organizations understand strategic factors, such as existing perspectives around climate issues and the media which influences specific audiences.
In this article we'll demonstrate how this is possible, focusing on a group of organizations who have already indicated concern over the environment - B Corps.

What is a B Corp?
A B Corp is a business that has been identified as refocusing their mission to prioritize working for social and environmental good, instead of purely forprofit.
To become a B Corp, businesses are certified by the non-profit B Lab to voluntarily meet rigorous standards of social and environmental performance, accountability, and transparency. This programme began back in 2007 and now there are over 4,000 certified companies across 150 industries.
What are looking for (and how are we doing it)?
The theoretical challenge here is to identify how B Corps are addressing environmental issues, with a view to understanding how successfully they've been able to inform and influence their social media followers. We're also interested in how they might optimize this.

To achieve this, we'll use Audiense to segment a group of social accounts from B Corps, and then Pulsar to analyse their sustainability and environment related posts.
Finding and segmenting B Corps with Audiense
The fact that most B Corps actively promote their status in their social profiles makes segmenting them straightforward. Audiense allows us to search via keywords used in Twitter bios,so searching for the #BCorp hashtag here (as well as configuring the search to look only for organizations) means we can easily find a useful sample group.
Once Audiense has identified this group, it will apply segmentation based on either shared affinities or how they are connected on social media.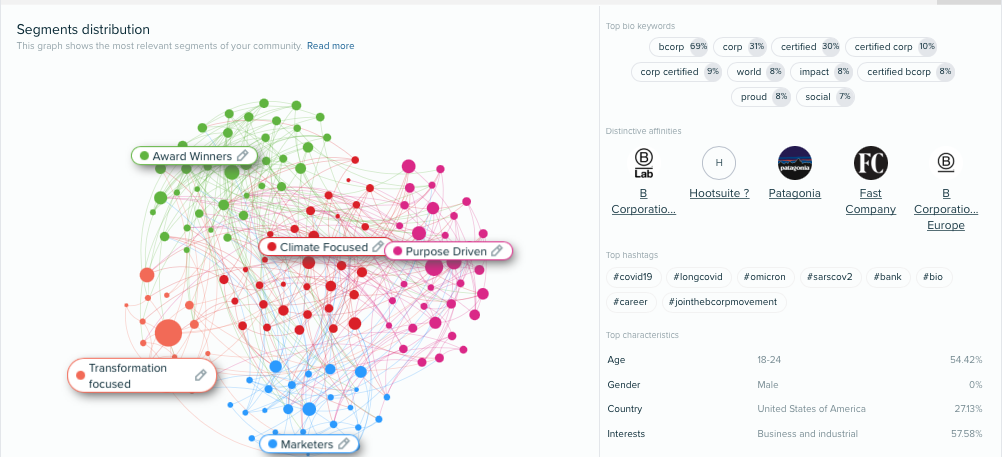 The example above shows a B Corp audience who are connected by their affinities, with each segment informed by how they describe themselves in their bios, their interests and their influences which helps us understand these companies in more depth.
As Audiense allows us to study which organizations and media these B Corps have affinity with I took a look at these and identified that the Guardian, Huffington Post and National Geographic were favoured media…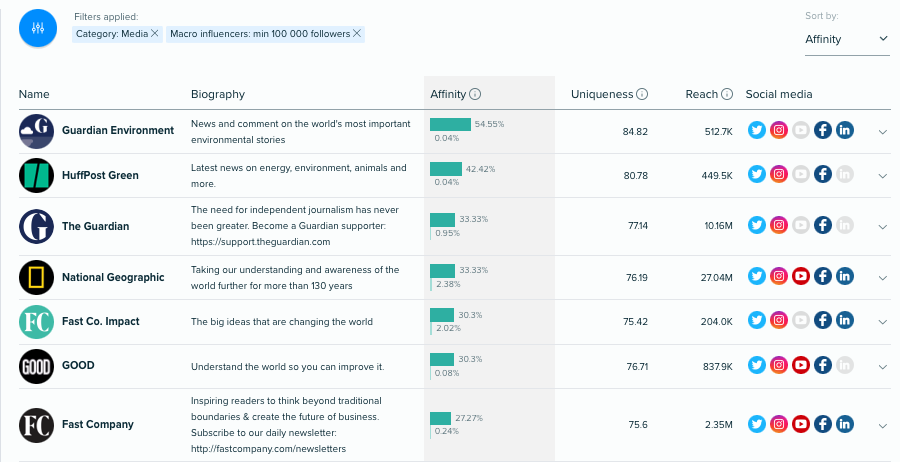 As this is possible for pretty much any type of entity on social media, it can also help us to identify their favoured public figures and influencers, with Barack & Michelle Obama, Hillary Clinton and the Dalia Lama seeing favour here.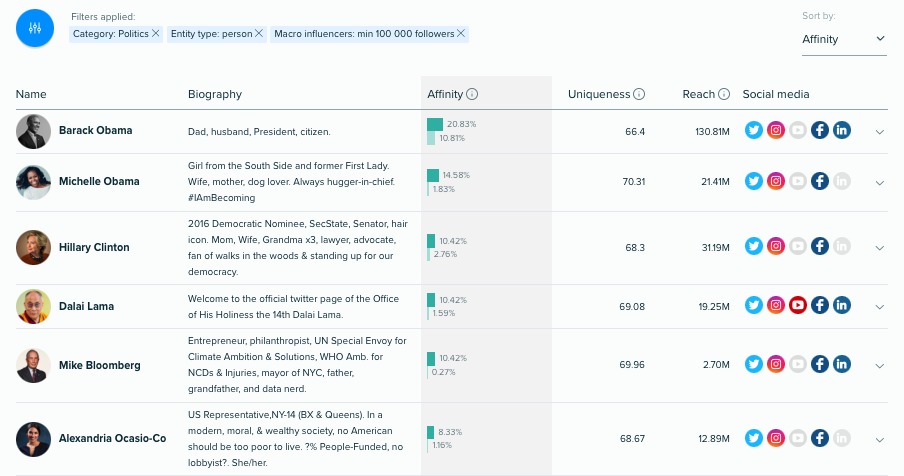 These insights can help us understand both how these B Corps have positioned themselves, as well as what influences them, which is of course very useful for developing communication strategies.
Understanding social conversation and attitudes using Pulsar
Audiense and Pulsar have been partnered for the past few years and this has resulted in a very useful and effective integration. At the click of a button, our Audiense group or individual segments can be loaded into Pulsar - allowing us to study their social posts in detail.
In this instance, we've applied a language filter of around 50 environmental and sustainability related terms so we can understand in the resulting data how these B Corps talk about these on social media.

Above, you can see how key terms have been used over time. For instance, that 'nature' and 'climate change' saw the most use over the course of 2021 and were using consistently. Meanwhile use of the term 'sustainability' has fluctuated, with the highest use in April 2021 and lowest use in August 2021.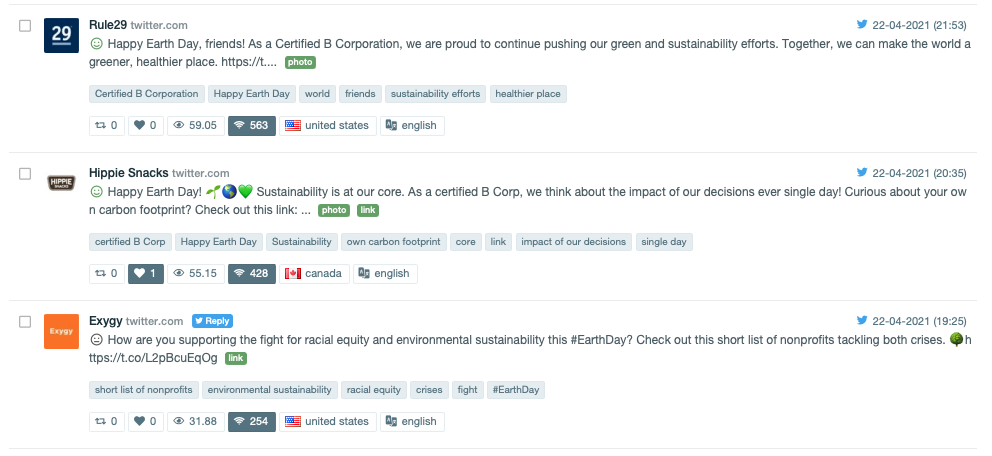 Drilling down into this further revealed that the annual Earth Day event was largely responsible for the term 'sustainability' seeing increased use during April 2021, and that the three posts shown above were the most impactful from the group of B Corps analysed on Pulsar.
Sentiment analysis of B Corps posts can also be helpful here, as it allows us to understand the overall tone of language used by these companies when talking about climate and environmental issues on social media.

As you can see from the sentiment-over-time graph above, much of the tone here was positive – and deeper analysis confirmed that this often highlighted the positive actions they've taken with regards to improving the environment.
Negative posts which address the risks of climate change were less apparent however. Although these companies are not obliged to do so, perhaps they could work harder to address these to help inform their social communities too?
Powerful possibilities for understanding communities
Both Audiense and Pulsar are powerful tools for understanding target communities and we hope this article demonstrates some useful examples of how organizations can use them to achieve their strategic goals.