Rachel May Quin
How Audiense helps YOUKNOW unlock the full value of technology investments
Once upon a time, you'd have to kiss a lot of frogs to find the perfect partner. The same can be said of building the perfect tech stack. Truly understanding your customers, old and new, depends on having the right tools in your belt and often, it might require mixing and matching for your different needs.
Luke White, VP of Commercial at Audiense, sat down with Kelvin Jonck, CEO of YOUKNOW Digital, to get the inside scoop on how Audiense is enabling them to unlock the full value of their clients' technology investments.
Before we get into the good stuff, let's pause and learn more about YOUKNOW. Founded in 2014 with the intention to help African digital professionals leapfrog their competition by expertly leveraging the world's top technology, in the local context.
"Our job is really to make sure that our clients get full value out of their technology investments, that they're up to date with the latest use cases, innovative ways of utilizing it and making sure that they actually use it," said Kelvin.
With that in mind, we identified four ways Audiense works with YOUKNOW to make the most of their clients' tech investments and drive real value for their campaigns. If you're a digital consultancy or agency, take notes.
1. Bringing an extra layer of intelligence to the tech stack
YOUKNOW are well known in the social technology space, trusted for their expertise among enterprise brands in the African market. "Social listening and social analytics tell us what people are saying and [from that], we can gather their intent. What they're telling us in a public space and what they're doing in a public space," says Kelvin. "It doesn't always tell you a lot about them as a group of people. And that is what a lot of our clients need, alongside what the conversation actually looks like."
This extra layer of depth and intelligence is what Audiense brings to the party, according to Kelvin. "Because if you know who people are, what their habits are, what their traits are, what the commonalities are, they can be viewed as segments, and you can speak to them in a more intelligent and efficient way." The ability to view your whole audience as distinct segments has allowed YOUKNOW's clients to tailor their campaigns and strategies, based on the needs and tone of their different segments. For this reason, says Kelvin, "a lot of our social listening clients have brought Audiense in as a completely complementary and additional layer, a step up in their social data activities."
2. Translating data into action
You've spent hours, days, weeks, months collecting the data. What are you actually doing with it? One of the biggest requirements for YOUKNOW's clients is perfecting the final step in the process of data collecting and translation. "We find a lot of what Audiense brings to the table is it does give you that," says Kelvin. "It can show you how people want to be spoken to and what influences them. For example, an immediate targeting pack to be able to go and actually find these people in an active way, which translates to the one thing they always want is business leads, engagement, and sales."
This is absolutely key for busy marketing and PR departments across the world. "That's why another big leg within our innovation, aside from interoperability, is activation," says Luke. "Through our work with IBM, we can actually translate those psychographics and those personality traits [and understand], what does this mean for my tone of voice? What does this mean for my imagery, for my paid ads?" Implementing Audiense into client's tech stacks and assisting clients in understanding the full potential of the tool is helping YOUKNOW's clients completely reimagine their approach to audiences and campaigns.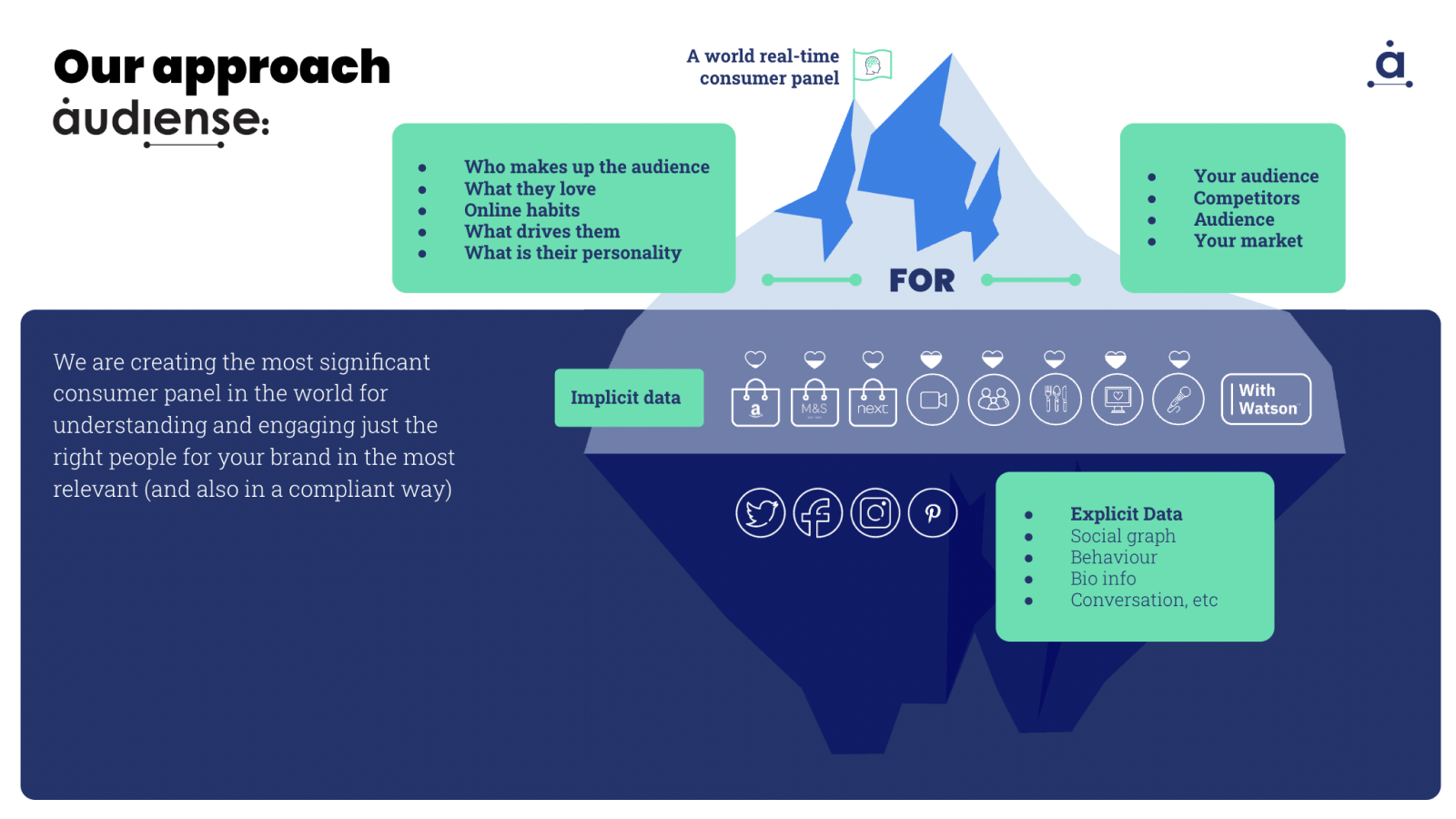 3. Taking the next step into digital data
You might think marketers and clients are on-top of all things digital, but according to Kelvin, there's still space for education in the market in terms of what is possible with social data. "Once you feel like you've tackled the community management and the social reporting and analytics side of things, how do you take it to that next step?" says Kelvin. This is where Audiense becomes an invaluable part for digital consultancies and agencies trying to get more out of client investment.
"A good example of this is the work we do with Onalytica," says Luke. "They've helped to enrich our categorization taxonomy. [Onalytica] found a lot of value in taking a single audience from a single brand and viewing what those audiences looked like different countries." This is a fascinating example of how marketing teams can create truly localised global campaigns, by comparing audiences from country to country and highlighting both similarities and differences. "In personality as well as where to target them," says Luke. "[They were able to help] their client create a multinational strategy, as opposed to have a simpler demographic strategy based on age or gender. It was a nice take on how to use the comparison function in the tool as well."
4. Providing seamless integration across the marketing mix
Perhaps most importantly of all is the ability for YOUKNOW and Audiense to provide clients with seamless tech stack integration across the marketing mix. "We have official integrations and partnerships… a number of our clients are using other social listening tools in the market, such as Netbase, Talkwalker, Brandwatch," says Luke. "There's now a third-party integration which makes it even easier for a Brandwatch customer, for example, to utilize their conversation and to send it over to our platform for segmentation." The simplicity of integration and the ability to share data helps clients create seamless data dashboards and extract truly valuable insight.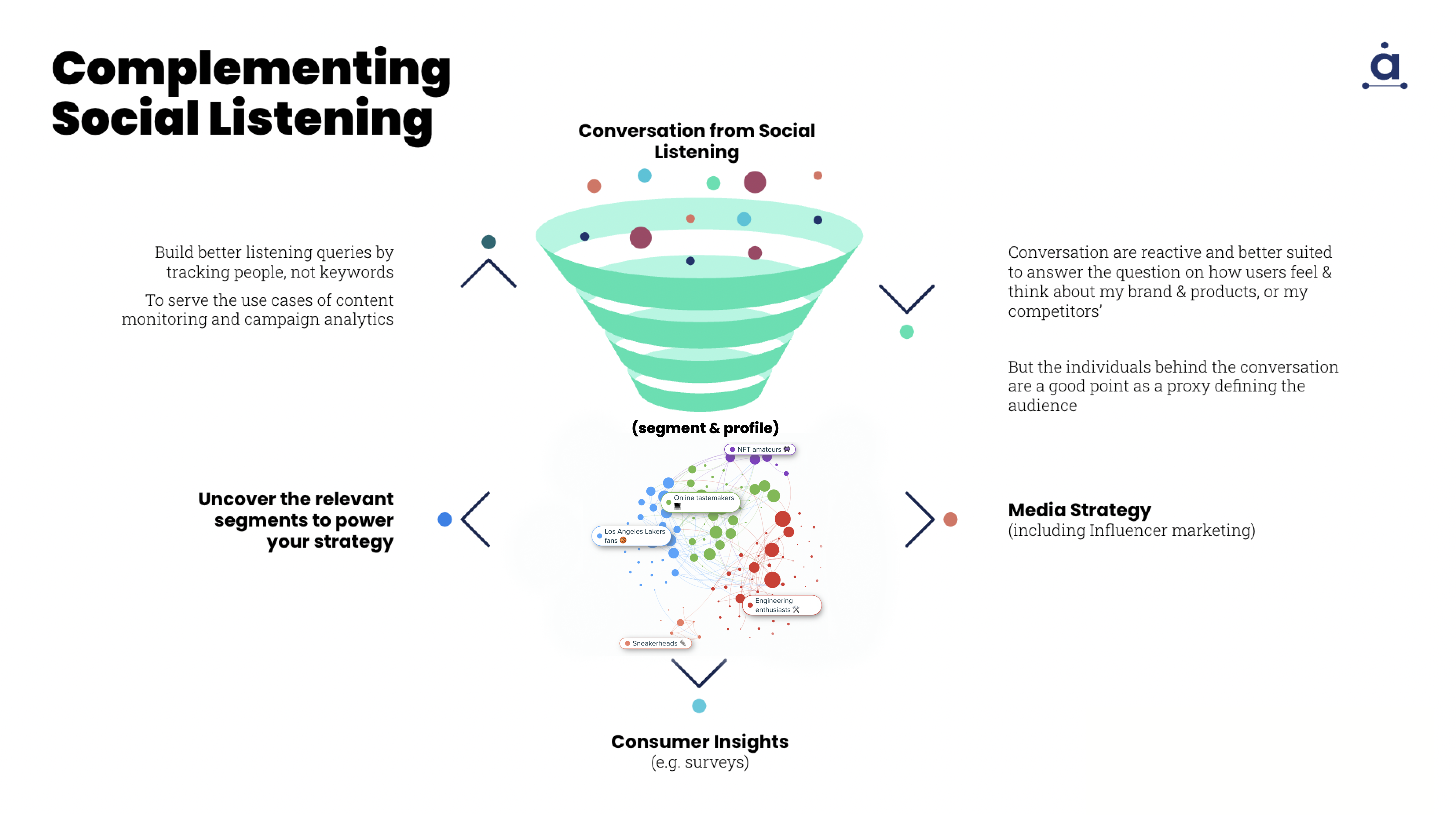 This is key, because according to Luke, "You're looking at a very broad conversation [and] by bringing in those passion points, you know who is driving the conversation and creating buzz." And it's not just about social data. "The other integrations that we have, we work with people like SEMrush, which helped to bring keyword traffic URL, traffic to our influencer list. You may see, and that gives you a holistic view as well, because you may see, okay, these are our top 10 influencers resonating with this segment. Let's match that to SEMrush data. Now we know they may be the biggest on social, but actually this nucleus here is creating the biggest traffic and the biggest URL traffic outside of social."
Interested in helping your clients make the most of their tech investments and audience intelligence? Find out more about becoming an Audiense partner.