Jackie Davies
How big data has changed the music industry forever
The music business has become cutthroat and unrelentingly competitive - artists and music labels are always under pressure to produce that next big hit. To stay ahead, music labels need to be able to navigate the ever-changing preferences of listeners and harness those insights to generate new revenue streams. In order to find that next big hit or next big artist, they need to use big data.
Big data has changed the game for the music industry forever, and we have streaming platforms such as Spotify, SoundCloud, Apple Music and YouTube to thank for that. All of these platforms excel in their ability to track your personal data.
This data is what gives the music industry a head start when it comes to understanding what you are listening to, where you are from, when you listen, how, and how frequently you listen to a song or genre.
Then there is social media, which has also had a major impact on the type of data music labels can analyze because now you can understand not just listening preferences, but you can analyze an artist's audience (or following) as a whole, and discover their non-related music interests.
With all this data and insight available, we wanted to filter down the top things that big data can help music labels discover:
1.
Emerging artists and the audiences behind them
Gone are the days when artists were discovered by someone who had "gut" feeling about them and their talents. This time around they're using real-time analytics to hedge their bets. Millions of pieces of information are tracked daily throughout Spotify, Pandora, Apple Music, as well as websites like YouTube and RadioWave. A thorough picture of an artist's radio airplay, streaming playlist additions and positions, social media interaction, and geolocated listener demographics is offered to stakeholders by aggregators like Chartmetric and Soundcharts.
According to analysts, this is what makes it easy to predict who will blow up next. Chartmetric, for example, can predict which of the 1.7 million musicians it follows will experience a significant career breakthrough in the upcoming week. Next Big Sound (owned by Pandora), claims that their unique algorithm can foretell which artist will most likely debut on the Billboard 200 list in the next 12 months.
Once it's been predicted which artist or song will take off, music labels can then use a tool like Affinio to view and analyze the fans of that artist, including where the majority of them reside, which other artists they love, and what their other interests are, besides music, like their top media outlets, brands, content etc.
2. Where an artist should tour
For many musicians, having a long-term career requires touring. But determining when and where a band should tour can be difficult. Big data can help in making better decisions when it comes to planning out a successful tour.

Social listening tools like Talkwalker can analyze the discussions that are happening around a band online, and determine positive from negative sentiments. They can even pinpoint where the majority of the positive discussion is happening - in turn, surfacing where the majority of a band's fanbase resides and where the band should tour.
The band Cigarettes After Sex discovered, through Spotify, that their primary fanbase was from far-off locations like Seoul, South Korea. They used this information to make the decision to tour there, and in turn, were able to amass a global following of more than 4 million Spotify subscribers per month.
3. Paid partnerships
The best way to discover a profitable artist and brand partnership is by using an audience intelligence tool - one that can show you the overlap between the audience of that artist and the audience of the brand. Affinio can run a report on an artist's audience like Halsey and makes it easy to view that audience's top brand interests. Then the music label can take this data to the brand and propose a partnership and vice versa.
4. Artist collaborations
Similar to brand partnerships, audience intelligence tools can also point out the synergies between two artists. This can foster things like a co-written song or album between the two artists, or it can highlight which two artists should tour together. When using a starting point like Rihanna's USA audience, we can see who else shows up in the list of top artists for her following. By looking at the interest data below, Rihanna's fans would enjoy a collab with bigger artists like Wiz Khalifa, and J.Cole, or more niche and upcoming artists like Remy Ma.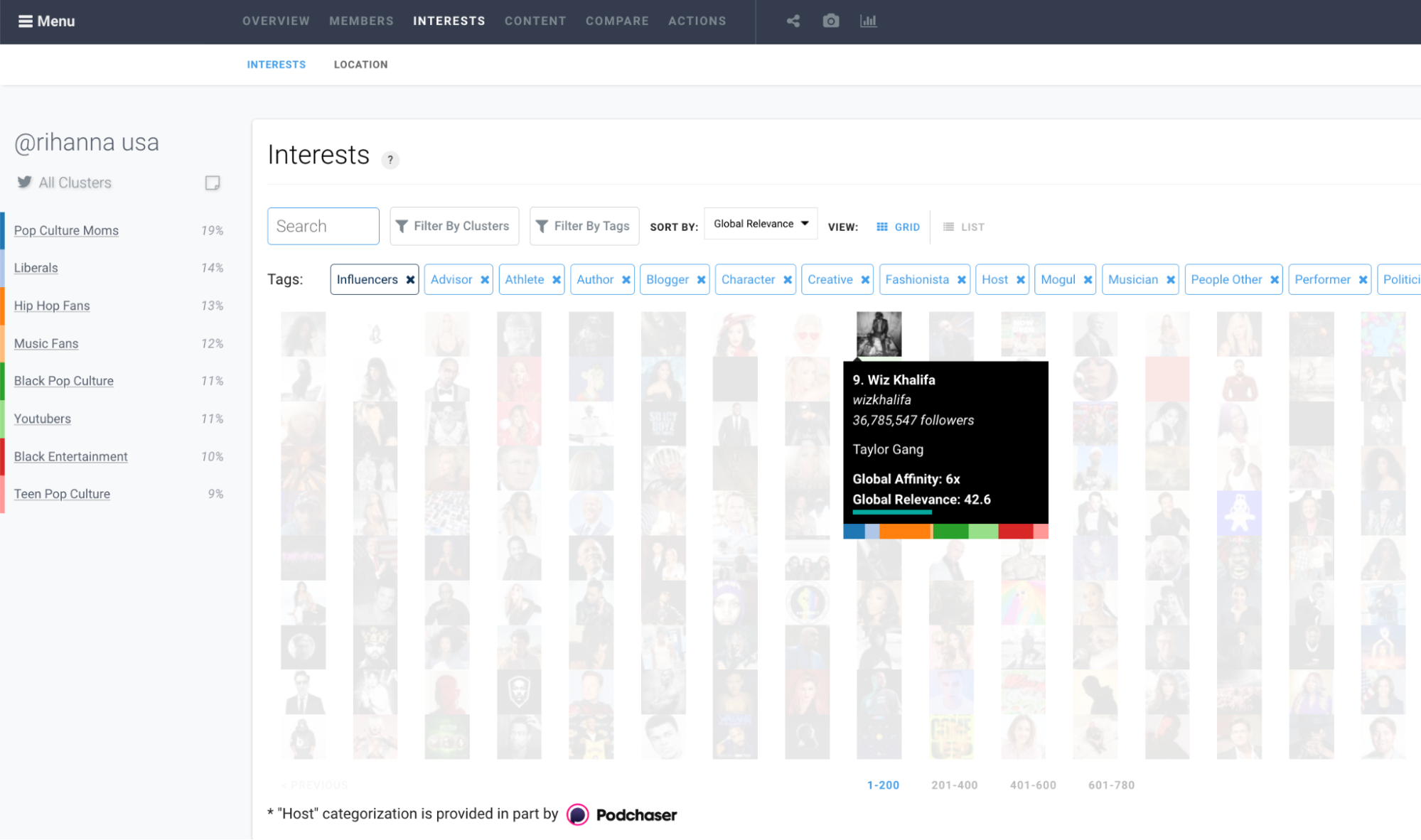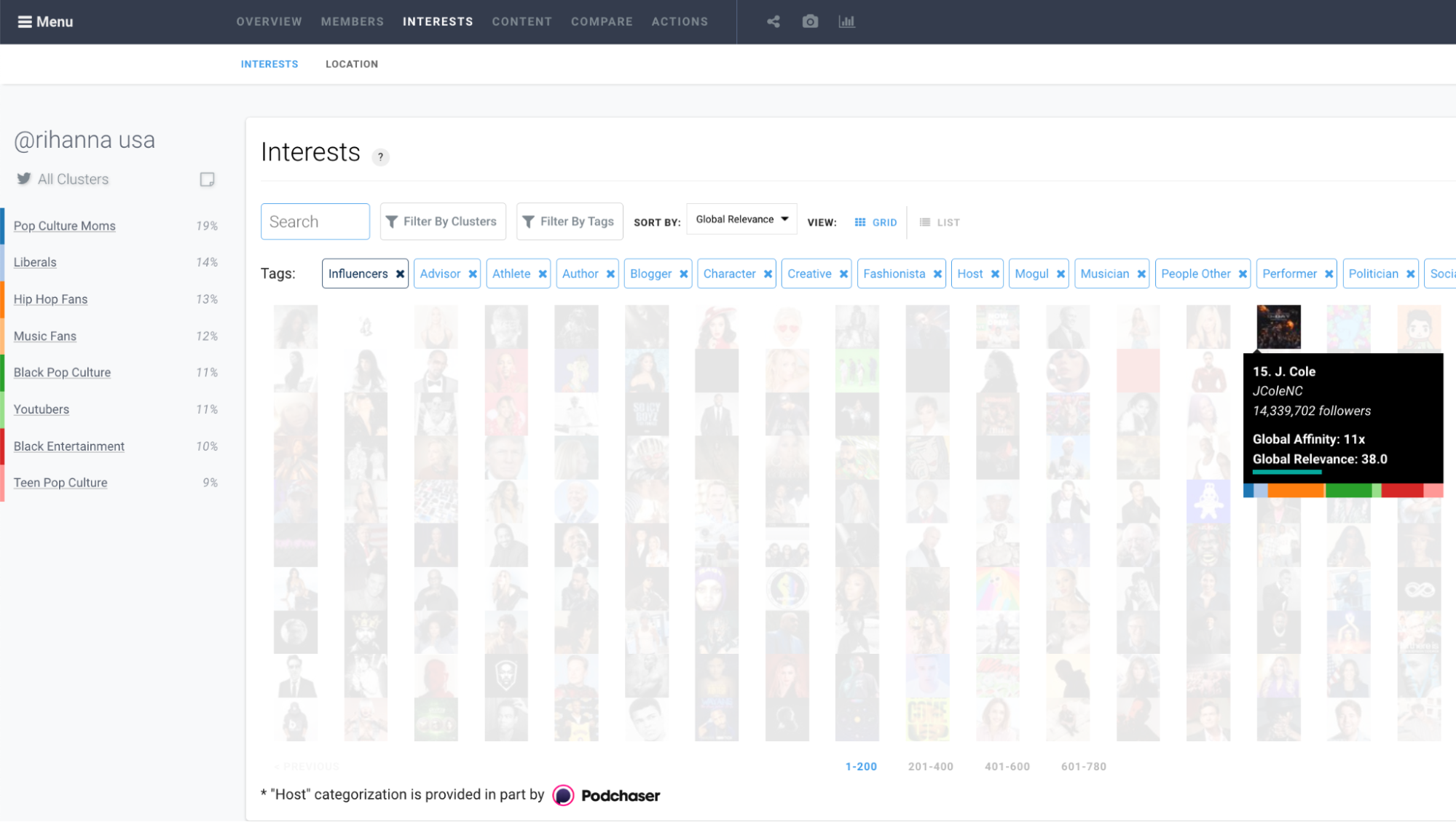 5. The changes in a mature artist's audience and what their newest fanbase looks like
With Rihanna performing at the Super Bowl this year - we used Affinio to see who her audience is present day, as well as look at which new followers she has gained since the Super Bowl announcement. With a mature artist, it's important to have a finger on the pulse when it comes to how their audience has changed over time. Especially in the case of an artist like Rihanna, who hasn't put out a new album since 2016 - it's good to know how her listener's preferences have changed.
In the example below, Affinio has surfaced all of Rihanna's newest followers since it was announced she would perform at the Super Bowl, on September 26th: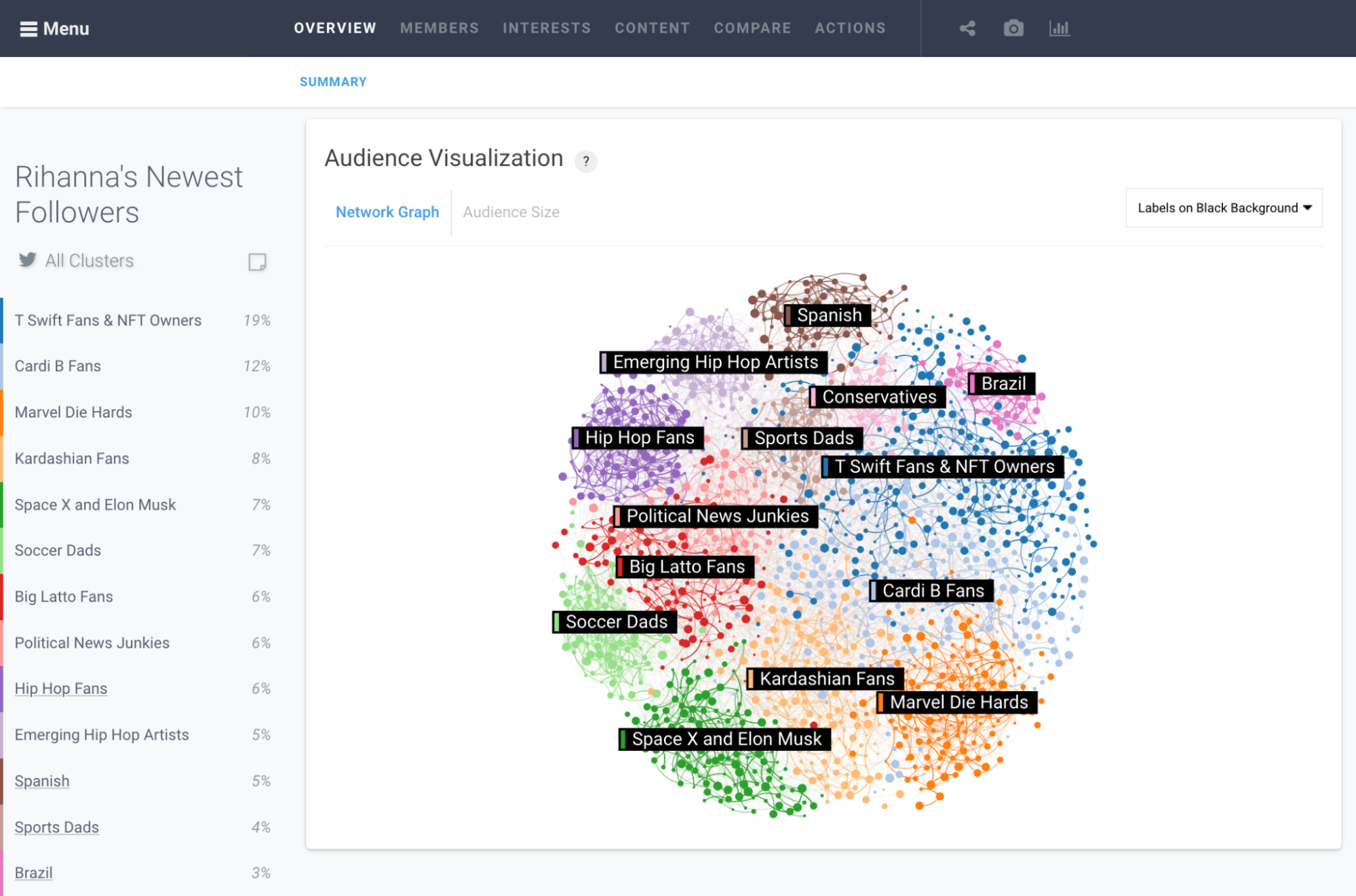 Insights within this report can be used to target these audiences with her newest music when it comes out or can be used to influence the album itself, in terms of this new audience's other top music preferences and interests.
6. Audience engagement
There is now such a wealth of information on music consumers and their engagement due to the growth of streaming services. With all this new information, distributors like Spotify and Apple Music can give artists demographic and geographic insights on their primary audience. Additionally, YouTube develops dashboards that show the location, viewing time, and demographics of its users. These statistics can be used to answer:
How long did my listeners keep my music playing?
Where does my music get played by listeners?
How many times have you saved or skipped my song?
The best places to market songs, or the best times to release songs
There is no doubt that big data has changed the music industry forever. With a world of insights into consumers, and their preferences, music labels have a leg up when it comes to finding the hottest new artist and creating the next big hit. This is also true when it comes to more mature artists, and defining their audiences present day, making sure that artist stays relevant with newer fans. For insights on any artist and the fanbase behind them, sign up for Affinio.