Leticia Polese - Content Marketing Manager
How brands can use Pinterest to get closer to their audiences
If you're looking to roll out a paid ad campaign or want to take a deep dive into the needs of your audience — where's the first place you look?
Like many marketers, "TikTok," "Facebook," and "Instagram'' immediately pop into your head. And rightly so—these platforms are used daily by billions of people worldwide and provide extensive insight into consumer behavior.
But there's another platform that's worth mentioning. One that flies under the radar for many marketing departments but has some excellent potential as a growth driver for certain industries: Pinterest
According to Statista, 445 million people use Pinterest at least once a month. In all likelihood, some segment of your audience is represented in those hundreds of millions. These regular Pinterest users have some pretty interesting tendencies that may be relevant to your business.
For instance, 80% of weekly users have discovered a new brand or product on Pinterest, while 70% say they use the platform to find new products and services.
Hootsuite's Global State of Digital 2022 report finds that the single largest advertising demographic on Pinterest is women aged 25-34. This cohort makes up a whopping 29.1% of their total audience.
That's around 129 million women in their late 20's, and early 30's who use Pinterest regularly.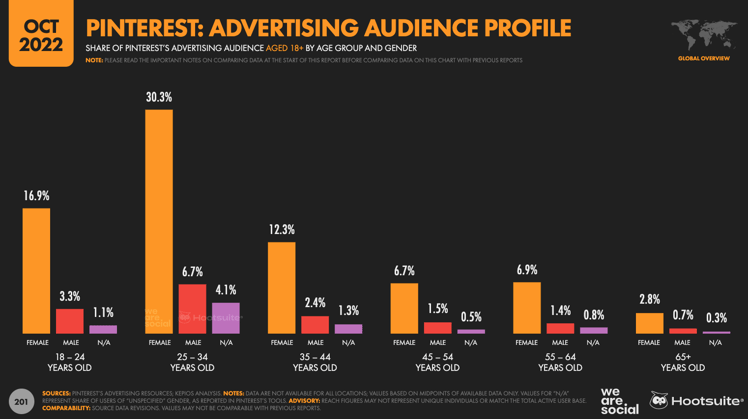 In terms of regionality, the countries with the largest Pinterest advertising audience are the USA, Brazil, Mexico, Germany, France, and Canada. Overall, the majority of users seem to be from countries in North America, South America, and Europe.
On the Pinterest Business page, Pinterest expands on some key details about their audience, such as
The number of males and Gen Z users is up 40% year over year
Millennial users are up 35% in the US over the last year
46% of Canadians with a household income over $100K use the platform
That's some seriously valuable demographic data.
But, in an era where consumers are more selective about the brands they engage with, businesses need more than just high-level information and regional demographics.
You need to know the psychographics, technographic, and segments—the digital tribes—within that broad audience (but more on that later).
Today, we'll take a deep dive into the world of pins and boards to identify how useful Pinterest is for businesses, the brands that are successfully using it, and how you should implement it for your own business (if at all).
Before we get into that, let's take a second to review all things Pinterest.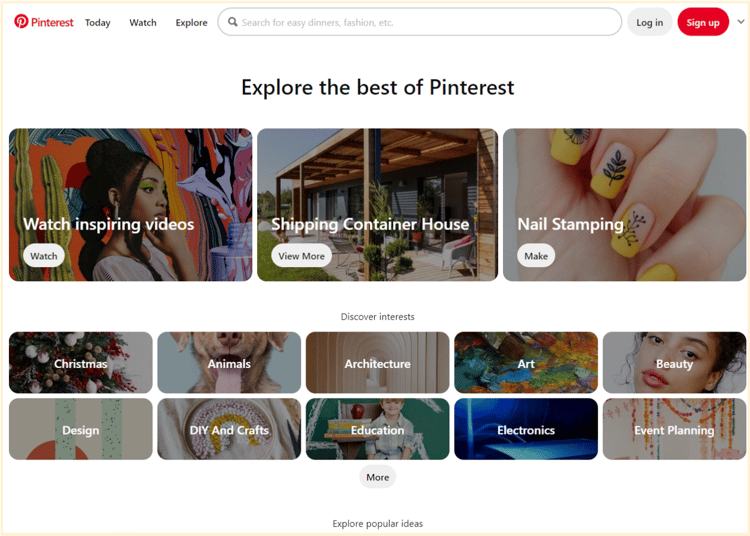 Understanding and using Pinterest for your business
To understand the simplicity and power of Pinterest as a social platform and visual discovery engine, you simply need to understand the name—a hybrid of "pin" and "interest."
It's a place where users, called Pinners, curate content by pinning images and videos together to create virtual, interest-based pinboards. Any Pinterest user can then find content by using the platform's search engine or suggestion algorithm, Explore.
But the platform's real value, for both individuals and businesses, is in how people share, explore, and save the millions of pins and boards available.
Pins and Boards
Pins are the digital bookmarks that Pinners use to save images linked from websites or uploaded by users directly. These images can be "repinned," meaning a pin uploaded or saved to a board by one user can be saved to another user's board.
While the main attraction of pins is primarily visual, typically in image or video format, they also contain a title, description, keywords, and link to a website.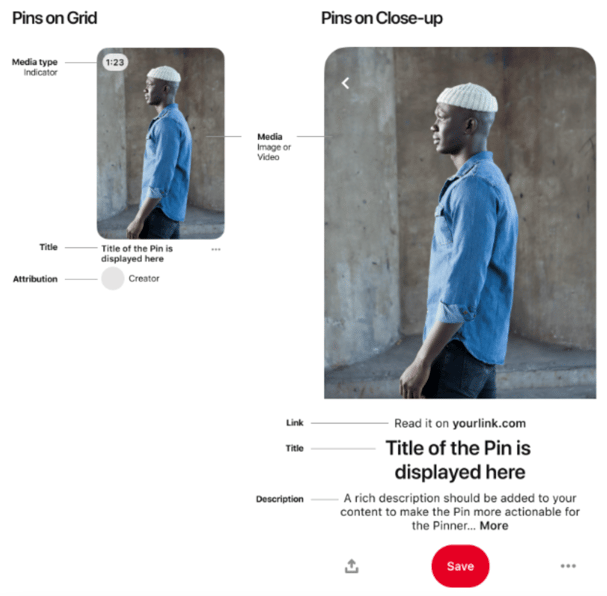 When users upload a pin or discover one they like in their feed, they can save it in thematic collections called boards. Boards often center around a single topic like "home decor" or "makeup," but can also contain multiple topic-based sections.
In addition to following other users, Pinners can follow their favorite boards—shifting the focus from individuals and brands to the topics themselves.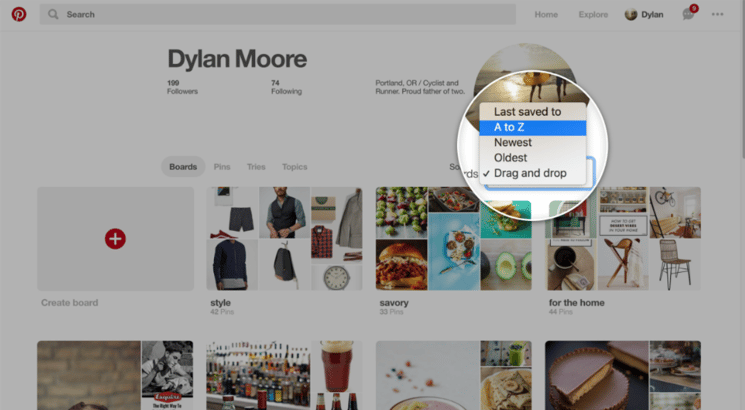 As Pinterest continues to grow in popularity, the company builds off the foundation of its static pins and boards to offer features that drive engagement and business-related actions. Similar to features on other social media platforms, the current iteration of pins includes:
Interactive formats like video and carousel to drive engagement
Rich pins that provide additional information and in-app purchases
Collection pins that display groups of products users may be interested in
Paid ad pins that promote products, services, and branded content
Over this same period of time, Pinterest has also updated the functionality of their boards, including:
Groups boards for collaboration between users
A toolbar for quick edits and navigations
Notes about the content of specific pins and boards
A "favorite-pins" icon directly on boards
These updates are a big reason why prominent personal brands and businesses in niches like hospitality, fashion, design, and retail adopt Pinterest as a marketing tool.
Personal accounts and Pinterest Business
Pinterest gives users the option to create distinct business accounts, convert personal accounts to business accounts, and even link between the two for ease of use. The features between personal and business accounts are similar in terms of posting, pinning, and creating boards.
However, Pinterest does provide businesses with additional functionality to help them expand their brand more quickly on the platform.
Pinterest Ads: Business accounts can create paid ads for specific goals like increasing awareness, improving traffic on branded sites, driving conversions, and generating in-app sales
Ads Manager: A tool to help create, edit, and launch multiple Pinterest Ads campaigns and monitor performance
Insights and Analytics: Pinterest provides insights and reports about emerging trends within the wider user-base, based on interests, demographics, and trending searches
Shopping Solutions: Features to automatically feature products in-feed, connect to eCommerce platforms, and become a verified merchant
With all these features, it's no surprise that spending on Pinterest Ads, the creation of business accounts, and the adoption of in-app shopping have all increased over the past decade. Pinterest makes it easy for brands to connect with their audience to drive conversions.
Now let's take a look at how some brands are using Pinterest right!
Brands on Pinterest that get marketing right
We've already seen that this platform is particularly effective at reaching users identifying as females in their 20's and 30's. With this in mind, it's not surprising that some of the most successful brands on Pinterest in terms of marketing are in the retail, fashion, and beauty products industries.
Anthropologie
Lifestyle brand Anthropologie brilliantly leverages Pinterest to build up and empower its customer base while simultaneously marketing its wide range of products. Their pins and boards, which feature everything from apparel and accessories to home decor and gardening products, have earned them some 1.8 million followers that bring in over 10 million views—every month.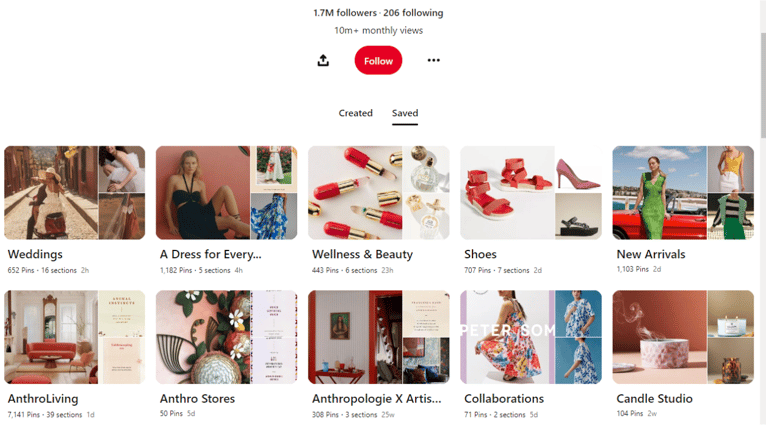 Lululemon
Athletic apparel brand Lululemon is another company that's finding lots of success on Pinterest. They use pins and boards to curate and distribute educational workout videos, gift guides, and other content that inspires their audience. They also use the Pinterest Shop feature to display the latest deals and most popular products to their 2.3 million followers and 9.5 million monthly viewers.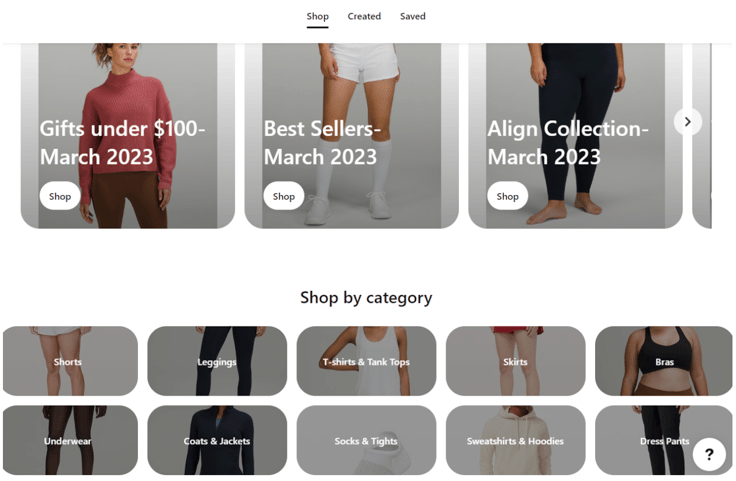 However, there are plenty of brands outside the retail space that have found success on this overlooked social platform as well.
Airbnb
Online home sharing marketplace Airbnb is particularly well-suited for promotion with Pinterest's pin and board creation feature. While the brand's 180,000 followers are modest in comparison to the previously mentioned companies, they are still able to generate over 10 million views thanks to their aesthetically-pleasing shots of potential stays. These posts also link directly to sections of the website, making it easier for their audience to book their next stay.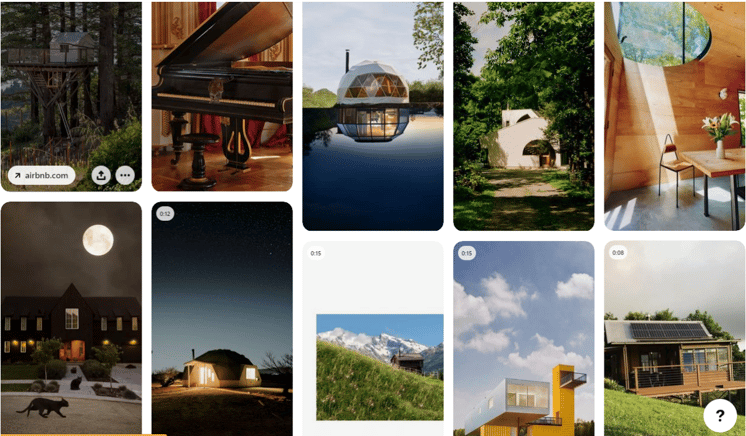 Now that you've gotten a glimpse of how other brands use Pinterest to promote their brand, let's look at how you can identify the platform's relevance to your own company.
Identifying Pinterest's relevance to your brand
Understanding how relevant Pinterest is to your marketing activities requires an in-depth understanding of your own audience, not just Pinners in general.
That means before investing in any Pinterest Ads or content creation, conduct an extensive analysis to ensure that each segment of your audience matrix is receptive to this type of social content.
Audience segmentation tools are the perfect way to zero in on the different subcategories within your broader audience that are likely to use Pinterest.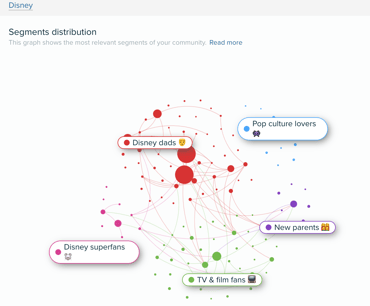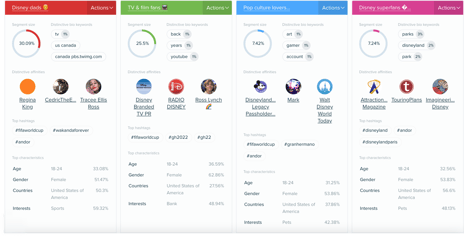 How to hit the ground running with Pinterest marketing
While you don't want to rush into any promotional efforts, quickly verifying and rolling out a Pinterest marketing strategy will give you a competitive edge over your competitors. Here are the main steps to quickly rolling out an effective campaign:
1. Understand your audience
Knowing what content and channels resonate most with your audience is key to the success of any social media campaign -particularly when you're going after a specific niche. To collect the demographic, psychographic, and technographic data necessary to understand the online behavior of audience segments, you'll need to adopt the right analytics tools.
2. Optimize your content distribution
For a social media platform like Pinterest, how you distribute your content is just as important as the content itself. It's all about content distribution.
For instance, DTC retailers looking to increase brand awareness might take advantage of catchy content formats like rich pins and collections. A service-based design firm that wants to build its following might create boards that extensively showcase work samples and how-to content.
You'll also want to optimize each pin and board for both the search function and the Pinterest Explore algorithm. This can be done by:
Using unique image and video content in your pins
Using popular keywords for pin and board labels
Write detailed, keyword-rich descriptions
Align all the content within your board around a central theme
3. Build a community
The days of flooding platforms with overly-promotional, fluffy content to drive conversions are over. Building an online community is about providing your audience with value upfront to build a dialogue and relationship between your brand and customers.
Even though Pinterest is a primarily visual platform, you can still foster a community of engaged Pinners by posting content that aligns with your brand goals and the values of your audience. Here are a few tips from Pinterest to get you started:
Create new content regularly to maximize your reach
Use the trends tool to identify which content Pinners want to see
Tag relevant topics before you publish new content
Fill out all sections on your boards to improve discoverability
Take advantage of in-app commerce features to drive sales
Pinterest is similar to Reddit, Quora, and Facebook in that users can follow groups as well as other users. This becomes a major benefit when your goal is directing people toward your brand to boost traffic and online sales.
4. Monitor and iterate
Creating and maintaining a successful Pinterest marketing strategy is an ongoing process—you need to make adjustments and fine-tune your approach as it rolls out. Your best friend throughout this process:
Accurate, real-time data on your audience.
Pinterest provides business accounts with plenty of tools to track the success of ad and post-performance, plus resources about micro and macro trends in the behavior of Pinners. Still, you need to have information about the specific segment of your audience who use the platform.
By tracking and analyzing your broader business audience and comparing it to your insights from Pinterest, you can confidently identify which direction to take your content in as you continue to iterate.
Set your Pinterest marketing strategy up for success with Audiense Insights
The foundation of any good social media strategy—whether it's Pinterest or TikTok—is a thorough understanding of your audience segments that regularly use the platform.
You know that Pinterest is frequented predominantly by women aged 25-35 from the West, with a growing audience among Millennial and Gen Z males. You also know that the platform is a popular space for sharing content related to fashion, retail, design, and cooking.
Now you need to analyze your audience segments to identify whether investing in a Pinterest marketing strategy is worthwhile for your business.
You need Audiense Insights.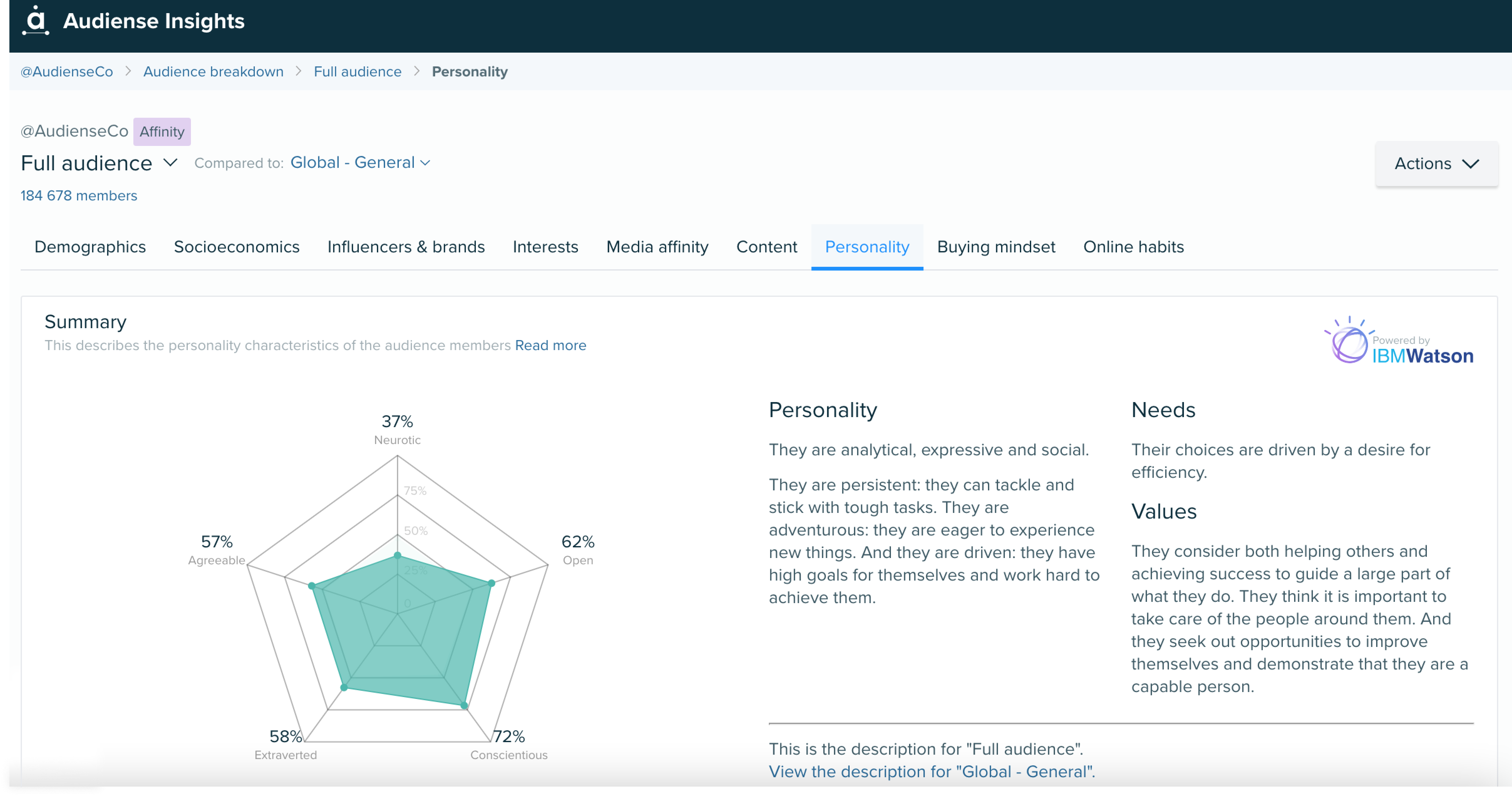 Audiense Insights is the perfect tool for brands that need to take an extensive audit of the niche audience segments that make up their overall target market. With numerous filtering options, powerful analytics capabilities, and an extensive reporting function, Audiense makes it easy to stay informed about your consumer base in an era of constant change by tracking:
Demographic and socioeconomic data
Influencer and content preferences
Personality dimensions, needs, and values
Online behavior and buying mindset
Key takeaways
Now that you're more familiar with Pinterest, let's recap how you can use this valuable tool to get closer to your audience. Here are the key points:
Perform an in-depth analysis of your own audience to determine how it overlaps with Pinterest's user demographic.
Create new content regularly to maximize your reach and use the trends tool to identify which pieces Pinners want to see.
Optimize each pin and board for both the search function and the Pinterest Explore algorithm.
How you distribute your content is just as important as the content itself—it's all about content distribution.
Foster a community by posting content that aligns with your brand goals and the values of your audience.
Take advantage of in-app commerce features to drive sales.
Above all, you need to remember that Pinterest marketing is an ongoing process. The platform—like your brand and audience—is dynamic and subject to change, so you need to keep tabs on how consumers react in response to these changes.
Learn how you can use Audience Insights to identify and track the segments of your consumer base who are most likely to resonate with Pinterest marketing.