Paz Segura - Marketing Manager
BREAKING NEWS: How journalists can use social data in their day-to-day work
While social data is most commonly associated with marketing, other professions can also make use of it to streamline their day-to-day work. In particular, the timely and accurate audience data that you get from social media can inform many aspects of your work as a journalist.
In this blog, we're going to share actionable ways you can leverage social data in the field of journalism. Listen up in the newsroom, because we have breaking news!
Identifying people's topics of interest
The most popular use of social data is in identifying the topics that are of interest to your audience so you can generate story ideas. Social data can give you clues about what topics are most likely to interest your audience by analysing which articles and content have worked best at a given time.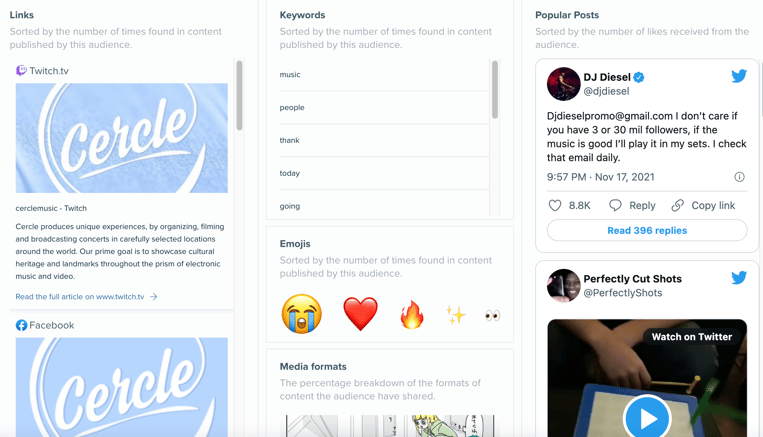 Review how different news publications have been received to understand what types of news your audience found appealing. You should also look at which news topics managed to generate the most social media conversations. Use social listening tools to highlight trending conversations among your audience and understand how they've engaged with certain topics to get a better idea of what topics are worth covering.
Use a tool like Audiense Connect to see how people have interacted with your Tweets. This Twitter marketing platform comes with robust features to analyse and manage your community. You can use it to gather community insights, compare yourself against the competition, and analyse your Tweets. So it will help you to easily identify your most impactful content, helping you understand how well certain topics have resonated with them.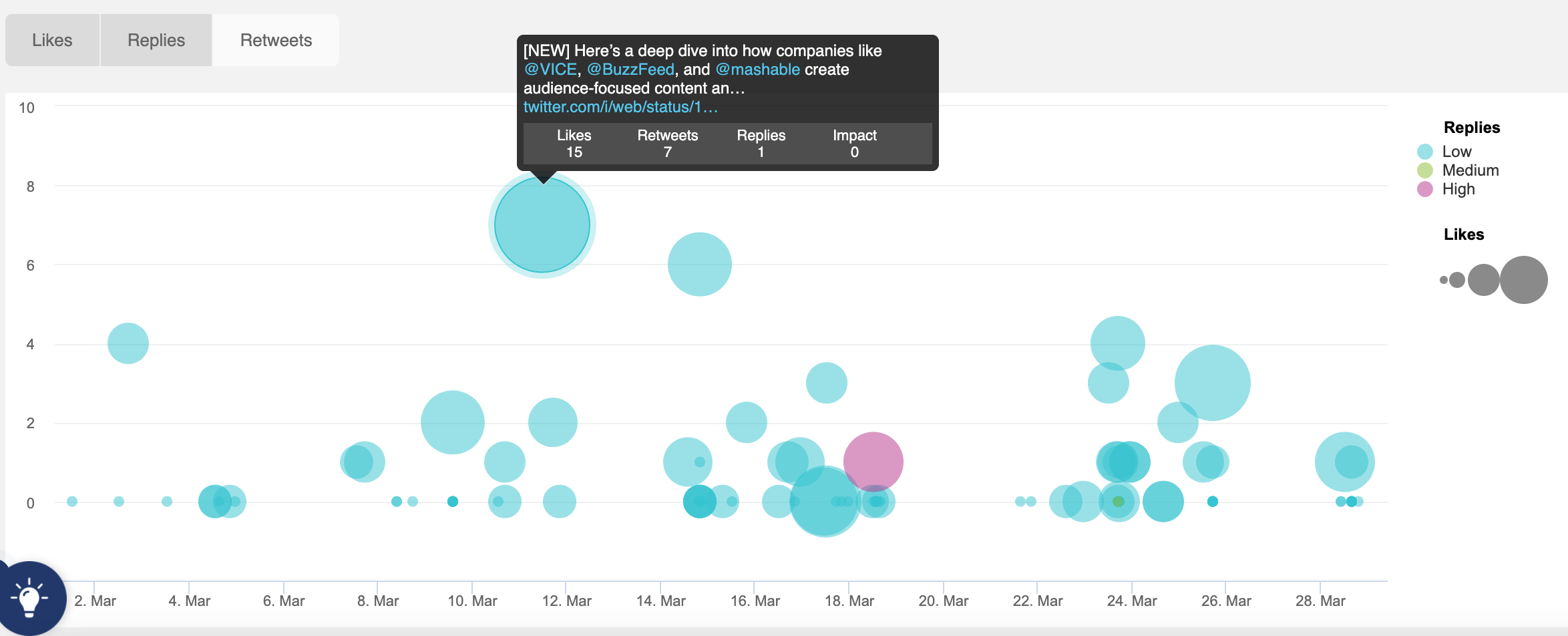 Understand the questions people want answered
Listening in on social media conversations can help you gauge your audience's biggest concerns and questions. For example, do they want to know how a certain bill impacts their lives? Or do they have questions about why a recent brand controversy is such a major topic of discussion?
As a journalist, you're constantly striving to produce content that would add value to the lives of your audience. This type of social data can inform the stories you should cover next since you're helping to answer pressing questions that your viewers or readers might have.
Investigation and impact forecasting
Social listening is a high-value tool when investigating the impact that certain topics may have. It provides you with quantifiable data regarding the impact and scope that certain topics of interest have among the general population or in certain segments. As such, it is very useful when "selling" content to an editor, This will help to assess whether the topic is likely to generate more news and content around it.
Boosting audience engagement
As a journalist, your ultimate goal may be to increase the reach and impact of your news reports. Improving audience engagement and nurturing your relationship with readers or viewers is one of the best ways to accomplish this goal. This helps you establish a name in the industry as your readership or viewership grows larger.
You can enhance this relationship by distributing your content proactively to your audience. More importantly, this should be distributed through direct and personalised communications. You can use social data to determine the best channels and the ideal language for communicating with your audience. This will allow you to share your content through the right platforms where your target audience is most likely to see it.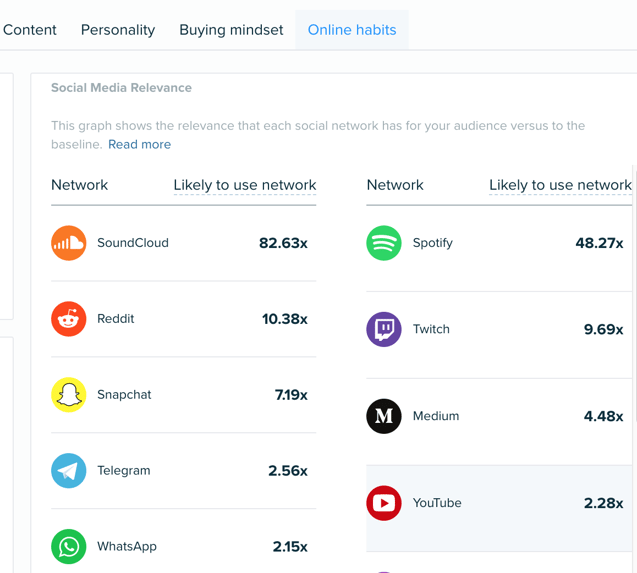 Additionally, looking at Twitter data can help you to identify opportunities to engage in conversations that your audience is interested in.
Identifying people with influence
Social data and the insights derived from them make it possible to identify the most influential personalities for an audience. Analysing audiences, conversations, or interest groups makes it possible to discover people who are leading those conversations and influencing the audience you want to reach.
These influential people can add value to your content by offering context to the topics being discussed, providing quotes and opinions, or directly by being the subjects of an in-depth interview. Social data helps to provide the guarantee that these topics or stories will absolutely be of interest to your audience.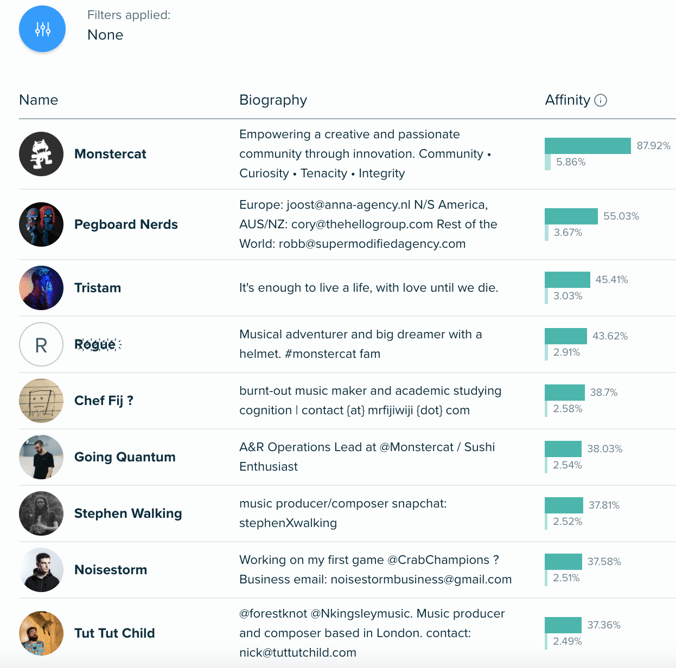 Combating fake news
Social data also makes it easier for journalists to combat fake news, which has become even more rampant over the past few years. Thanks to social data, the authenticity of the social profiles that share certain news can be easily verified. It's also possible to identify fake accounts or bots that are involved in the dissemination of this fake news.
Tips to use social data for PR pros
The value of social data doesn't just end in the newsroom. Even professionals in public relations can make use of it by deriving useful audience data. Here are some ways you can use social data to help with digital PR:
Finding the best publications to pitch to - As a PR professional, you have to ensure that stories reach the right audience through the right publications. And social data can provide you with valuable information on the kinds of publications that have an impact on your audience.

Conducting audience research for your PR campaigns can help reveal the media your audience is consuming so you know which outlets to pitch your story to. According to

Michael Brito

, this type of audience data can help you determine the publications that "truly own the narrative."


Identifying the best contacts at target publications -

Audience research for digital PR

is crucial for amplifying your media outreach efforts through the right contacts. For starters, it helps you to identify the most popular media outlets among your audience so you can find reporters for the publication to whom you can reach out. Additionally, you can also use it to determine the most influential reporters and media personalities who are a good fit for your brand and campaign.
For journalists, social data can help you identify topics and stories to cover and forecast the impact of certain news topics. It's also a useful tool for identifying influential people to amplify your coverage. Alternatively, it even helps you combat fake news by confirming the authenticity of certain social profiles.
Whether you're a newsroom journalist or a PR pro, social data can prove to be invaluable for your profession. Using a tool like Audiense makes the job much easier, helping you uncover various aspects of audience data that you can use for your stories and campaigns. Sign up for free and see how it works.