Michelle Deery
How niche audience analysis helped create a winning programmatic advertising pre-launch campaign
Interact Works is a digital marketing agency that specializes in offering programmatic advertising services. To create campaigns that deliver excellent results to their clients, they target specific audiences with ads that contain relevant content.
Its client, Digitrax, is an innovative music platform that contains a music catalog with over 15,000 note-perfect sound-alike recordings for sale. Interact Works was tasked with creating and implementing Digitrax's pre-launch campaign — and the project came with challenges that needed to be solved.
The challenge
Given the specialized nature of the platform and its offerings, Digitrax's pre-launch campaign success was directly tied to reaching and engaging two specific audience groups. These audience groups were individual musicians and music production businesses, with a focus on those within the hip-hop and rap genres.
Discovering and learning about these groups in detail was critical to ensure Interact Works could create ads that targeted different segments and converted — so they would result in:
Increase in the volume of free account registrations
NFT package sales to increase revenue
This meant the agency needed a tool that could help them gather data to learn what Digitrax's target audience is like — going beyond demographics.
The solution
To solve these challenges when creating Digitrax's pre-launch campaign, Interact Works adopted two tactics. This included proprietary blockchain analysis to understand Digitrax's target audience's activities within blockchain networks.
Secondly, it used Audiense Insights to gather detailed information about the behaviors, preferences, and interests of the audience. Let's take a look at what their analysis uncovered.
Identified insights about their audience
Interact Works used Audiense to analyze the followers of the social media accounts @BandLab, @Splice, @BeatStars, @FL_Studio, and @SCsupport. This allowed them to gather a holistic view of Digitrax's target audience that included the following data:
Social media preferences
Demographic details like age, country, and city of residence
Preferred music platforms like Spotify or Soundcloud
Tools and technologies used in music production
Common themes around which songs are written, like societal issues
Terms and labels they identify with, such as 'hip-hop producer'
Gender distribution
Created segments based on insights
Interact Works then created specific audience segments.
1. DJs
Segment profile:

The DJ segment accounts for 14.06% of the total audience size, characterized predominantly by young males in their twenties from the US. These individuals are music enthusiasts who identify themselves as DJ producers within the electronic music landscape, showing a strong affinity for Electronic dance music (EDM).
Demographics:
Age: The majority are between 18-24, accounting for 43.44%
Gender: Predominantly male, making up 85.62%
Primary location: The primary location is the US, with a 23.34% representation
Interests:
A vast majority, 78.58%, display an interest in radio
Cities of interest:
North America: Vancouver, Toronto, Seattle, New York City, Miami, and Los Angeles
Asia: Tokyo
Europe: Paris and London
Top influencers within this segment:
Skrillex
Deadmau5 (Goat Lord)
Tiesto
Campaign strategy for this segment:
To successfully engage the DJ segment, the campaign centered its attention on platforms and pages associated with DJ producers, electronic music, genres like dubstep and trance, and other related themes.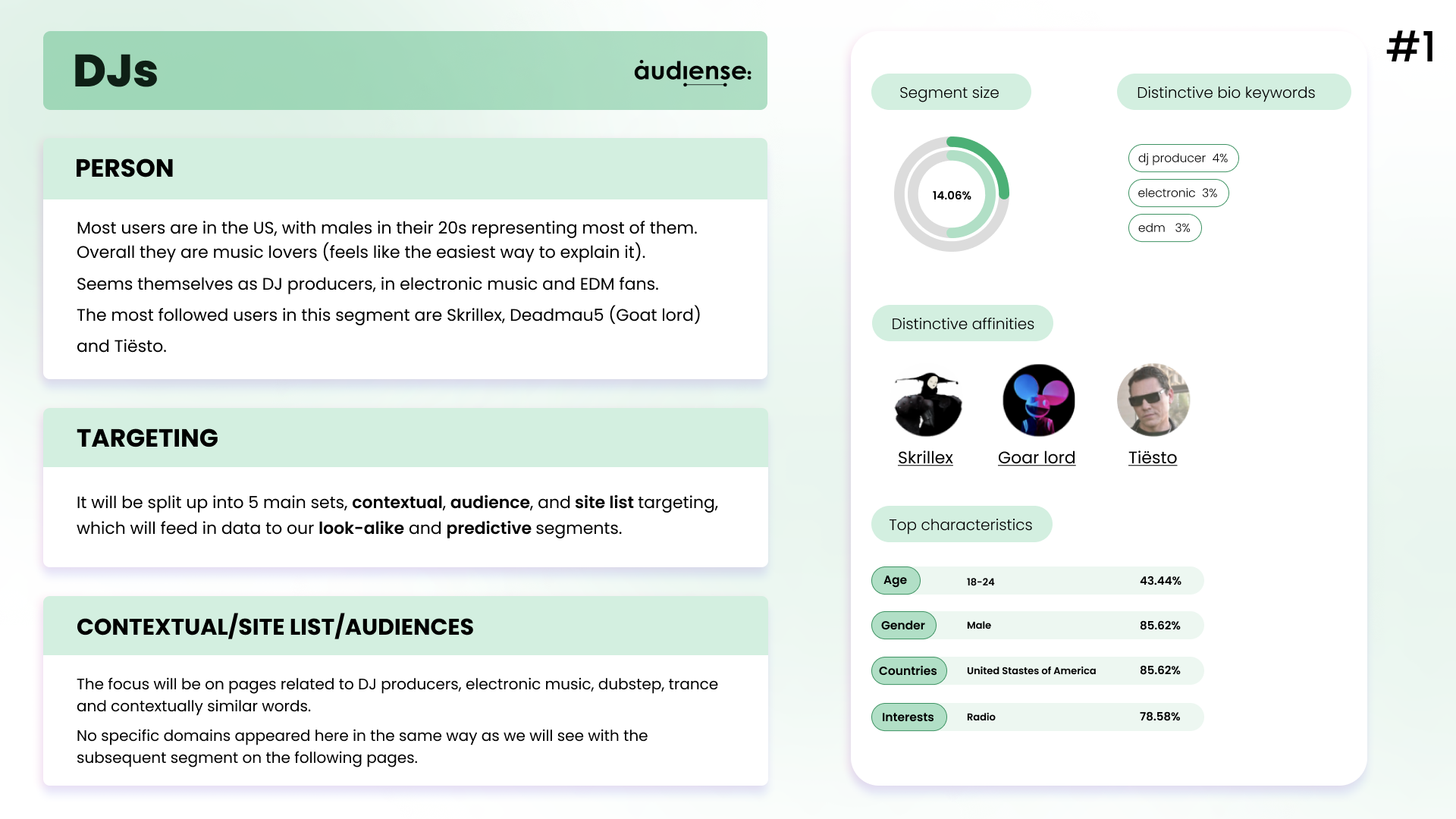 2. Hiphop producers
Segment profile:
The hip-hop producers segment makes up 13.57% of the total audience. Predominantly male, a significant portion of these individuals are in their twenties and are mainly based in cities across the US. They identify as hip-hop producers, songwriters, and rap recording artists.
Demographics:
Age: A majority fall within the 18-24 age range, representing 46.21%
Gender: Males make up 74.32%
Primary location: The US dominates this segment with 65.91%
Interests:
76.3% show a keen interest in societal issues and trends
Cities of interest:
North America: Philadelphia, New York City, Miami, Los Angeles, Houston, Detroit, Dallas, and Chicago
Europe: London
Top influencers within this segment:
DJ Drama
Fabolous
Jadakiss
Campaign strategy for this segment:
The campaign focused on platforms and content that resonated with hip-hop culture, including rapping, recording artists, and beat-making. Key domains for targeting include xxxlmag.com, billboard.com, and vibe.com, offering valuable marketing outlets to reach this audience effectively.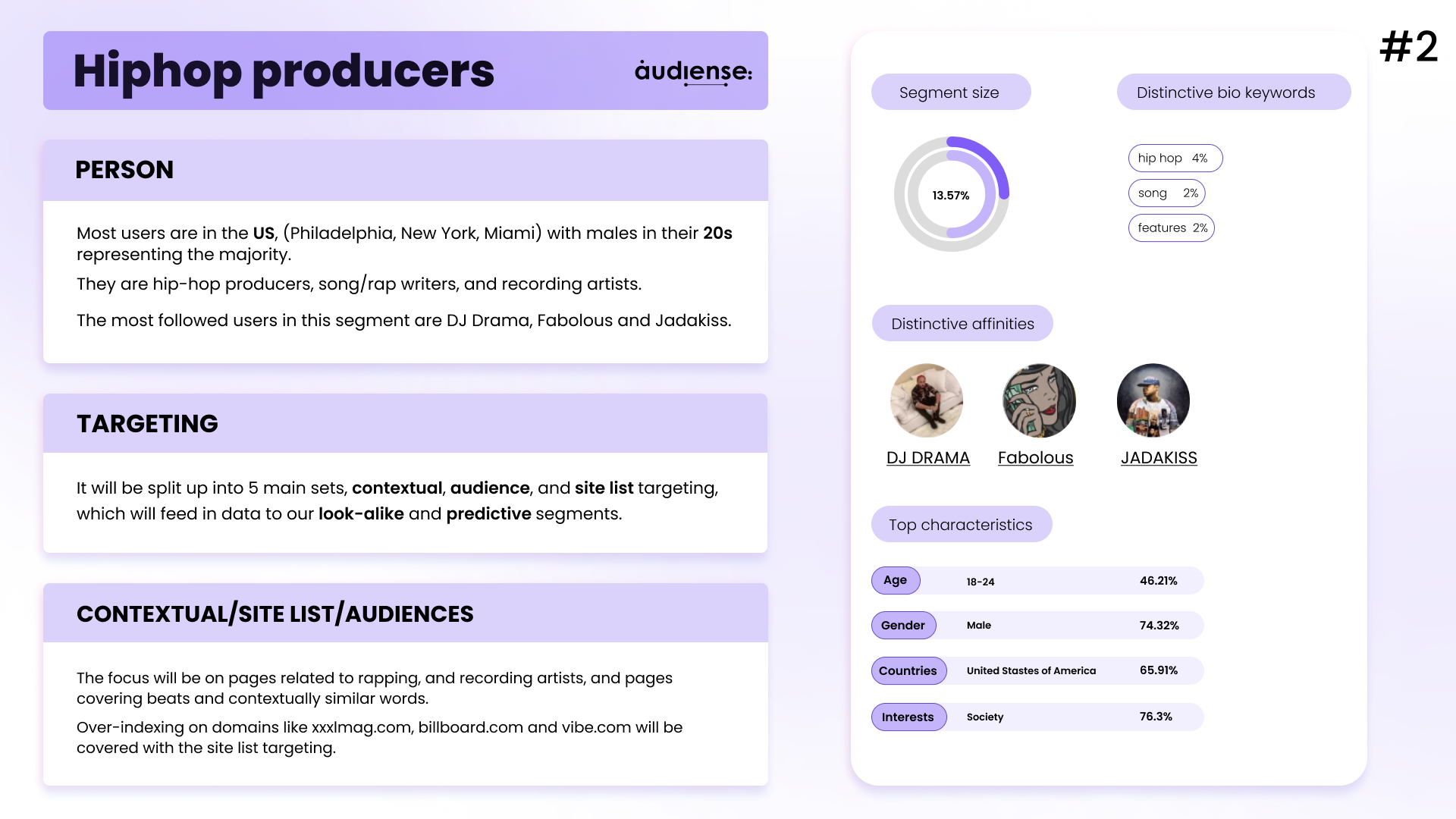 3. Song writers
Segment profile:
Comprising 20.58% of the total target audience, songwriters are primarily young males in their twenties. Their geographic distribution leans towards the US, but they also have a substantial global presence.
Demographics:
Age: Predominantly within the 18-24 bracket, accounting for 46.35%
Gender: Overwhelmingly male at 80.35%
Primary location: The US leads the chart with 41.77%, but they also resonate globally
Interests:
A significant 55.8% showcase a pronounced interest in sports
Cities of interest:
North America: Toronto, Miami, Los Angeles, Detroit, Chicago, and Atlant
Europe: Paris and London
Asia: Moscow
Top influencers within this segment:
RhymeStars
Blue Microphone
Still Movin
Campaign strategy for this segment:
Given the broader interests of the songwriter segment, the targeting was more expansive. While music remains this audience's core passion, their diverse interests meant the campaign could be more versatile.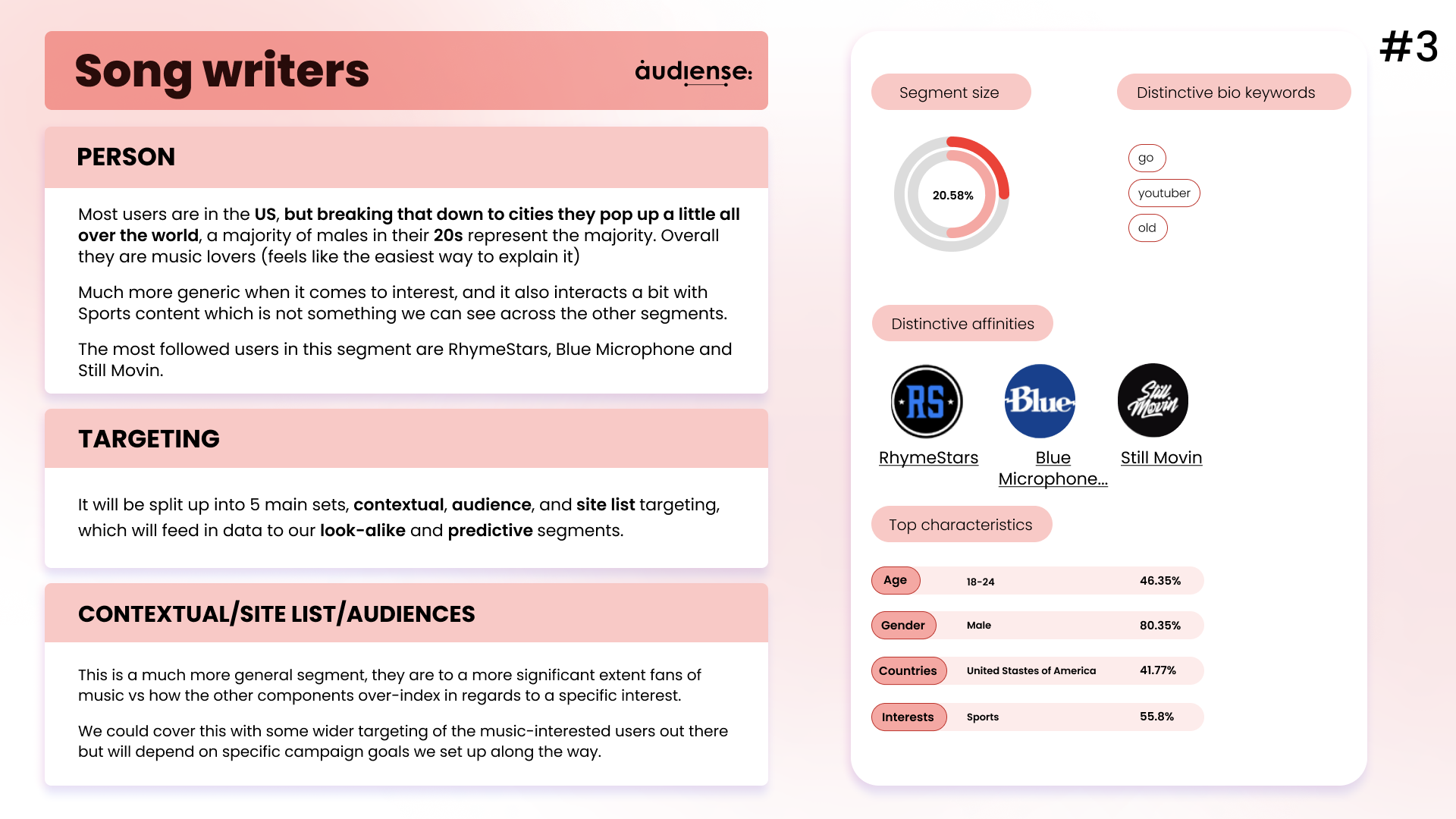 4. SoundCloud producers
The SoundCloud producer segment encompasses a sizable 21.73% of the total audience. These individuals predominantly identify as beat makers, music producers, and enthusiasts of the trap genre.
Demographics:
Age: The primary age group for this segment falls within the 18-24 range, accounting for 45.54%
Gender: It is a male-dominant segment, with males constituting 79.64%
Primary location: A significant 50.78% are based in the United States
Interests:
The majority, at 88.81%, have a pronounced interest in society.
Cities of interest:
North America: The leading cities in this region are Toronto, New York City, Miami, Los Angeles, Houston, Dallas, Chicago, and Atlanta
Europe: London stands out as a major hub in Europe
Top influencers within this segment:
Uzi London
Metro Boomin
Travis Scott
Campaign strategy for this segment:
For this segment, the campaign pivoted towards advertisements highlighting beat-making and music production. An added advantage was the potential to engage users directly from SoundCloud to Digitrax, ensuring a deeper reach and connection with the segment.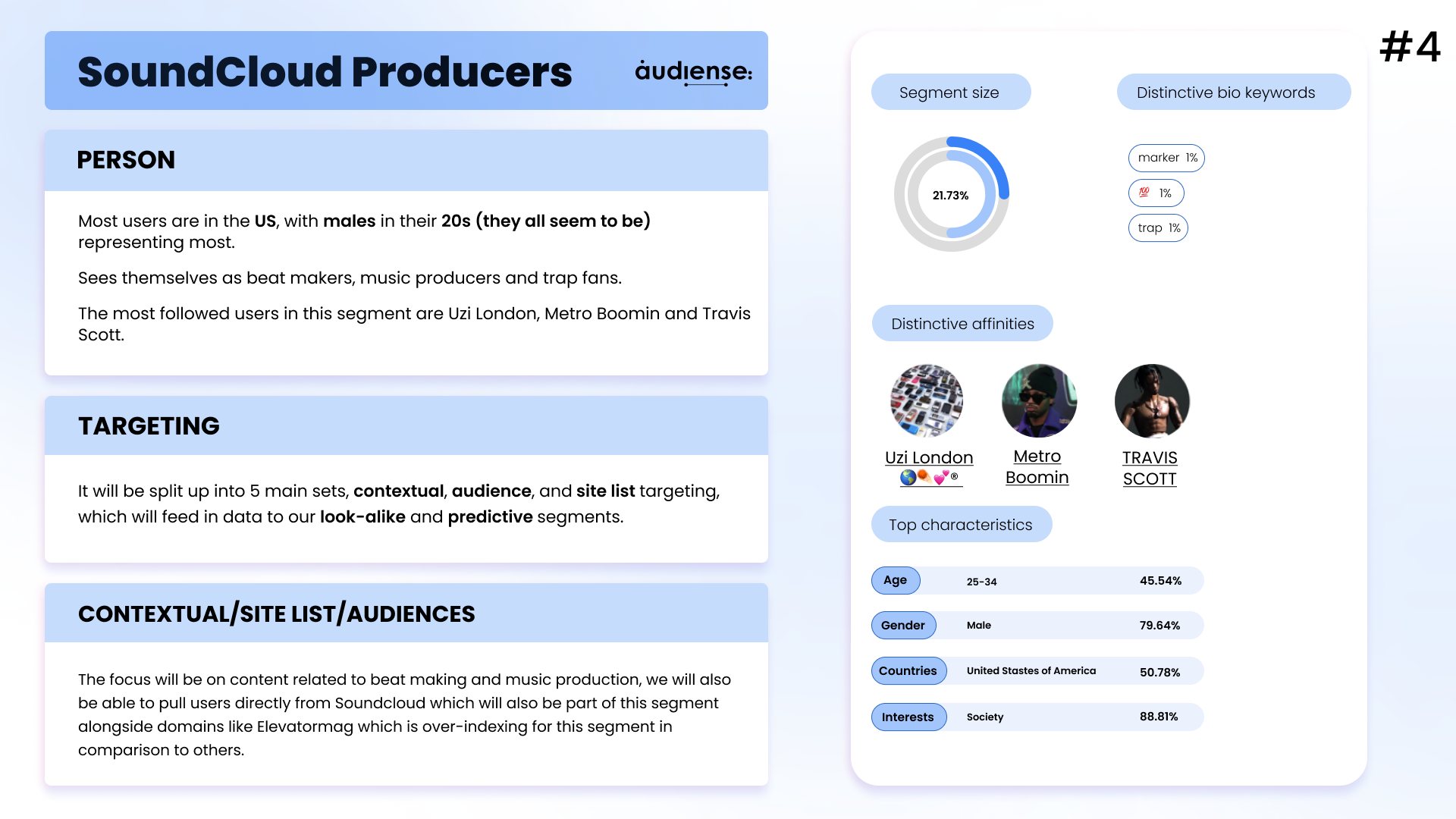 The results
As previously mentioned, two primary KPIs gauged the campaign's success, reflecting the audience's readiness to embrace Digitrax. They are:
The volume of registrations on the Digitrax platform

Sales of song copyright NFT packages
After the campaign, both the registrations and NFT sales surged, meeting the KPIs. Interact Works and Digitrax are satisfied with the campaign's performance and its impactful results.
Here's a quote about the pre-launch campaign from Nikals Andersson, co-founder of Interact Works:
"In the rapidly evolving digital marketing landscape, the key to success lies in understanding and adapting to your audience's behaviors and needs. Tools like Audiense that enable detailed social analysis are invaluable in achieving this, providing marketers with the insights they need to deliver relevant and impactful campaigns. As our work with Digitrax demonstrates, when used effectively, these tools can drive meaningful engagement and results."
Conclusion
Audiense played a key role in the campaign. Its deep analysis provided insights into the target audience's behaviors, interests, preferences, and more — helping decide what users to target in programmatic ads and increasing the ROI of Digitrax's pre-launch campaign. Find out more about Audiense here.