Paz Segura - Marketing Manager
How the 'Reinventing the concept of influencers to your marketing strategy' webinar played out
On Wednesday, alongside Pulsar, we hosted our webinar "Reinventing the concept of Influencers to your marketing strategy" and we had a fantastic time. Our fabulous Carlos Serra and the amazing Francesco D'Orazio from Pulsar spoke about how Influencer Marketing strategy is evolving and what approach marketers should take to do smart influencer marketing for their brands.
Did you have the opportunity to join us for the webinar? We'd LOVE to hear your thoughts. If not, don't worry you can catch up by watching the recording of the session below.
Some of our highlights:
What makes an influencer an influencer
What would you say an influencer is if you were asked? There are so many definitions of what an influencer is. However, after some research, we pulled together these definitions and noticed they all had the following key characteristics.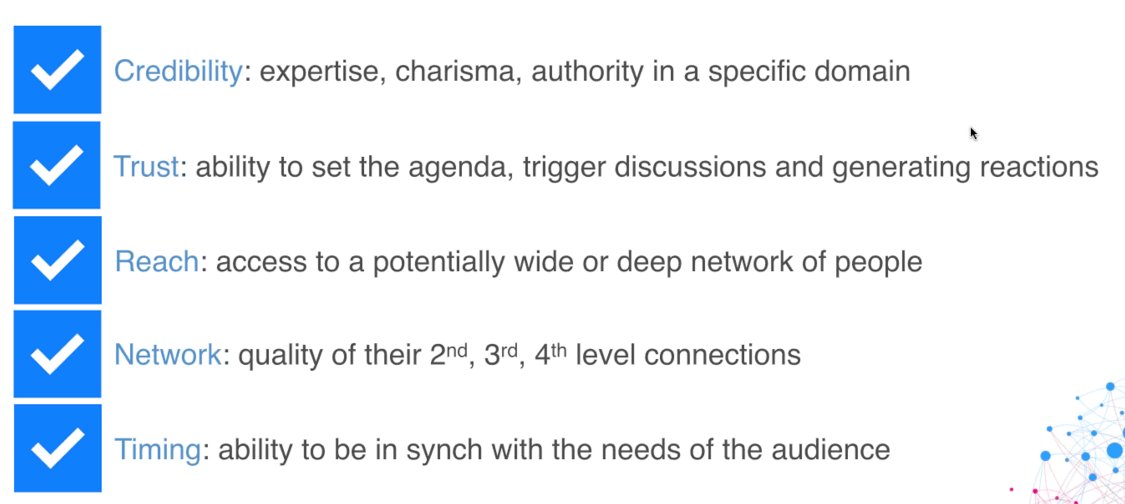 Did you know that 82% of consumers feel highly influenced by the recommendation of a micro-influencer? Seeing this, it looks like it might be worth identifying the right niche influencers for your audience, right?
Also during the session we talk about does NOT qualify as an influencer. You can see the on-demand webinar here.
The "Audience first" approach
Carlos Serra said, "Don't think about influencers as a tool to go after the market you want but as a market in themselves". When it comes to marketing and advertising, understanding the relevant audience is key; domain influencers should be a relevant audience. Our new approach targets influencers in order to influence your key market.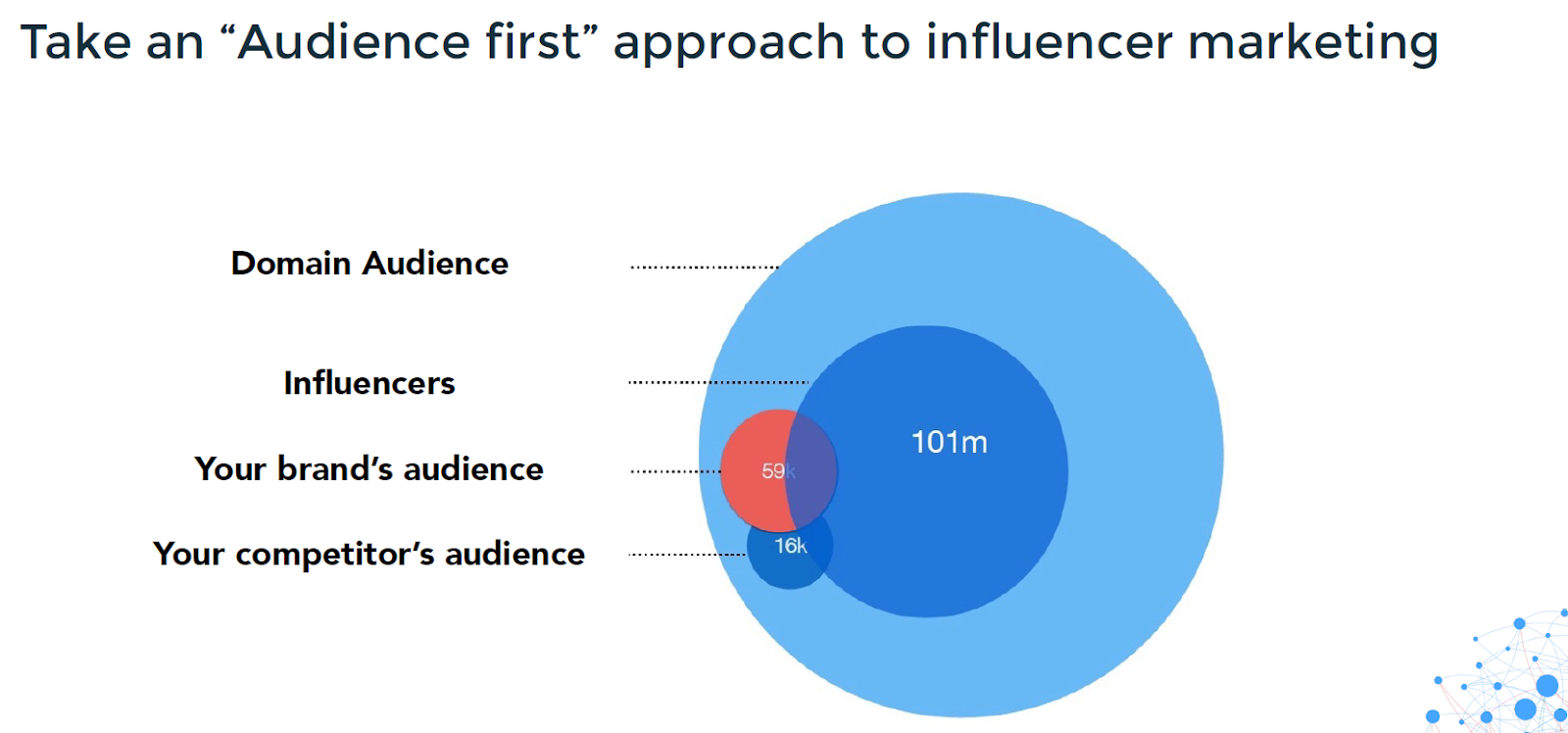 What does this new approach to influencer marketing look like?
Now there's a new influencer marketing strategy in town - what does it look like?
First, you need to identify the domain and the audience behind it and using the correct platform you can get this very granular.
When you have this, then it's time to segment, but not in the traditional way. Don't segment by demographics, and regions, but instead looking at how people are interconnected; who knows who, what audiences are connected and what are the actual relevant communities and segments. Who are the influencers to these people?
The next step is building the "influencer panel" and understanding these influencers. As your goal is influencing these influencers you need to understand their behaviours, the right message, etc. And having all this intelligence will be easier to accomplish the final stage.
Engage with this influencer audience at scale and measure your awareness and domain influencer growth.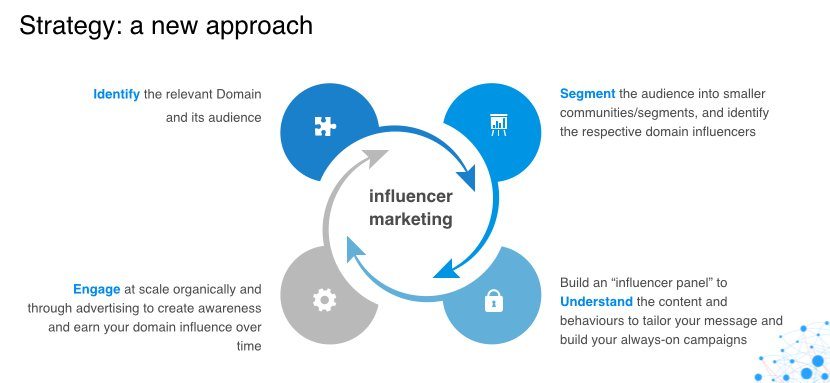 "Influencer marketing is not about engagement from individuals with large social audiences, but rather building influence in a domain by building trust with a large group of domain specific influential individuals", Carlos Serra said.
Uncover all the stages details regarding this new strategy approach watching the webinar on-demand here.
How you can implement this model?
Working with Pulsar and Audiense together you can solve this influencer marketing challenge. Below you can see how both platforms work along the whole campaign process.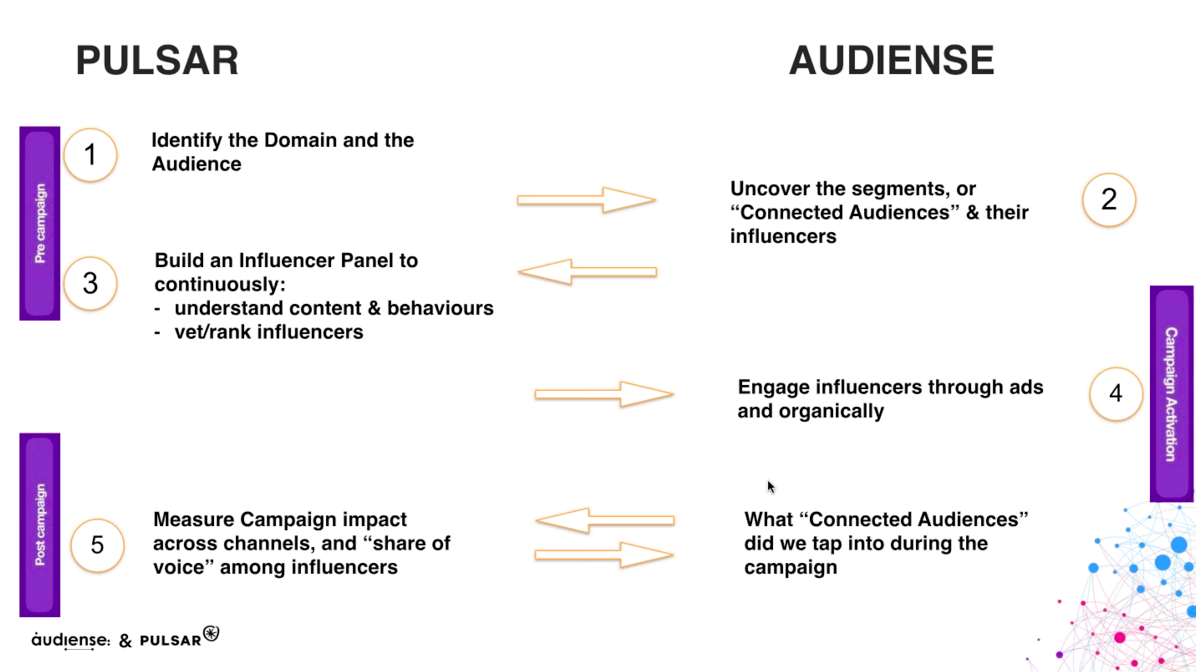 "It's a quite interesting aspect of the analysis we always do: analysing the composition of the audiences before and after the campaign; at the planning stage and after the execution", said Francesco D'Orazio. And Carlos added, "I think pre-campaign phase is the most challenging and what we are solving here is identifying the influencers and combining with Pulsar we are able to quickly rank them".
As you can see this is a very brief overview of what happened during the webinar, but take a look at it in full, available here. Enjoy and remember, tweet us any question or comment using #rethinkinfluence!