Rachel May Quin
How social data can supercharge your audience segmentation strategy
Social media and segmentation… a match made in heaven? We were delighted to host a webinar, in partnership with the Social Intelligence Lab, taking a much needed deep-dive into the world of segmentation. Jam-packed with discussion and case studies, we explored why social data is the secret weapon in your segmentation arsenal.
Javier Burón (CEO of Audiense) was joined by a panel of experts including David Boyle (CEO of Audience Strategies), Nisa Bayindir (EVP Behaviour Science at Pulsar) and Adam Abu-Nab (formerly Head of Social Intelligence at OMD, now Global Director of Data & Analytics at OLIVER Agency). Here are the key learnings from the event!
Simplify your segmentation process
Segmentation is at the forefront of every marketer's mind, but a survey by Forrester revealed that only 60% of companies do any kind of segmentation. We know that it's fundamental to understanding our customers but frankly, many of us just don't have the time. Why is that?
Well, all three of our speakers agreed that traditional customer segmentation is expensive, time-consuming and quite frankly, slow. That's where social data comes in. According to David, "social data is a big part of how you make it fast and simple", as well as making it accessible across every level of your business. AI-based tools are designed to make things quicker and more efficient, without draining time and resource.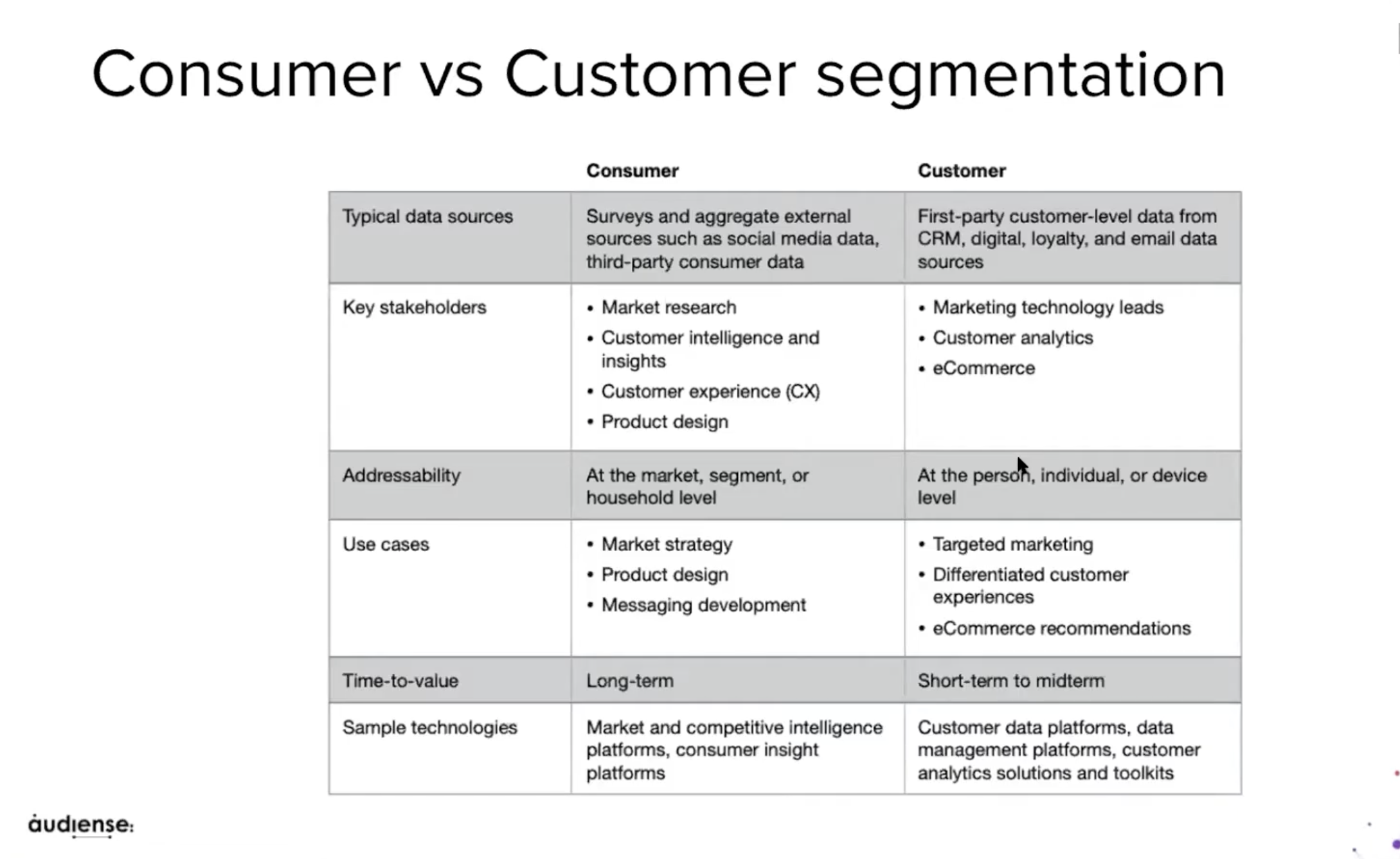 On the other hand, marketers must be aware of the potential pitfalls. Over segmentation was identified as a significant issue - brands must be aware of narrowing their scope so much that their audiences become irrelevant. With too many segments, Nisa explained, "overlaps start to appear, and where there are overlaps, actionability goes out the window".
Adam added that when you have too many segments to play with, you're faced with "immense challenges" in activating them, from created bespoke dynamic messages to reaching global markets. For social segmentation to work in your favour, you need to consider the basic rules of marketing segmentation: measurable, accessible, substantial, differentiable and actionable.
Go deeper in your audience understanding
Building on this, perhaps most importantly for many brands is the way social data can tap into cultural and societal trends, enabling brands to go deeper in understanding what makes their ideal audiences tick. Described as a "wild world of consumers on social media" by Nisa, social media is like "going on a safari", allowing you to discover how people interact with brands and stay on top of changes in consumer dynamics.
Adam walked us through the idea of living personas, a project run by OMD, in which they layer audience understanding on existing segments or hypotheses built from scratch to help bring personas together. This involves looking at audiences in context and understanding their product behaviours or behaviours in relation to the category or brand, alongside their personal interests and cultural relevance. This can help target the nuances and sweet sports of personas, to deliver campaigns that offer better contextual and personal relevancy.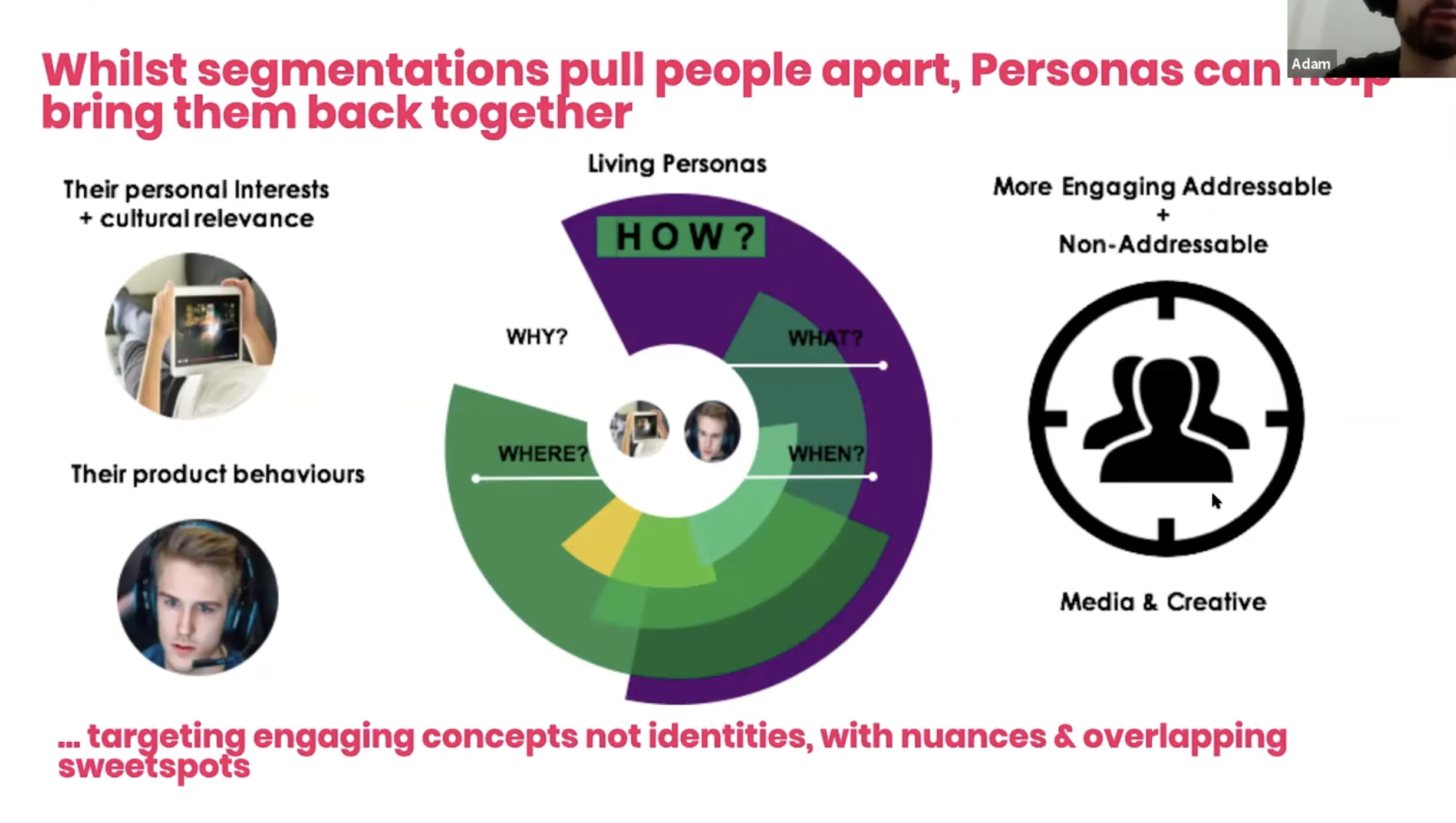 Nisa agreed that "now is the best of times to embrace AI-consumer segmentation because a) it's real-time and b) it's learning as it's developed", making it a forward-thinking tool that helps brands tap into behaviour and trends, as well as fleshing out their research methodologies for a more robust approach to segmentation.
Build data-rich, real-time customer segments
The speed and intelligence of social data has the power to excavate insights that can play a role in shaping the direction of your overall brand strategy. A dynamic approach is important, according to Adam, but "the challenge with AI is when you're looking at [social] conversations, it needs a lot of manual filtering". That's where tools like Audiense can assist, connecting behavioural trends and affinities to apply a rich layer of insight.
Nisa pointed out that traditional segmentation insight "captures a moment in time", ideally at quarterly intervals but sometimes, even longer. But with social data added into the methodology mix, brands can create products, services and innovations that truly resonate. Nisa presented a fascinating case study for television network NBC, in which they used social data - combined with existing audience segments - to understand topics of interest. They were able to identify trending topics among their audience segment included the supernatural, TikTok and conspiracy theories, guiding their future programming.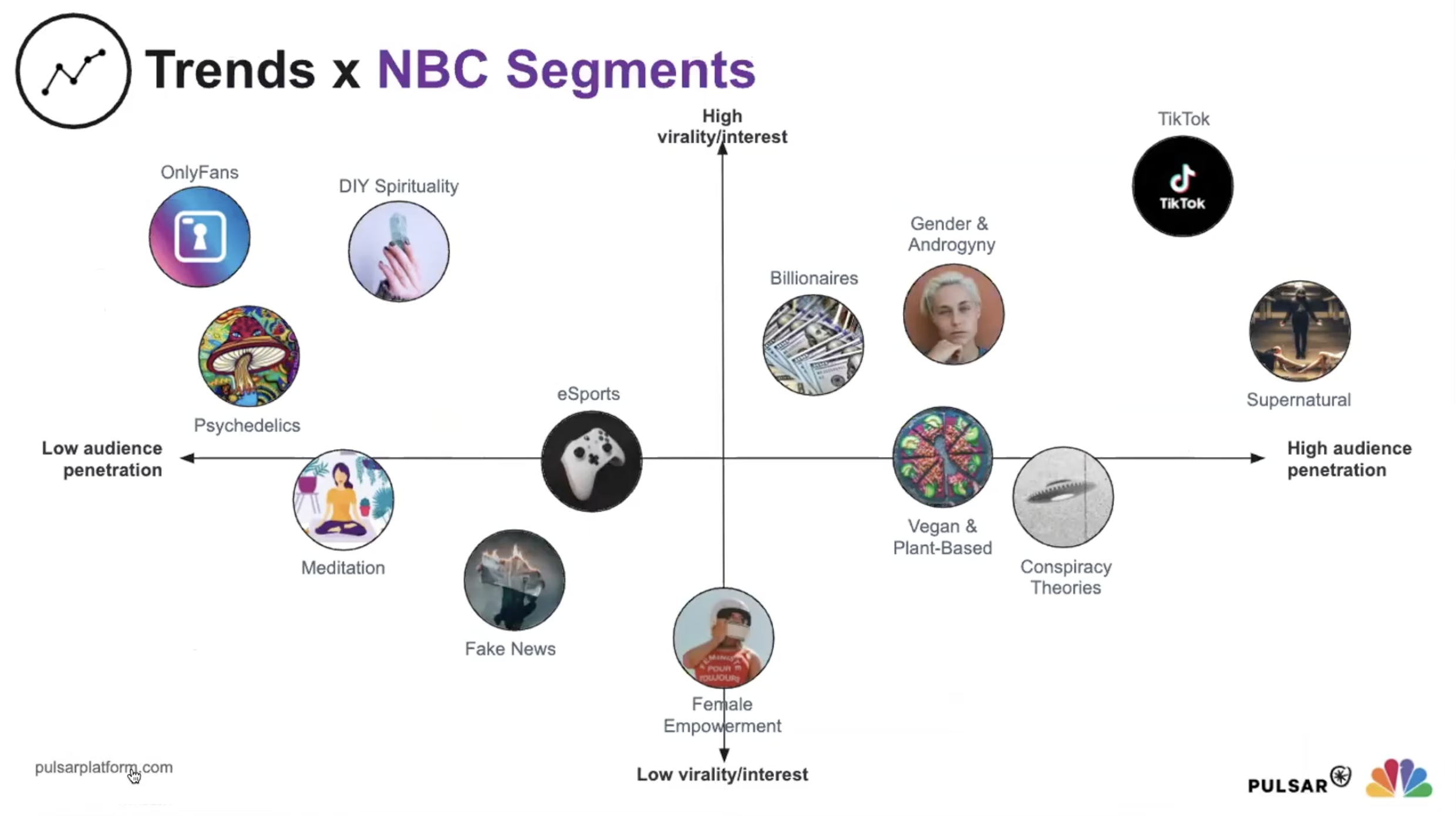 David also shared an interesting case study in which a retailer created 10 individual customer segments, defined by social data, which shaped the language of how they thought of customers, making the language of segmentation "part of the culture", which ultimately makes "every single decision that little bit smarter". AI-powered audience intelligence tools are able to extract insights that will allow you to create data-rich segments.
So, what can we take away? "Real innovation and impact come from using segmentation to drive strategy, not just tactics", claims David. In all three case studies, it was clear that customer segments steered more than just marketing campaigns, it is a fundamental tool in driving innovation across your business.
Audience intelligence and social data makes identifying segments and understanding their behaviour fast and accessible. Try Audiense Insights for free.