Jackie Davies
How the hottest emerging Grammy-winner can grow her fandom with Affinio
It's likely the dream of every emerging artist, and their record label, to get recognized as the Best New Artist at the Grammy Awards. This year this honor went to Samara Joy. She is a young American jazz singer in a world where jazz doesn't often win this category. Not surprisingly, as a Gen Z artist, TikTok has also played a role in her rise.
Although there is a camp who thinks a "breakthrough" title can actually be a curse, most would agree that it's the ideal launchpad to skyrocket a budding career. We dove deeply into the audience following Samara Joy now to assess ways to grow her fandom further and faster. This suggested growth strategy can serve as a playbook for any record label looking to optimize new artist promotion.
Step 1 — Identify the key personas behind her fandom.
Looking at a snapshot of her followers studied the very day after the Grammys, we can see that her music attracts the following segments from largest to smallest: Brazilian Awards Watchers, Pop Diva Fans, Black Entertainment, Justice & Civil Rights, and Jazz Crazed. It's worth noting just how much exposure the Grammy win has brought her, since her Twitter followers have grown by 52% in just the period from February 6 to February 15.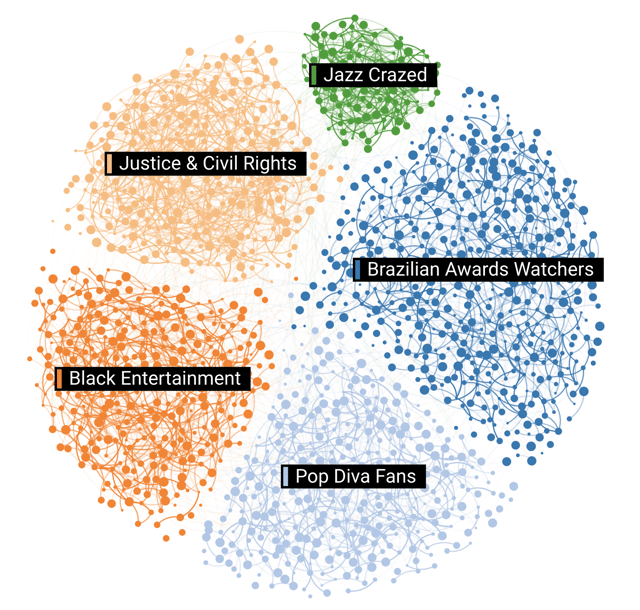 The Brazilian Awards Watchers represent a group of award show fans who discuss #grammys, #iheartawards, #goldenglobes, and #criticschoiceawards and may be following notable nominees. Brazil was also represented in the Best New Artist category with contender Anitta, who is another interest of this segment.
Pop Diva Fans are Gen Z females with a strong interest in queens like Lizzo, Beyonce, and Megan Thee Stallion. Beyond their pop music and pop culture affinities, this group is into discussing trends like the latest TikTok fashion statement of Alyicore.
The Black Entertainment segment is dominated by Millennial males, some of whom self-describe as being in the music scene themselves with bio terms like music, artist, singer, and songwriter. They have a strong affinity towards Abbott Elementary and its cast in both the content they write and interests they follow.
Justice & Civil Rights members are largely US-based and influenced by Stacey Abrams, Amanda Gorman, and Yamiche Alcindor. They are inclined to discuss topics like Hulu's The 1619 Project docuseries and Black History Month.
Last but not least, Jazz Crazed is "all about the jazz" in every way – in what they talk about (e.g. #jazz), what they follow (e.g. Blue Note Records), who they mention (e.g. @jazzfm), how they self-describe (e.g. jazz, blues, soul), and even the emojis they use (saxophone).
Step 2 — Personalize messaging to segments to generate more engagement.
Studying the interests, content trends, and media outlets of any segment is a way to get to know how and where to best reach them with any news, events, concerts, and merchandise. Let's take the sample cluster of Pop Diva Fans to explore content and ad placement that could be catered to them.
The Pop Diva Fans are inclined to read articles on topics including the character Terri Joe, the rapper Ice Spice, food trucks, and Coachella, and they check out videos from Taylor Swift and Miley Cyrus. They consume their content from a variety of music streaming and digital sources.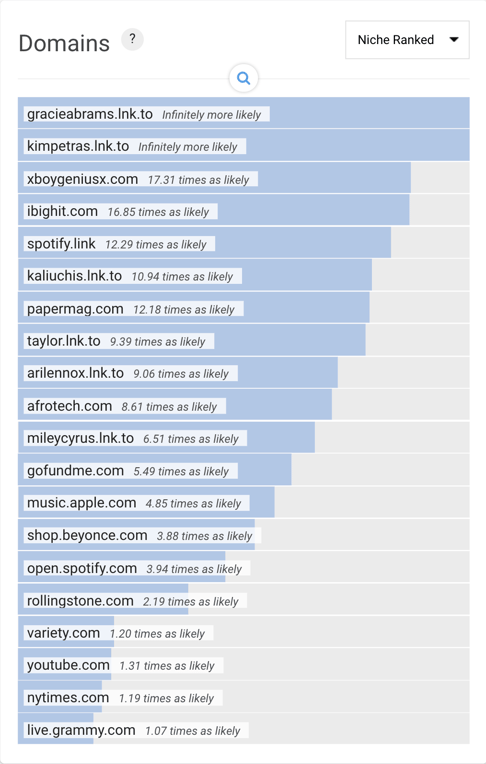 In terms of the publication interests that they follow, entertainment-related news reigns supreme with the likes of Variety, XXL Magazine, Rolling Stone, and Pop Crave. Reach them on any of these channels, and consider a format of providing an in-depth bio spotlight.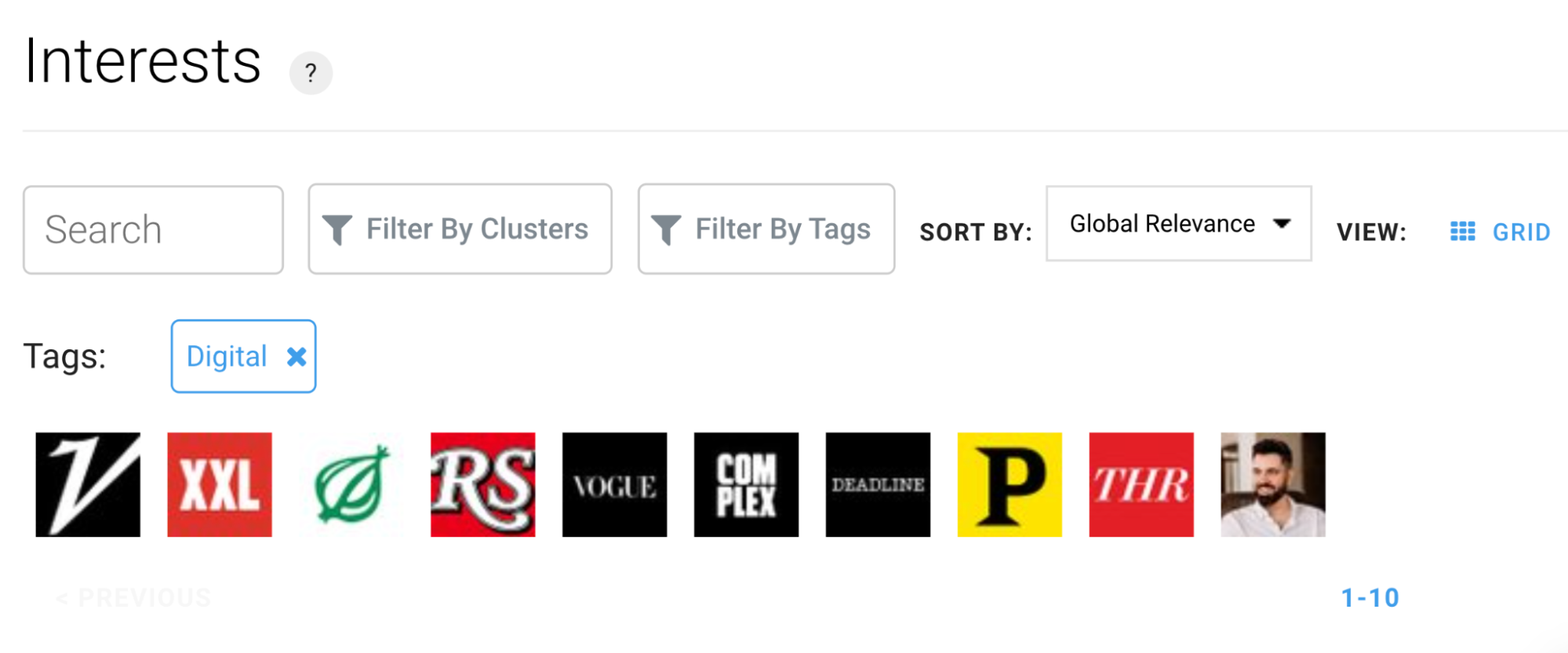 Step 3 — Determine which collaborations could bring more exposure.
By looking at how well other musicians score against Samara's existing fanbase, it's easy to identify collaboration pairings that would resonate per segment. Teaming up with other artists is a great way to stay in the limelight with increased exposure, while serving to expand both artists' fan bases.

Step 4 — Reach those who aren't yet fans but share similar interests to her fans.
Although Samara's whole audience could be targeted for lookalike creation, sometimes certain segments may be more strategic than others. In this case, it feels like low-hanging fruit to find more people who resemble her existing Jazz Crazed group since their love of the genre would naturally make them open to new jazz singers. Not to mention, this cluster shows as the one who is most interconnected and most verified, both suggestive of the potential for virality among members.

Samara Joy, just like any emerging artist, has an audience base that's in the new growth stage. Many music labels struggle to have access to enough audience insights on the artists' fans right off the bat, so having a tool like Affinio can be a great starting point. Affinio makes it easy to capture new audiences right after award shows, song releases, or album launches. It's these insights that can help labels build off that new artist's momentum, and help them attract similar audiences, to ultimately grow the new artists fan base.
If you're interested in capturing and analyzing the audience behind any new or emerging artist, reach out to get started with Affinio.