Albina Khouzina
How TikTok is reigniting artists' careers and expanding their audiences
The longevity of TikTok's meteoric rise remains to be seen, but in the meantime, the social media app continues to set trends. New platform features and long-form content are the emphasis in 2023. Brands are constantly partnering with TikTok influencers to create content and be a part of popular trends and viral sounds. The most well-received content includes POV videos, story time, self-growth and glow ups, and certain songs becoming exceptionally liked.
Not surprisingly, there can be a formula behind making something "go viral" on the app and whole teams are sometimes dedicated to pushing out trending sounds in the hopes of a life-changing moment for an artist. TikTok is changing the music scene and there is now a whole industry dedicated to marketing songs and artists on the platform, with influencers being paid to promote them.
TikTok videos have also been the reason for some established artists' resurgence in popularity due to their older songs trending again (or even for the first time). In the recent years, Fleetwood Mac's "Dreams", Kate Bush's 37-year-old song "Running Up That Hill (A Deal With God)", and Paloma Faith's "Only Love Can Hurt Like This" all experienced re-emerging success due to their songs exploding on the app.
Beyond the calculated promotion, it's not always clear what causes a revival, but previously released songs can also gain newfound popularity organically on the app as they get rediscovered by younger generations (the same way old sitcoms from decades past do on streaming services). The revived songs often become trending with Gen Z through their "sped-up" version.
The latest artist to experience this phenomenon is Miguel, after his 2010 song Sure Thing climbed back on the Billboard 100 chart due to its popularity on TikTok. The remixed version has now been circulating for weeks, with this newfound demand leading the artist to re-release the single on January 27.
13 years on since its initial release, @Miguel's classic song, 'Sure Thing' is back at the top this week 🎉

Spotify Weekly UK Charts 🇬🇧 These were the Top 10 Songs and Albums in the UK (Jan 16-20) pic.twitter.com/WTmv9yG1Bb

— Spotify UK & Ireland (@SpotifyUK) January 23, 2023
Miguel has released four studio albums, twenty-two singles, four mixtapes and seven EPs but his song becoming a trending sound on TikTok now has opened his audience up to new generations. More people than ever are talking about the established artist because of his older song.
While this is a notable TikTok-originating trend, the impacted artists will obviously experience growth in their fanbase across all social channels. Using Affinio, an audience intelligence platform that analyzes affinity-based following patterns, we can look specifically at Miguel's Twitter audience from many lenses - i.e. his all-time fan followers, the isolated group of recent fans who started following with the rise of "Sure Thing", and those who both follow him and discuss the song.
Affinio reveals untapped insights about audience segments and sheds light on how they are influenced, what they talk about and share, and ultimately what matters to them most.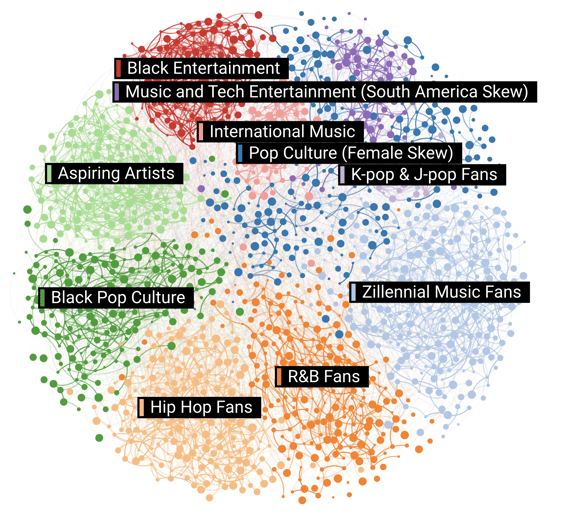 When we look at Miguel's audience through Affinio, we see that his fanbase is spread out across a lot of niche clusters and countries. The artist has been making music for over a decade and that is highly showcased through the 'Zillennial Music Fans' and 'Pop Culture' clusters. Other artists who peaked in popularity around the late 2000's are among the other affinities in those clusters.

"Sure Thing" trending on TikTok has generated almost 7K new followers for Miguel on Twitter, the majority of which are due to the "impossible to figure out" Gen Z crowd. We can see that the largest cluster is made up of Gen Z "News Junkies," which shows that they may have heard about the artist through other platforms.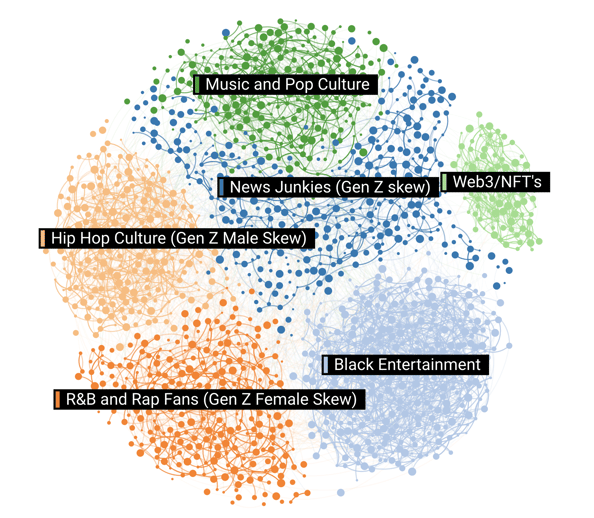 Among Miguel's specific new follower audience, we can see a new "Web3/NFT" cluster, indicating he is making a name for himself in that space. The artist has been very involved in growing blockchain technology in the music industry, with his own NFTs available for sale.
Affinio shows how most of Miguel's previous audience has been Millennial in nature because of his initial fame in the late 2000's. However, when we look through yet another audience lens of those who both follow him and explicitly discuss his song "Sure Thing" (i.e. his truly engaged fandom audience), we can further see the high Gen Z representation.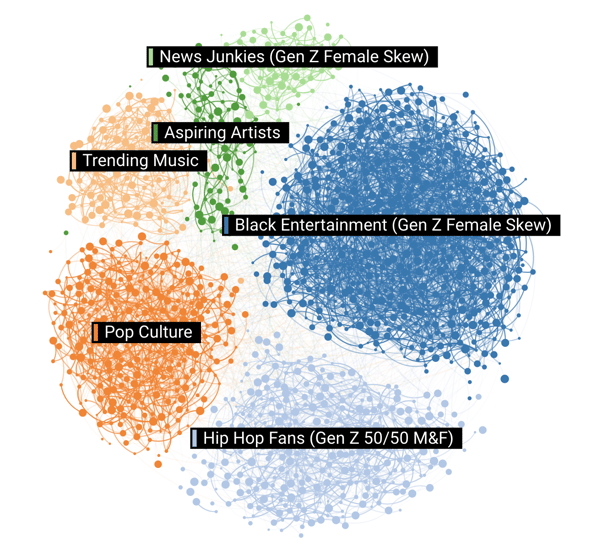 Using Affinio we see how trends from other platforms impact an artist's audience everywhere, including on Twitter. Earlier we saw that Miguel's original audience resonated with similar Hip-Hop and R&B artists from the 2000's and 2010's. Looking at the conversation about "Sure Thing, we can see that the top influential artists have switched to newer stars like Megan Thee Stallion and SZA.

Miguel's 2010 hit resurfacing on TikTok has broadened his appeal and his name to a younger audience. The viral sound has allowed him to re-release the song to a new generation and attract more followers across all platforms.
By using tools like Affinio, it's easy to see the audience behind any artist, and how that audience changes over time, especially if that artist has gone viral on Tik Tok. It's important for labels to be able to separate new fans from old ones, as the insights will reveal that they need to be marketed to differently to keep them engaged.
Sign up for Affinio to see how your artist's audience has changed over time, and analyze the audiences behind their next viral song.