Tara Twyman - Head of Product Partnerships
How to blend social listening with audience intelligence to find audiences on Meta
Combining social listening with a more robust audience intelligence tool is vital to really dig deep into your audience insights to develop and inform audience-centric strategies. It will help you uncover "insights from people" versus "insights from content sources".
If you have seen our latest news, you would know that Audiense has acquired SOPRISM. What does this mean for you? Well, you are now able to understand Meta audiences, but also complement your social listening work by combining the insights to identify your target audiences on Meta.
For example, with social listening you are able to monitor and identify conversations surrounding any topic, whether that be keywords, brand mentions or trending themes, and filter further to focus your search. Exporting the Twitter authors of this conversation will allow you to upload them into Audiense, so you can uncover who they are.
Audiense helps you identify not only the full audience behind the conversation, but it segments these members based on important audience insights, such as how they're connected to each other, who they follow and are influenced by, and what they care about.
Using these attributes, you can now identify and understand these audiences across the Meta channels with SOPRISM, by extracting insights from over 2.5 billion global users, so you can develop your audience strategies and marketing tactics.
This process of combining these data points between the platforms will give you the ability to:
Get the best audience understanding/intelligence out of compliant social data sources of insight.

Understand the perceptions and attitudes that each segment (tribe) has about your brand, product, competitor or relevant topic.

Explore audience definitions that will enhance data segmentation from adapting the definition from Audiense Insights into SOPRISM.

Filter to improve audience understanding.

Adapt your narratives to better align with what your target audience cares about.
Audiense helps insight teams scale and innovate, whether agencies/consultancies or in-house teams, to develop their marketing strategies. This combination means greater cultural and sociodemographic understanding of audiences.
In this blog, we will explore how you can combine these data points, with a real example that will pave the way to adapting these methodologies.
Goal
An international beer brand wants to:
Position itself in the world of water to avoid "greenwashing".

Become a major international player in this field by improving their image and reach new audiences concerned by these topics.

Confirm the established target audience and assess the impact of the message on other audiences.
Challenge
As a multi-billion dollar global market, beer has a huge water footprint, and is frequently brewed in regions worst hit by water shortages.
Although many beer companies, regardless of their size, will succeed with sustainability focused efforts, such as energy efficiency or the recycling of beer ingredients, the one thing they all struggle with is the reduction of their water footprint.
While beer brands may have loyal consumers in many diverse regions, it only takes one drought or water shortage to foment local anger when they take on a large share of the communities' water supply, and according to The Guardian, 98% of the water footprint occurs before the brewing process begins, so now sustainability experts and community activists are urging these companies to lean on their agricultural suppliers to reduce water consumption.
In this case, this international beer brand needed to identify the problems that revolve around water in specific target regions, to find solutions, identify communities and partnerships to support its efforts, as well as uncover if its target audience (beer consumers) could be more receptive to its message, as well as the general public.
Solution
In order to connect with their audience more authentically, they needed to understand their unique needs, values and personality. This meant they needed to dive deeper into conversations to understand the most prominent topics when it comes to water related public issues and perceptions.
Using a social listening tool, they were able to uncover conversations about water shortages, floods and other environmental topics surrounding water. Exporting and uploading these authors into Audiense Insights helped them identify the communities taking part in these conversations, their influencers, media affinities and other insights that they were then able to use to define an audience in the SOPRISM platform, extending their reach across Meta.
With this methodology, they were able to identify the best subjects, which included water collection & protection, and exploitation of groundwater, uncovering communities they could join to support a couple of projects already underway in key locations.
Important potential partnerships were identified at media, political and scientific levels, as well as environmental associations.
They identified high buying power regions and the most sensitive segments when it comes to water issues in their target geolocations.
For example, they were able to identify that the "Party Enthusiast" segment had an excellent opportunity score. The beer brand would therefore meet two major objectives:
Reinforce its presence within its beer buying community

Gain new awareness in new communities.
Approach & methodology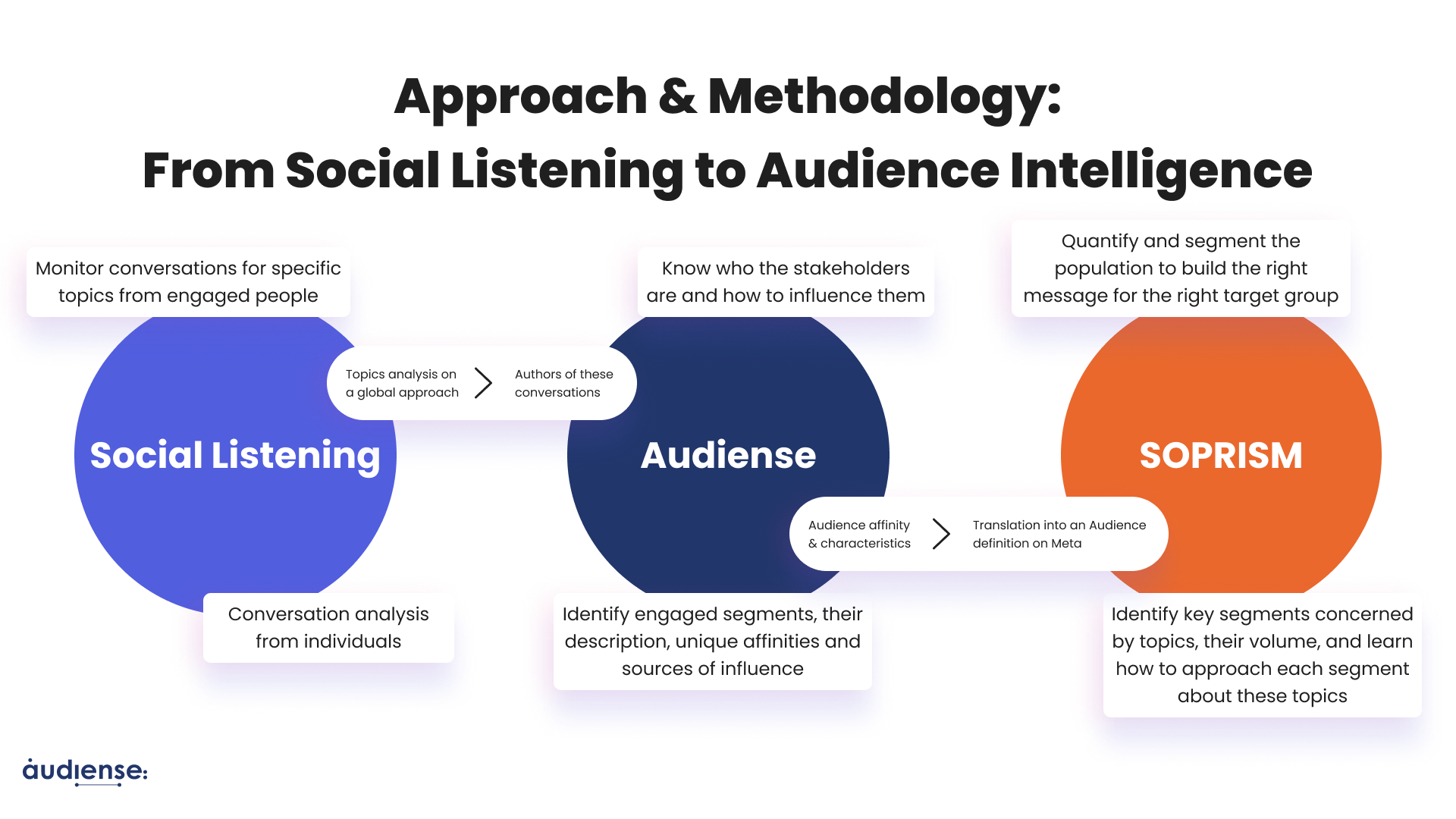 1. Dive into conversations related to water shortages & public issues
The beer brand started by defining the topic keywords (covering water related issues, incl. local vs global…) and created a query in their social listening tool, subsequently creating filters to isolate some of these sub-discussions and locations, incl. local language for each query.
Within the social listening tool, they were able to identify the keywords with most power on a local and global level, so they could decide the most prominent topics they would need to focus on.

2. Get to know your audience
Once they identified the conversations, surrounding floods, land related issues, droughts, and alike, with the help of their social listening tool, they were able to analyze and decide what was most relevant.
By filtering Twitter authors and exporting the author IDs, they imported them into Audiense Insights to uncover who they were.
If you are using a social listening platform that is already integrated with Audiense Insights, such as Pulsar or Meltwater, you won't need to go through any manual upload steps

For any other social listening platforms, such as Brandwatch or Talkwalker, the manual integration steps are easy to follow. Check this how-to guide.
The brand was then able to identify the segments that made up the full audience, so they could filter their influencers, media affinities and uncover other behaviors. Filtering by media, journalists, politicians, scientists, ecologists, to name a few, gave them relevant data for these communities.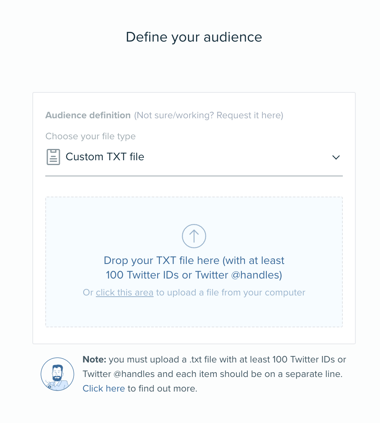 Within the Influencers & Brands, they also created custom rankings with specific accounts related to the environment, politics, public affairs at a local level. This helped to focus the search by identifying higher affinity for specific categories.
You can visit how to create custom rankings for more information on how to use them.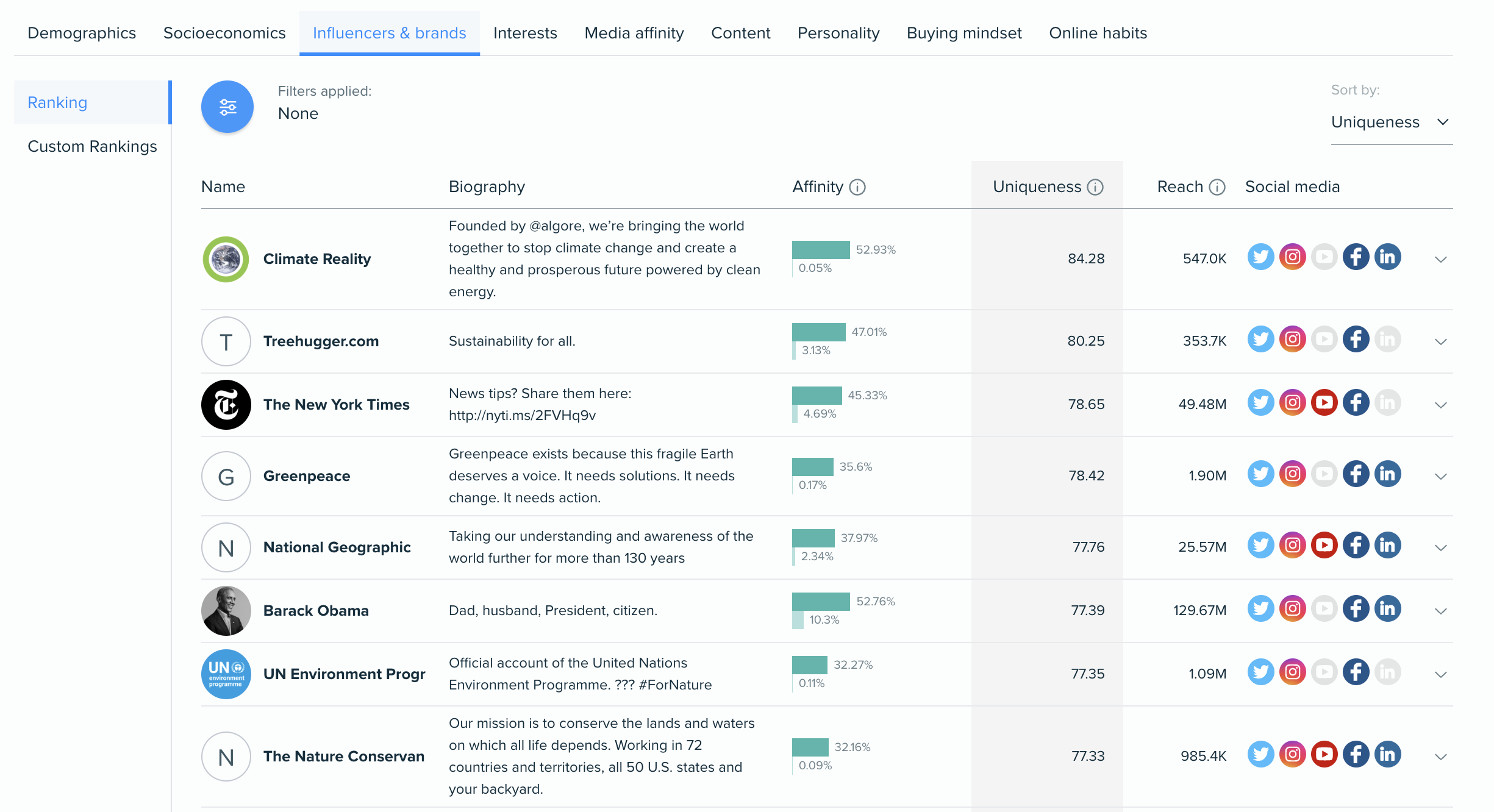 Filtering by person and either category or bio-keyword, i.e. Ecologist, highlighted who within the influencers fell into each category.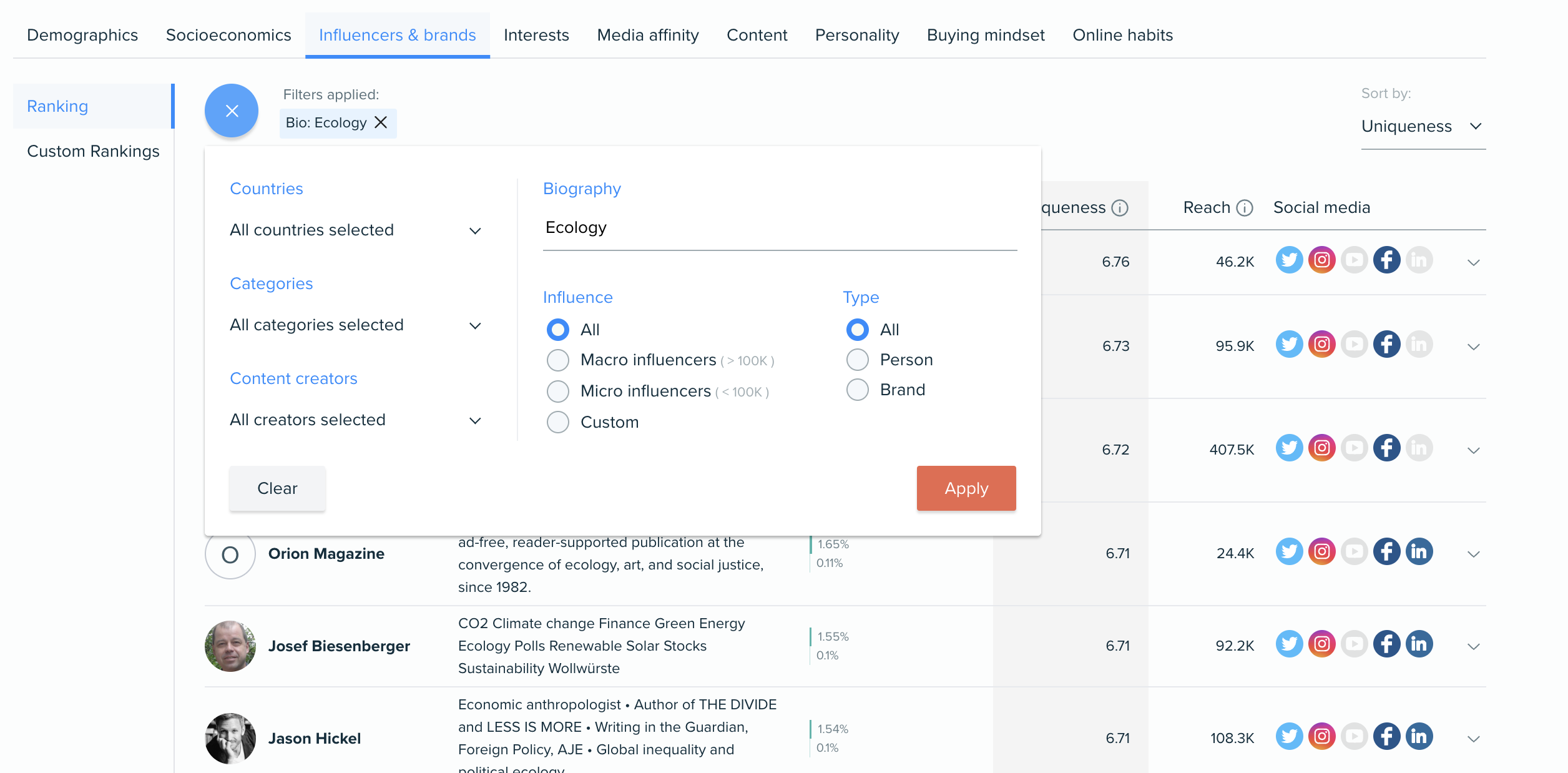 Within the Media Affinity tab, they identified the channels and brands this audience had most affinity with, and quickly identified related media that aligned with specific topics.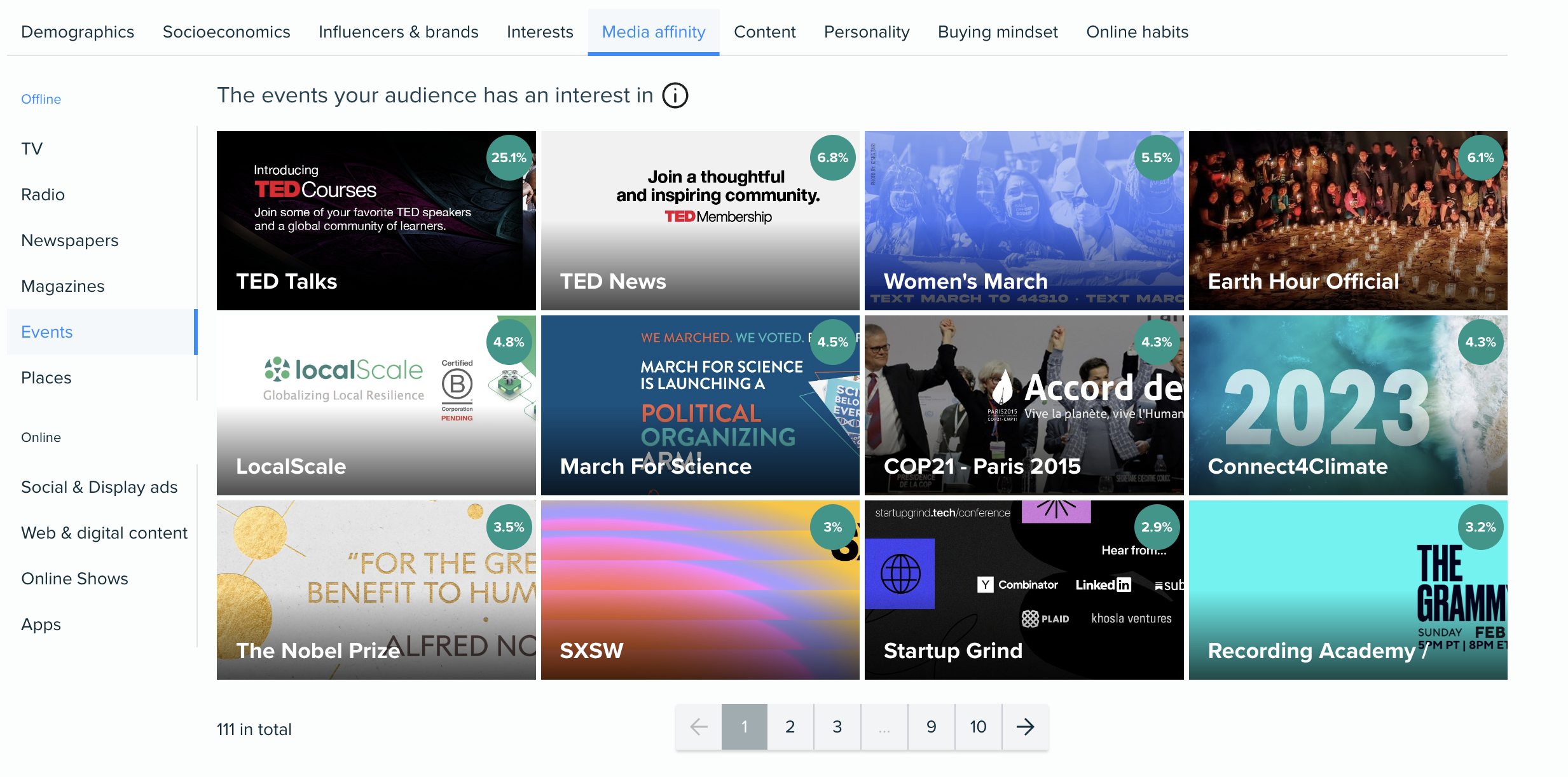 3. Profile your audience with Meta
Using SOPRISM they defined the audience from the top influencers within the insights report, elaborately defining the interests of the audience, such as ecology, home and garden, politics, and nature. For this, they used the filters and categories found within Audiense Insights Influencers & Brands tab to create the best audience.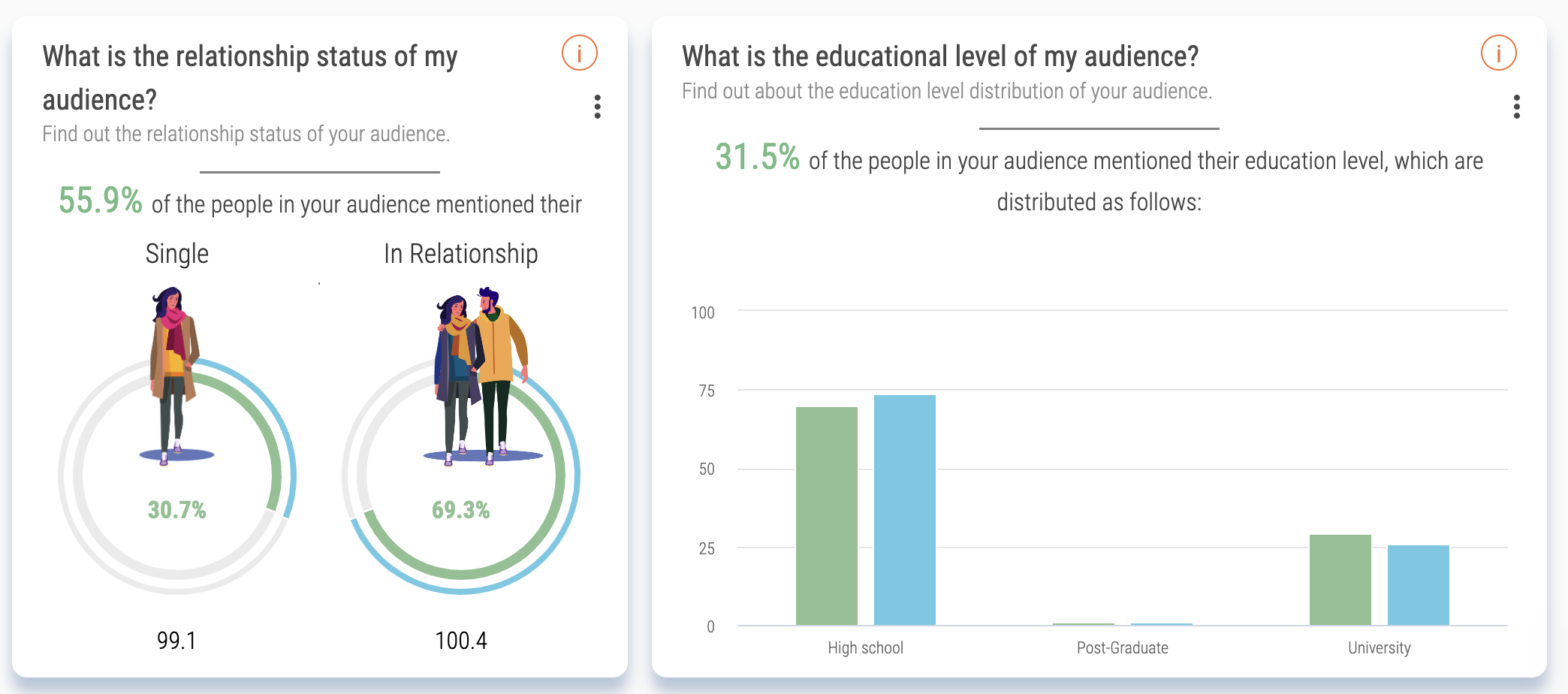 As this analysis was worldwide, they were able to define this audience using a worldwide search, as well as creating individual audiences per region, for further local analysis. SOPRISM's Geolocation functionality is extremely powerful, displaying maps with regions, provinces, districts and even cities (show or hide names).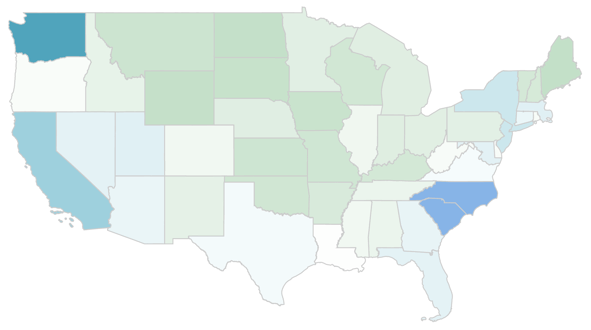 Political orientation - Are water issues a political issue, and what are the political orientations concerned?
They were able to confirm the audience's political orientation, with a high interest in all aspects of the political spectrum, where the political left, green and right parties are concerned. Water issues are also a voting and campaign issue in several countries.
The results (shown in the left-hand-side chart) present the most important penetration (size) for the "right politics" topics. The "voting and campaign" topics have the most important selectivity. The opportunity score (right-hand-side chart) confirms again the impact of water issues on the political arena, with high scores above 60 points.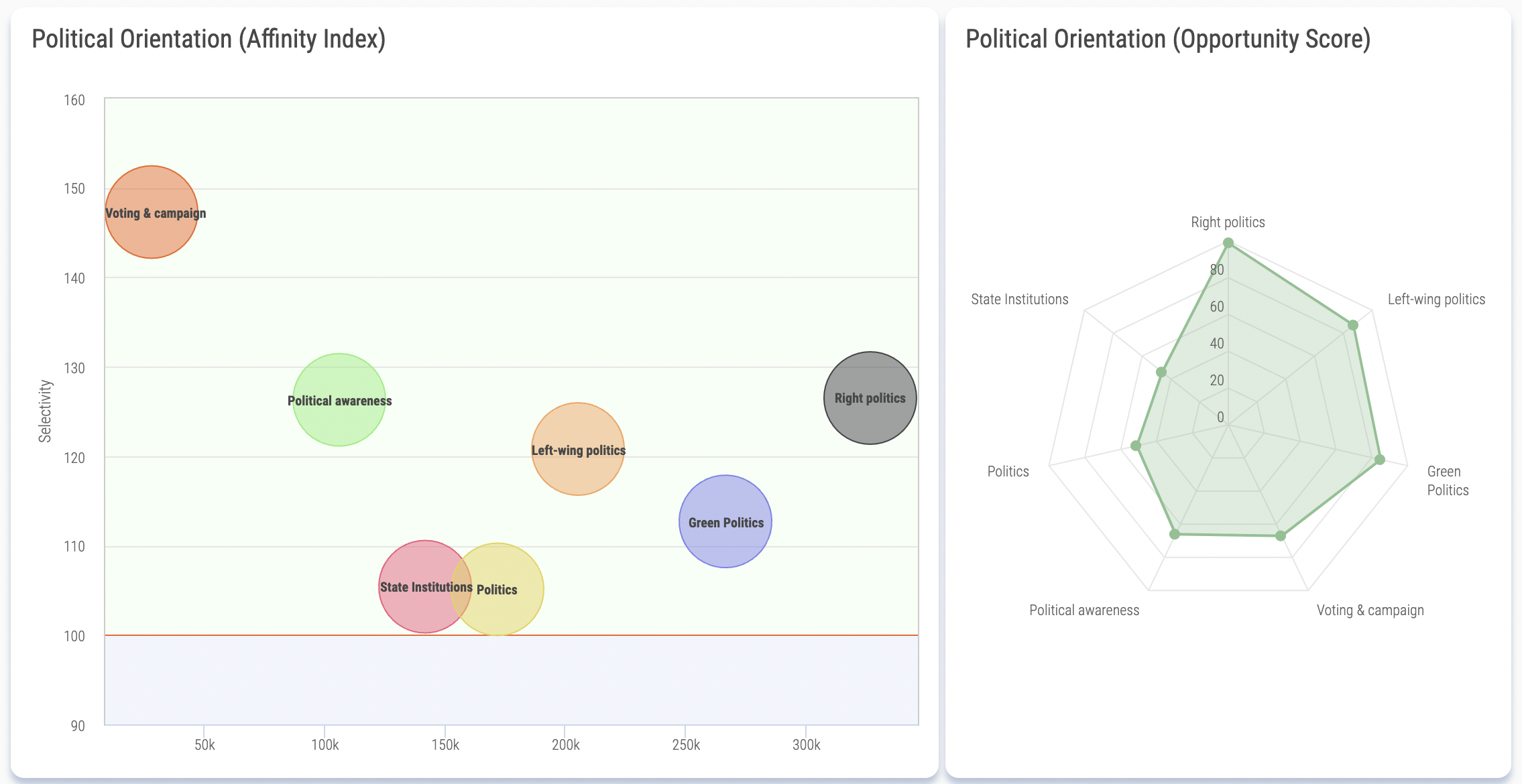 Society issues - What kind of society issues are associated with the water issues?
They were able to identify (right-hand-side chart) that the people who are interested in water issues regard public policy, prevention and discrimination very important. Therefore, the brand identified a big opportunity here to investigate the possibility of participating in the preventive aspect of water issues for their new product developments.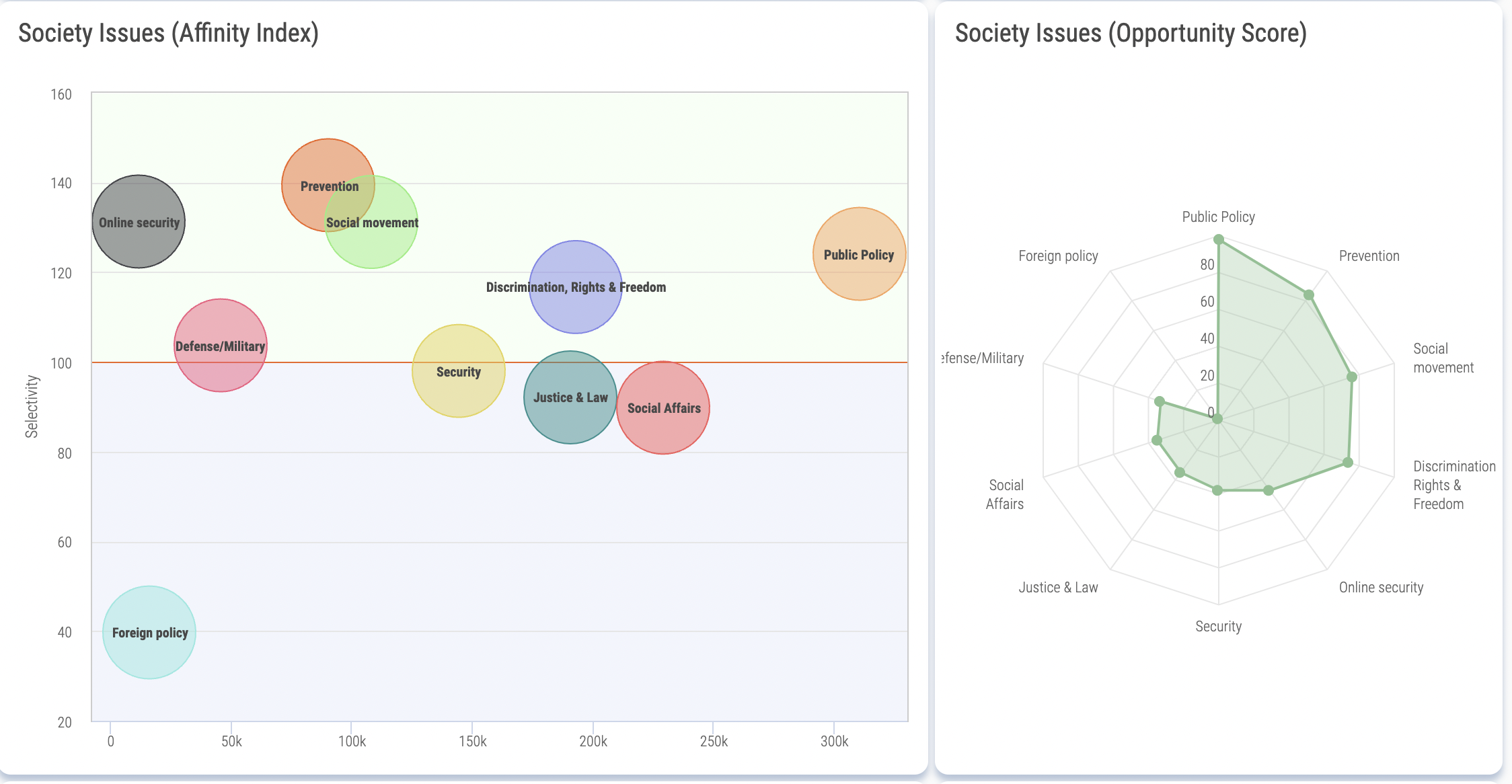 Ecological orientation - Do water issues have an important impact on the ecological issues in the world?
They were also able to confirm some of their assumptions, in that water issues were associated with a lot of ecological issues within this audience. The first and most important that came up was undoubtedly farming, and organic farming in particular. They were able to establish that recycling and wastewater treatment were highly important to this audience.
Therefore, not only has it given them data to fall back on confirming assumptions around this topic, but it has provided an opportunity to activate a project around wastewater treatment, within the beer industry itself or in partnership with the non-profit sector.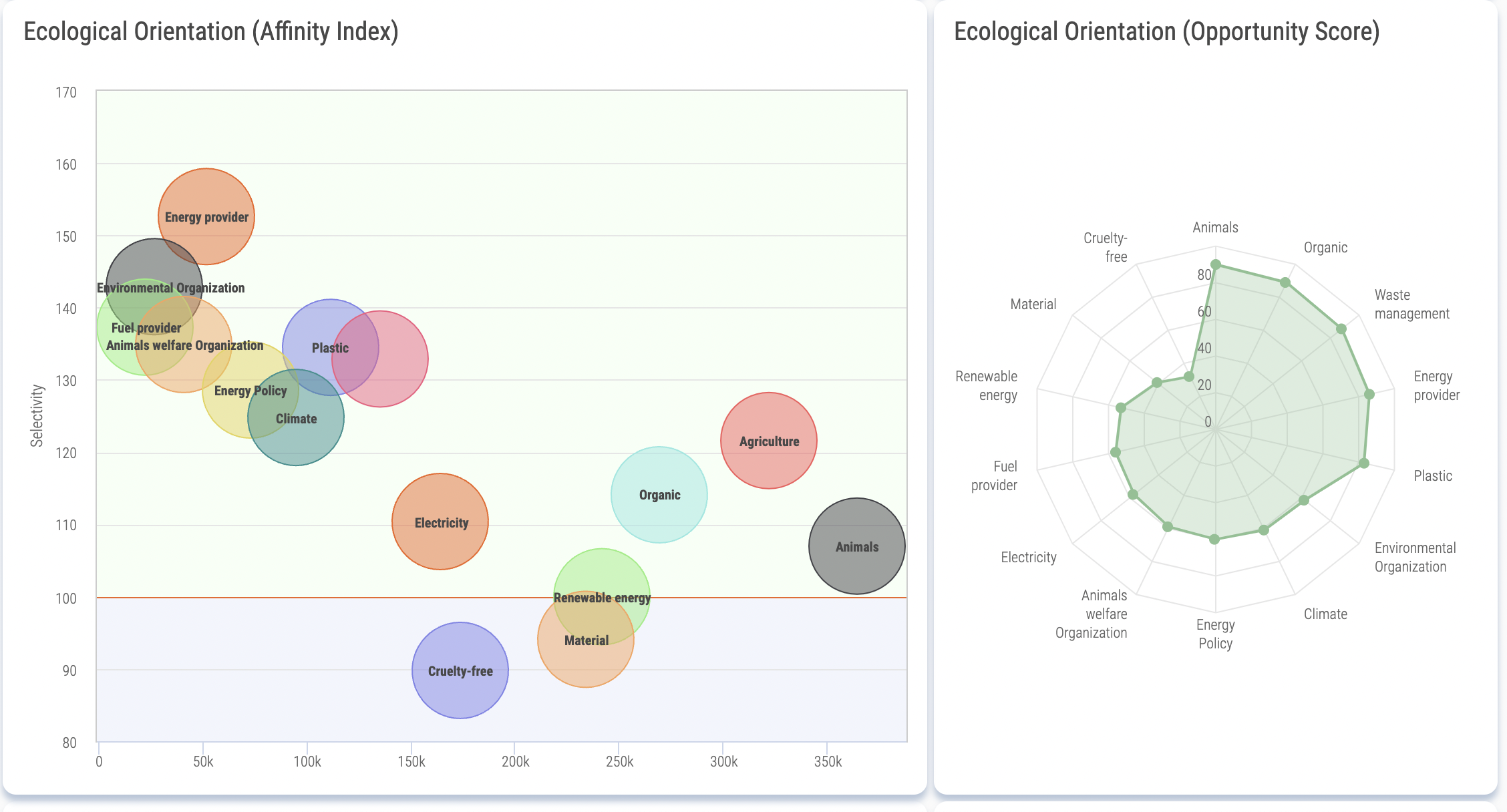 Segmentation - What are the most relevant segments associated with water issues?
It was fascinating to see that their audience fell into some obvious segments within each region considering the subject, and that they were able to identify who they should focus their energy on within their target locations. As an example, within Belgium alone they found that the top 6 most prominent segments (out of 56) were:
The Environmentalist

The Renewal Energy Enthusiast

The Waste Sorter

The Outdoor Enthusiast

The Culture Enthusiast

The Party Enthusiast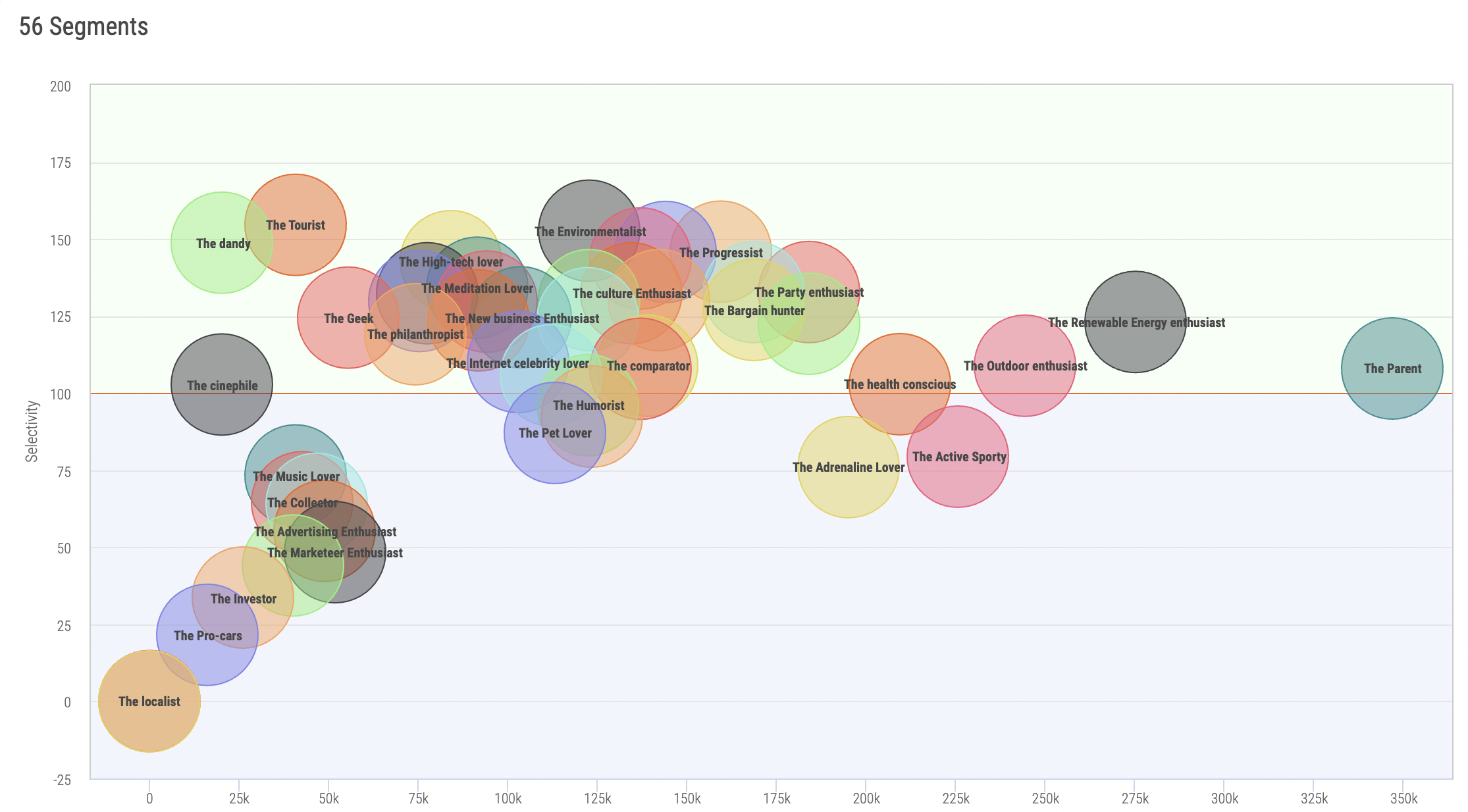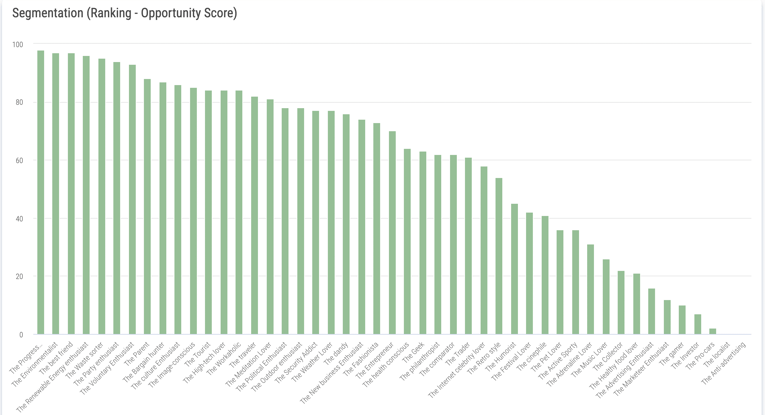 For a beer brand, it is important to identify these segments for different reasons.
Firstly, this brand can now confirm the importance of activating new projects in the ecological arena, maybe with new partnerships within the non-profit sector, as well as greening its practices and production lines.
Secondly, it was very important for this beer brand to confirm correlations between beer industry consumers and water issues. For instance, they were able to identify a very important segment within the beer industry, "party enthusiasts" who are concerned by water issues.
Finally, with a new positioning in water waste treatment, as an example, this beer brand can reach out to a new audience, green its positioning and reinforce the link with its own existing consumers.
You can find out more about these segments in our segment glossary.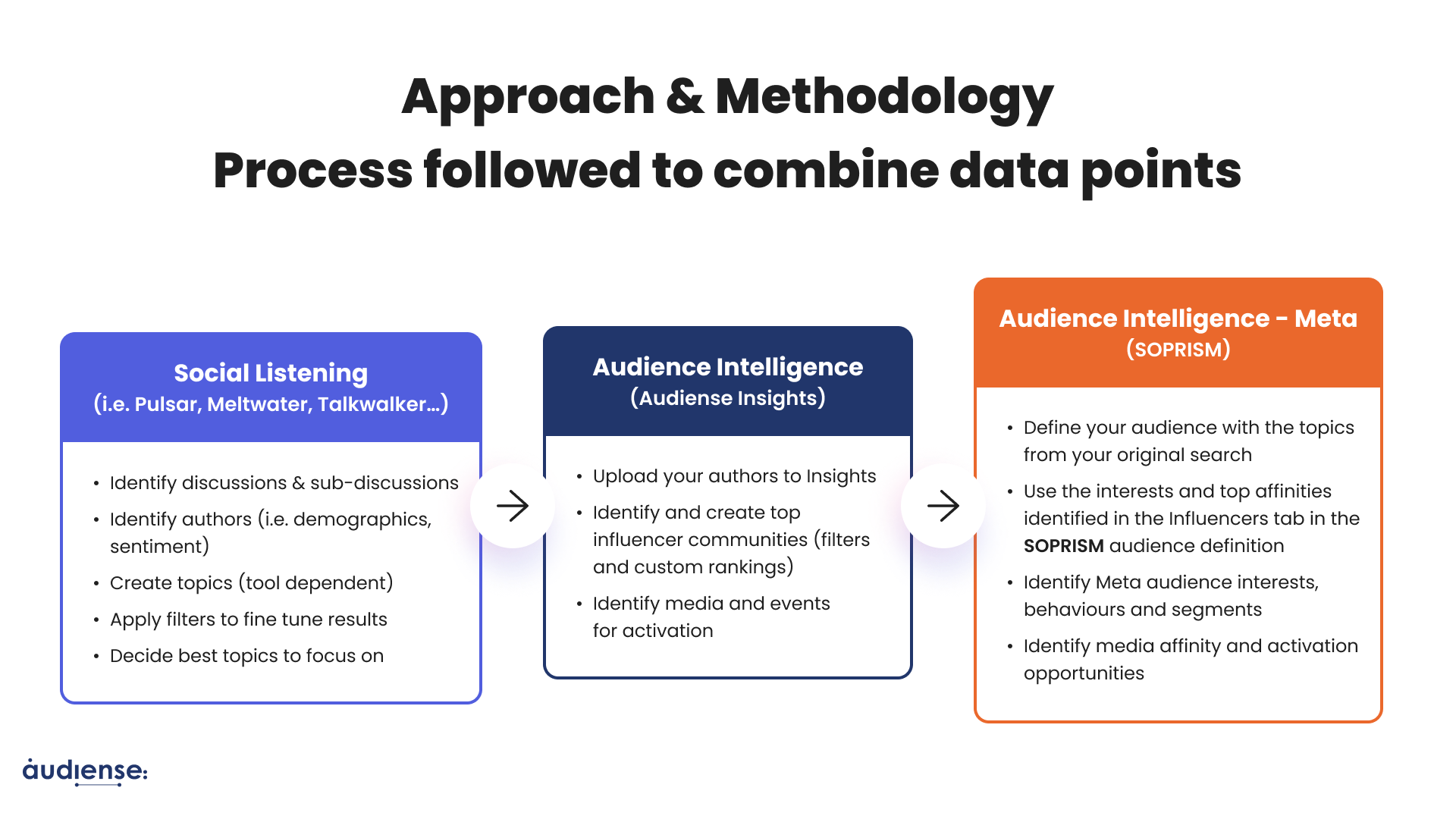 Conclusion
As we explored in the Solution section at the beginning, this beer brand was able to discover the major issues surrounding water in their key regions, looking at it from a local and global perspective. Quickly identifying communities who were heavily involved in discussions, and showed sentiment around these topics, they were able to uncover potential influencers they could reach out to and partner with to raise awareness, as well as get involved in projects to reduce the negative impact.
Going a step further, they were able to expand on these communities within Meta (Facebook, Instagram etc…), looking at specific interests already identified, profiling the audience further into segments, unearthing useful insights that would help them shape their strategies to target these specific communities.
If you and your team would like to learn more about combining these insights and get access to our platforms, get in touch with our team on help@audiense.com. Depending on your query and subscription, you will be directed to either our sales or solutions team.
For a similar methodology combining social and survey data, read about our new integration with GWI.