Josephine Durney - Product Marketer & Relationship Manager
How to build a Discord community your audience actually wants to join
If you're a digital marketer, you know how important it is to keep an eye on the latest trends and platforms online. Part of this means evaluating whether expanding to new platforms will push your marketing to the next level. If you're interested in exploring Discord as a marketing opportunity, you've come to the right place.
Discord is seeing a rise in popularity and influence. Starting a Discord server could be a good strategy for any brand with a community-oriented ethos that can help you unlock your full potential.
Whether you're already familiar with Discord or you've never heard of it before now, we can help you navigate this space with real-world examples of brands who use this platform. In this breakdown, we'll look at HYPEBEAST and Newegg's discord servers and how they utilize the platform.
What is Discord? How do you set up a server? What are brands doing well to keep their community engaged? We have answers.
Discord is a community-oriented, voice-over IP (VoIP) application that's available for iOS, Mac, Android, and Windows. As a user, you can create a private or public server for communication with clients, colleagues, and friends. These servers can have private and public text or voice channels.
As of February 2022, Discord reports that it has:
150 million active users on a monthly bases
19 million active servers each week
4 billion minutes of server conversation every day
While Discord was originally created to encourage community among gamers, it has evolved to include everything from hiking clubs and study groups to plant trading spaces and art communities. Discord has seen a huge increase in hours spent on its platform each day and reports that most people spend up to four hours daily browsing servers and channels.
Why Discord?
Many organizations choose Discord because of the customization it allows. You can create a server that meets the needs of your brand's community. You can create a positive customer experience for all your followers, from casual to super fans. Tap into exclusivity and gamify engagement with custom roles and permissions. Not to mention it can be a great customer service tool too.
Discord is better for business-to-consumer models, rather than business-to-business models. If you sell directly to other businesses, discord is probably not the right platform for you. Other considerations for ideal audience demographics include:
People at the bottom of your marketing funnel
A younger target audience for your products
An audience with a preference for a combination of audio and visual content
Users who are interested in threading capabilities, message archiving, and crypto support
Starting a Discord server from nothing
If you have zero experience with Discord, the first thing you want to confirm is whether it's the right platform for your marketing strategy. Identify whether it's ideal for your audience, set goals for success, create your servers and channels, and set rules to govern your users.
Setting goals
Next, ask yourself what you're trying to achieve with your Discord marketing strategy? Set some realistic goals and work towards achieving them as you develop your server and integrate it with other social media platforms. Here are some goals you might consider including:
Humanizing your business
Creating a brand persona
Connecting with your customers
Enhancing engagement through brand updates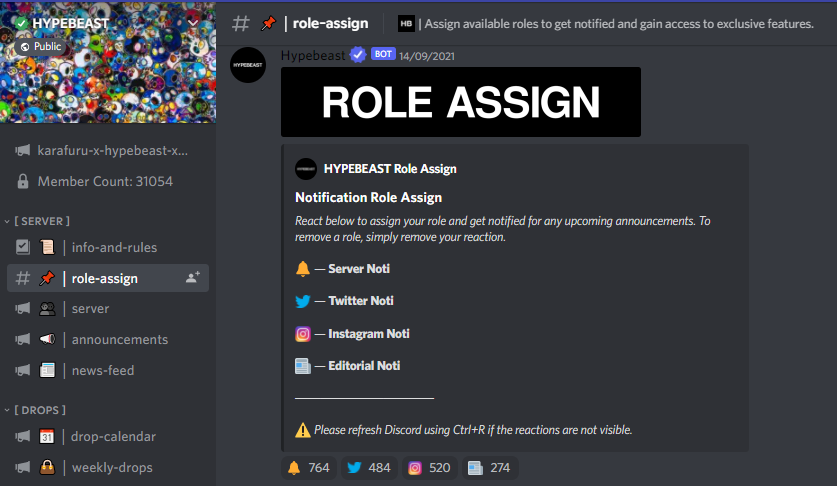 HYPEBEAST allows users to customize exactly what and where they want notifications about new product drops.
Building out servers & channels
Now comes the actual work. When you first start your channel, you'll need to choose whether you're creating a club, community, or private group. Do you want everyone to be able to find your server and join? You'll need to create a public server and manage privacy on individual channels. Are you hoping to integrate more exclusivity into your Discord strategy? Make the server private and offer invites based on number of purchases, loyalty points, and other metrics.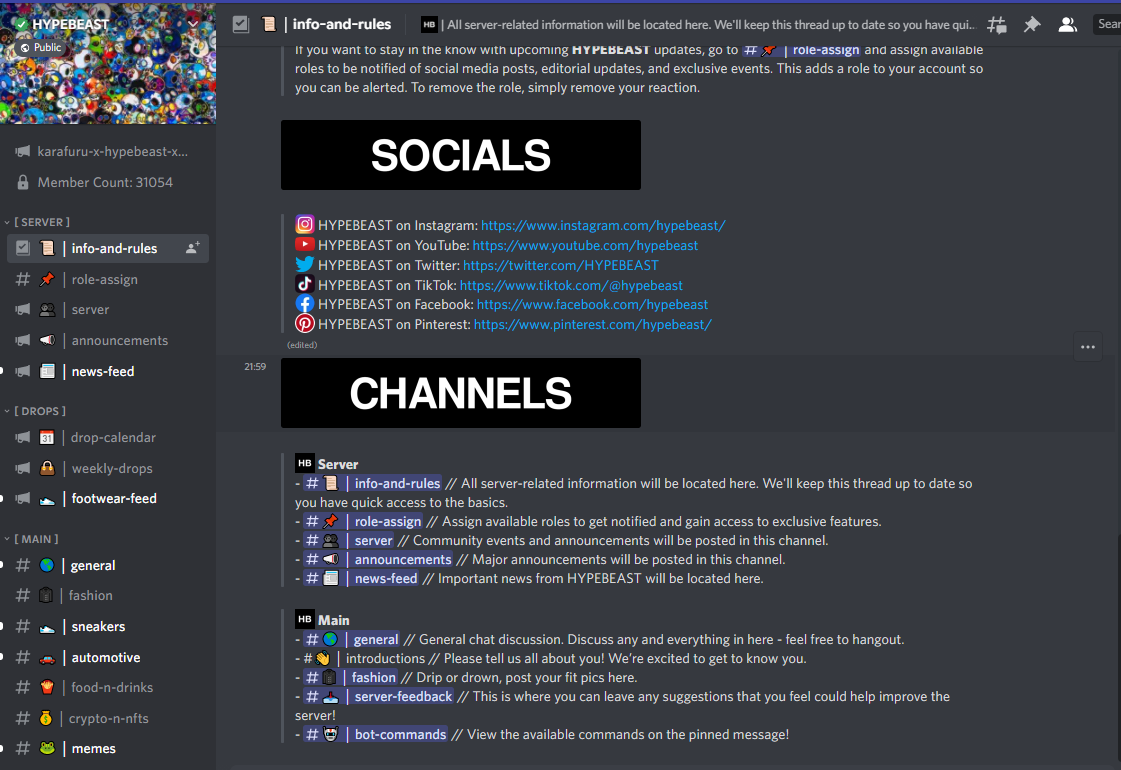 HYPEBEAST separates its channels into sections for news, product drops and general interest text channels.
Rules and roles
An important part of Discord is ensuring your community is engaging with the business and other users in a respectful, productive way. Each Discord server has the ability to list community rules for acceptable behavior, requiring users that contractually agree to your stipulations in order to enter your channel.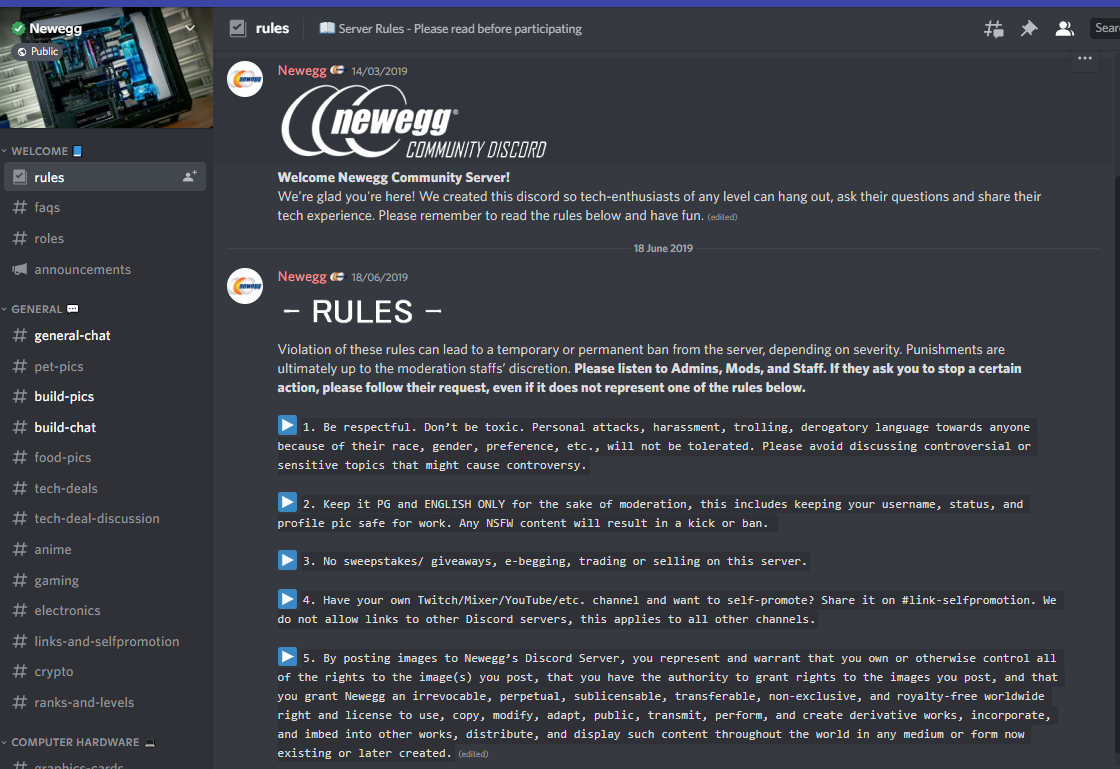 Having a rules channel like Newegg can help moderate behavior and settle disputes before they get out of control.
In addition to managing the behavior of everyone on the server, you can also assign roles to relevant people within your organization. You'll need people creating content, moderating discussions, and watching for surging trends in order to make new channels as needed.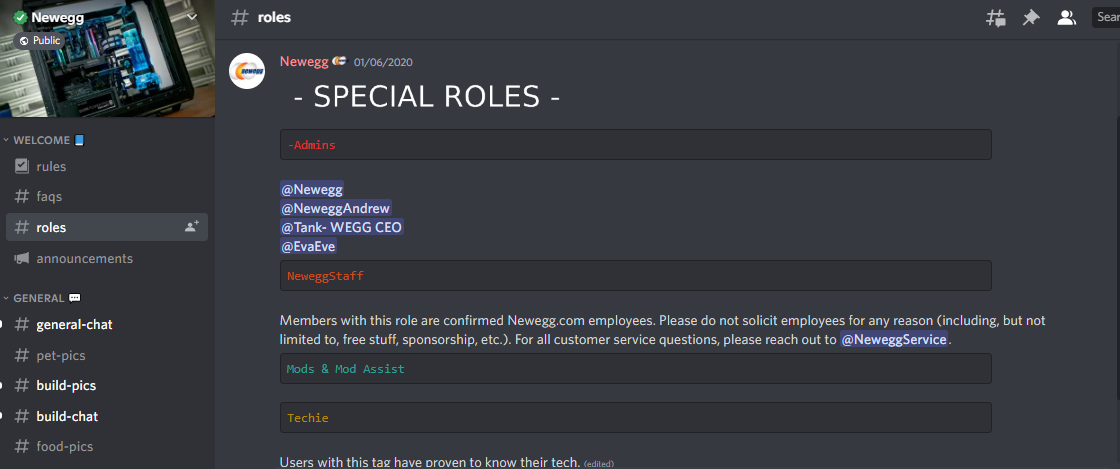 Newegg even has a specific role for customer service allowing anyone to tag them and ask questions about their products.
Setting roles doesn't end at staff.

One great way to gamify engagement in your server is to set up a leveling system that rewards your most active members. HYPEBEAST offers exclusive perks including access to channels for high level members.
Promoting a new server
Like any new advertising medium, as soon as it's ready for the public, you'll need to advertise its existence.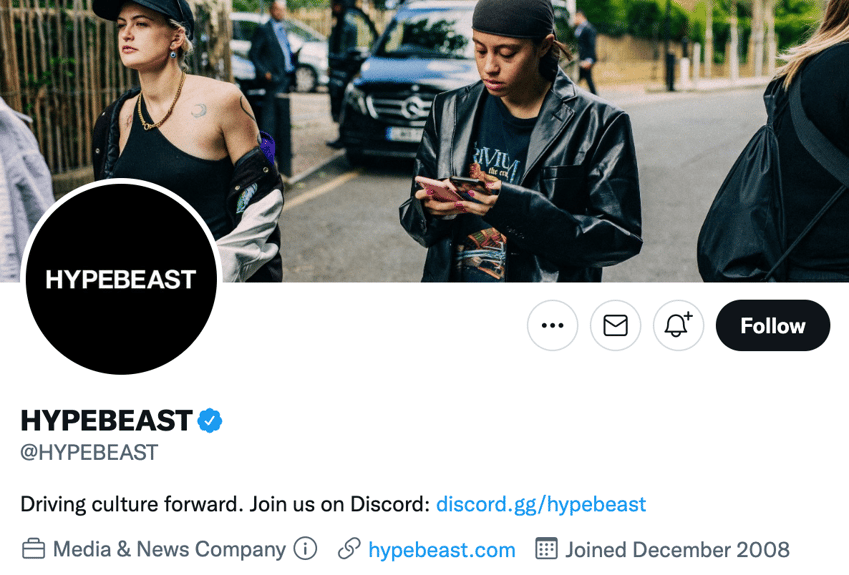 [HYPEBEAST leads its followers to the discord server first in their social media bio.]
Depending on how exclusive you're making the Discord server, you should invite people to join through a custom link on your social media channels and email blasts. You may even want to make it a permanent part of your bio and contact pages, so new customers can join as they discover your brand.
Community-specific promotional opportunities
So what does it mean to integrate audience insights into your Discord server? By analyzing audience segments to see what topics resonate with potential members of your Discord server.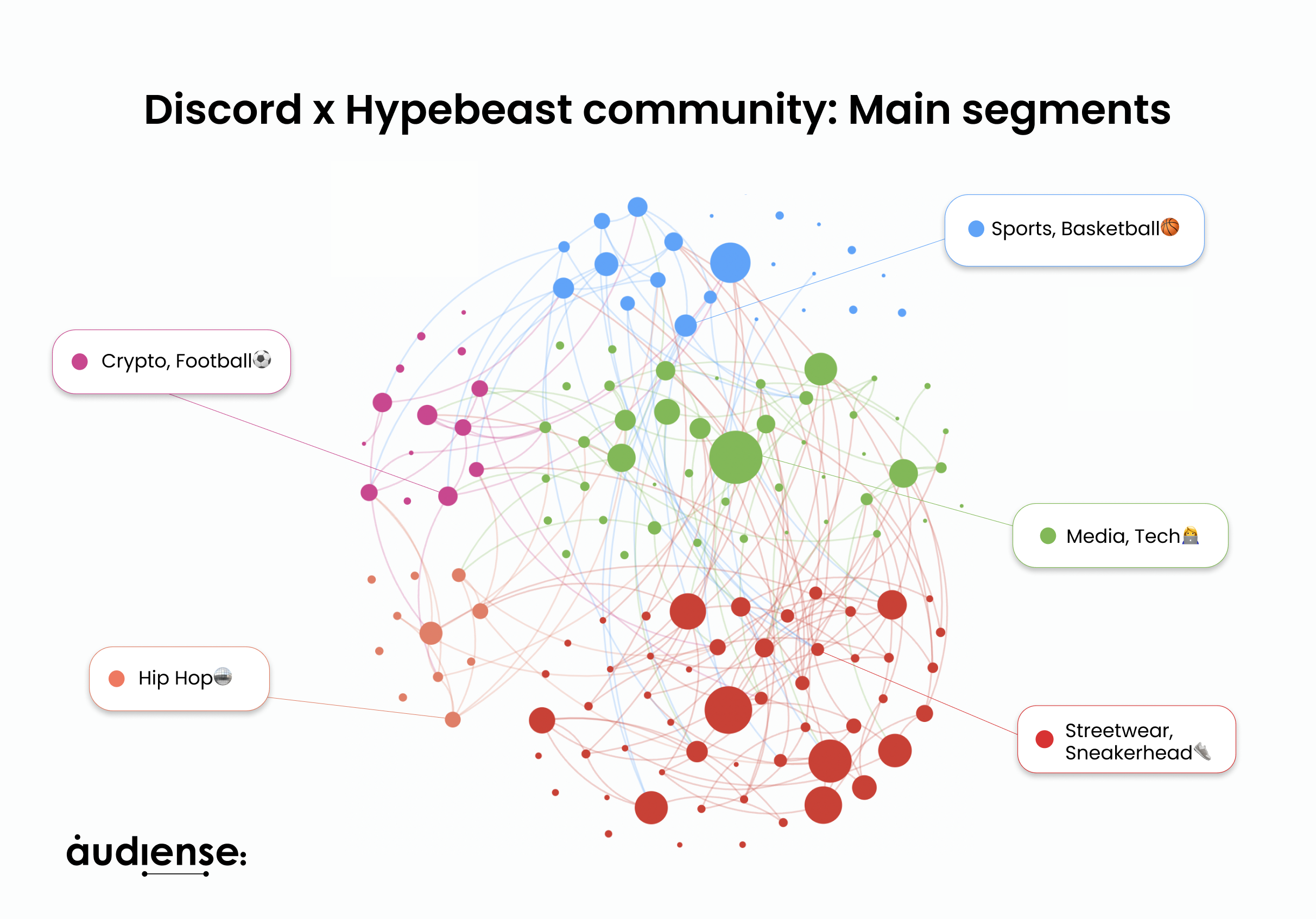 Analyze channels and how they combine brand priorities and customer interests. As you look at the example above, you can see the intersection between Discord, Hypebeast, and other topics like crypto, sports, hip hop, and more. Now Hypebeast knows how to use Discord channel topics to target various segments of their audience and ensure engagement from everyone – even if not every user is on every channel. Some of their top channels include:
Drop Calendar
General Fashion Advice
Company News And Announcements
Specific Interest Groups (Shoes, Crypto, Cars, Food)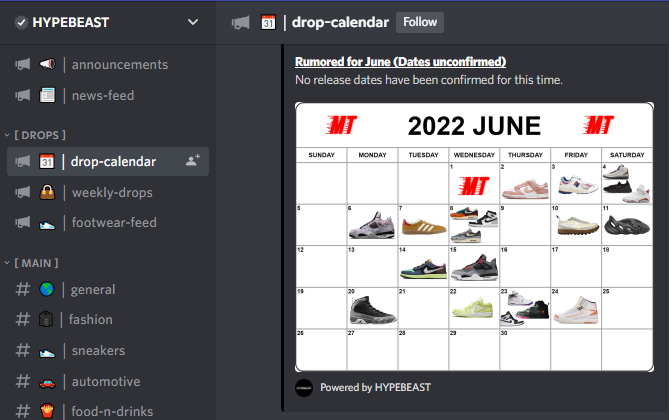 Hypebeast has taken its online blog platform and made it even more interactive and engaging with Discord's communication capabilities. New content drops faster, and people respond and chat more easily in channels here than in the comments sections of specific blog posts from their site.
Continually analyze your Discord community to discover new verticals of interest and push deals and drops associated with an external eCommerce site. How are the relationships between your audience and the other brands/interests they follow related? Who's in what channel? How can you narrow down audience interests and segment them even more
Automated content updates for the community
One of the best features within Discord is the ability to automate through bots the syndication and distribution of content. Hypebeast automates drops and news to generate referral traffic and you can do the same. Some of the best content to automate includes:
Product Drop Reminders
Live Q&As
Deal Reveals
FAQs
Moderation Actions
New Member Greetings
Ticket Creation for Server Problems
You can use automation for role-setting internally, but you can also make this a user feature. Are fans of your product known by an affectionate nickname? Incorporate it into your server through new member verification and member role options. The larger your organization, the easier managing Discord becomes once you automate a majority of your processes.
Hypebeast showcases a great example for product launch automation, with periodic reminders leading up to the big date. They analyze their audience's locations and timezones to ensure reminders are sent during peak use hours.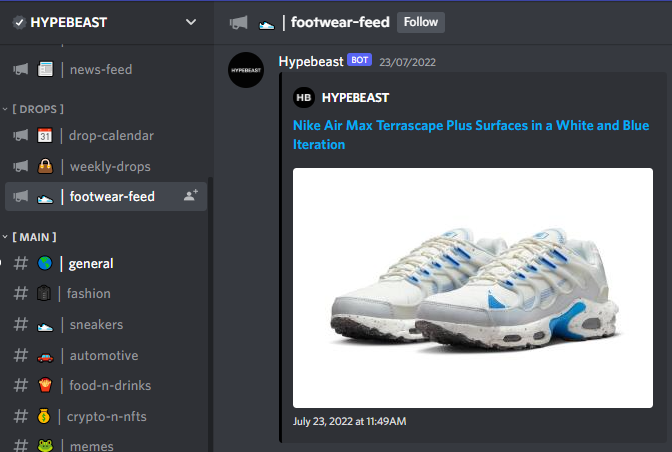 You can also use product drop reminders to integrate your audiences even better and generate referral traffic to and from your Discord to your eCommerce site. Incorporate links to specific products, new category pages, and freshly published blogs when you autodrop Discord content that includes just enough information for users to want to click through and see more on your actual site.
General interest channels for audience banter
Brands can create general interest channels on topics that they know their audience is interested in beyond just the business side of the business. For example, there's significant overlap between the number of people who like Hypebeast as a brand and the number of people who have an interest in (1) Food or (2) Vehicles. Use the audience data to guide your strategy and make connections based on third-channel interests.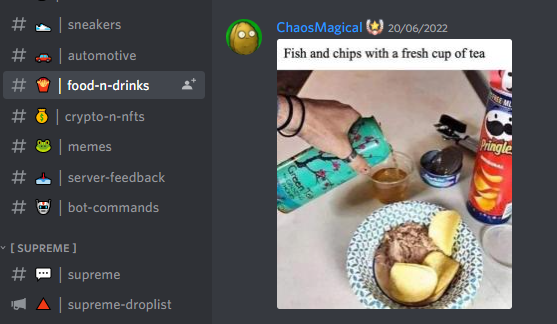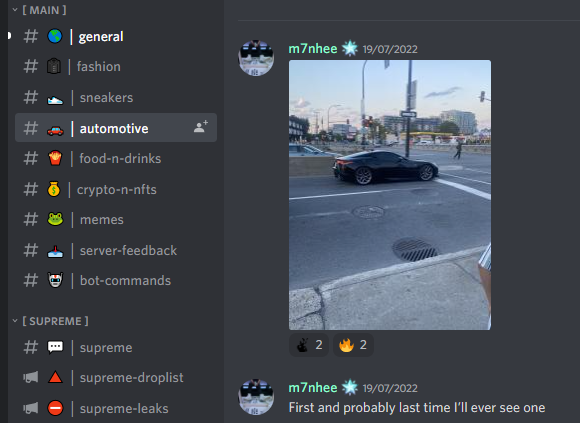 This Discord channel for Newegg tech also turns out to be an appropriate channel for people interested in animals because research shows that people who love tech also love animals. Keep your servers active even when your audience isn't looking to learn about your company's services and products when you combine their interests to keep them online for longer. It turns out that even when Newegg Discord users aren't buying new computers, they're still browsing Newegg's Discord channels to view and share pet pics!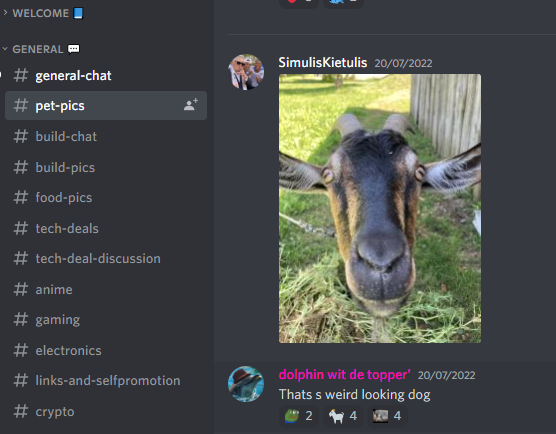 Other overlapping interests for Newegg audiences include food, anime, and gaming. Relate your new products to these overlapping interests to encourage users to hop between channels and learn more about new products related to other important things in their lives.
Key takeaways
With such an exhaustive dive into audience segmentation for various brands and Discord, you can start thinking about how your Discord server will take shape.
Use Discord as an auxiliary marketing channel to engage ever-younger audiences with overlapping interests.
Using your research, make smarter, more targeted decisions about how to set up and run your Discord server, in particular, to grow your reach and create more buzz about your brand from potential buyers.
When you're ready to get a leg up on your marketing strategy, fold Discord marketing into your social media and influencer campaigns to enjoy success, like Hypebeast and Newegg.
Looking for more insights like this? Join 30K+ marketers and analysts to stay on top of the trends & opportunities shaping the media, marketing, and creative industry. Subscribe and start Audiense free today.
.