Jackie Davies
How to find influencers for your brand
It's essential for every brand to have an influencer marketing strategy. Simply put, when you collaborate with an influencer you get access to their entire audience. This broadens your own social media presence, boosts the volume of visitors to your site, and ultimately sells more products.
If you're still not convinced, then it should help to know that the ROI of influencer marketing is 11 times higher than conventional digital marketing strategies, and 46% of shoppers rely on recommendations from influencers before they make the purchase.
Lucky for you, it's gotten much simpler to identify influencers, thanks in large part to the rapid expansion of social media. With that said, not just anybody can successfully promote your product - the offering has to be something their followers would be interested in. So as much as there is to gain from working with an influencer, it has to be the right influencer or it will cost you.
Here are 5 easy ways to find influencers that fit your brand:

1. Use hashtags
One fast and simple way to find influencers on social is to search for relevant hashtags. Suppose you work for a clothing brand like Reformation. In that case, you could type in your brand name #Reformation or related hashtags like #sustainableclothing in the search bar on Twitter, Instagram, Tik Tok and Facebook and look at the profiles and images that appear in the top posts of the hashtag. This is a great technique to find "already fans" of your product who would make great brand ambassadors. By using a tool like Keyhole, all you have to do is type the keyword and it will identify the top influencers associated with those keywords. They also list each influencer's follower count and average engagement per post.
Pinterest is rapidly becoming one of the most popular social networks with over 400 million monthly active users. Utilizing Affinio's audience intelligence can help you understand how to better reach Pinterest users and leverage generally trending topics within your campaigns. By actively analyzing passions, lookalikes, and interests across the Affinio platform, you can gain deep insights into current trends and potential topics for conversation that your target audiences are actually interested in.
2. Find influencers in your current customer base
Go through your current customer database, append it with social handles using a tool like People Data Labs, and find any customers who are nano or micro-influencers. Then, get in touch to ask them to publish reviews of your product. You can offer them free products, a discount code for themselves or their followers, or some of your true fans might even do it for free. This is an easy and cost-effective way to reach a much wider audience.
3. Use an opt-in platform
As a brand, you can upload your desired campaign to an opt-in platform like Upfluence where influencers can apply to work with you and submit their own terms and desired pay rates. This is a fairly easy process because the influencers come to you, but the downside is you will probably have to sift through lots of low-quality ones until you find the right fit for your brand. The benefit here is that you can be sure that every influencer who contacts you is eager to collaborate, and you're not having to hard-sell influencers through DM's on social.
4. Set Google Search Alerts
Another way to find influencers is by using Google Search Alerts. Set things up so that you get an alert any time keywords associated with your brand are used online. This helps locate authors who are writing about your industry, or who mention you specifically in their work. They are more likely to be looked at as thought leaders in that industry and would make credible brand ambassadors.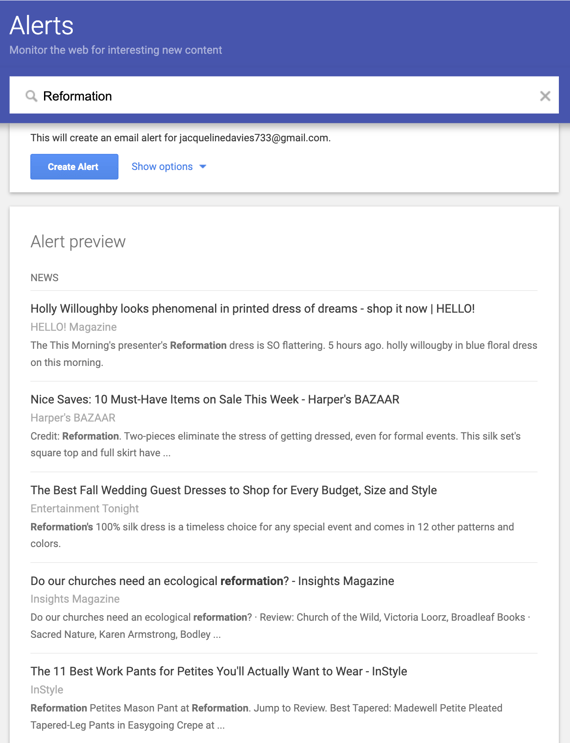 5. Try an audience intelligence platform
The easiest way to choose micro and macro influencers while also guaranteeing that they are the right fit for your audience is by using an audience intelligence tool like Affinio. Affinio uses an audience-first approach; it collects everyone following your brand on social and displays the top influencers that they follow, giving you the perfect brand and ambassador synergy. The best part is that each influencer is scored on how relevant and niche they are to your audience - completely removing the guesswork in the vetting process.
Considering the reformation brand again, when you run a report on their audience using Affinio, the report includes an entire section that lists the top influencers for that brand in order of how relevant and unique they are to that audience. That means you can search for both macro and micro-influencers, and you can categorize them by the type of influencer you are looking for (i.e. Celebrity, Author, Athlete, Host, Actress, Blogger, Creative, etc.).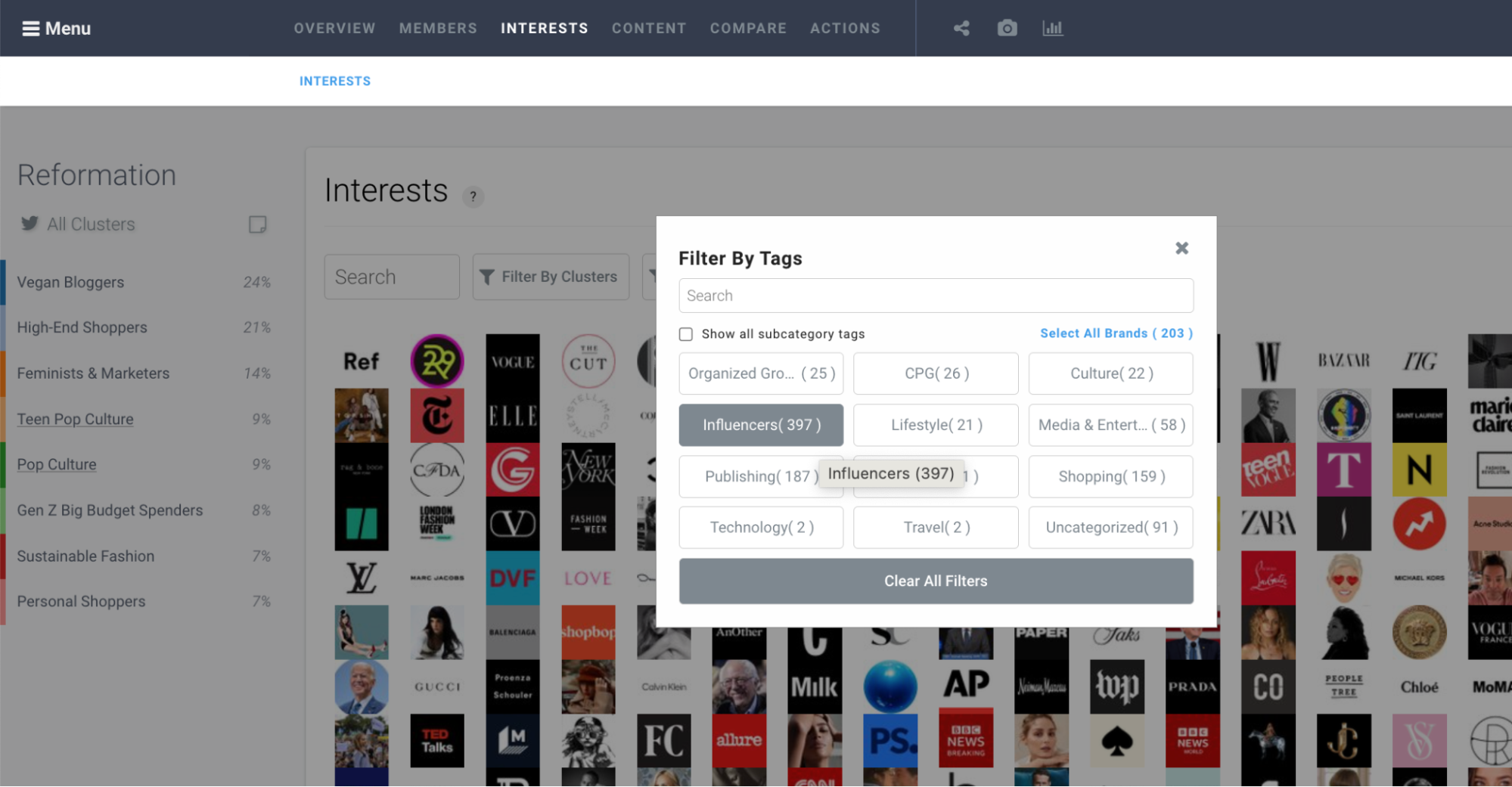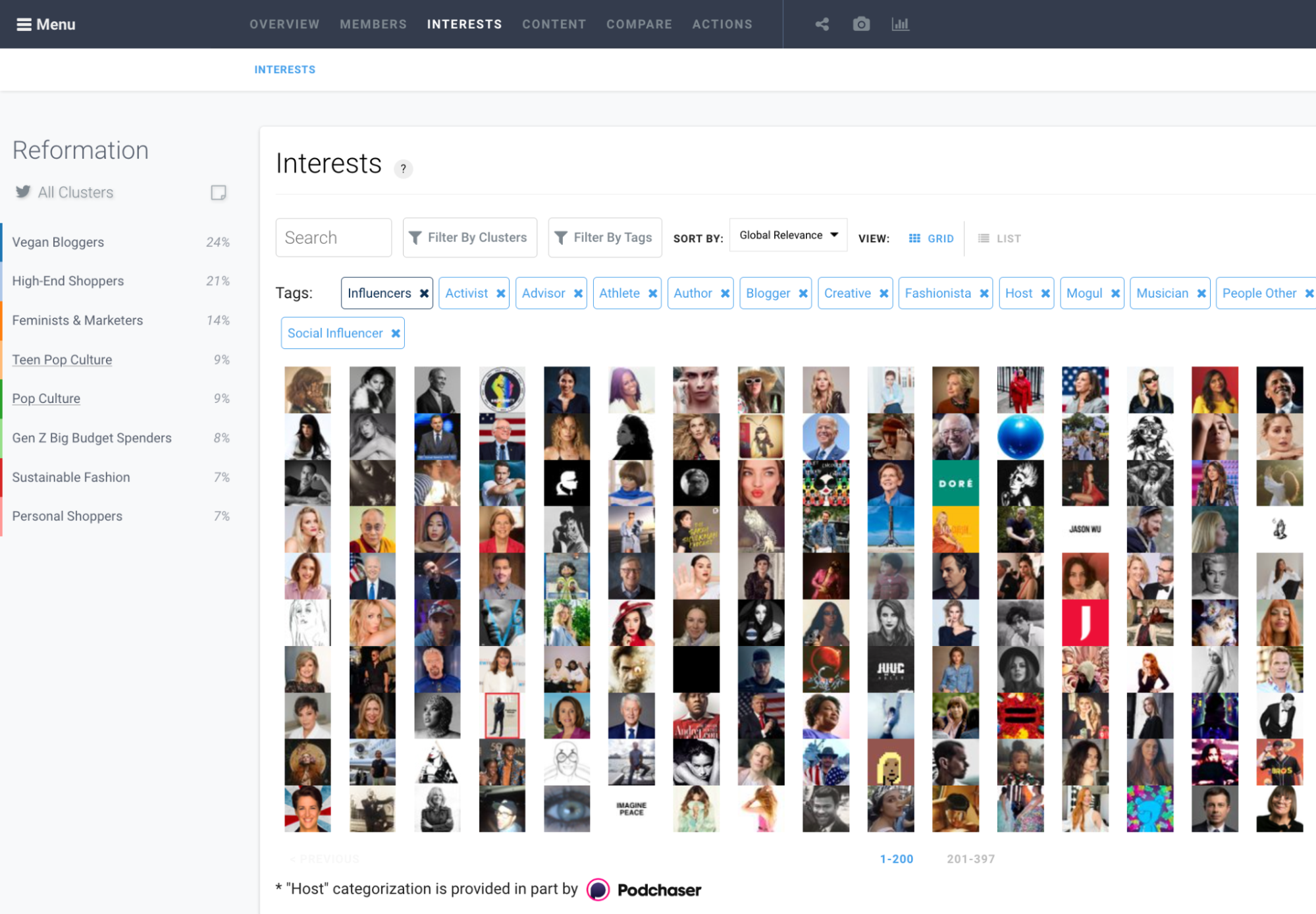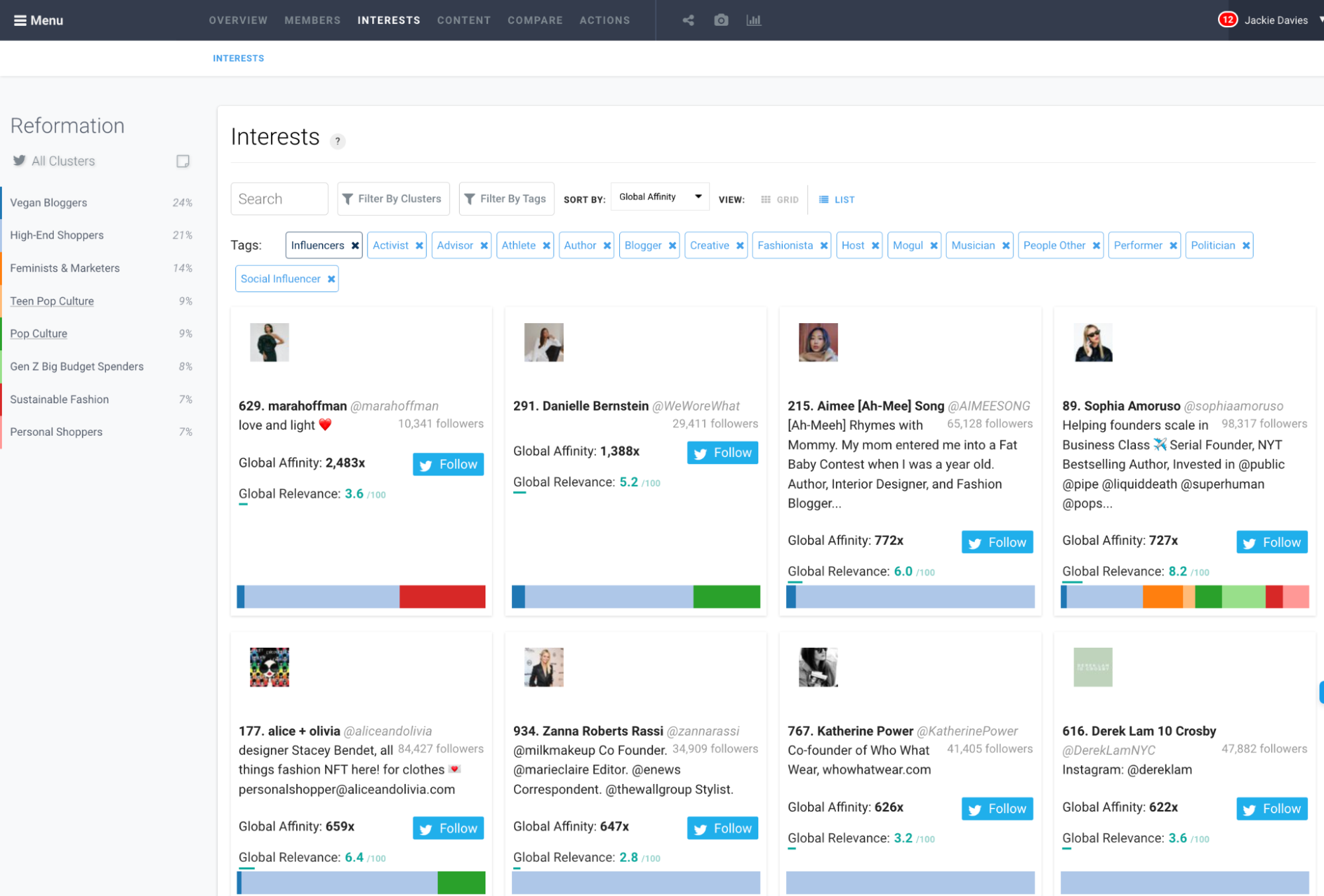 When it comes to creating your influencer marketing strategy its success ultimately depends on the influencer you choose, and how well they reflect your brand and resonate with your target audience. Without audience relevance, brand ambassadors can just end up costing you. The beauty of an audience intelligence tool means it removes the guessing game and generates the perfect influencer and audience mix that is guaranteed to see results and secure loyal customers.